Defending the Land, 50 Feet in the Air
Meet the tree-sitters fighting the Mariner East 2 Pipeline.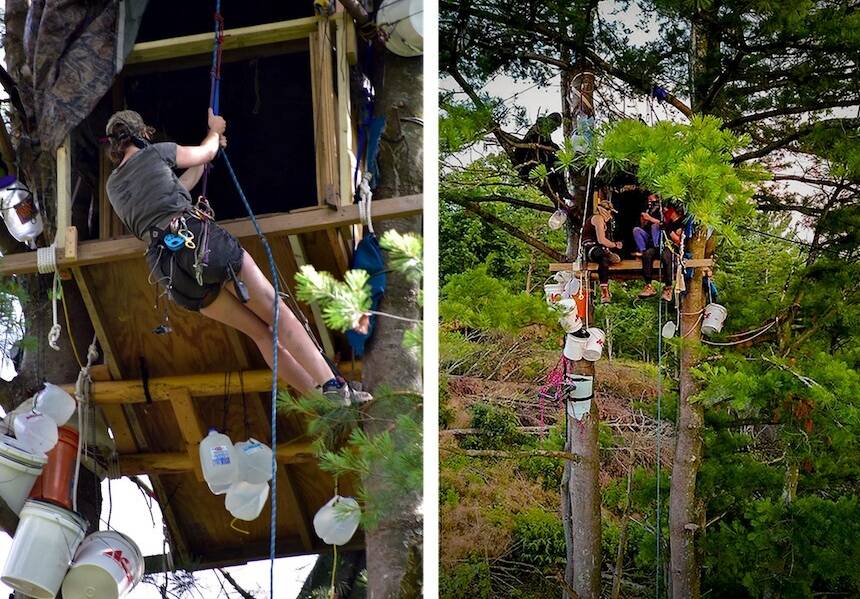 HUNT­ING­DON COUN­TY, PA. — A small group of land defend­ers has tak­en to the trees to stop the Mariner East 2 (ME2) nat­ur­al gas liq­uids pipeline. Fifty feet from the ground, a series of ropes con­nects three elab­o­rate tree hous­es, where tree-sit­ters read, write and lis­ten to music.
Hun­dreds of trees in this patch of wet­lands have been cut down for drilling. The sit­ters at Camp White Pine have saved three at strate­gic points in the path of construction.
If com­plet­ed, ME2 will trans­port high­ly explo­sive nat­ur­al gas liq­uids 350 miles through Ohio, West Vir­ginia and Pennsylvania.
The land defend­ers see their work as an impor­tant step against resource extrac­tion and envi­ron­men­tal degra­da­tion. Kari Smither­man, a His­pan­ic and Black­foot woman, says she felt called to Camp White Pine because ​"the Earth and the air and the sky and the sun … they don't belong to anyone."
In March 2016, Suno­co Logis­tics — which has since merged with Ener­gy Trans­fer Part­ners (ETP), the com­pa­ny behind the Dako­ta Access Pipeline — was grant­ed an ease­ment for con­struc­tion on the 27-acre prop­er­ty of Ellen and Steven Ger­hart, and an injunc­tion was issued against the Ger­hart fam­i­ly. Tree-sits began when tree-cut­ting crews, accom­pa­nied by police, descend­ed upon the prop­er­ty on March 29, 2016. The Ger­harts' daugh­ter, Elise, and her friends climbed three trees, and sev­er­al dozen were left standing.
"I was sit­ting up there in this one tree," Elise says, ​"and watch­ing … dozens and dozens of oth­er trees being felled right in front of my face. The police were laugh­ing at me." Police arrest­ed two of her friends on the ground on charges of con­tempt of court and dis­or­der­ly conduct.
Cut­ting in that area is legal­ly restrict­ed after March 31 to pro­tect the Indi­ana bat, which awak­ens from hiber­na­tion around that time. But on April 7, 2016, Elise heard chain­saws from her bed­room and rushed to the trees — the crews had returned. Unbe­knownst to the Ger­harts, the com­pa­ny had made arrange­ments with the U.S. Fish and Wildlife Ser­vice to con­tin­ue the log­ging legally.
This time, Elise says, Suno­co called the police; Ellen was arrest­ed and held in jail for three days.
After Suno­co merged with ETP in Novem­ber 2016, the Ger­harts put out a call for more sup­port, and the camp start­ed in February.
Var­i­ous legal cas­es against the pipeline sit in court, and the com­pa­ny and police have not come back to fin­ish cut­ting the trees, though a sec­ond injunc­tion against the Ger­harts was issued this sum­mer. But the campers are prepared.
Land defend­ers haul water, cook and oth­er­wise pro­vide ​"a lot of the car­ing work" that keeps the camp going, accord­ing to Emi­ly, one of the tree-sit­ters, who prefers not to give her last name. A pan­sex­u­al woman with a dis­abil­i­ty, Emi­ly says that while in the trees, ​"It's hard not to feel kind of exact­ly what they want us to feel, which is boxed in and vulnerable."
Despite the arrests, many sit­ters say they won't be deterred. ​"We've got to put our foot down and say no, they can't bul­ly us for­ev­er," says Smither­man. ​"They put us into the sys­tem where they've made us afraid to say no and fight back. I think we've got to start fight­ing now to get that pow­er back for ourselves."