The Government Should Write Everyone a Check—Paid for by a Carbon Tax
A carbon tax and dividend could curb greenhouse gas emissions while improving quality of life for many.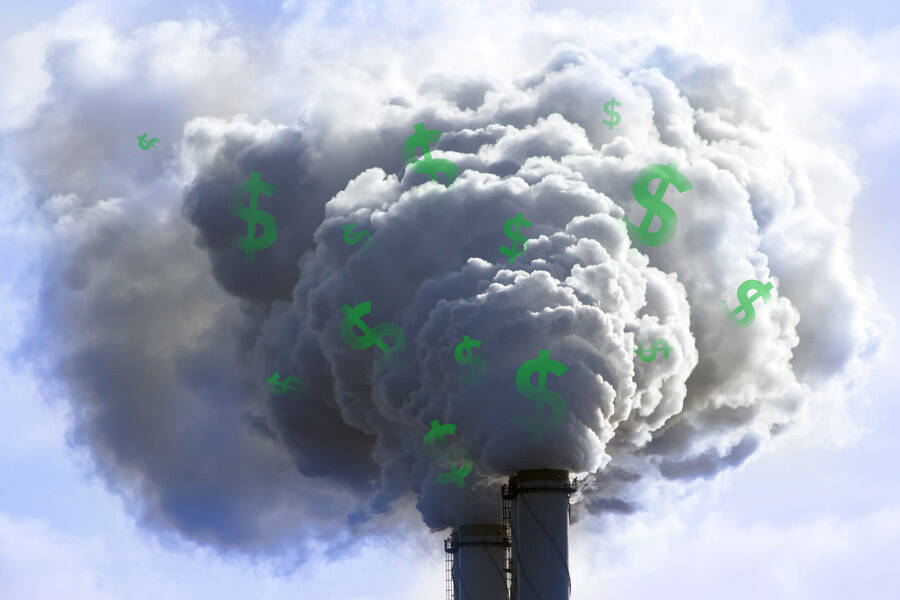 For decades, we have been told that fight­ing cli­mate change will hurt the econ­o­my. But there is an ele­gant pol­i­cy idea that fights cli­mate change and pover­ty at the same time: A car­bon div­i­dend, which would impose a steadi­ly ris­ing car­bon tax and return the rev­enue to the pub­lic as uni­ver­sal and equal cash pay­ments. This would be a tremen­dous force in reduc­ing car­bon emis­sions while pro­vid­ing a sub­stan­tial increase in pur­chas­ing pow­er to the least well-off peo­ple at lit­tle to no cost to the nation­al bud­get. We can and should take oth­er dra­mat­ic steps against cli­mate change, but we can start with one pol­i­cy that pro­vides an incred­i­ble bang for its buck.
A universal carbon dividend would include those who often miss out on other benefit programs, such as unemployed people and those who don't file taxes.
Sev­er­al states as well as the U.S. House and Sen­ate have active or recent car­bon div­i­dend bills, and they pro­vide a good tem­plate. The fed­er­al bills call for a fee on fos­sil fuel com­pa­nies for the use, sale or trans­fer of fos­sil fuels. The toll, in the bills, would start at $15 per met­ric ton of car­bon and rise $10 a year indef­i­nite­ly. The U.S. would also impose a bor­der adjust­ment tax on any imports from coun­tries with low­er (or no) car­bon tax­es, so as not to advan­tage imports or incen­tivize com­pa­nies to relo­cate. Cor­po­ra­tions, par­tic­u­lar­ly those that extract fos­sil fuels, would pre­sum­ably pass the cost of these tax­es on to proces­sors and oth­er mid­dle­men, and even­tu­al­ly con­sumers, rais­ing the price of ener­gy and ener­gy-inten­sive goods. On the sur­face this looks bad for con­sumers — but what are the upsides?
Sim­ply put: A high­er car­bon price shifts con­sumer, com­pa­ny and investor behav­ior toward envi­ron­men­tal­ly friend­ly prac­tices. Solar pan­els would make more eco­nom­ic sense for con­sumers and unnec­es­sary dri­ving and fly­ing would make less. Large cor­po­ra­tions, from Ama­zon to Star­bucks, would be incen­tivized to oper­ate on clean­er ener­gy. Investors would look toward new forms of ener­gy gen­er­a­tion and effi­cient mate­ri­als. An analy­sis by Region­al Eco­nom­ic Mod­els Inc. (REMI) esti­mates this type of leg­is­la­tion would low­er car­bon emis­sions to 50% of 1990 lev­els with­in 20 years, near­ly putting the U.S. on pace to meet the Paris Cli­mate Accord tar­get. The cor­re­spond­ing reduc­tion in air pol­lu­tion would pre­vent 230,000 pre­ma­ture deaths over that time.
Sig­nif­i­cant increas­es in the price of ener­gy could push many con­sumers to the break­ing point, but there is a sim­ple and pow­er­ful solu­tion to this pol­i­cy issue.
REMI found that a uni­ver­sal div­i­dend could reach $300 a month with­in a decade, vir­tu­al­ly ensur­ing every low-and mid­dle-income per­son — oth­er than those employed in a few select sec­tors, name­ly oil and coal — would end up with the same or more in their bank accounts despite the tax. Pur­chas­ing pow­er should also steadi­ly increase, espe­cial­ly at the low­er income quin­tiles, from the div­i­dend and a pro­ject­ed two mil­lion addi­tion­al jobs. A dra­mat­ic reduc­tion in fos­sil fuel extrac­tion would decrease the amount of the div­i­dend, but this would be a good prob­lem to have — and could be addressed by addi­tion­al rev­enue sources (e.g., a wealth tax) for the dividend.
The fact that a div­i­dend reach­es every­one dif­fer­en­ti­ates it from oth­er green eco­nom­ic ini­tia­tives like a stand-alone green jobs pro­gram. If we instead direct­ed the new car­bon fee rev­enue to pub­lic works and clean ener­gy sub­si­dies, then those work­ing-class peo­ple who are not employed in clean ener­gy or con­nect­ed sec­tors, many of whom are already bare­ly stay­ing above water, would see prices rise with lim­it­ed off­set­ting assis­tance. We should still pur­sue such projects — paid for through the gen­er­al fund — but they are no replace­ment for a div­i­dend that reach­es every­one. Indeed, a rev­enue-neu­tral car­bon div­i­dend is not mutu­al­ly exclu­sive with oth­er pro­gres­sive pri­or­i­ties, and can be sym­bi­ot­ic with a Green New Deal.
As the car­bon fee ris­es, the div­i­dend total will as well, and could rise from a few hun­dred dol­lars for a fam­i­ly of four to a few thou­sand dol­lars annu­al­ly. For every­one, this will at least help off­set the increased cost of trav­el and var­i­ous goods. For the work­ing class, this mon­ey could become a sig­nif­i­cant form of assis­tance. Cash div­i­dends have been shown to improve health­care met­rics, school atten­dance, peace of mind and oth­er proso­cial fac­tors, and have no sig­nif­i­cant effect on employ­ment or sub­stance use. As a uni­ver­sal pro­gram, a car­bon div­i­dend would include those who often miss out on oth­er ben­e­fit pro­grams, such as unem­ployed peo­ple and those who don't file taxes.
Oil CEOs, air­line exec­u­tives and oth­ers who live off the abil­i­ty to pol­lute for free may not like a car­bon fee and div­i­dend, but the rest of us would enjoy a pro­gres­sive­ly health­i­er envi­ron­ment with a lit­tle extra spend­ing money.
For alter­nate per­spec­tives on a car­bon tax, check back to InThe​se​Times​.com on Monday.
Owen Poindex­ter
is a free­lance writer and co-host of the Basic Income Podcast.