The first sev­en months of Barack Obama's pres­i­den­cy — fea­tur­ing Sonia Sotamayor's con­tentious nom­i­na­tion and the Hen­ry Louis Gates Jr. arrest fias­co — have made clear that Amer­i­ca hasn't yet reached a state of ​"post-racial" enlightenment.
A cru­cial way to reach that much bal­ly­hooed polit­i­cal promised land will be through frank con­ver­sa­tion. That much is made clear at Racia​li​cious​.com, a blog found­ed by Car­men Van Ker­ck­hove, who has helped bring nation­al con­ver­sa­tions about race into the Inter­net Age. Uti­liz­ing blogs, social media, and pod­casts, Van Kerckhove's work, which inves­ti­gates how the pol­i­tics of race per­me­ate all areas of Amer­i­can soci­ety, aims to make those dis­cus­sions more inclu­sive, acces­si­ble and productive.
Racia­li­cious cov­ers ques­tions of race in media and pop cul­ture, with typ­i­cal posts touch­ing on racism in movies and tele­vi­sion (the white­wash­ing of the Avatar film cast, the treat­ment of char­ac­ters of col­or on the hit TV show ​"Mad Men") and more polit­i­cal top­ics (race vis a vis the health­care debate, racial­ized por­tray­als of Obama).
Van Ker­ck­hove also hosts the week­ly pod­cast ​"Addict­ed to Race," which is about ​"America's obses­sion with race," and writes at Anti-Racist Par­ent, a blog ded­i­cat­ed to cement­ing diver­si­ty and cul­tur­al under­stand­ing as fam­i­ly val­ues. To top it all off, she also tack­les the issue of diver­si­ty in the work­place from a new angle through her edu­ca­tion firm, New Demo­graph­ic, which offers its ​"Three Biggest Diver­si­ty Blun­ders" sem­i­nar for free to busi­ness­es worldwide.
In These Times caught up with Van Ker­ck­hove via email in August.
—Lind­say Eanet
In 25 words or less, what makes you so spe­cial? (Keep in mind that humil­i­ty, while admirable, is boring).
I help orga­ni­za­tions come to the real­iza­tion that eth­nic potlucks and origa­mi work­shops are not the answer to end­ing racism.
What's the first thing that comes up when your name is Googled?
My per­son­al blog, which is at www​.car​men​vanker​ck​hove​.com.
Shame­less­ly plug a colleague's project.
One of my favorite blogs is Resist Racism. The authors are anony­mous, so I can't tell you who exact­ly is behind it. But if you enjoy fun­ny, smart, insight­ful, bit­ing com­men­tary on race, this is the blog for you.
Describe your politics.
I'm a lefty, for the most part.
(Come up with a ques­tion for your­self and answer it)
What did you think of the Hen­ry Louis Gates Jr. controversy?
It sad­dened me that Pres­i­dent Oba­ma, prob­a­bly the most pow­er­ful man of col­or in the world, had to apol­o­gize for stat­ing what a lot of us were thinking.
Media
Pick your five favorite web­sites and tell us why.
Racia​li​cious​.com. Even if I wasn't the founder and pub­lish­er of this blog, I would find the dai­ly com­men­tary on race, pop cul­ture, and iden­ti­ty end­less­ly fascinating.
AntiRacist​Par​ent​.com. Oops, anoth­er shame­less plug! One of the few places online (if not the only) ded­i­cat­ed to dis­cussing race and parenting.
AngryAsian​Man​.com. Phil Yu's been blog­ging since before it was called blog­ging. His blog is the place to keep up with all things Asian-American.
Harlow's Mon­key. Jae Ran Kim is one of the country's lead­ing experts on inter­na­tion­al and tran­sra­cial adop­tion, fos­ter care, race and social work, and is one of the sharpest minds I know.
Name five oth­er web­sites you go to when you're procrastinating.
1) Face­book.
2) Twit­ter.
3) Apart​ment​Ther​a​py​.com.
4) Mrs‑O.org.
5) TheTail​Sec​tion​.com.
What's a mis­take the main­stream media always makes that real­ly gets under your skin?
Invit­ing only black male guests on to dis­cuss race. I know this may come as a shock, but black women, Asian-Amer­i­cans, Lati­nos, and lots of oth­er folks have things to say about race too!
What's your favorite web-based tool for your job? Give us a quick walk through on how to use it.
Too​dle​do​.com: It's a way to keep your to-do list online, sortable by due date, con­text (e.g. phone calls to make, errands to run). You can also set up recur­ring tasks that come up every week or every month, and sync it to your iPhone using the app ​"Todo." I couldn't live with­out it.
Pol­i­tics
My polit­i­cal awak­en­ing occurred when…
I'm bira­cial, of Chi­nese and Bel­gian her­itage. I noticed very ear­ly on in life that when peo­ple com­pli­ment­ed my appear­ance, they always sin­gled out my Euro­pean fea­tures (fair skin, brown hair, high nose bridge) and not my Asian fea­tures. That was when I start­ed pay­ing atten­tion to the Euro­cen­tric beau­ty ideals that per­vade not just the Unit­ed States, but much of the world.
Which lib­er­al politi­cian has dis­ap­point­ed you the most?
Geral­dine Fer­raro, if you'd con­sid­er her to be (at least once upon a time) lib­er­al. Her attempts at smear­ing Barack Oba­ma as an affir­ma­tive-action can­di­date were absolute­ly despi­ca­ble. She's on my shit list for life.
What do you think makes for an effec­tive activist or polit­i­cal cam­paign? Can you name a cur­rent one that you admire?
It's absolute­ly crit­i­cal nowa­days to know how to use tech­nol­o­gy effec­tive­ly. One of the orga­ni­za­tions out there doing this best is Col­or of Change.
What cam­paign should we all sign on to right now?
Col­or of Change's cam­paign to stop Glenn Beck's race bait­ing: http://​www​.col​o​rofchange​.org/​beck/
Per­son­al
How do you get around (bike, pub­lic trans­porta­tion, car)? Why?
By sub­way, most­ly. We own a car but only my hus­band dri­ves it. Like many New York­ers, I still haven't got­ten around to get­ting a driver's license.
Are you a par­ent? Any parent/​kid relat­ed resources that you know of and love?
Yes, I just had a baby girl in late April. There's a great store in Crown Heights, Brook­lyn called Nairobi's Knap­sack that stocks a very diverse and mul­ti­cul­tur­al col­lec­tion of toys and books. There's also an adjoined space in which they do class­es and play­groups. Peo­ple out­side of NYC can order prod­ucts from their web­site here.
If you could join Bill and Ted in their time machine, what bygone age would you trav­el to and who would be your tour guide?
Screw the time trav­el. I'd kick Bill out of the phone booth and lock Ted, AKA Keanu Reeves, in with me for a lit­tle Sev­en Min­utes in Heav­en action (cue air guitar).
If you had to pick one oth­er pro­fes­sion to embrace, what would it be and why?
I think it would be fun to be a TV writer. Every time I lis­ten to The Offi­cial Lost Pod­cast with Damon Lin­de­lof and Carl­ton Cuse, I feel a twinge of jealousy.
Cul­ture
What is the last, best book you have read?
Black & White & Dead All Over by John Darn­ton. It's a mur­der mys­tery set in a news­room, with lots of fun­ny insights into the decline of the news­pa­per industry.
What trend in pop­u­lar cul­ture do you find the most annoying?
The recent spate of ​"fat­sploita­tion" real­i­ty shows like ​"Dance Your Ass Off" and ​"More to Love."
What celebri­ty least deserves their fame?
Keanu Reeves, because he's so purty.
—August 24, 2009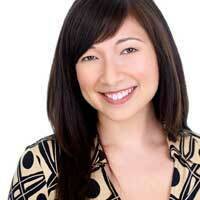 Car­men Van Ker­ck­hove
is founder of
Racia​li​cious​.com
and co-founder and pres­i­dent of New Demo­graph­ic, a diver­si­ty edu­ca­tion firm. Her per­spec­tives on race and diver­si­ty have been fea­tured on CNN, MSNBC, NPR,
USA Today
, and
The New York Times
.