The first seven months of Barack Obama's presidency — featuring Sonia Sotamayor's contentious nomination and the Henry Louis Gates Jr. arrest fiasco — have made clear that America hasn't yet reached a state of ​"post-racial" enlightenment.
A crucial way to reach that much ballyhooed political promised land will be through frank conversation. That much is made clear at Racia​li​cious​.com, a blog founded by Carmen Van Kerckhove, who has helped bring national conversations about race into the Internet Age. Utilizing blogs, social media, and podcasts, Van Kerckhove's work, which investigates how the politics of race permeate all areas of American society, aims to make those discussions more inclusive, accessible and productive.
Racialicious covers questions of race in media and pop culture, with typical posts touching on racism in movies and television (the whitewashing of the Avatar film cast, the treatment of characters of color on the hit TV show ​"Mad Men") and more political topics (race vis a vis the healthcare debate, racialized portrayals of Obama).
Van Kerckhove also hosts the weekly podcast ​"Addicted to Race," which is about ​"America's obsession with race," and writes at Anti-Racist Parent, a blog dedicated to cementing diversity and cultural understanding as family values. To top it all off, she also tackles the issue of diversity in the workplace from a new angle through her education firm, New Demographic, which offers its ​"Three Biggest Diversity Blunders" seminar for free to businesses worldwide.
In These Times caught up with Van Kerckhove via email in August.
—Lindsay Eanet
In 25 words or less, what makes you so special? (Keep in mind that humility, while admirable, is boring).
I help organizations come to the realization that ethnic potlucks and origami workshops are not the answer to ending racism.
What's the first thing that comes up when your name is Googled?
My personal blog, which is at www​.car​men​vanker​ck​hove​.com.
Shamelessly plug a colleague's project.
One of my favorite blogs is Resist Racism. The authors are anonymous, so I can't tell you who exactly is behind it. But if you enjoy funny, smart, insightful, biting commentary on race, this is the blog for you.
Describe your politics.
I'm a lefty, for the most part.
(Come up with a question for yourself and answer it)
What did you think of the Henry Louis Gates Jr. controversy?
It saddened me that President Obama, probably the most powerful man of color in the world, had to apologize for stating what a lot of us were thinking.
Media
Pick your five favorite websites and tell us why.
Racia​li​cious​.com. Even if I wasn't the founder and publisher of this blog, I would find the daily commentary on race, pop culture, and identity endlessly fascinating.
AntiRacist​Par​ent​.com. Oops, another shameless plug! One of the few places online (if not the only) dedicated to discussing race and parenting.
AngryAsian​Man​.com. Phil Yu's been blogging since before it was called blogging. His blog is the place to keep up with all things Asian-American.
Harlow's Monkey. Jae Ran Kim is one of the country's leading experts on international and transracial adoption, foster care, race and social work, and is one of the sharpest minds I know.
Name five other websites you go to when you're procrastinating.
1) Facebook.
2) Twitter.
3) Apart​ment​Ther​a​py​.com.
4) Mrs​-​O​.org.
5) TheTail​Sec​tion​.com.
What's a mistake the mainstream media always makes that really gets under your skin?
Inviting only black male guests on to discuss race. I know this may come as a shock, but black women, Asian-Americans, Latinos, and lots of other folks have things to say about race too!
What's your favorite web-based tool for your job? Give us a quick walk through on how to use it.
Too​dle​do​.com: It's a way to keep your to-do list online, sortable by due date, context (e.g. phone calls to make, errands to run). You can also set up recurring tasks that come up every week or every month, and sync it to your iPhone using the app ​"Todo." I couldn't live without it.
Politics
My political awakening occurred when…
I'm biracial, of Chinese and Belgian heritage. I noticed very early on in life that when people complimented my appearance, they always singled out my European features (fair skin, brown hair, high nose bridge) and not my Asian features. That was when I started paying attention to the Eurocentric beauty ideals that pervade not just the United States, but much of the world.
Which liberal politician has disappointed you the most?
Geraldine Ferraro, if you'd consider her to be (at least once upon a time) liberal. Her attempts at smearing Barack Obama as an affirmative-action candidate were absolutely despicable. She's on my shit list for life.
What do you think makes for an effective activist or political campaign? Can you name a current one that you admire?
It's absolutely critical nowadays to know how to use technology effectively. One of the organizations out there doing this best is Color of Change.
What campaign should we all sign on to right now?
Color of Change's campaign to stop Glenn Beck's race baiting: http://​www​.col​o​rofchange​.org/​beck/
Personal
How do you get around (bike, public transportation, car)? Why?
By subway, mostly. We own a car but only my husband drives it. Like many New Yorkers, I still haven't gotten around to getting a driver's license.
Are you a parent? Any parent/​kid related resources that you know of and love?
Yes, I just had a baby girl in late April. There's a great store in Crown Heights, Brooklyn called Nairobi's Knapsack that stocks a very diverse and multicultural collection of toys and books. There's also an adjoined space in which they do classes and playgroups. People outside of NYC can order products from their website here.
If you could join Bill and Ted in their time machine, what bygone age would you travel to and who would be your tour guide?
Screw the time travel. I'd kick Bill out of the phone booth and lock Ted, AKA Keanu Reeves, in with me for a little Seven Minutes in Heaven action (cue air guitar).
If you had to pick one other profession to embrace, what would it be and why?
I think it would be fun to be a TV writer. Every time I listen to The Official Lost Podcast with Damon Lindelof and Carlton Cuse, I feel a twinge of jealousy.
Culture
What is the last, best book you have read?
Black & White & Dead All Over by John Darnton. It's a murder mystery set in a newsroom, with lots of funny insights into the decline of the newspaper industry.
What trend in popular culture do you find the most annoying?
The recent spate of ​"fatsploitation" reality shows like ​"Dance Your Ass Off" and ​"More to Love."
What celebrity least deserves their fame?
Keanu Reeves, because he's so purty.
—August 24, 2009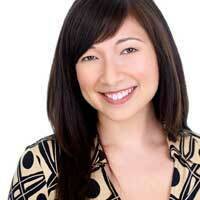 Carmen Van Kerckhove
is founder of
Racia​li​cious​.com
and co-founder and president of New Demographic, a diversity education firm. Her perspectives on race and diversity have been featured on CNN, MSNBC, NPR,
USA Today
, and
The New York Times
.