Carrier is "Gaming the System" and Trump Just Played into Its Hands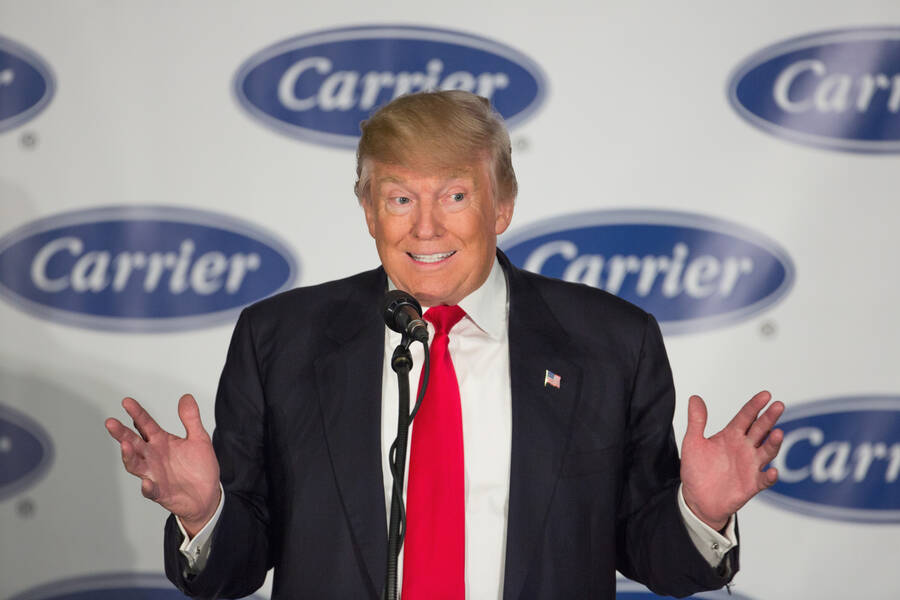 Indi­anapo­lis, Indi­ana—As one of their first orders of busi­ness, Pres­i­dent-elect Don­ald Trump and Mike Pence, his vice pres­i­dent, helped strike a deal between the Indi­ana Eco­nom­ic Devel­op­ment Cor­po­ra­tion (IEDC) and the Car­ri­er Cor­po­ra­tion to keep more than 1,000 jobs at Carrier's Indi­anapo­lis man­u­fac­tur­ing plant.
The com­pa­ny had orig­i­nal­ly planned to send all but 300 research and head­quar­ters jobs at the facil­i­ty to Mon­ter­rey, Mex­i­co, where work­ers report­ed­ly earn $3 an hour. Car­ri­er lat­er decid­ed to keep an addi­tion­al 800 or so jobs in Indi­ana in exchange for a report­ed $7 mil­lion in tax breaks over 10 years.
Car­ri­er was a fre­quent tar­get of Trump dur­ing his pres­i­den­tial cam­paign, in which he promised to pro­tect jobs and penal­ize com­pa­nies for leav­ing the Unit­ed States. After tweet­ing about a deal in the works with Car­ri­er on Thanks­giv­ing, Trump and Pence spent the next sev­er­al days hash­ing out its para­me­ters before the pres­i­dent-elect announced on Twit­ter on Novem­ber 29 that they had reached an agree­ment. Trump took a vic­to­ry lap at Carrier's plant in Indi­anapo­lis this week.
Mixed reac­tions
Though con­tro­ver­sial, it's impor­tant to note that work­ers at Car­ri­er have laud­ed the Trump-Pence deal. That's the case even though the actu­al terms and con­di­tions of the deal, as it applies to work­ers who get to keep their jobs, have yet to appear in fine print and the union rep­re­sent­ing the plant was not involved in the negotiations.
Looked at as a whole, the Trump-Pence announce­ment has received mix reviews. Some have cel­e­brat­ed Trump's ​"art of the deal," oth­ers have ques­tioned whether this is a mod­el that can be repli­cat­ed as a way to keep jobs in the Unit­ed States, while Bernie Sanders decried it as a bad deal for tax­pay­ers and a poten­tial­ly dis­as­trous prece­dent mov­ing forward.
Even Trump admit­ted his own sense of sur­prise at a press con­fer­ence cel­e­brat­ing the agreement.
Dur­ing the pres­i­den­tial cam­paign, in which he made an exam­ple of the Car­ri­er plant as the dark side of the North Amer­i­can Free Trade Agree­ment (NAF­TA), Trump told the pub­lic that he would use his busi­ness prowess to force Car­ri­er and com­pa­nies like it to keep jobs in the Unit­ed States. If not, Trump said, there would be eco­nom­ic hell to pay.
But in his speech in Indi­anapo­lis, he said his cam­paign promise to bring Car­ri­er jobs back was a ​"euphemism," not an actu­al promise to cut a deal at that par­tic­u­lar plant. With Pence unique­ly sit­u­at­ed to help fos­ter a deal through the IEDC, though, the stars aligned and the deal was cut. (Pence chairs the IEDC board.)
Work­ers at a near­by plant in Hunt­ing­ton, Indi­ana, how­ev­er, may not be as lucky.
That facil­i­ty, which is also owned by Carrier's par­ent com­pa­ny, will soon lay off 700 work­ers. Many of them made the two-hour dri­ve south to Indi­anapo­lis to protest. They held signs that read, ​"What about our jobs?"
"All of our jobs are leav­ing. Why isn't he sav­ing some of our jobs if not all of them?" asked Bill Davis, pres­i­dent of the Inter­na­tion­al Broth­er­hood of Elec­tri­cal Work­ers Local 983. ​"I'd love to keep the whole facil­i­ty, but even if we can keep some of our jobs – because I think some of the peo­ple would be glad to retire and some of the younger ones stay – so I think our mem­ber­ship could be sat­is­fied even if it was just 50 per­cent that got to stay."
Off­shoring jobs and taxes
Miss­ing in the many media sto­ries that have tack­led the Car­ri­er deal is the fact that Carrier's par­ent com­pa­ny — Unit­ed Tech­nolo­gies — isn't just in the busi­ness of off­shoring U.S. jobs. It also like­ly skirts pay­ing its share of fed­er­al and state income tax­es by main­tain­ing off­shore tax havens. Car­ri­er, itself, is incor­po­rat­ed in the domes­tic tax haven of Delaware.
Though a com­pa­ny with tax­able income at the lev­el of Unit­ed Tech­nolo­gies has a cor­po­rate tax rate of 35 per­cent at the fed­er­al lev­el, Unit­ed Tech­nolo­gies only paid an 11 per­cent tax rate between 2008 – 2012, accord­ing to num­bers crunched by Cit­i­zens for Tax Jus­tice. It has done so while also secur­ing bil­lions of dol­lars of U.S. gov­ern­ment con­tracts and receiv­ing hun­dreds of mil­lions of dol­lars in state and fed­er­al tax subsidies.
Matthew Gard­ner, a senior fel­low at the Insti­tute on Tax­a­tion and Eco­nom­ic Pol­i­cy, who has cri­tiqued the Trump-Pence Car­ri­er deal in a series of blog posts, told In These Times he sees this entire saga as an exam­ple of Car­ri­er ​"gam­ing the sys­tem" for its own ends on the backs of taxpayers.
"Com­pa­nies com­pet­ing with Unit­ed Tech­nolo­gies that haven't as brazen­ly threat­ened to move jobs off­shore will have to pay high­er tax rates than Unit­ed Tech­nolo­gies," says Gard­ner. ​"And, of course, in the bal­anced-bud­get set­ting of state bud­gets, every tax break for a spe­cif­ic com­pa­ny ulti­mate­ly has to be paid for by the rest of us, includ­ing small­er busi­ness­es and work­ing fam­i­lies. This deal is a poke in the eye for the many busi­ness and indi­vid­u­als who already pay their fair share."
Like Sanders, Gard­ner sees Car­ri­er as a wor­ri­some case mov­ing for­ward in the sense that if it can be repeat­ed or mod­eled at oth­er work­places in oth­er cities and states, it will only harm work­ing-class communities.
"The more such deals are carved out, the more unfair — and unsus­tain­able — the tax sys­tem becomes," says Gard­ner. ​"From a broad­er eco­nom­ic devel­op­ment per­spec­tive, and from the per­spec­tive of the pub­lic inter­est, there's noth­ing to cheer about here and cer­tain­ly noth­ing to replicate."
Steve Horn
is a Madi­son, WI-based Research Fel­low for
DeSmog­Blog
and a free­lance inves­tiga­tive journalist.