Carry It Forward
Wellstone's legacy lives on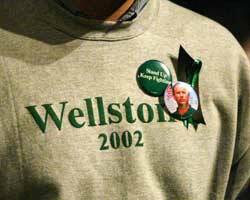 We wanted to make sure you didn't miss the announcement of our new Sustainer program. Once you've finished reading, take a moment to check out the new program, as well as all the benefits of becoming a Sustainer.

Progressives across the nation will come together October 25 for Wellstone World Music Day, to mark the one-year anniversary of Paul Wellstone's death.
The former senator from Minnesota, his wife, Sheila, their daughter Marcia Wellstone Markuson, three campaign workers and two pilots died in a plane crash while campaigning in northern Minnesota 11 days before the 2002 Senate election.
Wellstone World Music Day began when Jim Walsh, a veteran music critic in the Twin Cities, called for a musical tribute in an e-mail essay sent to family members and friends in August.
"On that day, every piece of music, from orchestras to shower singers, superstars to buskers, will be an expression of that loss and celebration of that life," Walsh wrote.
The essay received such strong and widespread response that a Web site—www.wellstoneworldmusicday.org—was established for groups and venues to post events.
Some of Wellstone World Music Day will be captured in Carry It Forward!, a documentary exploring the Wellstones' lives.
Lu Lippold, a co-director with Laurie Stern and Dan Luke of Hard Working Pictures, said the documentary sprang from a request by Wellstone staffers to take footage of events following the crash.
Besides a biographical look at Paul and Sheila Wellstone, the documentary will follow how their political vision is being carried on in progressive circles. Lippold anticipates that Carry It Forward! will be released by June 2004, although some Wellstone World Music Day groups will screen a 10-minute trailer of the film.
"After the crash, everybody was a wreck, wondering what to do," says Lippold. "Well, we make documentaries, so that's what we did."
More information about the film can be found at
www.carryitforward.org
Be a Sustainer
We surveyed thousands of readers and asked what they would like to see in a monthly giving program. Now, for the first time, we're offering three different levels of support, with rewards at each level, including a magazine subscription, books, tote bags, events and more—all starting at less than 17 cents a day. Check out the new Sustainer program.
Jeremy O'Kasick
is a Minneapolis-based freelance writer who recently lived in Dar es Salaam as a Fulbright Scholar.
More articles by Jeremy O'Kasick