Carry It Forward
Wellstone's legacy lives on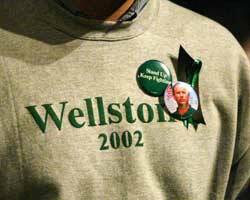 Progressives across the nation will come together October 25 for Wellstone World Music Day, to mark the one-year anniversary of Paul Wellstone's death.
The former senator from Minnesota, his wife, Sheila, their daughter Marcia Wellstone Markuson, three campaign workers and two pilots died in a plane crash while campaigning in northern Minnesota 11 days before the 2002 Senate election.
Wellstone World Music Day began when Jim Walsh, a veteran music critic in the Twin Cities, called for a musical tribute in an e-mail essay sent to family members and friends in August.
"On that day, every piece of music, from orchestras to shower singers, superstars to buskers, will be an expression of that loss and celebration of that life," Walsh wrote.
The essay received such strong and widespread response that a Web site—www.wellstoneworldmusicday.org—was established for groups and venues to post events.
Some of Wellstone World Music Day will be captured in Carry It Forward!, a documentary exploring the Wellstones' lives.
Lu Lippold, a co-director with Laurie Stern and Dan Luke of Hard Working Pictures, said the documentary sprang from a request by Wellstone staffers to take footage of events following the crash.
Besides a biographical look at Paul and Sheila Wellstone, the documentary will follow how their political vision is being carried on in progressive circles. Lippold anticipates that Carry It Forward! will be released by June 2004, although some Wellstone World Music Day groups will screen a 10-minute trailer of the film.
"After the crash, everybody was a wreck, wondering what to do," says Lippold. "Well, we make documentaries, so that's what we did."
More information about the film can be found at
www.carryitforward.org
Did you know?
Many nonprofits have seen a big dip in support in the first part of 2021, and here at In These Times, donation income has fallen by more than 20% compared to last year. For a lean publication like ours, a drop in support like that is a big deal.

After everything that happened in 2020, we don't blame anyone for wanting to take a break from the news. But the underlying causes of the overlapping crises that occurred last year remain, and we are not out of the woods yet. The good news is that progressive media is now more influential and important than ever—but we have a very small window to make change.

At a moment when so much is at stake, having access to independent, informed political journalism is critical. To help get In These Times back on track, we've set a goal to bring in 500 new donors by July 31. Will you be one of them?
Jeremy O'Kasick
is a Minneapolis-based freelance writer who recently lived in Dar es Salaam as a Fulbright Scholar.
More articles by Jeremy O'Kasick
Here's how you can help
In These Times is funded entirely by readers like you, but through the first half of 2021, reader donations are down 20% compared to last year. If that continues, it could spell real trouble for In These Times. We're running a short fundraising drive (from now until July 31) to get things back on track. Will you chip in?