Catastrophiliacs
For some, the end of the world can't come too soon.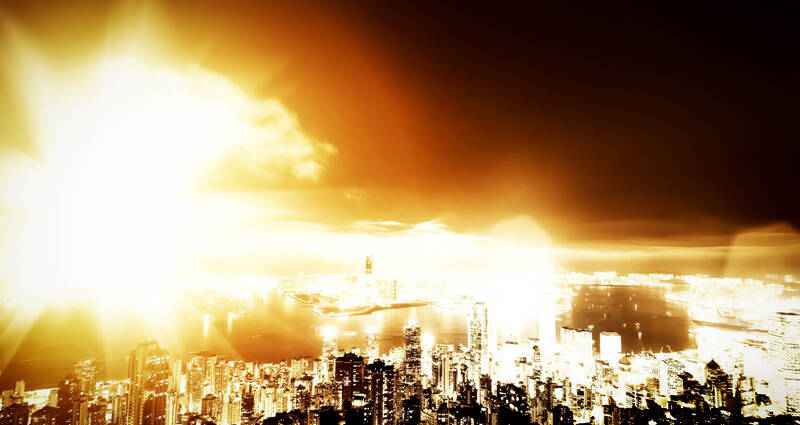 When the finan­cial cri­sis unfold­ed in the ear­ly years of the new mil­len­ni­um, many rad­i­cals hoped the end was nigh. The cap­i­tal­ist sys­tem had final­ly arrived at its ter­mi­nus — the last stop on the line. Where the Left had failed, the inex­orable lim­its to cap­i­tal­ism would deliv­er. Need­less to say, it has not turned out so well. Expect­ing pre­des­tined forces to trans­form soci­ety for the bet­ter forms one half of the cou­plet of Left cat­a­strophism. The oth­er con­sists of the idea that the worse things get, the more aus­pi­cious they become for rad­i­cal prospects — that if con­di­tions become dire, the scales with fall from the eyes of the mis­led masses.
The world according to Green Anarchy: 'We will be throwing the stinking dead bodies of our families into pits and kneeling in garbage coughing up blood.'
The out­er edges of Left cat­a­strophism are inhab­it­ed by those who see the col­lapse of soci­ety — not sim­ply cap­i­tal­ism, but civ­i­liza­tion — as a route to a bet­ter world. Both poles of cat­a­strophism can be found here. For some, the col­lapse is pre­or­dained, the result of ​"peak oil," the scarci­ty of oth­er nat­ur­al resources, or the implo­sion of indus­tri­al soci­ety. For oth­ers, it needs hastening.
The most promi­nent pro­po­nents of this broad out­look label them­selves ​"anti-civ­i­liza­tion" and often, but not exclu­sive­ly, iden­ti­fy as anar­chists. Adver­saries of civ­i­liza­tion believe that the orig­i­nal cat­a­stro­phe, beget­ting the cat­a­stro­phe of the present, was the emer­gence of set­tled agri­cul­ture in the Neolith­ic peri­od cir­ca 8,000 B.C., when humans pur­port­ed­ly stopped liv­ing in har­mo­ny with the land and start­ed orga­niz­ing com­plex economies. A return to a hunter-gath­er­er soci­ety, they argue, is the only con­ceiv­able future that is sus­tain­able. Such a trans­for­ma­tion would nec­es­sar­i­ly require the dra­mat­ic reduc­tion of the major­i­ty of the human pop­u­la­tion, since for­ag­ing would not pro­vide a frac­tion of the food that the world's inhab­i­tants need. How­ev­er — and aus­pi­cious­ly, as they see it — the col­lapse may deliv­er such a reduc­tion. As the now-defunct pub­li­ca­tion Green Anar­chy put it:
Some time when you're on a busy street, in line at the post office, on the bus, look around. Get used to the idea that most of these peo­ple will not live a lot longer. Who among them would sur­vive if the food stopped com­ing into the city for a month? … We will be throw­ing the stink­ing dead bod­ies of our fam­i­lies into pits and kneel­ing in garbage cough­ing up blood. … With­in that range of imag­ined futures, even the bad extreme is not so bad, and at the good extreme we see the Earth quick­ly heal­ing to its for­mer fecun­di­ty, and peo­ple liv­ing peace­ful­ly with oth­er life, and nev­er slid­ing out of bal­ance again.
Oppo­nents of civ­i­liza­tion tend to take a dim view of oth­er humans. They eschew mass col­lec­tive rev­o­lu­tion­ary action in favor of sub­ver­sion by the cho­sen few who have lit­tle inter­est in whether oth­ers per­ish. Der­rick Jensen, Lierre Kei­th, and Aric McBay's tome Deep Green Resis­tance lays out a series of sce­nar­ios for tak­ing down indus­tri­al civ­i­liza­tion, includ­ing through the strat­e­gy of ​"deci­sive eco­log­i­cal war­fare." (One crit­ic described the book as an encounter between evan­gel­i­cal Protes­tant Noah Web­ster and the Red Army Fac­tion.) It pre­dicts that the deple­tion of acces­si­ble oil reserves, or peak oil, will cause the glob­al cap­i­tal­ist econ­o­my to fall apart around 2015. Rad­i­cals will have a choice either to sit back and watch, or to has­ten the col­lapse, while orga­niz­ing mutu­al aid through small autonomous com­mu­ni­ties. Deci­sive eco­log­i­cal war­fare, the most mil­i­tant of pos­si­ble strate­gies, would aim to reduce fos­sil fuel con­sump­tion imme­di­ate­ly by 90 per­cent through an esca­lat­ing above and below ground strat­e­gy tar­get­ing indus­tri­al, and espe­cial­ly ener­gy, infrastructure.
A drop in the human pop­u­la­tion is inevitable, and few­er peo­ple will die if col­lapse hap­pens soon­er. … We'll all have to deal with the social con­se­quences as best we can. Besides, rapid col­lapse is ulti­mate­ly good for humans — even if there is a par­tial die-off — because at least some peo­ple survive.
It must get worse to get better
What binds togeth­er this cat­a­stroph­ic dyad of deter­min­ism and vol­un­tarism is a deep-seat­ed pes­simism about mass col­lec­tive action and rad­i­cal social trans­for­ma­tion. The notion that cap­i­tal­ism would inevitably col­lapse under its own weight makes up the deter­min­ist half.
The idea that the worse things get, the bet­ter they will be for rev­o­lu­tion­ary prospects dom­i­nates the oth­er pole of cat­a­strophist think­ing on the Left. Pri­va­tions and hard­ship, the argu­ment goes, push peo­ple to their break­ing point — and from there, left­ward. If wors­en­ing con­di­tions are more pro­pi­tious for rad­i­cal change, then rad­i­cals should do what they can to make things worse.
This notion is beset with sim­i­lar defects. Peri­ods of rad­i­cal social upheaval have fol­lowed eco­nom­ic crises and — espe­cial­ly — war. But there is noth­ing pre­or­dained about this rela­tion­ship. Immis­er­a­tion and erod­ing liv­ing stan­dards do not auto­mat­i­cal­ly prompt work­ers to rad­i­cal col­lec­tive action. Work­ers find dif­fer­ent ways to cope, some which would not win the approval of the Left. His­tor­i­cal­ly, work­ers often take actions, even col­lec­tive ones, to shut oth­er work­ers out of bet­ter jobs based on race, eth­nic­i­ty, or gen­der — such as ​"hate strikes" by white work­ers against the hir­ing or pro­mo­tion of work­ers of col­or. Innu­mer­able acts of sol­i­dar­i­ty and resis­tance, of course, mark the his­to­ry of cap­i­tal­ism. But they are not the only recourse to which mem­bers of the work­ing class resort in hard times.
There are many prob­lems with rad­i­cals pin­ing for cat­a­stro­phe, not the least of which is bring­ing repres­sion down on oth­ers for their own good. As a strat­e­gy, it lends itself to var­i­ous forms of author­i­tar­i­an­ism. It is a strat­e­gy, fur­ther­more, that rarely goes accord­ing to plan.
After almost four decades of rad­i­cal retreat, it is no sur­prise that left­wing cat­a­strophism is so per­va­sive in our era. The lib­er­a­to­ry hopes of the past, and the con­fi­dence in the col­lec­tive pow­er of oth­ers has giv­en way to the uncer­tain hope and fear of col­lapse, befit­ting our anti-utopi­an and cri­sis-fraught times. Even in the dark­est of hours, how­ev­er, it behooves ant­i­cap­i­tal­ists to con­struct a pol­i­tics that cat­e­gor­i­cal­ly rejects cat­a­strophism. No amount of fire and brim­stone can sub­sti­tute for the often-pro­tract­ed, dif­fi­cult, and fre­quent­ly unre­ward­ing work of build­ing rad­i­cal mass move­ments, even under sit­u­a­tions of the utmost urgency. Theodor Adorno, no stranger to pes­simism, warned of the undi­alec­ti­cal nature of see­ing the world in such grim terms that only an exte­ri­or force could change it. That is a sen­ti­ment we should heed.
This essay was adapt­ed from Cat­a­strophism: The Apoc­a­lyp­tic Pol­i­tics of Col­lapse and Rebirth (2012) with per­mis­sion of PM Press.