Charlie Trotter's Complicated Legacy
As we mourn a great chef, we shouldn't sugarcoat the way he treated workers.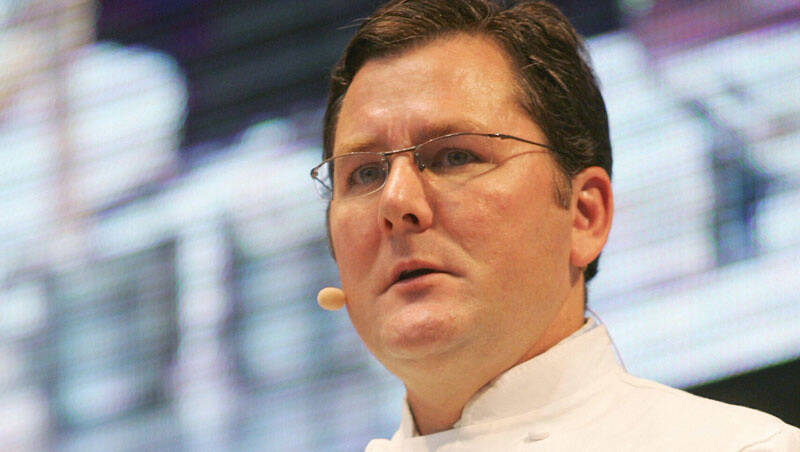 I met Char­lie Trot­ter once, when he popped by the French Culi­nary Insti­tute for an impromp­tu demon­stra­tion when I was a stu­dent there. It was 1996, and Trot­ter was ris­ing fast in the pan­theon of chefs. From the head of a kitchen class­room he field­ed ques­tions and described the har­mo­ny of fla­vors and tex­tures he was cre­at­ing as he carved cucum­ber cups, stuffed them with juli­enned apples, plunked them in a bowl of cucum­ber ​"water" shim­mer­ing with dill oil, and gar­nished them with jew­el-cut mel­on, jica­ma and avocado.
Rather than pore over flaws that paled next to Trotter's virtuosity, it's time to admit that the real culprit is a restaurant culture that dishes out abuse.
He was only in his 30s, but it was clas­sic Trot­ter: riff­ing on culi­nary stan­dards with mod­ern fla­vor notes and uncon­ven­tion­al arrange­ments. It also rep­re­sent­ed the para­dox­i­cal nature of Trot­ter, who died on Tues­day in his Chica­go home at age 54.
He was a self-taught chef appear­ing before stu­dents fork­ing over dough to learn how to cook. He was in the domain of French food, but his palette of veg­etable and fruit reduc­tions, extrac­tions and oils ran counter to the meat/​butter/​stock build­ing blocks of haute cui­sine. He meld­ed imag­i­na­tion and refine­ment with hos­pi­tal­i­ty and ele­gance, col­lect­ing awards for best chef and best restau­rant in the nation at his peak, but was by most accounts a tyrant in the kitchen.
I got a taste of his anger when I asked him if he thought the fla­vor of wild salmon was supe­ri­or to farmed. Smil­ing, he said there was no dis­cernible dif­fer­ence. Sur­prised, I asked again, and his bon­homie evap­o­rat­ed. His eyes locked on me, his face scrunched slight­ly. ​"None," he spat out.
It did not dimin­ish my admi­ra­tion for Trot­ter. His stel­lar cui­sine was approach­able for home chefs — an impos­si­bil­i­ty today, giv­en the indus­tri­al lab­o­ra­to­ry required for mod­ernist food. It did take a prop­er­ly equipped kitchen and knowl­edge of basic tech­niques, but a pas­sion for detail and pre­ci­sion mat­tered above all else. In my Man­hat­tan ten­e­ment kitchen, I've recre­at­ed many of his dish­es that soared with fla­vor, and a few that looked wor­thy of his sump­tu­ous­ly pho­tographed cookbooks.
But as much as I idol­ized Trot­ter, I would not have want­ed to work at his epony­mous Chica­go restau­rant. Sto­ries of his tem­per flowed freely, and he lapped it up, express­ing irri­ta­tion one year that he had been beat out Michael Jor­dan for the num­ber one spot on Chica­go Magazine's list of the mean­est peo­ple in the city. One chef who interned with him told me of times when Trot­ter reduced grown cooks to tears or par­a­lyzed them with fear.
That's why allu­sions to Shake­speare­an tragedy keep bub­bling up through the praise being heaped on Trot­ter since his death. One writer won­ders whether ​"the same mys­te­ri­ous edge that made Char­lie Trot­ter a genius also end­ed up killing him."
Duh.
As hard as he drove his cooks, who worked 70 – 80 hour weeks, scrubbed their own pots and some­times snuck pro­duce home to prep it before the next day's mad­ness, Trot­ter was hard­est on him­self. In the end, his fam­i­ly told the Asso­ci­at­ed Press, Trot­ter was tak­ing med­ica­tion for seizures, high blood pres­sure and high cho­les­terol. He still had steely deter­mi­na­tion, but his gym­nast build had grown bloat­ed. The week­end before his death, he report­ed­ly defied orders from his doc­tor against board­ing a plane to attend a culi­nary con­fer­ence in Jack­son Hole, Wyo.
But rather than pore over flaws that paled next to Trotter's vir­tu­os­i­ty, it's time to admit that the real cul­prit is a restau­rant cul­ture that dish­es out abuse. Miche­lin-starred chefs are often known for their prowess in scream­ing as much as for their cui­sine. Few under­lings will open­ly admit it, lest cross­ing a celebri­ty chef con­sign them to also-ran kitchens, but get a few sea­soned cooks togeth­er and they'll swap accounts of star chefs who hurl insults, tor­ment weak­lings, throw pots, or per­haps even a punch. As Don­ald Trump is to real estate, Gor­don Ram­say is to the kitchen, build­ing his pub­lic per­sona on being a flam­ing asshole.
Dur­ing my brief for­ays into pro­fes­sion­al kitchens, I was chal­lenged to a fist­fight, worked with a line cook who broke someone's jaw, and was told about a famed chef who would throw spice into the eyes of hung-over wait­ers dur­ing brunch ser­vice. While the sto­ries are enter­tain­ing, they also sug­gest that many chefs believe that high pres­sure and hard work excuse bad behavior.
Char­lie Trotter's tragedy is that his life was both a tes­ta­ment to and indict­ment of the restau­rant indus­try. He has an out­sized lega­cy in the chefs he men­tored, the Chica­go din­ing scene that he made world-class, and the cui­sine he craft­ed, which defied con­ven­tion while delight­ing the sens­es. But trib­utes to his work would be ele­vat­ed by acknowl­edg­ing that great food shouldn't be accom­pa­nied by abu­sive work­ing conditions.