The FBI Questioned a Black Man About Racist Extremists in Charlottesville—Now He Could Go to Prison
Authorities are arresting and charging anti-racist demonstrators for events connected to the Unite the Right rally, even though it was white supremacists who unleashed violence on the town.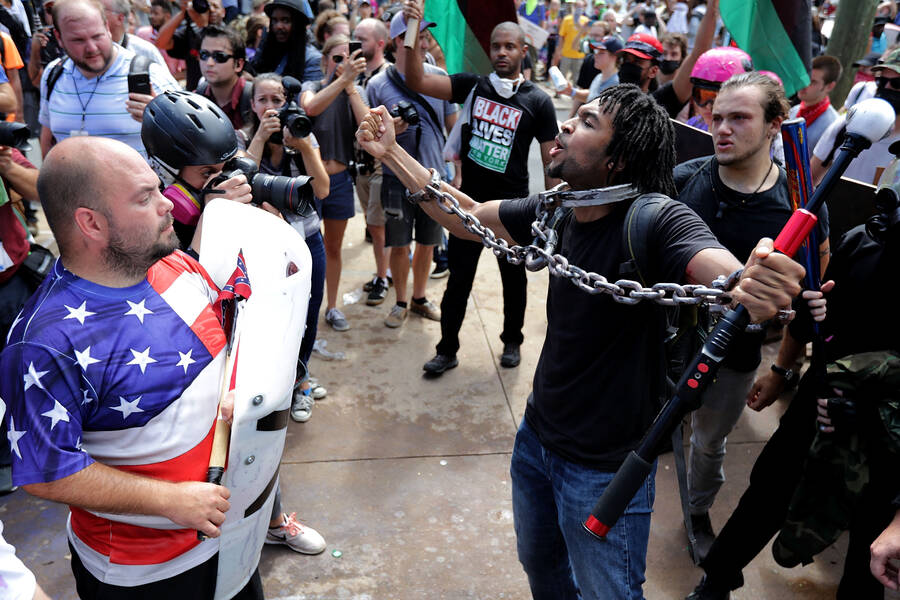 Last sum­mer, white nation­al­ists infa­mous­ly descend­ed on Char­lottesville, Va., hold­ing an armed march and ral­ly where neo-nazi James Fields Jr. alleged­ly killed anti-racist demon­stra­tor Heather Hey­er with a vehi­cle. Months lat­er, black counter-pro­test­ers con­tin­ue to be arrest­ed on charges con­nect­ed to the ral­ly, even though it was the racists who unleashed vio­lence on the town. At least one anti-racist pro­test­er was arrest­ed after the local police depart­ment and FBI ques­tioned him under the pre­text of an ongo­ing inves­ti­ga­tion into right-wing vio­lence, accord­ing to legal advocates.
Blakney is the third counter-protester to be arrested and charged for events connected to the rally. All three of these individuals are black, and all three were attacked at the rally.
On Jan. 19, the Char­lottesville police arrest­ed Don­ald Blakney, a 51-year-old black man, and charged him with mali­cious wound­ing. The accu­sa­tion is con­nect­ed to vio­lence that occurred at the Unite the Right Ral­ly last August, where white nation­al­ists protest­ed the removal of a Robert E. Lee stat­ue. The com­plaint states that Blakney hit a man in the head with a stick who he believed to be asso­ci­at­ed with the white nation­al­ists. This event alleged­ly occurred short­ly after Blakney was hit in the face and called a racial slur by a dif­fer­ent man.
Blakney is the third counter-pro­test­er to be arrest­ed and charged for events con­nect­ed to the ral­ly. All three of these indi­vid­u­als are black, and all three were attacked at the rally.
Accord­ing to the Nation­al Lawyers Guild (NLG) of Cen­tral Vir­ginia, Blakney was ques­tioned by Char­lottesville police and the FBI last fall, when author­i­ties claimed they were attempt­ing to gath­er infor­ma­tion on white nation­al­ist vio­lence. The NLG tells In These Times that the FBI​ con­duct­ed several​ home vis­its to anti-racists in the ​Char­lottesville area after the rally.
Mul­ti­ple anti-racist activists have also been con­tact­ed by U.S. Attor­neys who told them they could be sub­poe­naed to appear before fed­er­al grand jury. Blakney's charges appar­ent­ly stem from an ABC News pro­gram which con­tains video footage of him at the scene.
In Octo­ber 2017, DeAn­dre Har­ris was charged with assault­ing Harold Crews, the state chair­man of the North Car­oli­na League of the South, a group that presents itself as the pre­mier ​"South­ern Nation­al­ist" orga­ni­za­tion rep­re­sent­ing ​"white Chris­tians of Anglo-Celtic stock." Har­ris was bru­tal­ly beat­en in a park­ing lot by white nation­al­ists dur­ing the Unite the Right ral­ly. He suf­fered a con­cus­sion, a frac­tured wrist, spinal injury and a head wound that required staples.
"They were try­ing to kill me out there," Har­ris told the Los Ange­les Times after the ral­ly. ​"The police did­n't budge, and I was get­ting beat to a pulp."
Har­ris' attor­ney, S. Lee Mer­ritt, insists that the video evi­dence exon­er­ates his client. He says that Har­ris swung a flash­light at Crews to pre­vent him from spear­ing a counter-pro­test­er with a Con­fed­er­ate flag, but that Har­ris didn't make much con­tact. ​"It's very upset­ting," said Mer­ritt. ​"It seems the judi­cial sys­tem in this case has bent over back­wards to fur­ther assist in fur­ther vic­tim­iz­ing DeAndre."
That same month, Corey Long was arrest­ed and charged with dis­or­der­ly con­duct for alleged­ly turn­ing an impro­vised torch against white nation­al­ist demon­stra­tors. Long said that he was pro­tect­ing an old­er white man who had been tar­get­ed by the pro­tes­tors. ​"I was not in the wrong," he said. ​"A guy threw a spray can at me, and I took it to my advan­tage." The cops also slapped Long with an assault and bat­tery charge for an alleged sep­a­rate alter­ca­tion that occurred that day.
Accord­ing to one of the war­rants, Long's assault charges stem from alle­ga­tions made by the afore­men­tioned Crews. The charges against Long were crit­i­cized by Jason Kessler, the main orga­niz­er of the Unite the Right Ral­ly, for being insuf­fi­cient. ​"Try ​'No mask law,' ​'Bran­dish­ing a firearm,' ​'burn­ing an object with intent to intim­i­date.' Dis­or­der­ly con­duct for using a flamethrow­er?" he tweet­ed. Kessler ini­tial­ly dis­avowed the rally's vio­lence via Twit­ter, but a week lat­er con­tra­dict­ed these state­ments with a tweet insult­ing Heather Hey­er and cel­e­brat­ing her death. ​"Heather Hey­er was a fat, dis­gust­ing Com­mu­nist. Com­mu­nists have killed 94 mil­lion. Looks like it was pay­back time," the tweet read. The next morn­ing, he blamed the Hey­er tweet on drug use and delet­ed his account a short time later.
A few of the Unite the Right orga­niz­ers have been arrest­ed as well, but Andrew Mahler, Chair of the Nation­al Lawyers Guild's Cen­tral Va. chap­ter, tells In These Times that those arrests were only made after sig­nif­i­cant pub­lic pres­sure. He also points out that, while racial tar­get­ing by Va. law enforce­ment is hard­ly a new con­cept, the recent arrests of counter-pro­test­ers fit into a dis­crim­i­na­to­ry pat­tern that was on full dis­play last summer.
"On August 11 and 12, we watched the police stand down, hid­ing behind bar­ri­ers, refus­ing to arrest or oth­er­wise inter­vene when mem­bers of Unite the Right com­mit­ted unspeak­able acts of vio­lence against peo­ple of col­or and anti-racist counter-pro­test­ers," said Mahler. ​"They have made it very clear, in the sub­se­quent arrests of three black men who were bru­tal­ized by white nation­al­ists, that they intend to fol­low in the lega­cy of slave patrols, Bull Con­nor and his­tor­i­cal polic­ing in Char­lottesville: dis­till­ing fear and uncer­tain­ty with­in our com­mu­ni­ties of col­or and among those who show up to defend our com­mu­ni­ties against white-nation­al­ist, white-suprema­cist violence."
Blakney's mali­cious wound­ing charge is a felony that car­ries a 5‑year min­i­mum sen­tence, with a max­i­mum of up to 20 years in prison.
"
Michael Arria
is the U.S. cor­re­spon­dent for Mon­doweiss. Fol­low him on Twit­ter: @michaelarria.