A Virtual Charter School Company Says Covid-19 Is the 'Tailwind' It's Been Waiting For
Critics say online learning is failing low-income students. But some for-profit companies are pushing to make it the new normal.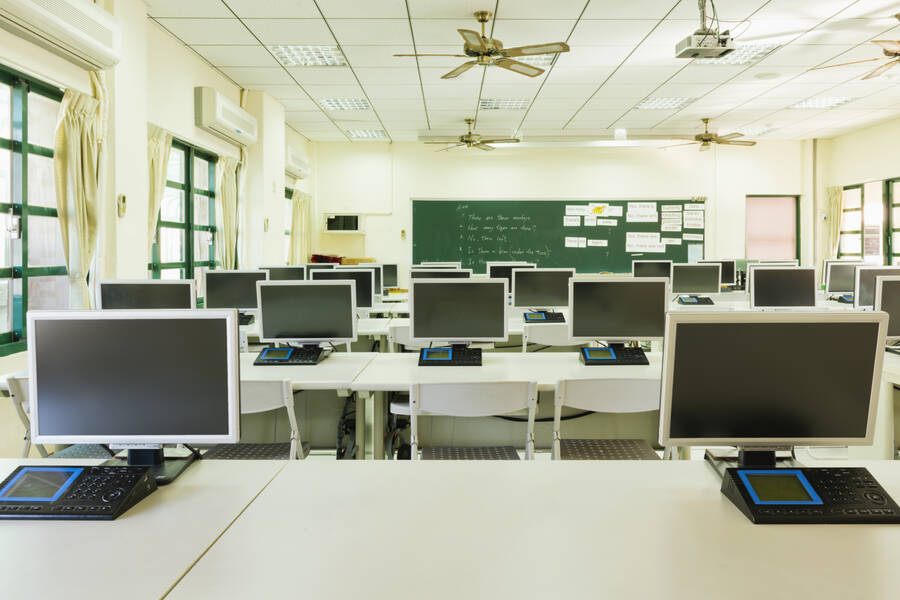 When schools nation­wide began clos­ing their doors this spring as the result of Covid-19, many stu­dents, par­ents and teach­ers felt stress and uncer­tain­ty. Online edu­ca­tion com­pa­nies saw an opportunity.
Long before the Covid-19 crisis, online learning was also a favored reform of Education Secretary Betsy DeVos.
On its most recent quar­ter­ly earn­ings call, Tim­o­thy Med­i­na, chief finan­cial exec­u­tive for vir­tu­al char­ter school oper­a­tor K12 Inc., said, ​"We believe the effects of Covid-19 will be a last­ing tail­wind to online education."
The com­pa­ny was found­ed in 2000 by for­mer Wall Street invest­ment banker and McK­in­sey & Co. con­sul­tant Ron Packard, and Edu­ca­tion Sec­re­tary Bet­sy DeVos was among the ear­ly investors. Since then, K12 has grown into one of the largest for-prof­it edu­ca­tion com­pa­nies in the world, with rev­enue top­ping $1 bil­lion last year.
Now, amid uncer­tain­ty about the future of in-per­son edu­ca­tion, the com­pa­ny sees an oppor­tu­ni­ty to extend its reach even fur­ther. K12 has been involved in tar­get­ed lob­by­ing cam­paigns through the Amer­i­can Leg­isla­tive Exchange Coun­cil for near­ly two decades, and com­pa­ny exec­u­tives sug­gest­ed dur­ing the earn­ings call that they have been work­ing with state leg­is­la­tors and school dis­tricts to expand the mar­ket for online learn­ing this fall. They've also worked with the Her­itage Foun­da­tion, a con­ser­v­a­tive think tank, to draft pol­i­cy rec­om­men­da­tions on Covid-19 recov­ery efforts.
K12 oper­ates more than 70 online schools, the major­i­ty of them tuition-free and pub­licly fund­ed through part­ner­ships with school dis­tricts. K12 tuition-free online pub­lic schools account for near­ly 30% of all vir­tu­al school enroll­ments in the coun­try. The company's Des­ti­na­tions Career Acad­e­mies, which are avail­able in all 50 states, are nar­row­ing in on the work­force train­ing market.
K12 exec­u­tives say that inter­est in their ser­vices has surged in recent months. ​"When the pan­dem­ic first start­ed to impact brick-and-mor­tar schools, our phones began to ring off the hook," Nate Davis, CEO of K12 Inc., said on the earn­ings call. The com­pa­ny is cur­rent­ly run­ning more than 400 active Face­book ads pro­mot­ing its vir­tu­al school services.
An even big­ger oppor­tu­ni­ty may present itself as some states con­sid­er tak­ing their school sys­tems entire­ly online in the fall. K12 already leads in vir­tu­al school enroll­ments in Alaba­ma, where it opened a Des­ti­na­tions Career Acad­e­my ear­li­er this school year and has oper­at­ed the Alaba­ma Vir­tu­al Acad­e­my since 2015. Alaba­ma recent­ly opened a request for pro­pos­als for the cre­ation of a statewide vir­tu­al school, mak­ing it the sev­enth state in the nation to offer full-time class­es for grades K‑12.
Ken Schwartz, a spokesper­son for K12, con­firmed that the com­pa­ny sub­mit­ted a pro­pos­al, along with a num­ber of oth­er vendors.
"As you read in the news just about every day, par­ents nation­wide are con­cerned about the impact Covid will have on their child's future edu­ca­tion," said Schwartz. ​"K12-pow­ered schools are avail­able in 30 states and D.C. and we are def­i­nite­ly see­ing increased inter­est in options for these students."
A high-tech reform that's leav­ing stu­dents behind
Since first launch­ing in 1995, vir­tu­al school­ing has been pro­mot­ed as a nec­es­sary reform that would bring an oth­er­wise fail­ing school sys­tem into the 21st century.
​"We already have the 21st-cen­tu­ry tech­nol­o­gy to bridge the gap between the class­room and the work­place, and more impor­tant­ly to close the divide between the haves and the have-nots," wrote K12 Senior Vice Pres­i­dent Leilani M. Brown in a 2019 op-ed. ​"All we need is for edu­ca­tors and employ­ers to bet­ter uti­lize these tools."
Glob­al­ly, the online edu­ca­tion indus­try is expect­ed to evolve into a $350 bil­lion indus­try by 2025. While some pub­lic vir­tu­al schools are oper­at­ed as non­prof­its, a num­ber of large for-prof­it com­pa­nies like K12, Con­nec­tions Acad­e­my and Pano­soph­ic Learn­ing cur­rent­ly dom­i­nate the mar­ket. Togeth­er, K12 and Con­nec­tions Acad­e­my made up approx­i­mate­ly 50 per­cent of online enroll­ments for the 2017 to 2018 school year.
Long before the Covid-19 cri­sis, online learn­ing was also a favored reform of Edu­ca­tion Sec­re­tary Bet­sy DeVos. In her Sen­ate con­fir­ma­tion hear­ing, DeVos affirmed that ​"high-qual­i­ty vir­tu­al char­ter schools pro­vide valu­able options to fam­i­lies" and praised sev­er­al of K12's vir­tu­al acad­e­mies for main­tain­ing grad­u­a­tion rates of 90 per­cent of above.
Crit­ics con­tend­ed that these num­bers were wild­ly inflat­ed: The aver­age grad­u­a­tion rate for K12's vir­tu­al stu­dents for the 2017 to 2018 school year was 48.1%. Pub­lic edu­ca­tion advo­cates say that online schools short­change students.
"It's not as though the jury is out. The jury has been in for a long time," said Car­ol Bur­ris, exec­u­tive direc­tor of the Net­work for Pub­lic Edu­ca­tion. ​"Online learn­ing is not a good way for the vast major­i­ty of kids to learn. What we real­ly need to do is com­mit fund­ing and efforts to our pub­lic school system."
A 2019 study by the Nation­al Edu­ca­tion Pol­i­cy Cen­ter found that vir­tu­al schools served few­er stu­dents of col­or and low-income stu­dents and had a stu­dent to teacher ratio 2.7 times high­er on aver­age than tra­di­tion­al pub­lic schools (44 stu­dents com­pared to 16). Aver­age four-year grad­u­a­tion rates for vir­tu­al schools were 50%, com­pared to 84% in pub­lic schools.
Schwartz said K12 fol­lows all teacher-stu­dent ratios set by the state or board the com­pa­ny con­tracts with, and that tra­di­tion­al mea­sures of stu­dent suc­cess are ill-suit­ed to vir­tu­al schooling.
"Every year a stu­dent makes progress towards grad­u­a­tion should be count­ed as a suc­cess," he said. ​"The way grad­u­a­tion rates are mea­sured as a four-year cohort is unfa­vor­able to online schools that serve a high num­ber of trans­fer stu­dents, many who are cred­it-defi­cient, not on track to grad­u­ate with their four-year cohort, or who only need a short-term edu­ca­tion option."
Cor­po­rate lob­by­ing and the coronavirus
Despite ques­tions about qual­i­ty, groups like K12, as well as ​"school choice" advo­cates and orga­ni­za­tions, have spent mil­lions of dol­lars on lob­by­ing at the state lev­el to push through leg­is­la­tion that removes reg­u­la­to­ry bar­ri­ers to expan­sion of online char­ter schools.
As ear­ly as 2005, K12 was involved in an effort led by the Amer­i­can Leg­isla­tive Exchange Coun­cil (ALEC), a con­ser­v­a­tive Koch-fund­ed think tank, to craft mod­el leg­is­la­tion to expand for-prof­it vir­tu­al schools at the state lev­el. A num­ber of K12 lob­by­ists and employ­ees, includ­ing for­mer CEO Ron Packard, have served on ALEC's Edu­ca­tion Task Force, which craft­ed the Vir­tu­al Pub­lic Schools Act in 2005 and the Statewide Online Edu­ca­tion Act in 2016.
The Vir­tu­al Pub­lic Schools Act des­ig­nat­ed vir­tu­al schools ​"as pub­lic schools and pro­vid­ed equi­table treat­ment and resources as any oth­er pub­lic school in the state."
A 2013 study by the Cen­ter for Media and Democ­ra­cy found that 139 bills or state bud­get pro­vi­sions resem­bling ALEC's edu­ca­tion pol­i­cy were intro­duced in 43 states, with 31 becom­ing law. Ver­sions of ALEC's vir­tu­al schools bill have been intro­duced in state leg­is­la­tures in Alaba­ma, Illi­nois, Maine, Mis­sis­sip­pi and Mis­souri, and ver­sions of the bill have been passed in Flori­da, Vir­ginia and Tennessee.
In 2011, Ten­nessee passed a Vir­tu­al Pub­lic Schools Act intro­duced by Rep­re­sen­ta­tive Har­ry Brooks, who was then serv­ing on ALEC's Edu­ca­tion Task Force and acknowl­edged to the Knoxville News Sen­tinel that a lob­by­ist for K12 Inc. helped draft the bill.
The state law allowed school dis­tricts to open and oper­ate online pub­lic schools and receive the same per-pupil fund­ing as tra­di­tion­al pub­lic schools, despite not incur­ring the expens­es that go along with brick-and-mor­tar facil­i­ties. Short­ly after the law's pas­sage, K12 won a no-bid con­tract from the Union Coun­ty School Dis­trict to cre­ate the Ten­nessee Vir­tu­al Acad­e­my (TNVA), which received over $5,000 per stu­dent enrolled.
Since open­ing in 2011, TNVA has repeat­ed­ly placed among the low­est-per­form­ing schools in the state.
"TNVA hem­or­rhaged kids, with the high­est turnover any of us had ever seen at a school. So, while one could argue that kids just need­ed time to adjust, the school bled out so many failed stu­dents each year that it obvi­at­ed the good," wrote Kevin Huff­man, then Tennessee's edu­ca­tion com­mis­sion­er, in a 2015 essay called ​"How I Tried (and Failed) to Close the Worst School in Ten­nessee." Despite Huffman's efforts to intro­duce state leg­is­la­tion that would lim­it growth on vir­tu­al schools and close those that per­formed ter­ri­bly for two con­sec­u­tive years, the school remained open thanks, in large part, to aggres­sive lob­by­ing on the part of K12.
A New York Times report pub­lished in April found that, since switch­ing to dis­tance learn­ing dur­ing the pan­dem­ic, teach­ers in some dis­tricts report that few­er than half of their stu­dents par­tic­i­pat­ing in online learn­ing. The prob­lem is espe­cial­ly acute in schools with low-income stu­dents who strug­gle with access to home com­put­ers and reli­able inter­net con­nec­tion, threat­en­ing to widen an already yawn­ing achieve­ment gap.
Despite these con­cerns, K12 appears well-posi­tioned to expand its mod­el. Accord­ing to the company's most recent fed­er­al lob­by­ing dis­clo­sure, it has spent more than $100,000 lob­by­ing Con­gress this year for ​"edu­ca­tion issues relat­ed to the Covid-19 pandemic."
In the April earn­ings call, Davis also sug­gest­ed the com­pa­ny was con­tin­u­ing to make head­way at the state lev­el. ​"We also see a cou­ple of states who are open­ing their minds and begin­ning to talk to us about open­ing up schools where they weren't before," he said. Though he left them unnamed, he said one state has asked K12 to bid for a statewide cur­ricu­lum and two cities have done the same.
Asked about the K12's lob­by­ing, Schwartz said the com­pa­ny com­plies with all state and fed­er­al lob­by­ing laws.
"As lead­ers in the field of online learn­ing, we inter­act with pub­lic offi­cials about the field of online learn­ing and how this mod­el of edu­ca­tion serves stu­dents in need and ensures con­ti­nu­ity of learn­ing dur­ing a cri­sis, such as the coro­n­avirus pan­dem­ic," he said.
In ear­ly April, K12 joined the Her­itage Foundation's ​"Nation­al Coro­n­avirus Recov­ery Com­mis­sion," which has been busy craft­ing rec­om­men­da­tions on how the coun­try can reopen the econ­o­my as soon as pos­si­ble. The commission's rec­om­men­da­tions include lift­ing ​"any bar­ri­ers to access" in states with online schools such as enroll­ment caps or enroll­ment restric­tions; lift­ing state restric­tions on teacher cer­ti­fi­ca­tion ​"to free the sup­ply of online teach­ers and tutors" to allow ​"any­one with a bachelor's degree to pro­vide K‑12 instruc­tion online"; and allow­ing ​"fed­er­al Title I dol­lars for low-income dis­tricts to fol­low stu­dents to pri­vate online edu­ca­tion options of choice."
The rec­om­men­da­tions also include restruc­tur­ing state per-pupil fund­ing to go direct­ly to par­ents in the form of an edu­ca­tion sav­ings account (ESAs), which would siphon off mon­ey from pub­lic schools ​"to pay for online cours­es, online tutors, cur­ricu­lum, and textbooks."
Togeth­er, these rec­om­men­da­tions would help cut out the gov­ern­ment as mid­dle­man between stu­dents and for-prof­it online schools by send­ing mon­ey to par­ents direct­ly to shop for edu­ca­tion­al services.
A num­ber of these rec­om­men­da­tions are already reflect­ed in the way the Depart­ment of Edu­ca­tion has struc­tured fund­ing for edu­ca­tion relief in the Coro­n­avirus Aid, Relief, and Eco­nom­ic Secu­ri­ty (CARES) Act. In late April, DeVos announced $180 mil­lion set aside for ​"rethink­ing" K‑12 edu­ca­tion. The fund­ing com­pe­ti­tion is an effort to redi­rect pub­lic fund­ing from tra­di­tion­al schools towards fam­i­lies and to expand remote edu­ca­tion, includ­ing the estab­lish­ment of statewide vir­tu­al schools.
Through ​"micro­grants for fam­i­lies" DeVos has set up a sys­tem sim­i­lar to an edu­ca­tion sav­ings account (ESA), which has been pushed among a num­ber of mar­ket-based school reform­ers for years includ­ing by for­mer Flori­da Gov­er­nor Jeb Bush and the Amer­i­can Leg­isla­tive Exchange Council.
The ​"rethink­ing" edu­ca­tion grants fall with­in the $30.75 bil­lion Edu­ca­tion Sta­bi­liza­tion Fund set aside by the CARES Act. Of the $13.5 bil­lion set aside for K‑12 emer­gency fund­ing, 90% will be redi­rect­ed to school dis­tricts based on the Title I fund­ing for­mu­la. Under DeVos's direc­tion though, this mon­ey will not be redi­rect­ed to pri­vate schools based on the per­cent­age of low-income stu­dents they serve but rather will be dis­trib­uted by cal­cu­lat­ing the total share of pri­vate school stu­dents, and not just those who are low-income.
Car­ol Bur­ris, said the new fund­ing for­mu­la for pri­vate schools is deeply con­cern­ing. ​"You're talk­ing, in many cas­es about pri­vate schools that are designed for our nation's wealth­i­est chil­dren with large tuition rates," Bur­ris said. ​"With­out a doubt, what [DeVos] is doing is tak­ing the intent of Con­gress and she's dis­tort­ing it to push her own polit­i­cal agen­da which is anti-pub­lic school and pro-school choice."
She wor­ries that achieve­ment gaps will widen under the pan­dem­ic as more resources are direct­ed away from pub­lic schools to ​"alter­na­tives" like online schools. ​"They see this as a mar­ket oppor­tu­ni­ty –  – there's no doubt about it," she said. ​"And they're ready to pounce."