The Crackdown on Chelsea Manning and Julian Assange Is About Protecting U.S. Empire
By publishing information provided by whistleblower Chelsea Manning, WikiLeaks shined light on U.S. war crimes. But exposing empire comes at a cost.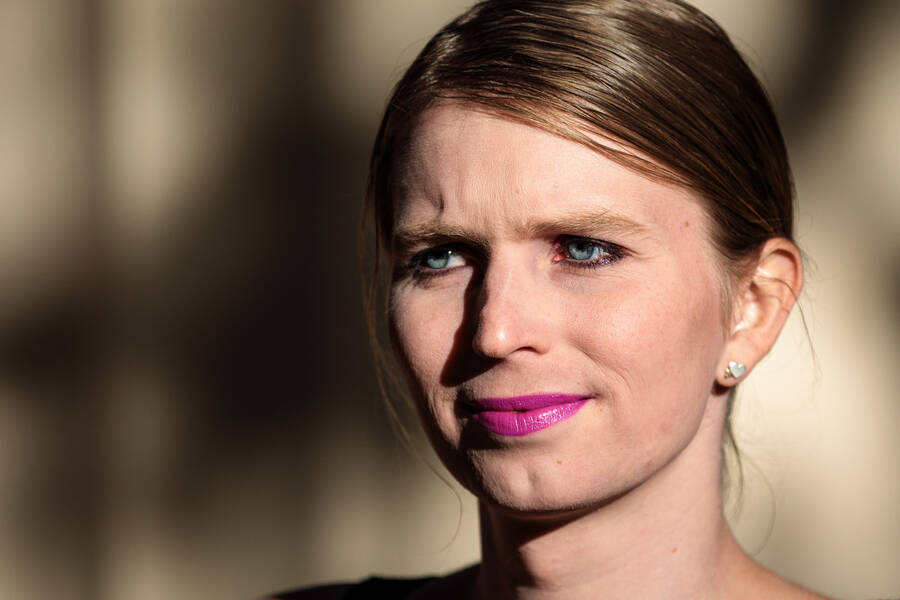 On April 11, the U.S. unsealed a year-old indict­ment against Wik­iLeaks founder Julian Assange. That same morn­ing, Ecuado­ri­an Pres­i­dent Lenin Moreno revoked Assange's asy­lum. Lon­don Met­ro­pol­i­tan Police entered the Ecuado­ri­an embassy where Assange had lived for sev­en years and arrest­ed him. While he was ini­tial­ly arrest­ed for skip­ping bail in the UK, the U.S. was seek­ing his extra­di­tion. This was the cul­mi­na­tion of a near­ly decade-long vendet­ta against WikiLeaks.
The U.S. government has fought to keep secret its program of disappearances and torture, detention sites, and even what countries it bombs.
The indict­ment against Assange does not per­tain to sex­u­al assault alle­ga­tions in Swe­den or the pub­lish­ing of Demo­c­ra­t­ic Nation­al Com­mit­tee emails that had become a point of inquiry in the Mueller probe. Instead, the indict­ment stems from the pub­lish­ing of a trove of U.S. secrets turned over by whistle­blow­er Chelsea Man­ning. Wik­iLeaks from 2010 to 2011 worked with news out­lets span­ning the globe, includ­ing The New York Times, The Guardian, Der Spegel, Le Monde and Al Jazeera, to pub­lish the leaked infor­ma­tion. The increased con­nec­tions of Assange and Wik­iLeaks to the Right, as well as alle­ga­tions that Wik­iLeaks worked to assist the elec­tion of Don­ald Trump, have both giv­en fod­der to crit­ics and alien­at­ed some long-time sup­port­ers. But as Diane Abbott, a senior fig­ure with­in the UK Labour Par­ty who objects to his extra­di­tion, said, Assange ​"is being pur­sued because he has exposed wrong­do­ing by U.S. admin­is­tra­tions and their mil­i­tary forces."
Far more is at stake than the fate of one per­son. The U.S. is tar­get­ing an indi­vid­ual for pub­lish­ing infor­ma­tion of pub­lic inter­est. Assange is not a U.S. cit­i­zen, and his ​"crime" did not take place on U.S. soil. The U.S. is assert­ing the right to track down and imprison any­one in the world who expos­es its crimes. Assange's pros­e­cu­tion sets not just a prece­dent against press free­dom domes­ti­cal­ly, but the world over
Crim­i­nal­iz­ing journalism
Press free­dom groups have long feared that Assange would be charged under the Espi­onage Act. No jour­nal­ist has ever been pros­e­cut­ed under this act for pub­lish­ing clas­si­fied infor­ma­tion, as it is wide­ly pre­sumed that doing so would be uncon­sti­tu­tion­al. The Supreme Court has pre­vi­ous­ly ruled that jour­nal­ists can­not be held crim­i­nal­ly liable for pub­lish­ing infor­ma­tion ille­gal­ly obtained by third par­ties, so long as they them­selves did not play a part in ille­gal­ly obtain­ing it. The Oba­ma Admin­is­tra­tion balked at charg­ing Wik­iLeaks under the Espi­onage Act. Even though the Oba­ma Admin­is­tra­tion over­saw a record num­ber of pros­e­cu­tions of whistle­blow­ers under the Espi­onage Act, it viewed pros­e­cut­ing a pub­lish­er of clas­si­fied infor­ma­tion as being too threat­en­ing to press free­dom. As the gen­er­al coun­sel for the New York Times point­ed out, any prece­dent allow­ing the gov­ern­ment to pros­e­cute Wik­iLeaks would also apply to lega­cy pub­li­ca­tions that print sim­i­lar infor­ma­tion. With Trump at the helm, many feared his admin­is­tra­tion did not share such reservations.
Unex­pect­ed­ly, Assange has been charged not under the Espi­onage Act, but with con­spir­ing with whistle­blow­er Chelsea Man­ning to crack a pass­word on a Depart­ment of Defense com­put­er. This was not so that Man­ning could gain access to new files, but to help her make it hard­er to iden­ti­ty her as the source. (The attempt also appears to have failed.) After request­ing extra­di­tion, the U.S. has 65 days to bring addi­tion charges, which may be forth­com­ing against Assange. The law of extra­di­tion gen­er­al­ly for­bids bring­ing new charges after a par­ty is extradited.
While the charge may appear on its face to be about com­put­er crimes, it is very much about silenc­ing those who pub­lish infor­ma­tion the U.S. gov­ern­ment does not like. Press free­dom groups have argued that ele­ments of the con­spir­a­cy, such as coun­sel­ing Man­ning on the sig­nif­i­cance of Guan­tá­namo detainee assess­ments, con­sti­tute news­gath­er­ing prac­tices. By mak­ing news­gath­er­ing part of the ​"con­spir­a­cy," the U.S. is crim­i­nal­iz­ing jour­nal­ism. (Full Dis­clo­sure: This author works for Defend­ing Rights & Dis­sent, a free expres­sion orga­ni­za­tion that oppos­es the use of the Espi­onage Act against whistle­blow­ers and the pros­e­cu­tion of Assange.)
An Espi­onage Act indict­ment would not only have posed sig­nif­i­cant con­sti­tu­tion­al issues, it would have been a hur­dle to extra­di­tion. Polit­i­cal offens­es are exclud­ed from extra­di­tion, and espi­onage is his­tor­i­cal­ly con­sid­ered a polit­i­cal offense. But as jour­nal­ist Kevin Gosz­to­la argues, the indict­ment itself reads very much like an Espi­onage Act indict­ment. James C. Goodale, one of the Pen­ta­gon Paper lawyers, has lam­bast­ed the com­put­er-crack­ing charges as a ​"snare and a delu­sion" designed ​"to divert atten­tion from the basic fact that this indict­ment pun­ish­es the pub­li­ca­tion of truth­ful information."
Expos­ing the crimes of U.S. empire
The pub­li­ca­tions the U.S. is using to pur­sue Assange date back near­ly a decade ago. In 2010, army intel­li­gence ana­lyst Chelsea Man­ning real­ized she couldn't stay silent any­more. Sta­tioned in Iraq, she became dis­turbed by the dehu­man­iza­tion of Iraqi life that is inher­ent in pro­tract­ed mil­i­tary occu­pa­tions. She also had access to a mas­sive trove of doc­u­ments that showed how, in Chelsea Manning's words, ​"first-world coun­tries exploit­ed third-world coun­tries" through ​"crazy, almost crim­i­nal polit­i­cal back­deal­ings." Man­ning believed that if she could get this infor­ma­tion to the U.S. pub­lic, she would reveal ​"the true nature of twen­ty-first cen­tu­ry asym­met­ric war­fare." Her intent was clear: to expose the truth and spark a pub­lic debate. Man­ning tried to take her secrets to the Wash­ing­ton Post, The New York Times and Politi­co, but they weren't inter­est­ed. Man­ning turned to WikiLeaks
Wik­iLeaks first released a video of a July 12, 2007 airstrike filmed from an Apache heli­copter gun-sight. The strike killed at least 12 peo­ple, includ­ing two Reuters reporters. Provoca­tive­ly, Wik­iLeaks titled the video ​"Col­lat­er­al Mur­der," a clear com­men­tary on the euphemism ​"col­lat­er­al dam­age," which U.S. offi­cials use to describe civil­ian deaths. Sol­diers fired on a van res­cu­ing the wound­ed, injur­ing chil­dren in the process. One of the pilots respond­ed, ​"Well it's their fault for bring­ing their kids into a bat­tle." Reuters had filed Free­dom of Infor­ma­tion Act requests about the inci­dent, but nev­er received the video. The Pen­ta­gon was report­ed­ly tak­en by sur­prise at its release.
If the Pen­ta­gon was tak­en off-guard by the release of Col­lat­er­al Mur­der, one can only imag­ine how they took what hap­pened next. In the largest leak in U.S. mil­i­tary his­to­ry, Wik­iLeaks released inter­nal mil­i­tary logs from Afghanistan. The Afghan logs didn't stay the largest leak for long. They were quick­ly sur­passed by Wik­iLeaks' release of sim­i­lar logs from the Iraq War. Next came releas­es of State Depart­ment cables and the U.S. Guan­tá­namo Bay detainee assessments.
The Iraq and Afghan War logs expose the real­i­ty of U.S. occu­pa­tions. Accord­ing to Dahr Jamail, who had report­ed from Iraq, "[t]he Wik­iLeaks cables from Iraq dis­played the bru­tal­i­ty of U.S. poli­cies that were ongo­ing through­out the occu­pa­tion." Phyl­lis Ben­nis, a fel­low of the Insti­tute for Pol­i­cy Stud­ies, wrote that the Afghan War Logs ​"were cru­cial­ly impor­tant," as they showed ​"Afghanistan was and is a real coun­try where hun­dreds of thou­sand, mil­lions of peo­ple with no con­nec­tions to 9⁄11, would be killed or see their lives and fam­i­lies destroyed."
These pub­li­ca­tions empow­ered anti-war vet­er­ans to speak up. After the release of Col­lat­er­al Mur­der, two mem­bers of the unit involved went pub­lic. Ethan McCord could be seen in the video try­ing to res­cue the chil­dren. He strug­gled psy­cho­log­i­cal­ly as a result of what he wit­nessed. He didn't ini­tial­ly know a video exist­ed. But its release allowed him to pub­licly speak about the events of the day and against the bru­tal­i­ty of the war. Josh Stieber had also been in the same unit depict­ed in Col­lat­er­al Mur­der. Like McCord, after its release he pub­licly spoke out against the war. Stieber told Democ­ra­cy Now in April 2010, ​"if we're shocked by this video, then we need to be ask­ing ques­tions of the larg­er sys­tem, because, again, this is how these sol­diers were trained to act." Stieber would call on Con­gress to inves­ti­gate the crimes exposed by Wik­iLeaks. Both McCord and Stieber would pub­licly apol­o­gize to those impact­ed by the airstrike.
The Guan­tá­namo leaks revealed that the U.S. gov­ern­ment know­ing­ly held 150 inno­cent men. The U.S. also held Sami al-Hajj, an Al-Jazeera jour­nal­ist, at Guan­tá­namo, in part to learn about his employ­er. The mas­sive, sprawl­ing nature of the State Depart­ment cables makes it impos­si­ble to cov­er in its entire­ty. But with Venezuela cur­rent­ly in U.S. crosshairs, it's worth not­ing the cables reveal a par­tic­u­lar fix­a­tion with Venezuela. In order to desta­bi­lize the Boli­var­i­an process, the U.S. pur­sued tac­tics such as work­ing to sup­port the oppo­si­tion, fos­ter divi­sions with­in Chav­is­mo and iso­late the coun­try internationally.
In the crosshairs of the U.S.
This mas­sive insight into the U.S. for­eign pol­i­cy appa­ra­tus essen­tial­ly showed ​"the world accord­ing to U.S. empire." But expos­ing the U.S. empire comes at a cost. Man­ning was sub­ject­ed to a pre­tri­al deten­tion that a UN expert said con­sti­tut­ed cru­el, inhu­man and degrad­ing treat­ment — and pos­si­bly tor­ture. While Oba­ma com­mut­ed her 35-year sen­tence after sev­en years, she still spent more time in prison than any­one in U.S. his­to­ry for leak­ing infor­ma­tion to the media. (Man­ning recent­ly spent 62 days in jail for refus­ing to tes­ti­fy before a grand jury against Assange. As she has been sub­poe­naed yet again to tes­ti­fy about the same infor­ma­tion, it pos­si­ble she may be jailed again.)
When Swedish author­i­ties sought Assange's extra­di­tion from the UK as part of a pre­lim­i­nary inves­ti­ga­tion into sex­u­al assault alle­ga­tions, Assange argued it was a ruse to have him extra­dit­ed to the U.S. Believ­ing threats from the U.S. to be cred­i­ble, Ecuador grant­ed Assange polit­i­cal asy­lum. With the UK guard­ing the embassy around the clock and threat­en­ing to arrest Assange, he was trapped in the embassy. Assange's crit­ics have dis­put­ed the char­ac­ter­i­za­tion that Assange was an invol­un­tary pris­on­er in the embassy, instead argu­ing that Assange's fate was of his own choos­ing. How­ev­er, a UN Work­ing Group found both the UK and Swe­den to have arbi­trar­i­ly detained Assange. Even after Swe­den dropped its inves­ti­ga­tion, the UK still threat­ened to arrest Assange for skip­ping bail. (Swedish author­i­ties reopened the rape inves­ti­ga­tion on May 13, 2019.)
While west­ern media has focused on how Assange was a bad house­guest who wore out his wel­come with his Ecuado­ri­an host, they've missed a larg­er sto­ry. Assange's asy­lum came at the height of the Pink Tide, when left-lean­ing Latin Amer­i­can nations assert­ed their sov­er­eign­ty against the U.S. It was Pres­i­dent Rafael Cor­rea who grant­ed Assange asy­lum. Cor­rea has blast­ed his suc­ces­sor for per­mit­ting the arrest of Assange, call­ing Moreno the ​"great­est trai­tor in Ecuado­ri­an and Latin Amer­i­can his­to­ry." The cur­rent pres­i­dent is embroiled in a cor­rup­tion scan­dal. Ecuador's inte­ri­or min­is­ter has accused one of Moreno's chief polit­i­cal oppo­nents, Ricar­do Patiño, of con­spir­ing with Wik­iLeaks to desta­bi­lize the Ecuado­ri­an gov­ern­ment. Moreno's revo­ca­tion of Assange's asy­lum comes on the heels of a $4.2 bil­lion IMF loan, lead­ing crit­ics such as for­mer Ecuado­ri­an for­eign min­is­ter Guil­laume Long to assert the two were connected.
The U.S. gov­ern­ment has fought to keep secret its pro­gram of dis­ap­pear­ances and tor­ture, deten­tion sites, and even what coun­tries it bombs. But it isn't just offi­cial secre­cy that has helped obscure the nature of U.S. wars. Evi­dence of the human toll of U.S. wars isn't hard to find. It's cer­tain­ly not a secret to those in oth­er coun­tries who live it dai­ly. But for much of the main­stream U.S. media, there is lit­tle if any true reck­on­ing with the civil­ian cost of war. Wik­iLeaks is cur­rent­ly in the crosshairs of the U.S. gov­ern­ment, because it chal­lenged this secre­cy head on. Its fate will impact all those who wish to shine light on the U.S. empire.
Chip Gib­bons
is a jour­nal­ist whose work has been fea­tured in Jacobin and the Nation. He is also the pol­i­cy and leg­isla­tive coun­sel for Defend­ing Rights and Dis­sent, but the views expressed here are his own. Fol­low him on Twit­ter @ChipGibbons
89
.