Barr's New Task Force Is a Blatant Attempt to Target Racial Justice Protesters
By embracing preventive policing, the task force aims to eliminate the threat of dissent.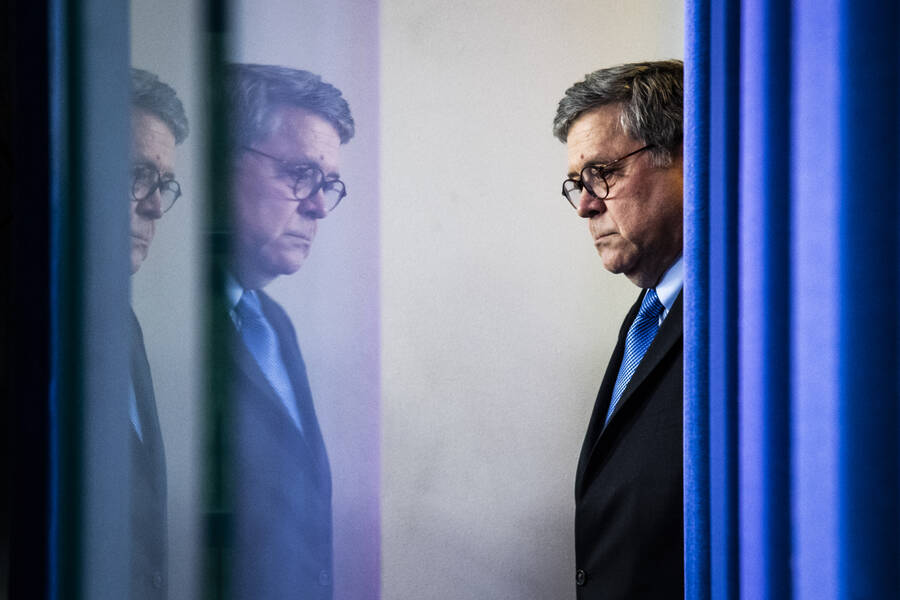 On June 26, Attor­ney Gen­er­al William Barr announced the cre­ation of a new task force on ​"vio­lent anti-gov­ern­ment extrem­ists." Made up of rep­re­sen­ta­tives of the U.S. Attorney's Office, the Fed­er­al Bureau of Inves­ti­ga­tion (FBI) and ​"oth­er rel­e­vant com­po­nents," the task force comes in the midst of a nation­wide upris­ing against racism and police vio­lence. While Barr's ini­tial state­ment cit­ed as exam­ples of ​"vio­lent anti-gov­ern­ment extrem­ists" both the right-wing ​"Booga­loo" move­ment and ​"Antifa," the task­force is pri­mar­i­ly as a right-wing reac­tion to racial jus­tice protests erupt­ing across the country.
The FBI has always been central to Red Scares in the United States.
This devel­op­ment is in keep­ing with the FBI's his­to­ry of spy­ing on near­ly every major social move­ment, from the anti-Viet­nam war and civ­il rights move­ments, to Occu­py Wall Street and Black Lives Mat­ter. And it comes as Barr and Trump have repeat­ed­ly tried to turn ​"Antifa," or anti-fas­cist ide­ol­o­gy, into an all-pur­pose boogey­man. With­in this con­text, the cre­ation of the new task force on vio­lent anti-gov­ern­ment extrem­ism should be viewed as a dan­ger­ous act aimed at polic­ing the pol­i­tics of racial jus­tice protesters.
The prob­lem with pre­ven­tive polit­i­cal policing
The task force is not just tasked with pros­e­cut­ing vio­lent anti-gov­ern­ment extrem­ists who engage in domes­tic ter­ror­ism, but pre­vent­ing these groups or indi­vid­u­als from engag­ing in vio­lence before it occurs and to ​"ulti­mate­ly elim­i­nate it as a threat to pub­lic safe­ty and the rule of law." While pre­vent­ing vio­lence before it occurs may sound noble, pre­ven­tive polic­ing is fraught with abuse. After all, it inher­ent­ly involves law enforce­ment action or intru­sive intel­li­gence gath­er­ing against peo­ple who have not com­mit­ted any crime based on the notion that law enforce­ment and intel­li­gence can suc­cess­ful­ly pin­point poten­tial criminals.
Mike Ger­man, a for­mer FBI agent and cur­rent fel­low with the Bren­nan Cen­ter for Justice's Lib­er­ty & Nation­al Secu­ri­ty Pro­gram, told In These Times the claim that ​"law enforce­ment or intel­li­gence offi­cers can accu­rate­ly pre­dict who will engage in crim­i­nal behav­ior in the future is a dubi­ous assump­tion." Such a pre­ven­tive frame­work, says Ger­man, ​"jus­ti­fies broad law enforce­ment or intel­li­gence activ­i­ties as nec­es­sary to serve the lauda­to­ry goal of pre­vent­ing crime where the evi­dence of suc­cess — no crime occur­ring — jus­ti­fies the action tak­en even when there is no evi­dence the tac­tics pre­vent­ed the crime rather than that the pre­dic­tion that a crime would occur was false."
The lan­guage about pre­ven­tion is also a red flag for those famil­iar with the FBI's use of rad­i­cal­iza­tion the­o­ry, which has been cen­tral to its Coun­ter­ing Vio­lent Extrem­ism ini­tia­tive, a counter ter­ror­ism pro­gram aimed at iden­ti­fy­ing indi­vid­u­als like­ly to become ter­ror­ists. Rad­i­cal­iza­tion the­o­ry posits that one becomes a ter­ror­ist by adopt­ing ideas the FBI deems rad­i­cal or extrem­ist. This the­o­ry rests on the premise that there is set path by which one rad­i­cal­izes into becom­ing vio­lent. As this path has iden­ti­fi­able points, know­ing those points allows to law enforce­ment and intel­li­gence to inter­vene before an indi­vid­ual is a full fledged terrorist.
The under­ly­ing method­olog­i­cal assump­tions of this the­o­ry and the idea that there is a set path to ter­ror­ism are wide­ly dis­put­ed. Civ­il lib­er­tar­i­ans also point out that polit­i­cal speech the gov­ern­ment deems rad­i­cal or extrem­ist is still pro­tect­ed by the First Amend­ment. Claim­ing that espous­ing polit­i­cal views dis­fa­vored by the gov­ern­ment is the first step to becom­ing a ter­ror­ist opens the door to polit­i­cal surveillance.
This is appar­ent in an online game cre­at­ed in 2016 by the FBI to teach teenagers how to pre­vent vio­lent extrem­ism. In one sce­nario, stu­dents are giv­en a list of fic­tion­al social media posts and asked to iden­ti­ty the one ​"most like­ly a vio­lent extrem­ist look­ing for new recruits." The cor­rect answer is a post ask­ing if any­one is inter­est­ed in join­ing him at ​"that awful ani­mal test­ing lab" to ​"send them a ​'pow­er­ful' mes­sage and shut them down once and for all." It's a vague post that could refer to a destruc­tive act, but it could also refer to mere polit­i­cal protest. The mes­sage it sends to stu­dents is clear: cer­tain forms of polit­i­cal speech are sus­pi­cious. (The ini­tial ver­sion of this game used as an exam­ple of reportable behav­ior a stu­dent with a Mus­lim-sound­ing name dis­cussing an over­seas trip. After civ­il rights groups object­ed to the game's pro­mo­tion of racial pro­fil­ing, this spe­cif­ic exam­ple was changed. Civ­il rights groups still object­ed to the game on grounds that it pro­mot­ed racial and reli­gious profiling.
This game isn't the only rea­son for con­cern. A 2010 FBI primer on anar­chist extrem­ism describes it as encom­pass­ing ​"a vari­ety of ide­olo­gies, includ­ing anti-cap­i­tal­ism, anti-glob­al­ism and anti-urban­iza­tion." In 2001 con­gres­sion­al tes­ti­mo­ny about the ter­ror­ist threat posed by ​"left-wing and Puer­to Rican extrem­ist groups," the FBI direc­tor defined those groups as pro­fess­ing ​"a rev­o­lu­tion­ary social­ist doc­trine and view them­selves as pro­tec­tors of the peo­ple against the ​'dehu­man­iz­ing effects' of cap­i­tal­ism and imperialism."
If polit­i­cal speech leads to one becom­ing a ter­ror­ist, then pre­ven­tive polic­ing based in the rad­i­cal­iza­tion frame­work means polic­ing polit­i­cal speech. As Ger­man told In These Times, ​"His­to­ry shows the gov­ern­ment often posits that polit­i­cal activ­i­ties and speech are pre­cur­sors or indi­ca­tors of future vio­lence, so the whole pre­ven­tion frame­work serves to jus­ti­fy the sup­pres­sion of polit­i­cal oppo­si­tion rather than crime."
The focus on not just pros­e­cu­tions, but elim­i­nat­ing the threat of extrem­ism, is evoca­tive of one the dark­est chap­ters in the FBI's his­to­ry. While the FBI has a long track record of polit­i­cal sur­veil­lance, from 1956 to 1971, the FBI went a step fur­ther. Under the Coun­ter­in­tel­li­gence Pro­gram (COIN­TEL­PRO), the FBI car­ried out what the Church Com­mit­tee, the land­mark Sen­ate inves­ti­ga­tion into US intel­li­gence oper­a­tions, labeled a domes­tic covert action against Amer­i­can cit­i­zens viewed as threat­en­ing ​"the exist­ing polit­i­cal and social order." COIN­TEL­PRO drew upon ​"tech­niques of wartime" designed to counter hos­tile for­eign agents and applied them to domes­tic polit­i­cal movements.
The FBI cre­at­ed COIN­TEL­PRO in 1956 because it was frus­trat­ed with what it per­ceived as a lack of law enforce­ment avenues to destroy the Com­mu­nist Par­ty. Fear­ing it was unable to pros­e­cute indi­vid­u­als whose speech the FBI con­sid­ered a nation­al secu­ri­ty threat, it moved into active­ly try­ing to ​"neu­tral­ize" or ​"dis­rupt" these groups. As his­to­ri­an Ellen Schreck­er suc­cinct­ly put it, FBI Direc­tor J. Edgar ​"and his men decid­ed to use dirty tricks instead of crim­i­nal pros­e­cu­tions to neu­tral­ize the party."
COIN­TEL­PRO quick­ly expand­ed beyond the Com­mu­nist Par­ty, but the ini­ti­a­tion of new oper­a­tions was always premised on the FBI's belief that, for what­ev­er rea­son, pros­e­cu­tion and nor­mal law enforce­ment avenues were fore­closed when it came to thwart­ing the move­ment in ques­tion. As a result, COIN­TEL­PRO by its very design often tar­get­ed entire­ly law­ful First Amend­ment-pro­tect­ed polit­i­cal orga­niz­ing for neutralization.
Tar­get­ing racial jus­tice protesters
The task force's stat­ed tar­get gives fur­ther cause for con­cern that it will allow the FBI to ramp up its his­to­ry of polit­i­cal polic­ing. The phrase ​"anti-gov­ern­ment extrem­ism" entered the FBI lex­i­con as part of a shift in how the FBI defines domes­tic ter­ror­ism. In 2017, the FBI claimed it rec­og­nized the exis­tence of nine ​"per­sis­tent extrem­ist move­ments": ​"white suprema­cy, black iden­ti­ties, mili­tia, sov­er­eign cit­i­zens, anar­chists, abor­tion, ani­mal rights, envi­ron­men­tal rights and Puer­to Rican Nation­al­ism."(Abor­tion extrem­ism, per the FBI, refers not just to anti-choice actors, but pro-choice ones, as well.) The term Black Iden­ti­ty Extrem­ism, which was revealed ini­tial­ly when an FBI intel­li­gence assess­ment was leaked to For­eign Pol­i­cy, gar­nered sig­nif­i­cant back­lash. Faced with Con­gres­sion­al scruti­ny, FBI direc­tor Christo­pher Wray told Con­gress the bureau no longer used that term. Instead, the FBI now rec­og­nized four cat­e­gories of domes­tic ter­ror­ism: racial­ly moti­vat­ed vio­lent extrem­ism, anti-gov­ern­men­t/an­ti-author­i­ty extrem­ism, ani­mal rights/​environmental extrem­ism, and abor­tion extremism.
Gone was not only Black Iden­ti­ty Extrem­ism, but white suprema­cist, anar­chist, sov­er­eign cit­i­zen, mili­tias, and Puer­to Rican extrem­ism. Or at least the terms were gone.
A sec­ond leak of FBI doc­u­ments shows that the def­i­n­i­tion of Black Iden­ti­ty Extrem­ism had hard­ly been elim­i­nat­ed, but incor­po­rat­ed whole­sale into racial­ly moti­vat­ed vio­lent extrem­ism. Law­mak­ers crit­i­cized this cat­e­go­ry for merg­ing Black Iden­ti­ty Extrem­ism and white suprema­cy. A let­ter signed by sev­en U.S. sen­a­tors states that doing so cre­ates not just a false equiv­a­len­cy, but ​"obfus­cates the white suprema­cist threat."
The terms ​"anti-gov­ern­ment" or ​"anti-author­i­ty extrem­ism" works accord­ing to the same log­ic. Right-wing mili­tias and anar­chist pro­test­ers are brought togeth­er in one uni­fied category.
The obfus­ca­to­ry nature of the FBI's new domes­tic ter­ror­ism cat­e­gories is on full dis­play with Barr's task force on vio­lent anti-gov­ern­ment extrem­ism. While it's clear Barr is tar­get­ing ​"antifa," a catch-all for left­wing pro­test­ers, he is also able to pre­tend he is focus­ing on rightwing groups.
This isn't the first time antifa has been men­tioned. In late 2017, direc­tor Christo­pher Wray, when asked by Con­gress if the FBI was inves­ti­gat­ing ​"antifa," explained that antifa or anti-fas­cism was a polit­i­cal ide­ol­o­gy. The FBI did not, accord­ing to Wray, inves­ti­gate ide­ol­o­gy. The FBI, how­ev­er, had opened numer­ous ​"anar­chist extrem­ism" inves­ti­ga­tions into indi­vid­u­als sup­pos­ed­ly moti­vat­ed to vio­lent action ​"by a kind of an antifa ide­ol­o­gy," he explained. The FBI's own primer on the domes­tic ter­ror­ism threat of anar­chist extrem­ism ref­er­ences this group's and anti-glob­al­ist ide­olo­gies. This is all firm­ly with­in the juris­dic­tion of a task force focus­ing on the sin­is­ter sound­ing vio­lent anti-gov­ern­ment extremism.
A new Red Scare?
Barr isn't hid­ing the ball: He's attacked antifa and the left by name. In a press con­fer­ence on George Floyd protests, Barr declared ​"in many places it appears the vio­lence is planned, orga­nized, and dri­ven by anar­chic and left extrem­ist groups, far-left extrem­ist groups, using antifa-like tactics."
This is clear­ly the lan­guage of a Red Scare. And it isn't just Barr who's par­rot­ing it.
Rep. Matt Gaetz (R‑Fla.) tweet­ed ​"Black Lives Mat­ter is a Marx­ist move­ment." On the floor of the house, Rep. Andy Big­gs (R‑Ariz.) mused that the cur­rent sit­u­a­tion ​"reminds me an awful lot of" the Bol­she­vik Rev­o­lu­tion. Sen. Tom Cot­ton (R‑Ark.), who has called for the mil­i­tary to be used against pro­test­ers, pro­claimed, ​"Look at what's hap­pen­ing in Seat­tle. Rev­o­lu­tion­ar­ies, anar­chists have tak­en over city gov­ern­ment build­ings." In the same piece, he claimed some on the left had ​"adopt­ed the spir­it of a Jacobin mob in the French Rev­o­lu­tion, the Reign of Ter­ror try­ing to com­plete­ly erase our cul­ture and our history."
And then there's Trump.
An exec­u­tive order issued on June 26, sup­pos­ed­ly to pro­tect stat­ues and mon­u­ments, states, ​"Many of the riot­ers, arson­ists and left-wing extrem­ists who have car­ried out and sup­port­ed these acts have explic­it­ly iden­ti­fied them­selves with ide­olo­gies — such as Marx­ism — that call for the destruc­tion of the Unit­ed States sys­tem of gov­ern­ment. Anar­chists and left-wing extrem­ists have sought to advance a fringe ide­ol­o­gy that paints the Unit­ed States of Amer­i­ca as fun­da­men­tal­ly unjust and have sought to impose that ide­ol­o­gy on Amer­i­cans through vio­lence and mob intimidation."
Stand­ing before Mt. Rush­more on July 3, Trump decried ​"far-left fas­cism" and warned of a ​"left-wing cul­tur­al rev­o­lu­tion" ​"designed to over­throw the Amer­i­can Revolution."
The fol­low­ing day, at a Fourth of July ​"Salute to Amer­i­ca," Trump car­ried on with sim­i­lar themes, declar­ing, ​"We are now in the process of defeat­ing the rad­i­cal left, the Marx­ists, the anar­chists, the agi­ta­tors, the loot­ers, and peo­ple who in many instances have absolute­ly no clue what they are doing."
While Trump has resort­ed to these incen­di­ary denounce­ments of racial jus­tice pro­test­ers, this rhetoric did not entire­ly begin with the nation­wide upris­ing against police bru­tal­i­ty. At the 2019 State of the Union address, Trump pro­claimed Amer­i­ca would ​"nev­er be a social­ist coun­try," a claim he has again made at cam­paign ral­lies. But amid esca­lat­ing Covid-19 deaths, mass unem­ploy­ment and a loom­ing evic­tion cri­sis, Trump appears to be ratch­et­ing up his rhetoric. A nation­wide upris­ing against police racism and an insur­gent demo­c­ra­t­ic social­ist move­ment has chal­lenged the polit­i­cal con­sen­sus. With sink­ing approval rat­ings, Trump is clear­ly des­per­ate. Trump and the far-right forces that have cho­sen him as their avatar are clear­ly try­ing to retain their grip on pow­er with bom­bas­tic, Red Scare rhetoric.
The FBI has always been cen­tral to Red Scares in the Unit­ed States. The height of the ear­ly 20th cen­tu­ry Red Scare came when the FBI's new­ly mint­ed intel­li­gence divi­sion, head­ed by its future direc­tor J. Edgar Hoover, gath­ered dossiers on rad­i­cals and car­ried out the Palmer Raids. Dur­ing the Cold War, ​"the FBI was the bureau­crat­ic heart of the McCarthy era. Barr's cre­ation of the task force on vio­lent anti-gov­ern­ment extrem­ism is clear­ly part and par­cel of this lega­cy. It will be used to go after polit­i­cal oppo­nents and police the pol­i­tics of the left. Rein­ing in the FBI's polit­i­cal polic­ing is not only vital to pro­tect­ing civ­il lib­er­ties, but defend­ing the move­ment for racial jus­tice it is targeting.
Chip Gib­bons
is a jour­nal­ist whose work has been fea­tured in Jacobin and the Nation. He is also the pol­i­cy and leg­isla­tive coun­sel for Defend­ing Rights and Dis­sent, but the views expressed here are his own. Fol­low him on Twit­ter @ChipGibbons
89
.