Chicago Activists and Aldermen Call for New Office to Enforce Labor Laws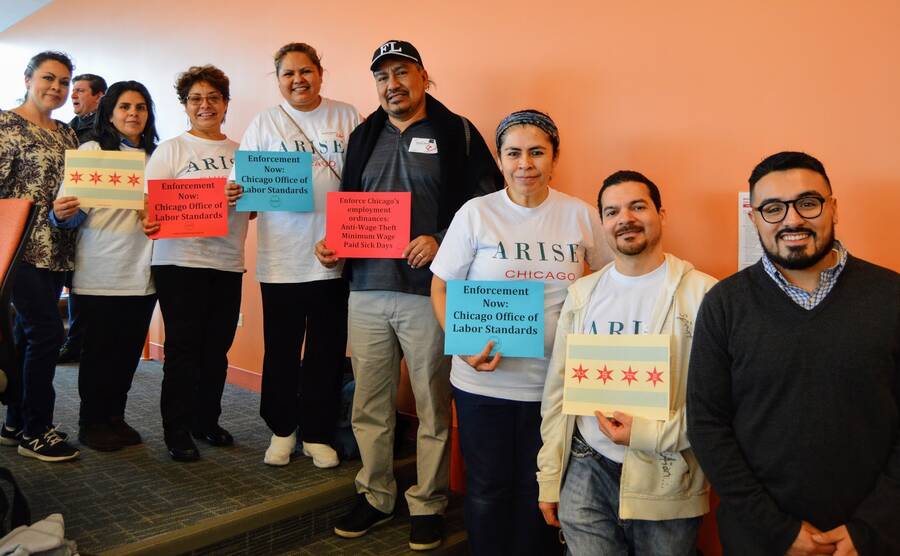 In the past few years, cities, coun­ties, and states around the coun­try have raised their min­i­mum wages and enact­ed oth­er poli­cies aimed at improv­ing the qual­i­ty of low-wage work. They did so, in part, in response to an unprece­dent­ed mobi­liza­tion of low-wage work­ers, orga­nized through the Fight for $15. Since Fight for $15 was launched in 2012, low-wage work­ers have secured an astound­ing $61.5 bil­lion in annu­al rais­es, accord­ing to the Nation­al Employ­ment Law Project.
But there's a prob­lem: Many work­ers are still see­ing their wages stolen by unscrupu­lous employ­ers who vio­late min­i­mum wage and oth­er labor laws. One esti­mate pegs the cost of wage theft for work­ers at as much as $13.8 bil­lion a year.
Labor depart­ments under Repub­li­can admin­is­tra­tions have his­tor­i­cal­ly not focused on aggres­sive enforce­ment of wage and hour and work­place safe­ty laws. And the depart­ment under Don­ald Trump isn't expect­ed to be any dif­fer­ent. That leaves ill-equipped local labor agen­cies and work­er orga­ni­za­tions to pick up the slack when it comes to polic­ing bad employ­ers and pro­tect­ing vul­ner­a­ble workers.
To fill that vac­u­um, a coali­tion of work­er advo­cates in Chica­go is call­ing on the city to estab­lish an office of labor stan­dards that would be charged with enforc­ing the city's new labor laws. Those include Chicago's min­i­mum wage law, sched­uled to hit $13 an hour by 2019, its paid sick leave pol­i­cy, set to take effect in July, and its anti-wage theft ordi­nance that can rescind an employer's busi­ness license if that employ­er is found guilty of steal­ing pay.
"What would it be like if we nev­er enforced our park­ing laws? Think about it for a moment. Imag­ine that all the dri­vers could ignore ​'No park­ing' signs, ​'Tow away' signs and park wher­ev­er they like for how­ev­er long they like," Rev. C.J. Hawk­ing, exec­u­tive direc­tor of Arise Chica­go, a work­er cen­ter, said at a press con­fer­ence last week. ​"Our city would be thrown into chaos and grid­lock. Well, that is what has hap­pened to the lives of low-wage work­ers who expe­ri­ence wage theft. Their lives have been thrown into chaos and their finances have been thrown into gridlock."
She cit­ed a 2009 study from the Uni­ver­si­ty of Illi­nois at Chica­go that found that low-wage work­ers in Cook Coun­ty, where Chica­go is locat­ed, lost more than $1 mil­lion a day to wage theft.
"There is a nation­al move­ment to make enforce­ment local and the time has come for Chica­go to be a part of that momen­tum and cre­ate an office of labor stan­dards," Hawk­ing said.
While more and more cities around the coun­try have tak­en steps to pass high­er min­i­mum wage, paid sick leave, ban-the-box, fair sched­ul­ing and oth­er pro-work­er laws, a hand­ful of pro­gres­sive cities have moved beyond just pol­i­cy mak­ing, real­iz­ing that strong local enforce­ment is crit­i­cal for these types of laws to tru­ly have an effect. Since San Fran­cis­co estab­lished the first-of-its-kind enforce­ment office in 2001, Seat­tle, Los Ange­les, New York City and oth­ers have fol­lowed suit.
The Chica­go coali­tion is call­ing on city lead­ers to craft and pass leg­is­la­tion that would open an office of labor stan­dards in the depart­ment of busi­ness affairs and con­sumer pro­tec­tions, which is cur­rent­ly charged with enforce­ment, but — advo­cates say — isn't equipped with the nec­es­sary tools and resources to effec­tive­ly enforce labor laws. The cur­rent enforce­ment strat­e­gy pri­mar­i­ly relies on work­er com­plaints. Yet a recent inves­ti­ga­tion by the Chica­go Reporter found that in the time since the city's incre­men­tal min­i­mum wage increase from $10 to $10.50 an hour took effect, the depart­ment only inves­ti­gat­ed a quar­ter of wage complaints.
In part, the depart­ment doesn't inves­ti­gate because work­ers don't sub­mit the required affi­davits. And that part­ly stems from the fact that the city's com­plaint process can be daunt­ing. The depart­ment pro­vides a copy of the worker's affi­davit to the employ­er, which cre­ates con­cerns about intim­i­da­tion and retal­i­a­tion, espe­cial­ly among undoc­u­ment­ed work­ers. Seat­tle and San Fran­cis­co, the Reporter notes, keep affi­davits con­fi­den­tial and allow work­ers to file com­plaints over the phone to avoid cum­ber­some paperwork.
Jan­ice Fine, a labor pro­fes­sor at Rut­gers Uni­ver­si­ty who has close­ly stud­ied cities' bud­ding labor law enforce­ment ini­tia­tives, points to San Fran­cis­co as the gold standard.
"San Fran­cis­co has had enor­mous­ly pos­i­tive results with the work that they're doing, and their work is get­ting bet­ter all the time," she explained in an interview.
The office, she says, has col­lect­ed mil­lions in back pay with help from local work­er orga­ni­za­tions. Groups like the Chi­nese Pro­gres­sive Asso­ci­a­tion have helped restau­rant work­ers win huge wage theft set­tle­ments, includ­ing a $4 mil­lion set­tle­ment for some 280 work­ers at a high-end dim sum restaurant.
"Work­ers, work­er orga­ni­za­tions and high-road firms need to play a role in enforce­ment," Fine said at the Chica­go press con­fer­ence. ​"Work­ers know things that gov­ern­ment will nev­er know."
The next step in Chica­go is to build sup­port for the leg­is­la­tion in the city coun­cil and in May­or Rahm Emanuel's office. So far, at least four alder­men are on board, includ­ing Ameya Pawar, who co-chairs the mayor's Work­ing Fam­i­lies Task Force and spon­sored the city's anti-wage theft ordi­nance, and George Car­de­nas, who chairs the council's Lati­no caucus.
"Ask­ing work­ers to nav­i­gate a state or fed­er­al sys­tem … to just get paid on time is too much to ask," Pawar said at the press con­fer­ence. ​"It's just not fair."
Justin Miller
is a writ­ing fel­low for The Amer­i­can Prospect. Fol­low him on Twit­ter: @by_jmiller