Chicago Activists and Aldermen Call for New Office to Enforce Labor Laws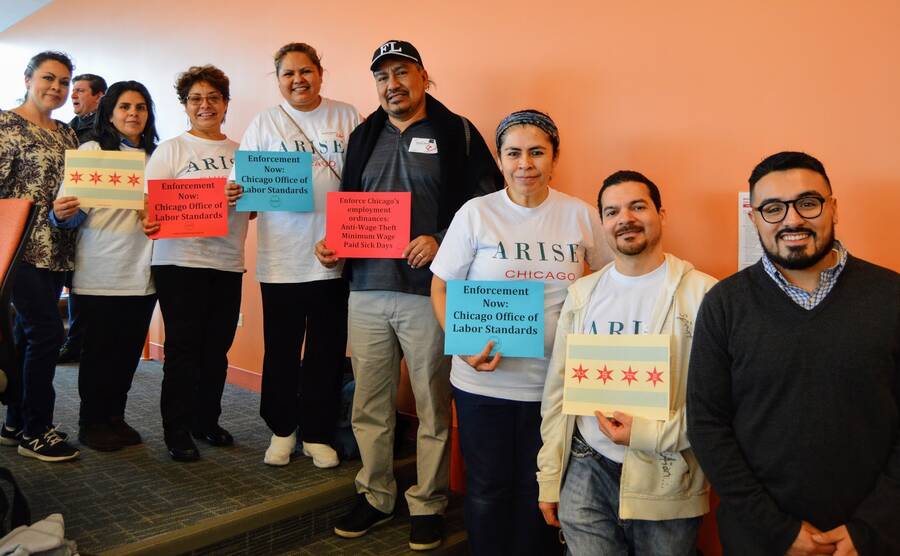 In the past few years, cities, counties, and states around the country have raised their minimum wages and enacted other policies aimed at improving the quality of low-wage work. They did so, in part, in response to an unprecedented mobilization of low-wage workers, organized through the Fight for $15. Since Fight for $15 was launched in 2012, low-wage workers have secured an astounding $61.5 billion in annual raises, according to the National Employment Law Project.
But there's a problem: Many workers are still seeing their wages stolen by unscrupulous employers who violate minimum wage and other labor laws. One estimate pegs the cost of wage theft for workers at as much as $13.8 billion a year.
Labor departments under Republican administrations have historically not focused on aggressive enforcement of wage and hour and workplace safety laws. And the department under Donald Trump isn't expected to be any different. That leaves ill-equipped local labor agencies and worker organizations to pick up the slack when it comes to policing bad employers and protecting vulnerable workers.
To fill that vacuum, a coalition of worker advocates in Chicago is calling on the city to establish an office of labor standards that would be charged with enforcing the city's new labor laws. Those include Chicago's minimum wage law, scheduled to hit $13 an hour by 2019, its paid sick leave policy, set to take effect in July, and its anti-wage theft ordinance that can rescind an employer's business license if that employer is found guilty of stealing pay.
"What would it be like if we never enforced our parking laws? Think about it for a moment. Imagine that all the drivers could ignore ​'No parking' signs, ​'Tow away' signs and park wherever they like for however long they like," Rev. C.J. Hawking, executive director of Arise Chicago, a worker center, said at a press conference last week. ​"Our city would be thrown into chaos and gridlock. Well, that is what has happened to the lives of low-wage workers who experience wage theft. Their lives have been thrown into chaos and their finances have been thrown into gridlock."
She cited a 2009 study from the University of Illinois at Chicago that found that low-wage workers in Cook County, where Chicago is located, lost more than $1 million a day to wage theft.
"There is a national movement to make enforcement local and the time has come for Chicago to be a part of that momentum and create an office of labor standards," Hawking said.
While more and more cities around the country have taken steps to pass higher minimum wage, paid sick leave, ban-the-box, fair scheduling and other pro-worker laws, a handful of progressive cities have moved beyond just policy making, realizing that strong local enforcement is critical for these types of laws to truly have an effect. Since San Francisco established the first-of-its-kind enforcement office in 2001, Seattle, Los Angeles, New York City and others have followed suit.
The Chicago coalition is calling on city leaders to craft and pass legislation that would open an office of labor standards in the department of business affairs and consumer protections, which is currently charged with enforcement, but — advocates say — isn't equipped with the necessary tools and resources to effectively enforce labor laws. The current enforcement strategy primarily relies on worker complaints. Yet a recent investigation by the Chicago Reporter found that in the time since the city's incremental minimum wage increase from $10 to $10.50 an hour took effect, the department only investigated a quarter of wage complaints.
In part, the department doesn't investigate because workers don't submit the required affidavits. And that partly stems from the fact that the city's complaint process can be daunting. The department provides a copy of the worker's affidavit to the employer, which creates concerns about intimidation and retaliation, especially among undocumented workers. Seattle and San Francisco, the Reporter notes, keep affidavits confidential and allow workers to file complaints over the phone to avoid cumbersome paperwork.
Janice Fine, a labor professor at Rutgers University who has closely studied cities' budding labor law enforcement initiatives, points to San Francisco as the gold standard.
"San Francisco has had enormously positive results with the work that they're doing, and their work is getting better all the time," she explained in an interview.
The office, she says, has collected millions in back pay with help from local worker organizations. Groups like the Chinese Progressive Association have helped restaurant workers win huge wage theft settlements, including a $4 million settlement for some 280 workers at a high-end dim sum restaurant.
"Workers, worker organizations and high-road firms need to play a role in enforcement," Fine said at the Chicago press conference. ​"Workers know things that government will never know."
The next step in Chicago is to build support for the legislation in the city council and in Mayor Rahm Emanuel's office. So far, at least four aldermen are on board, including Ameya Pawar, who co-chairs the mayor's Working Families Task Force and sponsored the city's anti-wage theft ordinance, and George Cardenas, who chairs the council's Latino caucus.
"Asking workers to navigate a state or federal system … to just get paid on time is too much to ask," Pawar said at the press conference. ​"It's just not fair."
Justin Miller
is a writing fellow for The American Prospect. Follow him on Twitter: @by_jmiller