Massachusetts Teachers Unions Battle the Dark Money Behind a Pro-Charter Ballot Measure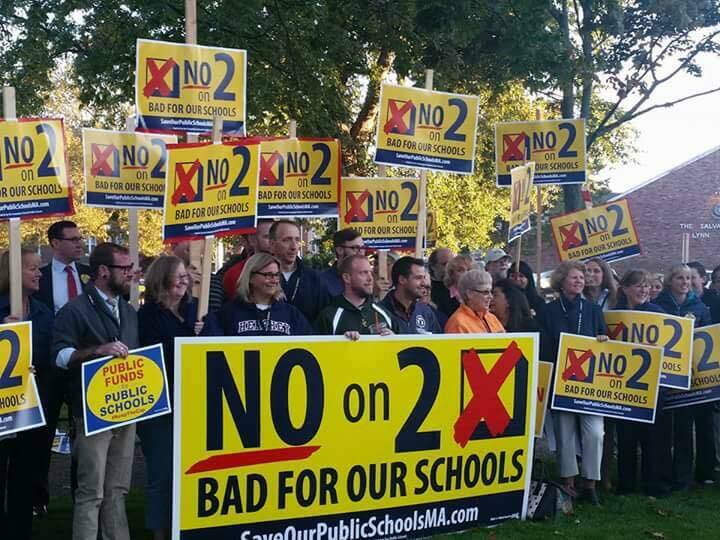 Mil­lions of dol­lars of dark mon­ey are stream­ing into Mass­a­chu­setts as char­ter school pro­po­nents try to pass Ques­tion 2, a con­tentious bal­lot mea­sure that would raise the state's exist­ing cap on char­ter schools. Teach­ers unions are scram­bling to fight back against what they say is a heavy-hand­ed attempt to dra­mat­i­cal­ly expand pub­lic char­ters while hang­ing under­fund­ed, tra­di­tion­al pub­lic schools out to dry.
Such fights are play­ing out across the coun­try as the well-fund­ed char­ter school net­work has turned its sights — and its mil­lions — on state and local edu­ca­tion pol­i­tics. But Mass­a­chu­setts, with its strict cap and account­abil­i­ty mea­sures for char­ters, cou­pled with a rich tra­di­tion of pub­lic edu­ca­tion, has long been the crown jew­el for char­ter backers.
"They have tar­get­ed Mass­a­chu­setts with the idea that if they can win here, it makes the road to pri­va­ti­za­tion across the coun­try eas­i­er," Mass­a­chu­setts Teach­ers Asso­ci­a­tion Pres­i­dent Bar­bara Made­loni says. ​"Blow­ing this up would real­ly be a feath­er in their cap."
The state law that caps the num­ber of char­ters allowed at 120 has made it more dif­fi­cult for a mar­ket-dri­ven reform agen­da to take hold in Mass­a­chu­setts like it has in many oth­er states. That's not for a lack of try­ing though. Repub­li­can Gov. Char­lie Bak­er and his allies want to lift that cap and allow as many as 12 char­ter schools to open or expand enroll­ment each year. After a high­ly-con­test­ed attempt to do so in the leg­is­la­ture was blocked in 2014, char­ter pro­po­nents launched a cam­paign to get the issue on the 2016 ballot.
Sup­port­ers of the pro-char­ter mea­sure had also filed a law­suit chal­leng­ing the con­sti­tu­tion­al­i­ty of the cap, how­ev­er, as The Boston Globe reports, on Tues­day a judge threw out the case, declar­ing that the state has a right to pro­tect the finan­cial well-being of its pub­lic schools.
Oppo­nents of the mea­sure, which include teach­ers unions, believe that lift­ing the cap would increase the fis­cal strain on school dis­tricts that are already under­fund­ed by some $2 bil­lion. Exist­ing char­ters drain $400 mil­lion a year from tra­di­tion­al pub­lic schools.
"There are com­mu­ni­ties los­ing mil­lions because of char­ter schools, fre­quent­ly in com­mu­ni­ties with high lev­els of pover­ty," says Thomas Gos­nell, pres­i­dent of the Amer­i­can Fed­er­a­tion of Teach­ers Mass­a­chu­setts. ​"And there is absolute­ly no local say in estab­lish­ment of char­ter schools."
In addi­tion, despite nascent orga­niz­ing efforts by unions, char­ter teach­ers are typ­i­cal­ly not union­ized, which means that allow­ing a flood of new char­ter schools to open could be a back­door way to under­mine teach­ers unions. Teach­ers unions are also con­cerned that while state law requires pub­lic school teach­ers to be cer­ti­fied, there is cur­rent­ly no such require­ment for pub­lic char­ter teachers.
"Does that mean as char­ters expand that the pro­fes­sion­al­ism of the teach­ing force is going to decline because require­ments are far less in char­ters?" asks Gosnell.
Fol­low­ing the money
All told, bal­lot com­mit­tees sup­port­ing the mea­sure have raised more than $15 mil­lion, with sup­port­ers hav­ing pledged to spend as much as $18 mil­lion by Elec­tion Day. Big donors include for­mer New York City May­or Michael Bloomberg, who gave $240,000, and Jim and Alice Wal­ton, heirs to the Wal-Mart for­tune, who gave $1.1 mil­lion and $700,000 respec­tive­ly. As The Boston Globe reports, sev­er­al top finan­cial exec­u­tives in Boston, includ­ing from Mitt Romney's for­mer employ­er Bain Cap­i­tal, have pumped hun­dreds of thou­sands into the cam­paign as well.
The vast major­i­ty of mon­ey behind the cam­paign is fun­neled through dark-mon­ey groups that are not required to dis­close their donors. The pri­ma­ry vehi­cle for that mon­ey is Great Schools Mass­a­chu­setts, which has raised some $12 mil­lion so far, accord­ing to the lat­est state cam­paign finance reports. As the reports show, that mon­ey has been used to soak the state with tele­vi­sion ads that make what oppo­nents say are inac­cu­rate claims, like that lift­ing the cap would bring more mon­ey to pub­lic schools and assert­ing that the mea­sure would only impact ​"low-per­form­ing" dis­tricts, not sub­ur­ban schools.
The committee's main fun­der is a New York-based non-prof­it called Fam­i­lies for Excel­lent Schools Advo­ca­cy (FES), which has con­tributed more than $8 mil­lion, includ­ing some $3 mil­lion over the past month, accord­ing to the lat­est state cam­paign-finance fil­ings.
The group is well known in New York, for break­ing state lob­by­ing records—spend­ing $9.7 mil­lion in 2014 alone — build­ing leg­isla­tive sup­port for Gov. Andrew Cuomo's edu­ca­tion reform agen­da and tar­get­ing New York City May­or Bill de Bla­sio for dar­ing to resist the char­ter lob­by. But Fam­i­lies for Excel­lent Schools has qui­et­ly been build­ing polit­i­cal ground­work for dereg­u­la­tion of char­ters in Massachusetts.
Mau­rice Cun­ning­ham, a polit­i­cal sci­ence pro­fes­sor at the Uni­ver­si­ty of Mass­a­chu­setts Boston, has been track­ing the dark mon­ey behind the bal­lot mea­sure cam­paign and over­all edu­ca­tion reform infra­struc­ture in the state. He uncov­ered that six major con­trib­u­tors to Great Schools Mass­a­chu­setts in 2015 also made large con­tri­bu­tions to Strate­gic Grant Part­ners, a ​"ven­ture phil­an­thropy fund" that helped launch Fam­i­lies for Excel­lent Schools' Mass­a­chu­setts operation.
Gov. Bak­er is a lead­ing sup­port­er of the bal­lot mea­sure and mem­bers of his admin­is­tra­tion are close­ly aligned with the cam­paign. After elect­ed gov­er­nor in 2015, he made Jim Peyser, who was then a trustee on the FES's board, his sec­re­tary of edu­ca­tion. Paul Sagan, his appointee to chair of the state's board of ele­men­tary and sec­ondary edu­ca­tion recent­ly made a $100,000 con­tri­bu­tion to the pro-char­ter bal­lot mea­sure campaign.
"

This has to be a per­son-to-per­son campaign"

The seem­ing­ly orches­trat­ed influx of mil­lions of dol­lars has the teach­ers unions and their allies on their heels. The lat­est poll, released Wednes­day, found that 47 per­cent of like­ly vot­ers plan to vote against the mea­sure while 36 per­cent favor it. Reach­ing the 18 per­cent who said they were unde­cid­ed will be a cru­cial task for the teach­ers unions.

Save Our Pub­lic Schools, the oppo­si­tion­al com­mit­tee, has raised some $7 mil­lion and is pre­dom­i­nate­ly fund­ed by the Mass­a­chu­setts Teach­ers Asso­ci­a­tion and its nation­al union the Nation­al Edu­ca­tion Asso­ci­a­tion, along with the Mass­a­chu­setts Fed­er­a­tion of Teach­ers and its nation­al union.

While the teach­ers unions have launched an aggres­sive TV ad cam­paign of their own, they, along with a coali­tion of pro­gres­sive groups, are also push­ing back on the ground, orga­niz­ing their mem­bers to knock on doors and make phone calls to poten­tial vot­ers to talk about the impact the bal­lot mea­sure would have on their local pub­lic schools.

"There's no way we're going to meet them in terms of mon­ey they spend. This has to be a per­son-to-per­son cam­paign," Made­loni says. ​"When we win by doing that, we're going to have built some­thing more than what their promised $18 mil­lion ad cam­paign could do."
Justin Miller
is a writ­ing fel­low for The Amer­i­can Prospect. Fol­low him on Twit­ter: @by_jmiller