Chicago Airport Workers Join 9-City Strike Demanding Higher Wages and a Union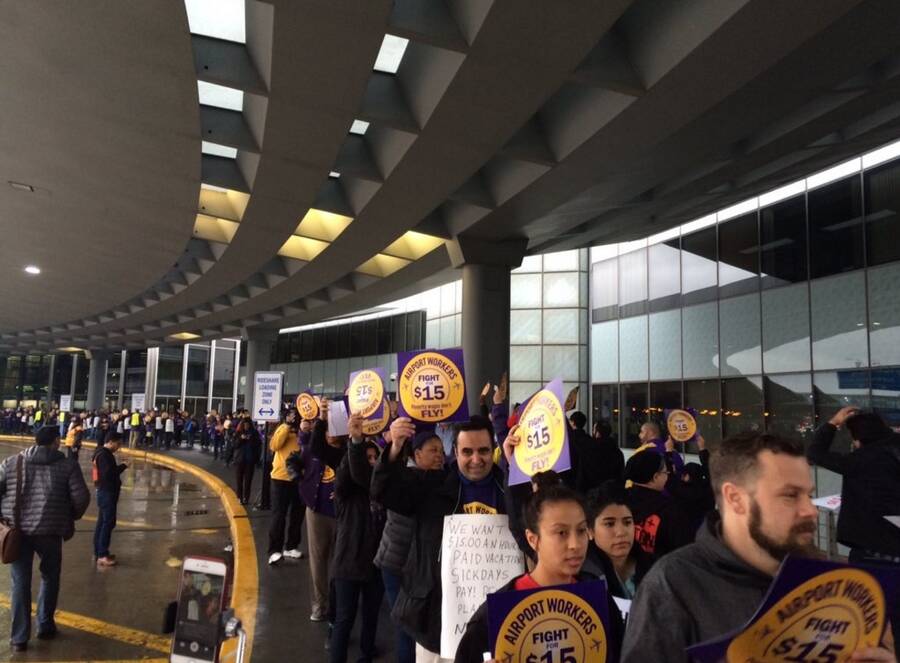 Early this morning, travelers strolled through the nearly empty terminals of Chicago's O'Hare Airport, the country's second busiest airport. Walking through its empty, sterile hallways, they likely had no idea that many of the people who help keep it clean, safe and running live on poverty wages — or that at that very moment, some of those same people were striking to end this state of affairs.
Nearly 100 O'Hare Airport workers, including baggage handlers, security officers, custodians and cabin cleaners, walked off the job late Wednesday night and Thursday morning, demanding higher wages, the right to unionize and better security training. The 24-hour strike is part of a nationwide campaign which included workers at eight other airports around the country going on strike.
The action builds on previous airport strikes, including one during Thanksgiving last year, and was originally scheduled for March 22 until the terrorist attacks in Brussels led organizers to delay it. The strike has been endorsed by a number of politicians nationwide, including Rep. Alan Grayson (D‑FL) and Tim Canova, who is currently running to unseat incumbent Debbie Wasserman Schultz in Florida.
The O'Hare workers were joined by members of the Service Employees International Union (SEIU) Local 1, aldermen Carlos Ramirez-Rosa and Anthony Napolitano, and activists from the Fight for $15 movement, all of whom rallied at the airport at 8 a.m. this morning. Although concerns around the adequacy of the security training for staff were part of the worker demands, the rally was overwhelmingly focused on raising worker wages, providing benefits such as health care, and allowing workers to organize.
"I keep the airport safe for you all, but I'm struggling to put food on the table," Marcie Barnett, a 61-year old security officer, told reporters.
For Barnett, even a raise to the living wage of $15 was merely a ​"bare minimum."
"You can't live off $15," she says. ​"That's a start."
Barnett says she's currently relying financially on her daughter, who works. She hopes that with a raise and benefits, such as health care, sick leave and paid time off, her daughter will be able to go back to college and get an undergraduate and and even a graduate degree.
Sadaf Subijano, 42, told a similar story. Despite being a security officer who has been at the airport for 20 years, Subijano makes only $12 an hour, a wage she says she would have a ​"difficult time" on without the financial support of her husband.
Subijano says that she and other workers haven't seen a single pay raise in the last 5 years, even though their contracts stipulate yearly pay raises. When their paychecks did get a bump, it was a mere 20 cents. She also says she and workers like her deserve benefits like sick leave.
"We work in freezing weather, we get sick," she says.
The treatment of security workers like Subijano and Barnett stands in stark contrast to the Chicago Department of Aviation's claim that its ​"highest priority is maintaining a safe and secure airport environment for travelers and employees." It's also far from the image depicted by O'Hare's security contractor, Universal Security, which states that its ​"employees are our most valuable resource," and that it is committed to ​"support their growth and to reward their excellence."
Owen Kilmer, Deputy Commissioner of Communications for the Chicago Department of Aviation, said in a statement that the airport's functioning was not impacted from the strike. ​"We will continue to ensure that Chicago's airports are safe and secure for our passengers and employees, while working to enhance the customer experience." (Universal did not respond to a request for comment.)
Carlos Ramirez-Rosa, Alderman for Chicago's 35th Ward, also turned up to show his support for the workers, many of whom are his constituents. He hopes that his presence will show the O'Hare contractors that there is institutional backing within the council for the airport workers.
"It's irresponsible, it's unconscionable, that you have contractors, you have employers, that are making billions, hundreds of millions of dollars and yet they cannot pay their workers a living wage or provide for safe working conditions," he said.
Things have been looking up for O'Hare financially in recent times, benefits one would assume might flow on to the workers of the contractors they hire. The most recent Comprehensive Annual Financial Report for the airport, for 2014, boasts that passenger and cargo volume went up by 4 and 9 percent year over year, respectively, and happily announces that after completing a then-new $1.2 billion runway, O'Hare is embarking on the construction of a $765 million Joint-Use Consolidated Rental Car Facility.
Workers claim they have faced retaliation from O'Hare management for getting involved in the campaign. Izabela Miltko, spokesperson for the SEIU Local 1, says workers have been written up, and one cabin cleaner, Julio Godoy, told the Chicago Tribune that he had been put on teams in which no one speaks Spanish, in order to prevent him from talking with other workers.
Subijano says she too has faced similar backlash. Rather than her usual 8‑hour a day shift, she says she was put on ​"stand-by" the week before the strike and only worked a total of 16 hours.
"I do have a family," she says. ​"I cannot tell my babysitter, ​'You are on stand-by because I'm on stand-by.' It doesn't work like that."
Despite this, others, like Barnett, aren't concerned about the punishment they might face from management.
"I was brought up — my grandmother, my mother, she said, ​'Only fear God'."
Support progressive media
As a nonprofit, reader-supported publication, In These Times depends on donations from people like you to continue publishing. Our final, end-of-year fundraising drive accounts for nearly half of our total budget. That's why this fundraising drive is so important.
If you are someone who depends on In These Times to learn what is going on in the movements for social, racial, environmental and economic justice, the outcome of this fundraising drive is important to you as well.
How many readers like you are able to contribute between now and December 31 will determine the number of stories we can report, the resources we can put into each story and how many people our journalism reaches. If we come up short, it will mean making difficult cuts at time when we can least afford to do so.
If it is within your means, please make a tax-deductible donation today, to ensure that In These Times can continue publishing in the year ahead.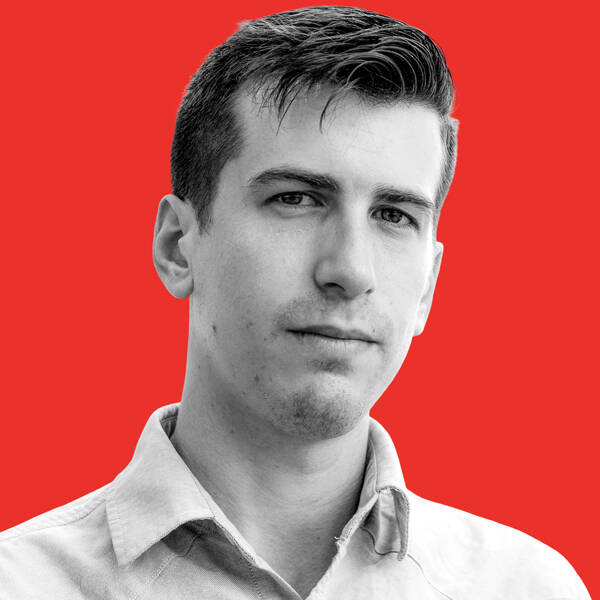 Branko Marcetic is a staff writer at Jacobin magazine and a 2019 – 2020 Leonard C. Goodman Institute for Investigative Reporting fellow. He is the author of Yesterday's Man: The Case Against Joe Biden.
This is important
As a nonprofit, reader-supported publication, In These Times depends on our end-of-year fundraising drive for nearly half of our total budget. That's how important this fundraising drive is. If you support progressive media, please consider making a tax-deductible donation today to ensure that In These Times can continue publishing in the year ahead.