Chicago Demands Justice for Wal-Mart Workers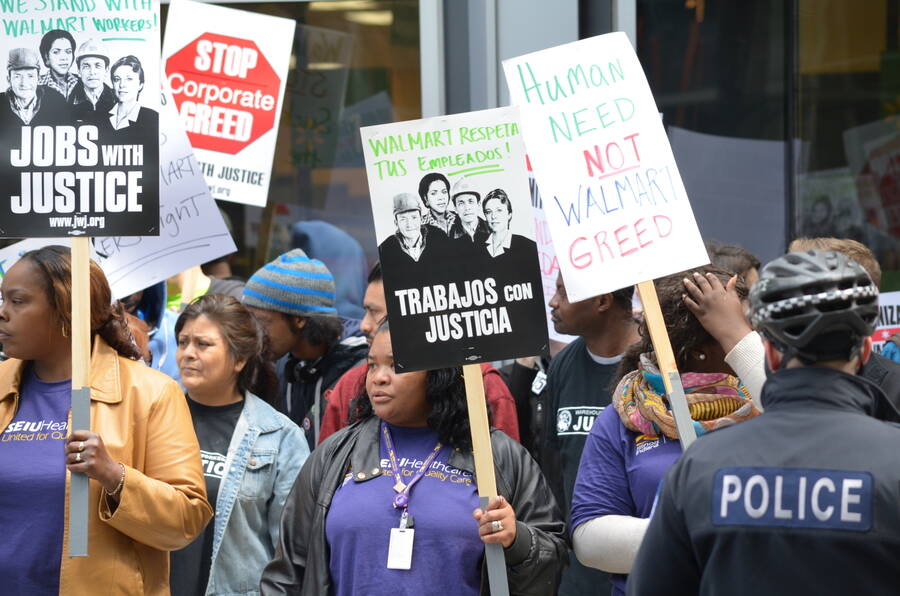 Orga­niz­ers issued a list of four res­o­lu­tions — each spon­sored by var­i­ous work­er groups — that includ­ed calls for increased health care cov­er­age and full-time scheduling.
Myr­i­ad union locals and grass­roots orga­ni­za­tions came out in a show of sol­i­dar­i­ty. At one point, CJWJ orga­niz­er and ral­ly emcee Susan Hur­ley asked oth­er groups to iden­ti­fy them­selves. Mem­bers of SEIU, Stand Up! Chica­go, Arise Chica­go, Chica­go Work­ers Col­lab­o­ra­tive, Fight For 15, Unit­ed Steel­work­ers, and the IBEW called out in response, among others.
Cur­rent and for­mer employ­ees were also well rep­re­sent­ed at the ral­ly. Mike Comp­ton, a for­mer ware­house work­er at a Wal-Mart dis­tri­b­u­tion cen­ter in Elwood, Ill., says that the demands of the group are com­mon sense.
​"We are ask­ing for respect on the job, an end to retal­i­a­tion, a safe work­ing envi­ron­ment and a liv­ing wage," Comp­ton says.
Wal-Mart's retal­i­a­tion against orga­nized work­ers has been well-doc­u­ment­ed, most recent­ly in a study per­formed by the non­prof­it group Amer­i­can Rights At Work. ​"Whether by tar­get­ing indi­vid­ual lead­ers, or send­ing a mes­sage to its entire work­force on nation­al tele­vi­sion, Wal-Mart's cam­paign against its work­ers' pro­tect­ed activ­i­ties shows no signs of abate­ment," the study concluded.
One of the rally's speak­ers, Eric Téllez, 28, the com­mu­ni­ca­tions and research direc­tor at Grass­roots Col­lab­o­ra­tive, stressed the ways in which the pub­lic helps to finance Wal-Mart, both direct­ly and indirectly.
The Arkansas-based com­pa­ny cur­rent­ly receives rough­ly $24 mil­lion from the city of Chica­go in tax incre­ment financ­ing. More com­mon­ly known as TIFs, the con­tro­ver­sial financ­ing mech­a­nism allows the city to divert any increased tax rev­enue gained from ris­ing prop­er­ty val­ues into a fund that is reserved for urban devel­op­ment — but much of this mon­ey ends up get­ting divert­ed to pri­vate devel­op­ers and cor­po­rate ten­ants rather than being used for schools or infrastructure.
Addi­tion­al­ly, a new report by Con­gres­sion­al Democ­rats found that, nation­wide, tax­pay­ers indi­rect­ly sub­si­dize Wal-Mart work­ers by as much as $1.75 mil­lion per store via food stamps and pub­lic health insur­ance that its low-wage work­ers must use in order to survive.
​"But, of course, most tax­pay­ers won't get to vote at Wal-Mart's share­hold­ers' meet­ing," Téllez says.
Matthew Luskin, 34, an orga­niz­er with the CTU, drew con­nec­tions between the teach­ers' strug­gle and that of Wal-Mart employees.
​"First, Wal-Mart is pay­ing for the sham com­mu­ni­ty meet­ings which helped result [sic] in the recent school clos­ings in Chica­go," Luskin says. ​"Sec­ond, they're tak­ing TIF mon­ey, which should real­ly go to schools instead."
Echo­ing oth­er orga­niz­ers' con­cerns that many work­ers at Wal­mart live in pover­ty, Luskin stressed the con­nec­tion between low-income house­holds and poor school per­for­mance in stu­dents. ​"There is a direct cor­re­la­tion between pover­ty for par­ents and low achieve­ment in schools," he says, ref­er­enc­ing stud­ies recent­ly not­ed in the New York Times.
Hur­ley out­lined some of the coalition's local goals, includ­ing putting pres­sure on Lin­da Wolf, a mem­ber of Wal-Mart's Board of Direc­tors since 2005. Wolf, a long­time Chicagoan, had a tumul­tuous tenure as CEO of Leo Bur­nett World­wide from 2001 until 2005, and is on the board of sev­er­al local non­prof­its and pub­lic insti­tu­tions.
​"Our demand for Lin­da is to sup­port the demands of OUR Wal­mart and all sup­ply chain work­ers or resign [her posi­tion on] the board," Hur­ley says. In an inter­view, she added that Wolf has not respond­ed to requests to speak with OUR Walmart.
​"Wal-Mart is one of the largest employ­ers in the coun­try and they can set a trend for employ­ers," Téllez says. "[But right now] Wal-Mart does not expand eco­nom­ic pros­per­i­ty, it expands a vicious cir­cle of poverty."
This sto­ry was co-writ­ten by Lewis Kendall and Grif­fin Bur.
Grif­fin Bur
is a Sum­mer
2013
edi­to­r­i­al intern at In These Times.