Who's Afraid of Chicago's Progressive Aldermen? Rahm Emanuel, That's Who.
The Chicago mayor's super PAC has spent large amounts of money to protect his allies on City Council—and take down those who oppose him.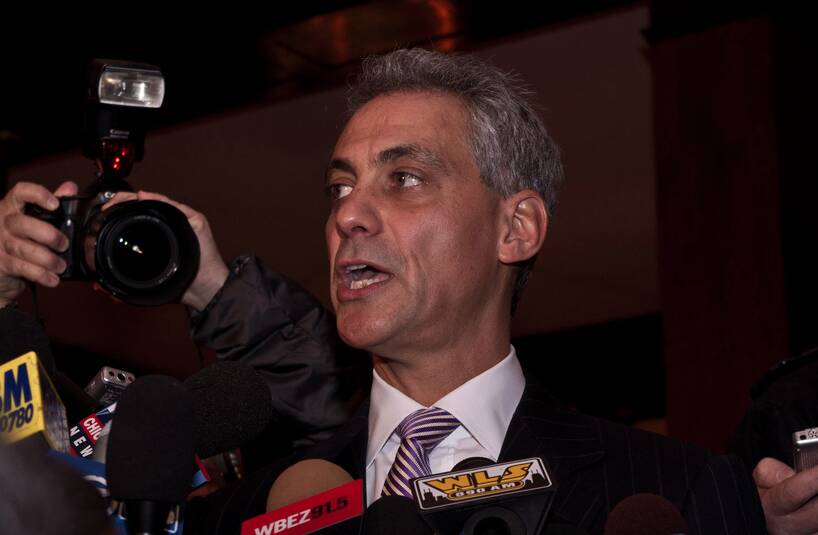 It's no secret that Rahm Emanuel has an unpar­al­leled fundrais­ing prowess and scores of wealthy friends to boot. The Chica­go Tri­bune called him ​"the most potent polit­i­cal cash machine in Chica­go his­to­ry," and he's amassed near­ly $30 mil­lion among the var­i­ous bod­ies ded­i­cat­ed to sup­port­ing his may­oral run and its broad­er agenda.
Now that mon­ey is trick­ling down to some of Chicago's most tight­ly con­test­ed alder­man­ic races through the efforts of Chica­go For­ward, a super PAC cre­at­ed by for­mer Chica­go Pub­lic Schools com­mu­ni­ca­tion direc­tor Becky Car­roll. Super PACs are allowed to take in unlim­it­ed dona­tions, but can't coor­di­nate with or direct­ly con­tribute to a candidate.
This round of alder­man­ic races, which cul­mi­nate in Tuesday's elec­tion, has seen a bevy of can­di­dates that are par­tic­u­lar­ly antag­o­nis­tic to the sta­tus quo of Emanuel's admin­is­tra­tion. Some of the key groups that the may­or has clashed with in the past four years as now run­ning for alder­man­ic seats — teach­ers, envi­ron­men­tal­ists and com­mu­ni­ty organizers.
Chica­go For­ward is pump­ing mon­ey into 17 of the 50 alder­man­ic races, accord­ing to the Chica­go Sun-Times, with an eye to secur­ing the seats of Emanuel's stal­warts in the City Coun­cil, par­tic­u­lar­ly in tight races — and, in a few cas­es, push­ing the more trou­ble­some pro­gres­sive alder­men out of the picture.
Dick Simp­son, a for­mer alder­man and now pro­fes­sor of polit­i­cal sci­ence at the Uni­ver­si­ty of Illi­nois at Chica­go (UIC) tells In These Times that it's ​"pret­ty clear" Chica­go For­ward is pump­ing mon­ey into races that wor­ry the mayor's office.
Chicago's City Coun­cil isn't know for its high lev­el of dis­sen­sion, even among mem­bers of the Pro­gres­sive Cau­cus. A study of vot­ing records released by UIC in Decem­ber 2014 found that 38 of the 50 alder­men vot­ed with Emanuel 90 per­cent or more of the time. For the Pro­gres­sive Cau­cus, half vot­ed with the may­or 75 per­cent of the time. With ene­mies like these, who needs friends?
One rea­son may be a num­ber of con­tro­ver­sial deci­sions that are yet to come, says Simp­son. Chicago's pen­sion sys­tem is under-fund­ed and the City Coun­cil may be asked to vote on a prop­er­ty tax hike to pay for it in the com­ing year or so.
"You want to ensure that the City Coun­cil doesn't get a stronger pro­gres­sive bloc and unite on key hard votes com­ing up like pen­sions," he says.
In the ques­tion­naires Chica­go For­ward sent to alder­men back in 2014, one of the six ques­tions was whether can­di­dates would sup­port ​"tough but nec­es­sary steps, such as increas­es in prop­er­ty tax­es or addi­tion­al effi­cien­cies through­out city gov­ern­ment" to reduce deficits and pre­serve ser­vices, which like­ly implies pensions.
Here are some of the more inter­est­ing races that Emanuel has invest­ed in that are worth watch­ing on Tuesday.
The fam­i­ly politi­co vs. the pub­lic school teacher
In the 33rd ward, high school social stud­ies teacher Tim Mee­gan is run­ning against Deb Mell, who was appoint­ed to the posi­tion by her father, a long­time stal­wart of the Demo­c­ra­t­ic machine, when he retired as alder­man. The cam­paign so far has been full of rev­e­la­tions of the tan­gled finances of machine pol­i­tics — such as alle­ga­tions that Mell was flout­ing cam­paign finance rules by work­ing out of an office owned by her father, who heads up the 33rd Ward Demo­c­ra­t­ic Organization.
Only days before the elec­tion, the sto­ry broke that oppo­si­tion can­di­dates in the 33rd Ward said they had received a phone call—with a voice sound­ing mys­te­ri­ous­ly like Mell's sis­ter Pat­ti Blago­je­vich (wife of dis­graced for­mer Gov. Rod Blago­je­vich, who is now serv­ing a prison sen­tence for cor­rup­tion charges) — com­plain­ing about fly­ers made to look like park­ing tick­ets that nei­ther of the cam­paigns had pro­duced. Pat­ti Blago­je­vich also called a neigh­bor with a Mee­gan sign in the front yard, per­son­al­ly urg­ing the per­son to vote for Mell.
Mell has received more than $50,000 from Chica­go For­ward, mak­ing her one of the most strong­ly sup­port­ed incum­bents. Also run­ning in the ward is Annisa Wanat, who has the back­ing of the Fra­ter­nal Order of Police, but Mee­gan is polling close enough to Mell that the race could result in a runoff.
Machine politi­cian vs. social­ist, com­mu­ni­ty, teacher candidates
Dan­ny Solis has been alder­man of the 25th ward for 19 years, fol­low­ing his work as exec­u­tive direc­tor of the scan­dal-plagued com­mu­ni­ty orga­ni­za­tion-turned-char­ter school oper­a­tor Unit­ed Neigh­bor­hood Orga­ni­za­tion. Solis, who votes 97 per­cent of the time with the may­or, nar­row­ly won a run-off back in 2011 against a rel­a­tive­ly unknown challenger.
Now he's up against a hand­ful of pro­gres­sive chal­lengers: Jorge Múji­ca, a long­time labor orga­niz­er and immi­grant rights activist run­ning as a social­ist; Byron Sig­cho, for­mer vice pres­i­dent of the His­pan­ic Lit­er­ary Coun­cil of Chica­go and backed by the neigh­bor­hood group Pilsen Alliance; and Ed Her­shey, a teacher sup­port­ed by the Chica­go Teach­ers Union.
Chica­go For­ward has inun­dat­ed 25th Ward res­i­dents with mail­ers tout­ing Solis's sup­port of, among oth­er things, a min­i­mum wage ordi­nance intro­duced by Rahm Emanuel in the final year of his term. The super PAC has spent more than $29,000 sup­port­ing Solis.
The envi­ron­men­tal question
The biggest issue in the 10th ward, on the city's far South­east Side, is ​"pet­coke," also known as petro­le­um coke, a dusty byprod­uct of an oil refin­ery owned by the Koch broth­ers on Chicago's South­east side. Incum­bent John Pope has come under fire for not deal­ing with the pol­lu­tion quick­ly enough, though in the days before the elec­tion, KCBX Ter­mi­nals announced it would cease stor­age of pet­coke in the neighborhood.
He is con­sid­ered a strong ​"rub­ber stamp" alder­man for the mayor's agen­da in the City Coun­cil, vot­ing with the may­or 100% of the time, and has received more than $56,000 from Chica­go For­ward. Run­ning against him are Sue Sad­lows­ki Garza, a teacher and the daugh­ter of steel­work­er and labor leader Ed Sad­lows­ki, and Olga Bautista, an activist against the pet­coke plants run­ning as an ecosocialist.
The Pro­gres­sive Caucus
Also under tar­get are mem­bers of the council's Pro­gres­sive Cau­cus. Alder­man Scott Wagues­pack and Alder­man John Are­na, both of whom have vot­ed and tak­en strong pub­lic stances against the may­or, have been the tar­gets of polit­i­cal ads fund­ed by Chica­go For­ward. Wagues­pack, in a del­uge of mail­ers in his most­ly Near North Side ward, was accused of vot­ing against leg­is­la­tion that would have added $10 mil­lion in fund­ing to fix pot­holes. Chica­go For­ward spent $6,770 on oppo­si­tion fund­ing against Waguespack.
In the case of Are­na, ads have pegged him for chang­ing his tune on tax hikes. Both alder­men have argued their votes were tak­en out of con­text. Chica­go For­ward has spent sig­nif­i­cant­ly more oppos­ing Are­na — a total of $19,550.
Mean­while, both alder­men have signed on to a request to the Secu­ri­ties and Exchange Com­mis­sion ask­ing the agency to inves­ti­gate whether Emanuel act­ed improp­er­ly by tak­ing more than $200,000 from the exec­u­tives of com­pa­nies that man­age Chicago's pen­sion money.
Along with the need for staunch allies in the city coun­cil, Dick Simp­son sees anoth­er rea­son that Emanuel is adamant about remov­ing any alder­man that are open­ly hos­tile to his posi­tions: his gov­ern­ing style.
"It's pret­ty much my way or the high­way with Rahm," says Simp­son. ​"Ene­mies are ene­mies, and you want to get rid of them."
Yana Kuni­choff
is a Chica­go-based inves­tiga­tive jour­nal­ist and doc­u­men­tary pro­duc­er. Her work has appeared in the Guardian, Pacif­ic Stan­dard and the Chica­go Read­er, among oth­ers. She can be reached at yanaku­ni­choff at gmail​.com.