When Green Jobs Come at the Expense of Unions
A declining Rust Belt town turned to wind power—and away from organized labor.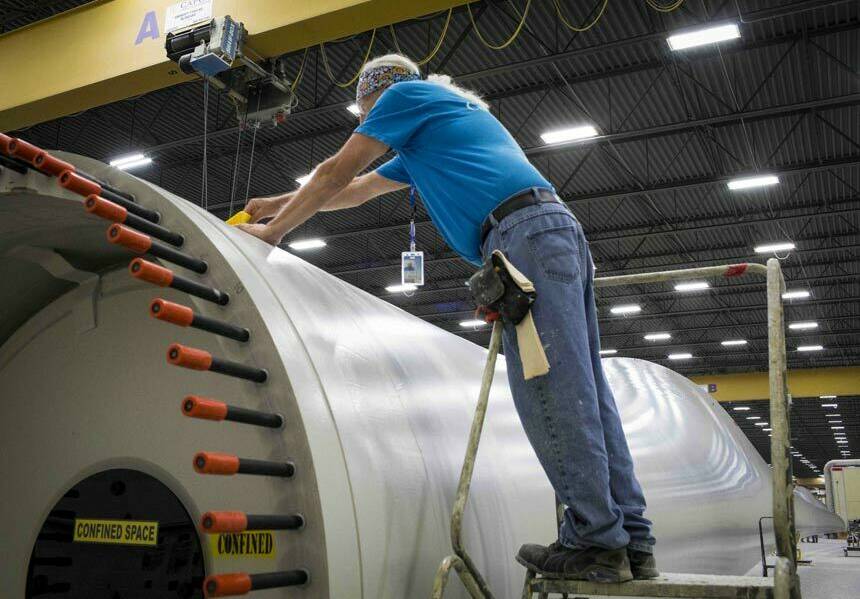 NEW­TON, IOWA — The one-sto­ry wind-tur­bine fac­to­ry looks unas­sum­ing from the out­side, dwarfed by the vast corn­field across the street. But walk onto the fac­to­ry floor and the scale of its ambi­tion — to pull pow­er from the very air — becomes clear. Blades lie gleam­ing in dif­fer­ent stages of pro­duc­tion as work­ers in white jump­suits stride pur­pose­ful­ly across the floor.
Employees describe poor working conditions: Broken air conditioning, a hot shop floor and air heavy with chemicals and particulates that irritated some workers' skin and lungs.
In 2010, 60 Min­utes dubbed New­ton the most ​"bro­ken" town in Amer­i­ca. Today, the town is being her­ald­ed as ​"back on its feet" thanks to a boom­ing green economy.
Pho­to­jour­nal­ist Michelle Kanaar and I arrived in New­ton in May to cov­er this eco­nom­ic mir­a­cle. Dur­ing a tour of the wind tur­bine fac­to­ry, owned by TPI Com­pos­ites Inc., man­age­ment was wel­com­ing — and can­did — as they suit­ed us up in safe­ty gog­gles and orange vests and dis­cussed the dif­fi­cul­ties of bring­ing a new indus­try to town. We were impressed. Then, with­out miss­ing a beat, one of the rep­re­sen­ta­tives expressed TPI's ​"pride" in being non-union.
"We're very recep­tive to the needs of our asso­ciates. … Our doors are always open," said anoth­er man­ag­er. Laugh­ing, she added, ​"They're prob­a­bly very spoiled."
Twen­ty years ago, you couldn't throw a dart in New­ton with­out hit­ting a union work­er. For a cen­tu­ry, the biggest busi­ness in town was the May­tag plant, where, under a Unit­ed Auto­mo­bile Work­ers (UAW) con­tract, work­ers could expect to work for three decades and retire ear­ly with a full pen­sion. At its height in the ear­ly 2000s, May­tag employed 4,000 peo­ple in the town of 15,000, accord­ing to U.S. Depart­ment of Ener­gy estimates.
Den­nis Young, 38, fol­lowed in the foot­steps of his father and grand­fa­ther when, a few years after high school, he got a job on the May­tag assem­bly line. But in 2003, the com­pa­ny began down­siz­ing its New­ton facil­i­ties and he was laid off. Months of sus­pense for the town end­ed in shock when, in March 2006, May­tag sold to Whirlpool, and Whirlpool announced it would close all New­ton oper­a­tions. Dur­ing the next sev­er­al years, unem­ploy­ment spiked to near­ly 10 percent.
Des­per­ate town offi­cials saw New­ton fol­low­ing an all too famil­iar path — a Rust Belt town hol­lowed out by the loss of man­u­fac­tur­ing. So the town used finan­cial incen­tives, as well as the lures of Maytag's for­mer infra­struc­ture and work­force, to bring in TPI and a wind­mill tow­er mak­er, Trin­i­ty Struc­tur­al Towers.
When TPI opened its doors in 2007, many for­mer May­tag work­ers applied. But the plant was soon plagued with high turnover. Cur­rent and for­mer employ­ees describe poor work­ing con­di­tions: Bro­ken air con­di­tion­ing, a hot shop floor — typ­i­cal­ly over 80 degrees — and air heavy with chem­i­cals and par­tic­u­lates that irri­tat­ed some work­ers' skin and lungs. To fill the jobs, TPI began bus­ing in work­ers from near­by Des Moines, Ottumwa and Marshalltown.
In 2013, a hand­ful of work­ers began an effort to union­ize TPI under the Inter­na­tion­al Broth­er­hood of Elec­tri­cal Work­ers. The first vote was unsuc­cess­ful. Young, who start­ed work­ing at TPI in 2013, didn't vote in that elec­tion because he wasn't sure a union was nec­es­sary. Over the next two years, he saw enough — fir­ings over seem­ing­ly small infrac­tions, he says, and capri­cious and unre­spon­sive man­age­ment — to change his mind. When work­ers start­ed anoth­er union cam­paign in 2015, meet­ing in a seclud­ed cor­ner of the 40-acre May­tag Park, Young was with them.
Both union efforts met stiff resis­tance from the com­pa­ny. In 2014, TPI held a union avoid­ance train­ing and hired a human resources direc­tor who began call­ing in employ­ees asso­ci­at­ed with the union­iza­tion effort, includ­ing Young, and accus­ing them of rule vio­la­tions. In Novem­ber 2015, Young was fired. He says, ​"It's a pret­ty bad feel­ing when you get fired before Christ­mas, and you have five kids."
The Nation­al Labor Rela­tions Board ruled the fir­ing to be ille­gal retal­i­a­tion. Young waived his right to rein­state­ment and received a finan­cial set­tle­ment from TPI.
TPI spokesper­son Michael Trae­tow says that the com­pa­ny is not ​"anti-union" but that it ​"urge[s] all asso­ciates to be aware of the facts of being union-free, which allows us to work togeth­er as a team. … [Asso­ciates] enjoy oppor­tu­ni­ty for career devel­op­ment and advance­ment, job sat­is­fac­tion, good work­ing con­di­tions, and equal opportunity."
Young finds it iron­ic that TPI is non-union, con­sid­er­ing that ​"wind ener­gy hitch­es itself to the Demo­c­ra­t­ic polit­i­cal move­ment in Washington."
Work­ers inside the plant have not giv­en up yet. With the help of UAW, they have begun their third union campaign.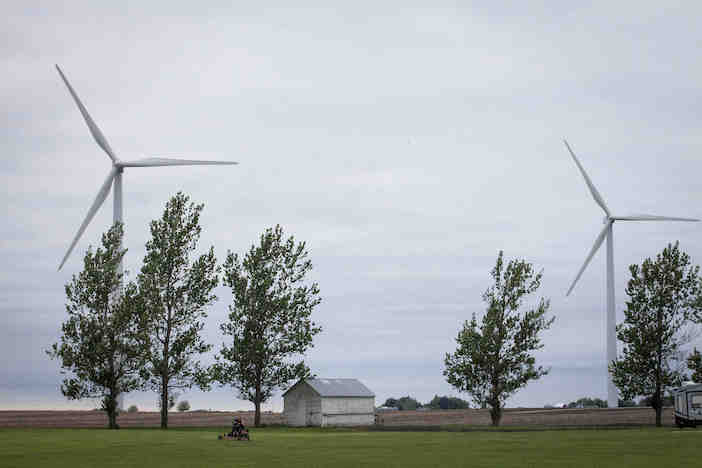 Wind tur­bines pic­tured on May 18, 2017 in cen­tral Iowa. (Pho­to by Michelle Kanaar)
This sto­ry was pro­duced through a fel­low­ship with the Social Jus­tice News Nexus at the Medill School of Jour­nal­ism, Media, Inte­grat­ed Mar­ket­ing Com­mu­ni­ca­tions at North­west­ern Uni­ver­si­ty, with sup­port from the Fund for Envi­ron­men­tal Jour­nal­ism.
Yana Kuni­choff
is a Chica­go-based inves­tiga­tive jour­nal­ist and doc­u­men­tary pro­duc­er. Her work has appeared in the Guardian, Pacif­ic Stan­dard and the Chica­go Read­er, among oth­ers. She can be reached at yanaku­ni­choff at gmail​.com.