In Chicago, a Billionaire-Backed Candidate and Police Are Trying To Oust a Progressive Prosecutor
Kim Foxx's office has reduced incarceration rates by nearly 20% and taken major steps toward reform. Now, she's under attack.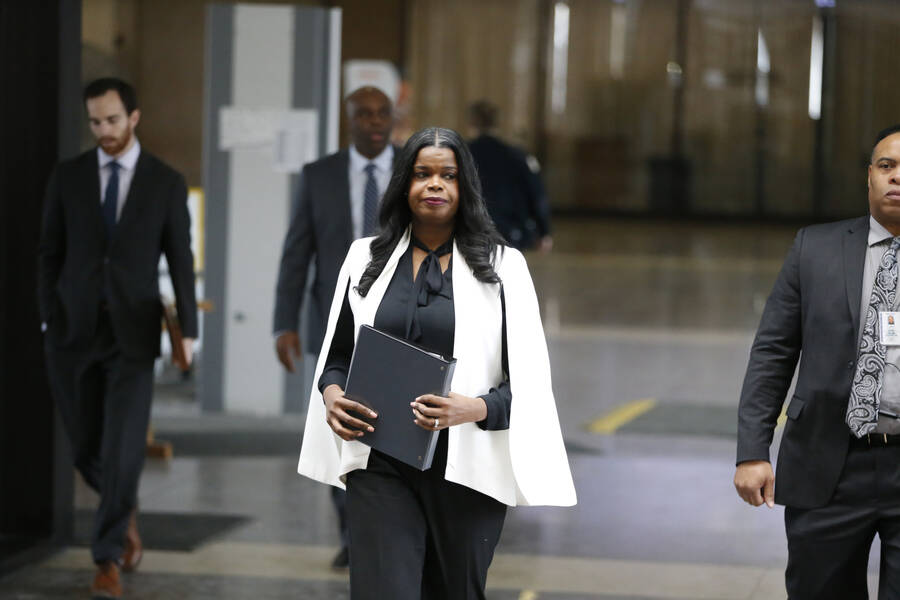 CHICA­GO — With the Illi­nois pri­ma­ry set for Tues­day, one of the most heat­ed races of the cycle is for Cook Coun­ty state's attor­ney. Pro­gres­sive pros­e­cu­tor Kim Foxx sits in a vul­ner­a­ble posi­tion as the incum­bent, as she faces a chal­lenge from Bill Con­way — a bil­lion­aire-backed can­di­date — as well as con­tin­u­ing blow­back from her han­dling of the con­tro­ver­sial Jussie Smol­lett case.
To criminal justice advocates, the Smollett controversy has been an overblown distraction.
The Cook Coun­ty state's attorney's office is the sec­ond-largest of its kind in the Unit­ed States, employ­ing more than 800 pros­e­cu­tors who han­dle upwards of 30,000 felony cas­es and sev­er­al times more mis­de­meanor cas­es per year. Mean­while, Chica­go — which makes up much of Cook Coun­ty — has the unsa­vory rep­u­ta­tion of being the ​"false con­fes­sion cap­i­tal." Between 1972 and 1991, police com­man­der Jon Burge tor­tured more than 100 peo­ple, most­ly African Amer­i­can, into giv­ing false con­fes­sions, and it was only in 2011 that Burge was final­ly sen­tenced to prison. Chica­go is also where African-Amer­i­can teenag­er Laquan McDon­ald was shot 16 times by white police offi­cer Jason Van Dyke, who was con­vict­ed of mur­der in 2018 in a rare win for crim­i­nal jus­tice advocates.
It was this same case that, in large part, led to the oust­ing of for­mer state's attor­ney Ani­ta Alvarez, who had wait­ed 13 months to pros­e­cute Van Dyke. Has­tened by the activist-orga­nized cam­paign called #ByeAni­ta, Alvarez lost the 2016 elec­tion to Foxx, a for­mer assis­tant state's attor­ney who became the first Black woman to hold the office. Since then, Foxx's office has reduced Cook Coun­ty incar­cer­a­tion rates by 19%, released over six years of felony crim­i­nal case data on the Cook Coun­ty Open Data Por­tal, and has start­ed expung­ing the records of the tens of thou­sands of peo­ple with low-lev­el cannabis charges.
"You can­not over­state the impact of reduc­ing friv­o­lous pros­e­cu­tions," says Jobi Cates, founder of Restore Jus­tice Illi­nois, cit­ing minor non­vi­o­lent crimes like shoplift­ing. ​"When you're look­ing at a sys­tem that's so over­whelmed it can bare­ly func­tion on a good day to pro­vide fair hear­ings for peo­ple, [then] remov­ing that pres­sure on the sys­tem is going to allow every case to get more attention."
Foxx is not with­out crit­i­cism. Most of the five orga­niz­ers inter­viewed for this piece were large­ly sup­port­ive of Foxx, but don't think she's gone as far as she could to pro­tect Black and poor Chicagoans, cit­ing her slow move­ment on some issues such as over-pros­e­cut­ing some gun pos­ses­sion cas­es, not prac­tic­ing restora­tive jus­tice enough over puni­tive mea­sures, and fur­ther crim­i­nal­iz­ing sur­vivors of domes­tic vio­lence who are up for clemency.
As a prison abo­li­tion­ist, West­side Jus­tice Cen­ter orga­niz­er Mon­i­ca Cos­by believes that the pow­er of a ​"pro­gres­sive pros­e­cu­tor" is inher­ent­ly lim­it­ed. ​"I don't believe that the crim­i­nal jus­tice sys­tem can be reformed at all. …. The most that [they] can do is harm reduc­tion and stop send­ing as many peo­ple to jail, but as long as that mech­a­nism exists to incar­cer­ate peo­ple … that is what's going to happen."
There's also the issue of Jussie Smol­lett. In Feb­ru­ary 2019, the ​"Empire" actor was accused of stag­ing a racist and homo­pho­bic hate crime against him­self, and weeks lat­er, Foxx's office dropped the 16 counts of dis­or­der­ly con­duct against him. Then-May­or Rahm Emanuel called the case a ​"white­wash of jus­tice," while Foxx main­tains that it's part of her greater strat­e­gy of decarcer­a­tion. ​"Hav­ing this type of diver­sion is some­thing we offer to peo­ple who do not have his mon­ey or his fame," she told the Chica­go Tri­bune.
To crim­i­nal jus­tice advo­cates, the Smol­lett con­tro­ver­sy has been an overblown dis­trac­tion. Emmanuel Andre, exec­u­tive direc­tor of North­side Trans­for­ma­tive Law Cen­ter, says, ​"Even if Kim Foxx had gone through the whole process of putting Jussie Smol­lett on tri­al, then we have to ask, ​'what is it that we as a soci­ety want to achieve?'"
Nonethe­less, the case has become a ral­ly­ing cry for oppo­si­tion from Foxx's chal­lengers: Bill Con­way, for­mer assis­tant state's attor­ney; Don­na More, a 2016 can­di­date for state's attor­ney who now rep­re­sents casi­nos in pri­vate prac­tice; and Bob Fioret­ti, for­mer alder­man and peren­ni­al can­di­date. Con­way, con­sid­ered the fron­trun­ner among the chal­lengers, says the case exem­pli­fies ​"the State's Attor­ney [show­ing] that the polit­i­cal­ly con­nect­ed get bet­ter deals than oth­er peo­ple," accord­ing to the Chica­go Sun-Times.
How­ev­er, even as these orga­niz­ers have some mis­giv­ings about Foxx, none are ready to aban­don her. Cates thinks that the oth­er can­di­dates see this race as an oppor­tu­ni­ty to ​"appease law-and-order Democ­rats [and] the Fra­ter­nal Order of Police com­mu­ni­ty," Cates says. ​"They walk the line of sound­ing pro­gres­sive while main­tain­ing the sta­tus quo."
Writer and orga­niz­er Kel­ly Hayes offered the same assess­ment of the Chica­go Fra­ter­nal Order of Police (FOP), which helped cov­er up Burge's reign of ter­ror. ​"The police saw the removal of Foxx's pre­de­ces­sor as a con­dem­na­tion of the depart­ment, which it was," Hayes says. "[They now] have less con­trol over peo­ple's fates, and that's what they want back." The local FOP has endorsed Fioret­ti in the race.
Though Con­way has come out in sup­port of reduc­ing pros­e­cu­tions of low-lev­el crimes, com­mu­ni­ty orga­niz­er Tanya Watkins is not con­vinced of his pro­gres­sive bonafides. ​"I'm hon­est­ly offend­ed by some of the things that he says. He has co-opt­ed the mes­sage of orga­niz­ers and activists who he has had no rela­tion­ship with," Watkins says. ​"He's basi­cal­ly say­ing that he is going to do all the things that Kim Foxx is already doing."
As a result of this sen­ti­ment, local racial jus­tice orga­niz­ers have mount­ed a #Can­cel­Con­way cam­paign, cut from the same cloth as #ByeAni­ta. Backed by a pro­gres­sive elec­toral group called Vote Lib­er­a­tion, the cam­paign is high­light­ing Conway's cam­paign ties to fig­ures such as Ani­ta Alvarez, as well as the FOP. One dig­i­tal ad on the group's web­site accus­es the Car­lyle Group — the pri­vate-equi­ty firm run by Conway's bil­lion­aire father, and his main cam­paign con­trib­u­tor — of war prof­i­teer­ing and own­ing part of the com­pa­ny that man­u­fac­tured the tear gas used by police against Black Lives Mat­ter pro­tes­tors in Fer­gu­son, Missouri.
Mark Clements, a Burge tor­ture sur­vivor whose con­vic­tion was over­turned after he spent 28 years in prison and who now works at the Chica­go Tor­ture Jus­tice Cen­ter says that while he doesn't believe the crim­i­nal jus­tice sys­tem has sig­nif­i­cant­ly improved under Foxx's tenure, she still deserves a ​"sec­ond oppor­tu­ni­ty." Clements says, ​"I'm thank­ful for her being trans­par­ent in her han­dling of police tor­ture cas­es, because most Cook Coun­ty state's attor­neys will not open the door to indi­vid­u­als that were once locked up inside of prisons."
This has been the most expen­sive race for Cook Coun­ty state's attor­ney to date. The four can­di­dates have raised near­ly $16.3 mil­lion in the race, accord­ing to data from the Illi­nois State Board of Elec­tions. Conway's cam­paign war chest exceeds $11.4 mil­lion, near­ly all of it from his father.
The infu­sion of big mon­ey into the race — a 180% increase from the 2016 elec­tion — has upend­ed the play­ing field for Foxx, who has relied on dona­tions from labor unions and spe­cial-inter­est groups. But orga­niz­ers who back the incum­bent are unde­terred by this flood of cash into the race.
As Watkins says, ​"They are buy­ing our crim­i­nal jus­tice sys­tem, and it's not for sale."