A New Mother's Day Tradition: Fighting for Moms Behind Bars
This weekend marked a surge of actions in the growing movement to support--and to free--incarcerated mothers.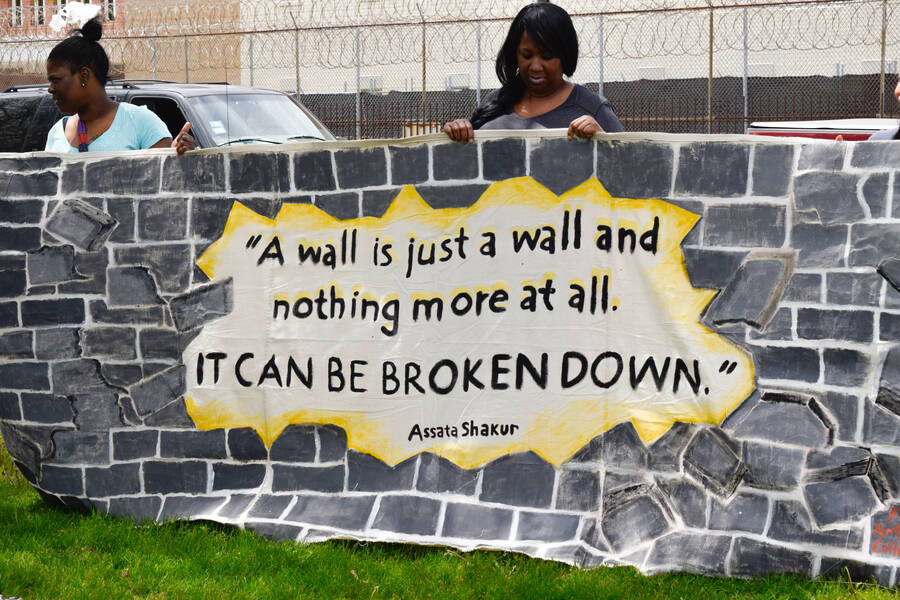 On a warm and sun­ny Sat­ur­day after­noon, chil­dren chased each oth­er in a grassy field while a crowd of 60 sang the cho­rus of ​"Ella's Song," by Sweet Hon­ey in the Rock: ​"We who believe in free­dom can­not rest until it comes." Cars honked in recog­ni­tion as they passed. But what may have appeared to be sim­ply a Mother's Day-week­end pic­nic was actu­al­ly a vig­il in sol­i­dar­i­ty with the many moth­ers locked up just steps away in the Cook Coun­ty Jail.
One in nine Black children have had a parent incarcerated at some point during childhood.
For­mer­ly incar­cer­at­ed moth­er Mon­i­ca Cos­by, now an orga­niz­er with the Moms Unit­ed Against Vio­lence and Incar­cer­a­tion col­lec­tive, told the crowd what it was like to spend over 15 years sep­a­rat­ed from her daughters.
"Years would go by where I would­n't be able to talk to [my fam­i­ly] on the phone because it was so expen­sive," an emo­tion­al Cos­by said. ​"That's what hap­pens when peo­ple wind up in prison. It destroys fam­i­lies. My fam­i­ly is still recov­er­ing — I'm still recov­er­ing, and I've been out here for about a year and a half."
Cos­by lat­er told In These Times that after speak­ing at last year's ral­ly, she didn't think she could par­tic­i­pate again. Being so close to the jail brought back painful memories.
But she steeled her­self and came this Sat­ur­day, because, as she says, ​"I believe in the work we do as a com­mu­ni­ty. … I want the women inside to know. … I need­ed to know while I was in prison that this was hap­pen­ing out here."
One moth­er behind bars wrote to tell the group what the ral­ly meant to her. Paris Knox is a young Black woman who was sen­tenced to 40 years in prison for killing an abu­sive part­ner. Her case is cur­rent­ly on appeal.
Knox's moth­er, Deb­bie Buntin, deliv­ered a touch­ing let­ter from her Paris, who thanked every­one for their sup­port. After­ward, the crowd chant­ed ​"We love you! We love you!" in sup­port of both moth­er and daughter.
Doris John­son, a vol­un­teer with Cabri­ni Green Legal Aid, which offers free legal ser­vices to low-income Chicagoans, says she was moved to attend due to her own expe­ri­ences of hav­ing loved ones behind bars. ​"I have a god­son that's incar­cer­at­ed, and my boys was incar­cer­at­ed when they was younger," she explained. ​"It's real­ly a burden…sometimes they got accused of things that they did­n't do. … I just want to do what I can to help [oth­ers]."
That sen­ti­ment was shared all over the coun­try this Mother's Day week­end, as the cam­paign to #BailOut­Black­Ma­mas took root in about 20 cities. Orig­i­nal­ly orga­nized by SONG–South­ern­ers on New Ground, a region­al queer lib­er­a­tion orga­ni­za­tion — to take effect on Mother's Day 2017, the group's goal was to ​"bail out as many Black mamas as pos­si­ble." At least 50 moth­ers have been bailed out so far.
The female incar­cer­a­tion rate has sky­rock­et­ed over the past 35 years, at a rate of 700 per­cent between 1980 and 2014. Although that is pri­mar­i­ly due to an increase in the impris­on­ment of white women, Black and Lat­inx woman remain dis­pro­por­tion­ate­ly incar­cer­at­ed, at two and 1.2 times the rate of white women, respec­tive­ly. As SONG orga­niz­er Mary Hooks not­ed in an inter­view with Democ­ra­cy Now! on Fri­day, one in nine Black chil­dren have had a par­ent incar­cer­at­ed at some point dur­ing childhood.
"Our goal is to be able to free our peo­ple from these cages, using the tra­di­tions from our ances­tors that bought each other's col­lec­tive free­dom," Hooks said.
Through­out the week­end, social media was flood­ed with pic­tures and videos of bailed-out moth­ers reunit­ing with their fam­i­lies, from Durham, N.C. to Atlanta. Efforts in Chica­go were cen­tered around Saturday's vig­il and Sunday's ​"Reuni­fi­ca­tion Ride" — a com­mu­ni­ty-orga­nized bus­ing pro­gram that trans­ports chil­dren to their incar­cer­at­ed moth­ers for hol­i­day visits.
The pro­gram was ini­tial­ly fund­ed by the state of Illi­nois, but due to the state bud­get impasse, fund­ing for the pro­gram has been halt­ed. Com­mu­ni­ty mem­bers have tak­en it upon them­selves to crowd­fund bus­es to help ensure that, at the very least, moth­ers and their chil­dren can be togeth­er on hol­i­days like Mother's Day, when it might be even more dif­fi­cult to be with­out each other.
For Cos­by, the need to help kids vis­it incar­cer­at­ed moth­ers can­not be over­stat­ed. Due to dis­tance and cost, Cosby's inter­ac­tions with her chil­dren were few and far between.
"While I was inside [Cook Coun­ty Jail], I saw my daugh­ters almost every week," she explains. ​"It was through plexi-glass, but at least I got to see them. When I went to prison, I nev­er saw them again. From 1998 to 2015 I saw my old­est daugh­ter one time, and that was August 25, 2013. It was prob­a­bly the most awe­some day. The next most awe­some day was the day that I got out of prison."
Impor­tant­ly, the #FreeOur­Moms cam­paign in Chica­go doesn't stop at con­nect­ing bio­log­i­cal moth­ers with their bio­log­i­cal chil­dren. LaSa­ia Wade of the Black Trans Gen­der-Non­con­form­ing Col­lec­tive remind­ed the crowd of the need for an expand­ed under­stand­ing of moth­er­hood. Not all moth­ers are those who give birth, par­tic­u­lar­ly for those with­in the LGBTQ com­mu­ni­ty, and not all moth­ers are women. Trans men, for exam­ple, can give birth to chil­dren while not tak­ing the label of ​'moth­er.' And for many gen­der-non­con­form­ing youth who have estranged rela­tion­ships with their bio­log­i­cal par­ents, old­er trans women take up the moth­er­ing role.
As the vig­il came to a close, a ban­ner fea­tur­ing a quote from Assa­ta Shakur blew in the back­ground, remind­ing all who were present that orga­niz­ers' over­ar­ch­ing goal of abo­li­tion was not out of the realm of possibility:
A wall is just a wall and noth­ing more at all. It can be bro­ken down.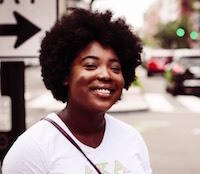 Eliz­a­beth Adeti­ba
is free­lance writer based in New York. Her writ­ing has appeared in The Huff­in­g­ton Post, Fusion, The Black Youth Project, and SB Nation.