The Reverend Who Preached Against Hate While Nazis Marched on Her
Why Rev. Traci Blackmon went to Charlottesville.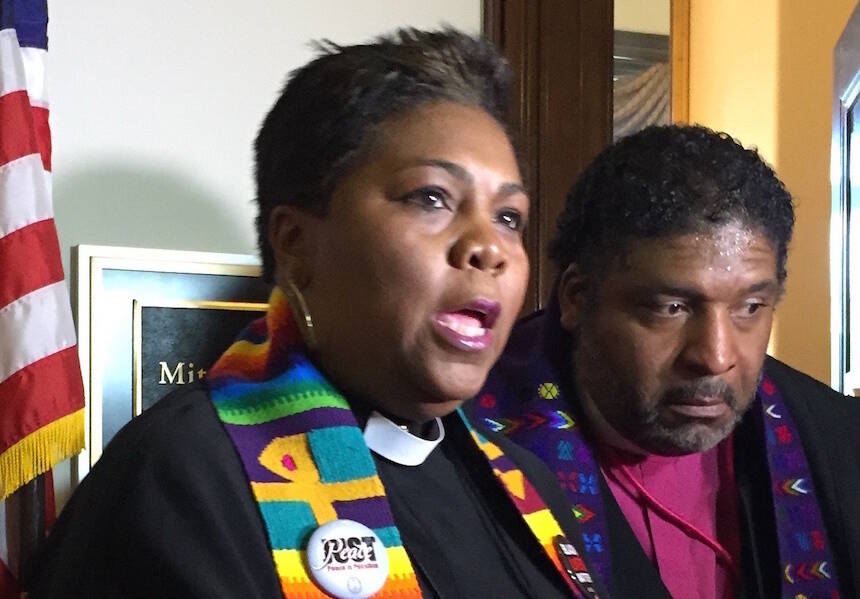 The Rev. Traci Black­mon is senior pas­tor of Christ the King Church in Floris­sant, Mo., and exec­u­tive min­is­ter of jus­tice and wit­ness min­istries for the Unit­ed Church of Christ. Her orga­niz­ing work in near­by Fer­gu­son after the killing of Michael Brown made Black­mon a lead­ing voice on racial jus­tice. She led an inter­faith ser­vice in Char­lottesville, Va., just before the August 12 white nation­al­ist ral­ly. In These Times spoke with her in August, soon after.
There are some things that cross all sacred texts: caring for the vulnerable, love of neighbor as love of self. At a time when those basic principles are under assault, all faiths must come together.
Did you expect vio­lence in Charlottesville?
The fly­ers that pro­mot­ed the event talked about weapons and being armed. But we knew as peo­ple of faith, we had a respon­si­bil­i­ty to hold our moral cen­ter and not return that vio­lence. So we were in church to pre­pare our­selves spir­i­tu­al­ly in that regard. [Dur­ing the ser­vice] we received a noti­fi­ca­tion that we would not be able to leave right away because this mass was com­ing our way with lit torch­es, chant­i­ng mes­sages from Hitler's régime. They were chant­i­ng, ​"Jews will not replace us" and ​"White lives mat­ter." We were ush­ered out of back doors and side doors into cars. I had to dri­ve through them.
Why do you par­tic­i­pate in inter­faith services?
There are some things that cross all sacred texts: car­ing for the vul­ner­a­ble, love of neigh­bor as love of self. At a time when those basic prin­ci­ples are under assault, all faiths must come togeth­er, not in uni­for­mi­ty, but in uni­ty around what we all hold sacred. Though Chris­tian­i­ty is the dom­i­nant reli­gion here — and I am Chris­t­ian, I believe in Jesus Christ as my Lord and Sav­ior — I also must accept the fact that there are peo­ple who have oth­er ways of wor­ship­ping God. I will pro­tect their right to do so, just as I want my right protected.
That's espe­cial­ly pow­er­ful when you think about how the same peo­ple who say the Left is wag­ing a war on Christ­mas are those try­ing to strip Mus­lims' right to prac­tice their faith.
I find that most iron­ic. I am com­fort­able with [inter­faith ser­vices] because I am secure in my faith.
Right-wing preach­ers are angry that Jesus is being char­ac­ter­ized by pro­gres­sive Chris­tians as a social jus­tice fight­er. What would you say to them?
An Afro­cen­tric Pales­tin­ian who was born on the wrong side of the tracks chal­leng­ing the empire of his day and chal­leng­ing the reli­gious voic­es of his day … I don't see how you serve that Jesus and [think] the gospel [is not] social. It deals with the ills of soci­ety. The scrip­tures tell us to care for the least of these. So I can only assume that we, even cler­gy, have in some cas­es become so com­fort­able in our priv­i­lege and our nar­ra­tives that min­gle the gospel with mes­sages of nation­al­ism, mes­sages of cap­i­tal­ism and mes­sages of white supremacy.
Why did your con­gre­ga­tion at Christ the King Unit­ed Church feel com­pelled to step up and fight the attempt to repeal Obamacare?
There's a moral man­date that super­sedes legal­i­ty. We should care for the sick, shel­ter the stranger, feed the hun­gry. If we have poli­cies that are con­trary to that, that are moral­ly bank­rupt, peo­ple of faith are com­pelled to speak out on behalf of those who can­not speak out for them­selves. I was also vocal against depor­ta­tion poli­cies under Pres­i­dent Obama.
Are you afraid of the rise of white supremacy?
No. I see it as the death rat­tle of white suprema­cy — not the death rat­tle of white peo­ple, but the death rat­tle of white pow­er. We're going to be a mul­tira­cial coun­try, and we're going to have to fig­ure out how live togeth­er, and how to share pow­er in a col­lec­tive man­ner. That's the reality.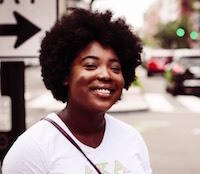 Eliz­a­beth Adeti­ba
is free­lance writer based in New York. Her writ­ing has appeared in The Huff­in­g­ton Post, Fusion, The Black Youth Project, and SB Nation.