With Rahm Out, Chicago's Black Youth Demand Mayoral Candidates Side With Communities—Not Police
A community survey says residents don't want a police academy on Chicago's West Side. Six mayoral candidates weigh in.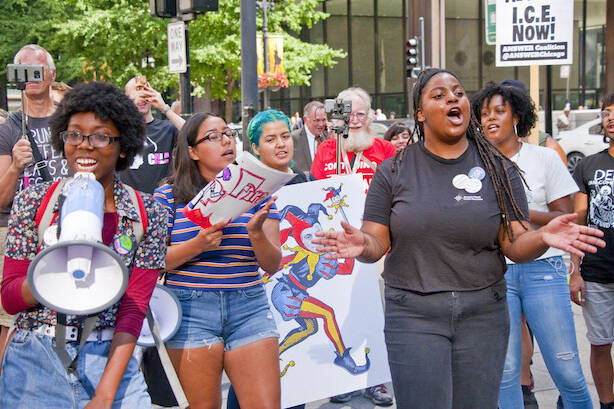 "I was shocked and frus­trat­ed," says Des­tiny Har­ris, 17, describ­ing her reac­tion last Sep­tem­ber when she learned that Chica­go May­or Rahm Emanuel was plan­ning to build a $95 mil­lion police acad­e­my in her home neigh­bor­hood of West Garfield Park. Emanuel claims that the acad­e­my is a nec­es­sary response to the 2017 Depart­ment of Jus­tice (DOJ) inves­ti­ga­tion, which revealed sig­nif­i­cant civ­il rights vio­la­tions by the Chica­go Police Depart­ment (CPD) and offered 99 sug­ges­tions for improvement.
As the mayoral race escalates, candidates will need to make their stance on the city's police academy and investment disparity clear.
West Garfield Park is a major­i­ty black neigh­bor­hood on Chicago's West Side and its young peo­ple suf­fer most from lack of invest­ment in their schools, after-school pro­gram­ming and sta­ble jobs after grad­u­a­tion. Har­ris was infu­ri­at­ed that the may­or seemed to find fund­ing only for polic­ing and not for oth­er resources her neigh­bor­hood needs.
Har­ris was not alone. This sum­mer, she joined the No Cop Acad­e­my (NCA), a self-described ​"youth-led, adult-direct­ed" non­prof­it found­ed in Sep­tem­ber 2017.
NCA rejects polic­ing as a solu­tion to vio­lence. Instead, they advo­cate invest­ment in vital com­mu­ni­ty resources such as edu­ca­tion, hous­ing, good jobs and health­care. In 2013 when the School Board vot­ed to close 54 schools across the city, four of those schools were locat­ed in West Garfield Park. Har­ris says that she and oth­er res­i­dents were bewil­dered; Emanuel ​"claimed that the city didn't have any mon­ey and then out of nowhere $95 mil­lion for a police academy."
NCA has drawn atten­tion in the past year for its tire­less efforts to stop the devel­op­ment of the police acad­e­my. They have sued the city for with­hold­ing infor­ma­tion about the ori­gins of the plan for the police acad­e­my and also advo­cate con­stituent out­reach to bring Chica­go alder­men over to their side. Thus far they have the sup­port of three out of 50 alder­men, includ­ing the par­tic­u­lar­ly out­spo­ken Ald. Car­los Ramirez Rosa. The City Coun­cil will vote on the devel­op­er for the police acad­e­my project this fall and then alder­men will have one final chance to vote down the plan for the academy.
Last week, NCA youth orga­niz­ers gath­ered at a pub­lic event in West Garfield Park to present and cel­e­brate their lat­est endeav­or: ​"The Report," a 30-page sum­ma­ry of the results of a sur­vey in which they asked West Side res­i­dents for their thoughts on the police academy.
NCA vol­un­teers can­vassed 500 West Side res­i­dents between Jan­u­ary and March and asked them four key ques­tions that yield­ed the fol­low­ing results:
72

% of res­i­dents had not pre­vi­ous­ly heard about the pro­posed police academy.
Only

18

% of res­i­dents said that they want­ed a police acad­e­my built in their neighborhood.

86

% of res­i­dents said that they did not believe this to be the best use of $

95

million.

95

% of res­i­dents (regard­less of sup­port for the pro­posed police acad­e­my) rec­om­mend­ed that the city invest in some­thing besides police. Can­vassers col­lect­ed a total of

1

,

103

rec­om­men­da­tions for oth­er uses of this funding.
These results con­tra­dict Emanuel's asser­tion that the police acad­e­my fits the desires of ​"every mem­ber of the West Side." NCA orga­niz­ers say that he nev­er actu­al­ly asked res­i­dents what they want­ed. ​"We did the city's job for them and talked to peo­ple in the neigh­bor­hood," says Maria Her­nan­dez, a West Side res­i­dent and Black Lives Mat­ter orga­niz­er who helped to coor­di­nate the com­mu­ni­ty survey.
Pro­po­nents of the plan for the police acad­e­my, such as West Garfield Park Ald. Emma Mitts, claim that the project will boost eco­nom­ic devel­op­ment in the neigh­bor­hood in addi­tion to its goals of improv­ing polic­ing in the city. Last Novem­ber, City Coun­cil approved the use of Tax Incre­ment Financ­ing (TIF) mon­ey from the dis­trict to pur­chase the land for the acad­e­my. TIF mon­ey is sup­posed to serve as extra fund­ing for projects that pro­mote eco­nom­ic devel­op­ment in ​"blight­ed areas" of the city. While the con­struc­tion is pro­ject­ed to pro­duce around 100 jobs, these would be tem­po­rary and thus would not have a sig­nif­i­cant eco­nom­ic impact on the local community.
The May­oral Race
The police acad­e­my has been Emanuel's project since its incep­tion. The upcom­ing 2019 may­oral race pro­vides the oppor­tu­ni­ty to elect a can­di­date with dif­fer­ent pri­or­i­ties when it comes to Chicago's bud­get and polic­ing meth­ods, espe­cial­ly giv­en Emanuel's recent announce­ment that he will not be seek­ing re-elec­tion. Because the plans for the new acad­e­my are already in motion, it is an issue that all can­di­dates will have to con­sid­er in their bids for mayor.
In These Times reached out to all can­di­dates who had announced their bids by the begin­ning of Sep­tem­ber. Of the six who respond­ed, none sup­port the cur­rent plan for a police acad­e­my — still, very few took a con­crete stand on NCA's demands.
May­oral can­di­dates Dorothy Brown, Ja'Mal Green, Lori Light­foot and Gar­ry McCarthy all not­ed the impor­tance of invest­ing in police train­ing to dif­fer­ent extents while still under­scor­ing the urgency of invest­ment in under­served com­mu­ni­ties. Sim­i­lar­ly, Troy La Raviere not­ed that the DOJ inves­ti­ga­tion meant that the city would have to rethink and rein­vest in polic­ing, but that $95 mil­lion was too big a price tag and that the acad­e­my alone would not address the DOJ's 99 rec­om­men­da­tions. Ja'Mal Green agreed, adding that we can­not pre­tend that police train­ing is the same as eco­nom­ic development.
All of these can­di­dates claimed to sup­port NCA's demands for invest­ment in the West Side and under­served youth in gen­er­al but seemed wary of tak­ing too strong of a stance against invest­ment in polic­ing. This vague stance is not sur­pris­ing com­ing from McCarthy, the ex-chief of police who was fired over the Laquan McDon­ald case.
Ama­ra Enyia, the most recent can­di­date to announce her bid for may­or, claimed a posi­tion to the left of her com­peti­tors. Enyia is a West Side res­i­dent who has put in time orga­niz­ing on the ground with Good­Kids Mad­C­i­ty and believes that polic­ing is not the answer to vio­lence. Enyia wants to look beyond the issue of the police acad­e­my and reimag­ine not only the $95 mil­lion police acad­e­my bud­get but the entire $10 bil­lion bud­get of the city. ​"It's about cri­tiquing the city's pri­or­i­ties and about the fact that the way the city invests its resources is a reflec­tion of those pri­or­i­ties," says Enyia.
Look­ing Forward
Through NCA, youth like Har­ris are tak­ing con­crete steps to pro­mote change in the city. Ear­li­er this month Har­ris and a friend from BLM orga­nized their own can­vass at Ald. Jason Ervin's Back to School event to warn peo­ple about his sup­port of the police academy.
As of today, NCA has endorse­ments from 80 orga­ni­za­tions across the city, and the organization's vis­i­bil­i­ty and sup­port is like­ly to spread with the pub­li­ca­tion of their sur­vey. As the may­oral race esca­lates, can­di­dates will need to make their stance on the city's police acad­e­my and invest­ment dis­par­i­ty clear. So far, few can­di­dates have tak­en a strong posi­tion on the police acad­e­my and now is the time for them to think seri­ous­ly about how they will dif­fer­en­ti­ate them­selves from the pack. Giv­en that Emanuel will not be seek­ing anoth­er term, the race will be a chance to vote in a fresh per­spec­tive on how Chica­go politi­cians engage with a lega­cy of racist bud­get­ing in the city.
Isabel Bloom
is a sum­mer
2018
In These Times edi­to­r­i­al intern.