Indigenous Women Rise Against Jerry Brown's Climate Half-Measures
Ahead of the Global Climate Action Summit in San Francisco, organizers prepare to advocate more radical solutions.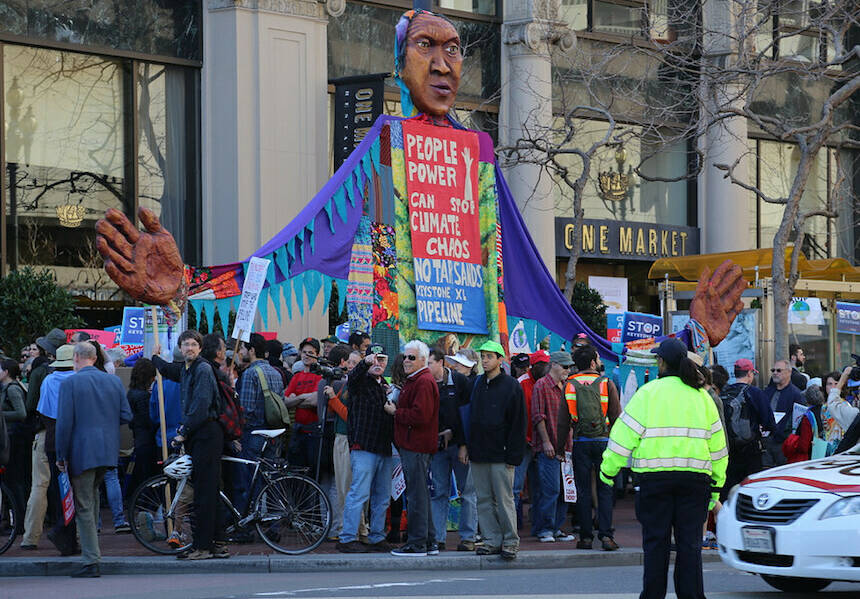 This Sat­ur­day, cli­mate orga­niz­ers from around the world are com­ing togeth­er to embark on a week of rad­i­cal action in San Francisco.
"Nobody inside the summit wants to talk about leaving fossil fuels in the ground or reducing our energy consumption."
Sol­i­dar­i­ty to Solu­tions Week (Sol2Sol) is orga­nized by the It Takes Roots Alliance in direct response to Cal­i­for­nia Gov. Jer­ry Brown's mar­ket-based approach to the cli­mate cri­sis. Brown is the dri­ving force behind the closed-door Glob­al Cli­mate Action Sum­mit being held in San Fran­cis­co Sep­tem­ber 12 – 14.
"Nobody inside the sum­mit wants to talk about leav­ing fos­sil fuels in the ground or reduc­ing our ener­gy con­sump­tion," says Kan­di Mos­sett, the Native ener­gy and cli­mate cam­paign orga­niz­er for the Indige­nous Envi­ron­men­tal Net­work, a mem­ber group of the It Takes Roots Alliance. ​"It's ​'how can we con­tin­ue to make mon­ey while basi­cal­ly paci­fy­ing groups [by say­ing] that we're work­ing on the cli­mate cri­sis' — and that's through emis­sions trad­ing schemes."
The goal of Sol2Sol is to expose what they see as false solu­tions offered by sup­posed cli­mate lead­ers such as Brown and to bring togeth­er a com­mu­ni­ty of rad­i­cal orga­niz­ers to brain­storm ways to com­bat cli­mate change and leave fos­sil fuels in the ground.
"We have to be at the table," says Mos­sett. ​"Lead­ers are going to be mak­ing deci­sions that com­plete­ly impact our future and impact us now, but we're not allowed in." Very few orga­niz­ers from the alliance have been giv­en access to the sum­mit, she says.
For Mos­sett, the cli­mate cri­sis is deeply per­son­al and direct­ly con­nect­ed to her iden­ti­ty as an indige­nous woman. She spent her child­hood on the Fort Berthold Reser­va­tion in North Dako­ta, where she grew up think­ing it was nor­mal for every­one you know to have can­cer. Her home was sur­round­ed by nine coal pow­ered plants as well as ura­ni­um mining.
Deci­sions being made behind closed doors at Brown's sum­mit will have seri­ous stakes for indige­nous com­mu­ni­ties through­out the coun­try, says Isabel­la Zizi, 24. Zizi works with Idle No More SF Bay, a grass­roots orga­ni­za­tion formed out of an indige­nous grand­moth­ers' prayer group in Cana­da that has estab­lished a net­work of chap­ters through­out Cal­i­for­nia. Idle No More SF Bay is a mem­ber group of the It Takes Roots Alliance.
Since child­hood, Zizi has been all-too-aware of the reck­less­ness and envi­ron­men­tal racism of the fos­sil fuel indus­try. Grow­ing up in Rich­mond, Calif., she lived in the shad­ow of the Chevron refin­ery there, which report­ed 304 acci­dents between 1989 and 1995 alone. In 2012 the refin­ery expe­ri­enced an explo­sion that sent 15,000 mem­bers of the sur­round­ing com­mu­ni­ties to the hos­pi­tal. The explo­sion dis­pro­por­tion­ate­ly endan­gered indige­nous com­mu­ni­ties such as Zizi's as well as oth­er com­mu­ni­ties of color.
Despite its rep­u­ta­tion as a dis­tinct­ly pro­gres­sive and green state, Cal­i­for­nia has a his­to­ry of politi­cians that Sol2Sol orga­niz­ers call ​"cli­mate prof­i­teers." Through­out his decades in office, Jer­ry Brown has been a key con­trib­u­tor to this lega­cy. Although he has worked with the U.S. Cli­mate Action Cen­ter and held a promi­nent role in inter­na­tion­al cli­mate nego­ti­a­tions, Brown has con­tin­u­ous­ly sup­port­ed the fos­sil fuel indus­try and antag­o­nized cli­mate activists.
Brown, who has tak­en mil­lions in dona­tions from fos­sil fuel com­pa­nies, sup­ports mar­ket-based solu­tions to the cli­mate cri­sis such as a cap and trade sys­tem. Under such a mod­el, over­all emis­sions are lim­it­ed and com­pa­nies trade emis­sions cred­its, essen­tial­ly cre­at­ing a car­bon econ­o­my. Crit­ics say that cap and trade is a false solu­tion, as the cap on emis­sions is too high, and fos­sil fuel com­pa­nies are giv­en plen­ty of loopholes.
Brown also sup­ports frack­ing, a method of nat­ur­al gas extrac­tion, despite its threat to drink­ing water and asso­ci­at­ed green­house gas emissions.
Sol2Sol orga­niz­ers are infu­ri­at­ed by Brown's refusal to con­sid­er their demands for more rad­i­cal action to com­bat cli­mate change. The Indige­nous Envi­ron­men­tal Net­work, for exam­ple, envi­sions work­ers in pol­lut­ing indus­tries and front­line com­mu­ni­ties work­ing toge­hter to facil­i­tate an imme­di­ate ​"just tran­si­tion" away from fos­sil fuels.
Sol2Sol will kick off with a People's Cli­mate March mod­eled off of the largest cli­mate march in his­to­ry in New York City in 2014. This march will be the largest ever West Coast cli­mate march. As it will take place in the Ohlone Ter­ri­to­ry, it has a clear pur­pose of uplift­ing the voic­es of the Ohlone peo­ple, who were enslaved or forced out dur­ing the set­tle­ment of San Fran­cis­co. A prayer cer­e­mo­ny will also be held the fol­low­ing day at the West Berke­ley Shell­mound, a sacred Ohlone site.
Through­out the rest of the week, sev­er­al oth­er actions are planned, such as a protest out­side of the sum­mit itself, where par­tic­i­pants may be risk­ing arrest. Each of these actions will be pre­ced­ed by train­ings to ensure that par­tic­i­pants will know how to stay safe.
Sol2Sol orga­niz­ers will also lead dozens of edu­ca­tion­al and com­mu­ni­ty build­ing events such as prayer cer­e­monies, tours to local sus­tain­able farms and a sum­mit of their own where atten­dees can par­tic­i­pate in work­shops and ple­nary sessions.
Stand­ing up to cli­mate prof­i­teers in such a dif­fi­cult polit­i­cal cli­mate isn't easy, says Zizi. But she con­tin­ues this risky work so that when oth­er young peo­ple ask ​"what did you do in this time of dis­tress" she can say she tried her best. ​"It's time for all of us to rise togeth­er. I'm excit­ed to see thou­sands of peo­ple have the same mes­sage and have the same heart."
Isabel Bloom
is a sum­mer
2018
In These Times edi­to­r­i­al intern.