Chicago's Far South Side Is Finally Getting a Train—And It's Thanks to Decades of Organizing
Residents hope the transit extension will shorten commutes and bring much-needed jobs.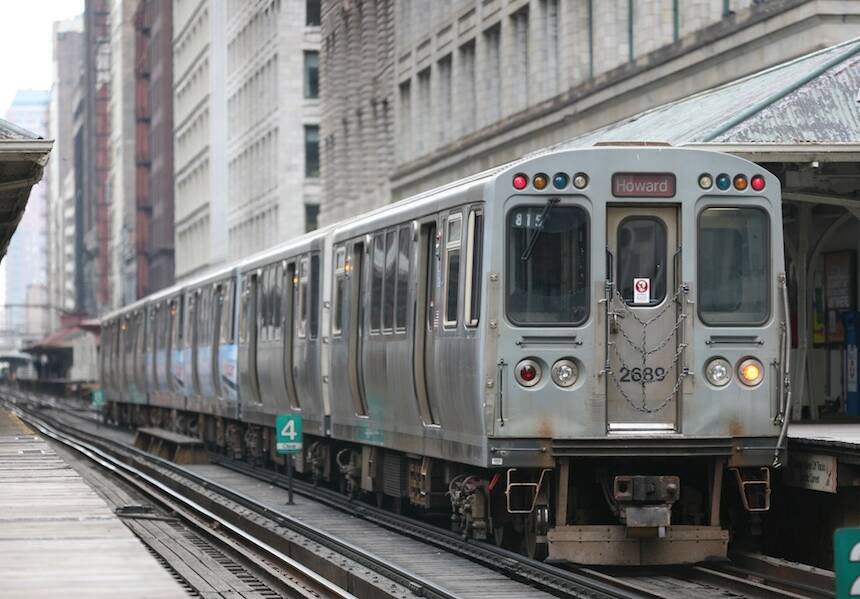 On Chicago's North Side, Michi­gan Avenue, is home to the Mag­nif­i­cent Mile, a super-dense cor­ri­dor of gleam­ing sky­scrap­ers and lux­u­ry shop­ping. But just a few miles south, in the pre­dom­i­nant­ly Black neigh­bor­hood of Rose­land, the same street serves as a reminder of the great dis­par­i­ties plagu­ing the city — swathes of vacant land, bricked and board­ed win­dows, seem­ing­ly more park­ing lots than buildings.
There's a "balancing act," LaFargue admits, between improving a community and gentrifying it. He cites rent control as a potential solution.
Not help­ing this divide is the fact that Rose­land and adja­cent neigh­bor­hoods Pull­man, West Pull­man and Riverdale have been cut off from the city's rail sys­tem (the ​"L"), and the atten­dant jobs and invest­ment that tend to accom­pa­ny tran­sit. But at a Jan­u­ary 26 press event, May­or Rahm Emanuel and Chica­go Tran­sit Author­i­ty (CTA) offi­cials unveiled their plan to final­ly extend the L's Red Line by more than five miles, to the south­ern lim­its of the city. On Feb­ru­ary 13, the CTA pre­sent­ed the plan to Rose­land at an open house in a school gym­na­si­um, where city offi­cials field­ed ques­tions and con­cerns from res­i­dents, many of whom seemed excit­ed — though skep­ti­cal in light of the city's track record of unful­filled promises.
The four new sta­tions, placed about a mile apart, will dras­ti­cal­ly reduce com­mute times for Far South Side res­i­dents, who are now forced to take bus­es as many as 35 blocks before even get­ting on the train. They may also, res­i­dents hope, attract busi­ness­es and end food deserts.
This is a vic­to­ry that Rose­land and adja­cent com­mu­ni­ties have spent gen­er­a­tions fight­ing for.
Michael LaFar­gue is the pres­i­dent of the Red Line Exten­sion Coali­tion (RLEC), the grass­roots col­lec­tion of orga­niz­ers dri­ving this mas­sive infra­struc­ture project. There is hope in his voice as he envi­sions Roseland's future, imag­in­ing a ​"Mag­nif­i­cent Mile South," an urban mec­ca of shop­ping, parks, the­atres and Black-owned busi­ness. While gen­tri­fi­ca­tion is a fear, LaFar­gue antic­i­pates that this new con­nec­tion to the rest of the city will attract busi­ness­es and tran­sit-ori­ent­ed devel­op­ment that can restore Rose­land to its for­mer rel­a­tive glo­ry and beyond.
The RLEC con­tin­ues the work done by the Devel­op­ing Com­mu­ni­ties Project, a non­prof­it first led by Barack Oba­ma in the 1980s. But the mis­sion for equal tran­sit began long before that.
Sev­en­teen years after the L first opened, the 1909 Plan of Chica­go, co-authored by mas­ter archi­tect Daniel Burn­ham, envi­sioned beau­ti­ful parks and mass pub­lic trans­porta­tion reach­ing all across the city. As the net­work evolved through­out the cen­tu­ry, this vision came true for the North and West Sides. But the South Side, as LaFar­gue says, ​"has been left out."
In the 1960s, May­or Richard J. Daley promised to extend the trains beyond 95th Street, but this aim sat on the back burn­er as the city pri­or­i­tized oth­er infra­struc­ture ven­tures. Jacky Grimshaw at the Cen­ter for Neigh­bor­hood Tech­nol­o­gy explains that the ​"sup­pos­ed­ly objec­tive" met­rics used in decid­ing what to focus on, such as cost per mile and pop­u­la­tion den­si­ty, ​"were skewed against com­mu­ni­ties on the Far South Side."
The Far South Side is more than 90 per­cent African-Amer­i­can and in the 1970s formed a core of Chicago's Black mid­dle class. But as man­u­fac­tur­ing declined and the city pri­or­i­tized down­town devel­op­ment, the region saw mas­sive job loss and now has among the city's low­est medi­an house­hold incomes. Ledall Edwards, own­er of Edwards Fash­ions, laments the ​"dra­mat­ic tran­si­tion" that Rose­land has under­gone since his fam­i­ly opened the busi­ness in 1974. He says that over the years the city has been unre­spon­sive to local efforts toward re-devel­op­ment, and he wor­ries that the com­mu­ni­ty is ​"not at the table" for future planning.
LaFar­gue acknowl­edges that, when it comes to the Red Line, the CTA has been most­ly recep­tive to the community's con­cerns about the path of the exten­sion and the res­i­dents that could be displaced.
But he shares many of Edwards' broad­er con­cerns: ​"Where the pri­vate sec­tor fails," he says, ​"the government's sup­posed to come in and do bet­ter. … And it doesn't seem like they're doing that."
The region has been among the hard­est hit by recent aus­ter­i­ty mea­sures by both city and state gov­ern­ment. In 2013, Emanuel's admin­is­tra­tion closed dozens of schools on the South and West Sides, includ­ing four in Rose­land and West Pull­man. Rose­land Com­mu­ni­ty Hos­pi­tal, where near­ly two-thirds of patients are on Med­ic­aid, is still reel­ing from dev­as­tat­ing cuts caused by a two-year dead­lock of the Illi­nois state bud­get. Rose­land and its neigh­bors, with the high­est per­cent­age of pub­lic pen­sion hold­ers in the city, con­tin­ue to suf­fer dis­pro­por­tion­ate­ly from the $130 bil­lion pen­sion cri­sis, which threat­ens to slash month­ly retire­ment pay­outs by as much as 20 percent.
In light of all this, says LaFar­gue, the exten­sion is a wel­come ​"step forward."
But advo­cates rec­og­nize that the L exten­sion is a dou­ble-edged sword. Along­side the ben­e­fits, bet­ter tran­sit can lead to increased land val­ues and high­er rents that tend to push res­i­dents out. There's a ​"bal­anc­ing act," LaFar­gue admits, between improv­ing a com­mu­ni­ty and gen­tri­fy­ing it. He cites rent con­trol as a poten­tial solu­tion. Although it's been out­lawed in the state for two decades, rent con­trol has recent­ly been pro­posed by local law­mak­ers such as state Rep. Will Guz­zar­di (D) and Alder­man Car­los Ramirez-Rosa.
LaFar­gue sees work­er-owned coop­er­a­tive busi­ness­es as anoth­er way to stave off gen­tri­fi­ca­tion, and stress­es the impor­tance of union jobs. He wants to make sure the wealth gen­er­at­ed by Roseland's new invest­ments stays in Roseland.
The exten­sion is set to open around 2026. Until then, there are some hur­dles to clear as the project enters the fund­ing phase. Law­mak­ers must nego­ti­ate con­ces­sions from state and local cof­fers; LaFar­gue sees a pro­gres­sive income tax and a finan­cial trans­ac­tion tax as answers to the project's $2.1 bil­lion price tag.
But the real need is fed­er­al fund­ing, which the city will apply for as it sub­mits an envi­ron­men­tal impact study to the Fed­er­al Tran­sit Admin­is­tra­tion. Since the cre­ation of the nation­al high­way sys­tem, cities have relied on a near-50 per­cent match in fed­er­al funds for this type of infra­struc­ture project. But the cur­rent admin­is­tra­tion is like­ly to dole out clos­er to 20 per­cent, accord­ing to Kyle White­head at the Active Trans­porta­tion Alliance, leav­ing under­served com­mu­ni­ties like Rose­land in limbo.
In the mean­time, LaFar­gue and the coali­tion will open dia­logues for res­i­dents to have as much input as pos­si­ble in decid­ing which devel­op­ments will arrive at each sta­tion. The peo­ple of Rose­land, LaFar­gue says, are ​"not just sit­ting there wait­ing. … We're working."