Chicago's Far South Side Is Finally Getting a Train—And It's Thanks to Decades of Organizing
Residents hope the transit extension will shorten commutes and bring much-needed jobs.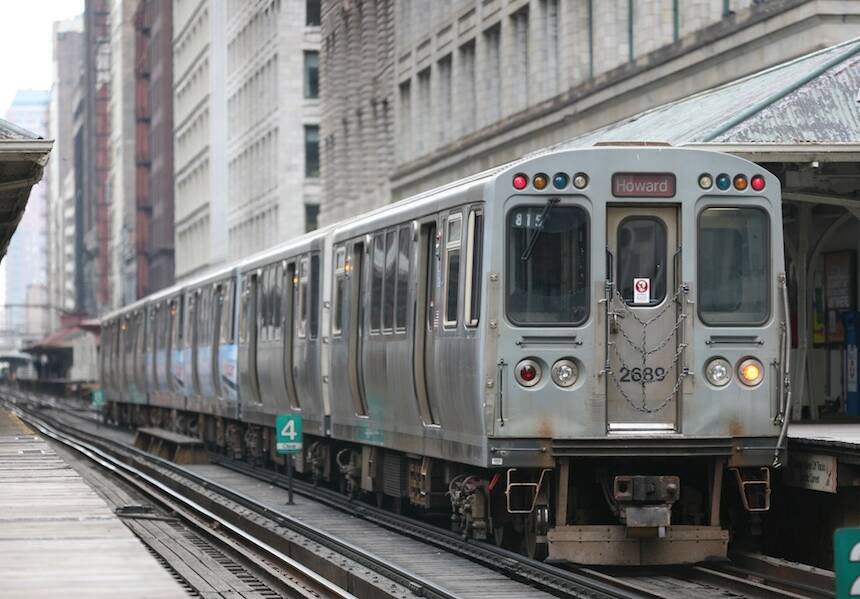 We wanted to make sure you didn't miss the announcement of our new Sustainer program. Once you've finished reading, take a moment to check out the new program, as well as all the benefits of becoming a Sustainer.

On Chicago's North Side, Michigan Avenue, is home to the Magnificent Mile, a super-dense corridor of gleaming skyscrapers and luxury shopping. But just a few miles south, in the predominantly Black neighborhood of Roseland, the same street serves as a reminder of the great disparities plaguing the city — swathes of vacant land, bricked and boarded windows, seemingly more parking lots than buildings.
There's a "balancing act," LaFargue admits, between improving a community and gentrifying it. He cites rent control as a potential solution.
Not helping this divide is the fact that Roseland and adjacent neighborhoods Pullman, West Pullman and Riverdale have been cut off from the city's rail system (the ​"L"), and the attendant jobs and investment that tend to accompany transit. But at a January 26 press event, Mayor Rahm Emanuel and Chicago Transit Authority (CTA) officials unveiled their plan to finally extend the L's Red Line by more than five miles, to the southern limits of the city. On February 13, the CTA presented the plan to Roseland at an open house in a school gymnasium, where city officials fielded questions and concerns from residents, many of whom seemed excited — though skeptical in light of the city's track record of unfulfilled promises.
The four new stations, placed about a mile apart, will drastically reduce commute times for Far South Side residents, who are now forced to take buses as many as 35 blocks before even getting on the train. They may also, residents hope, attract businesses and end food deserts.
This is a victory that Roseland and adjacent communities have spent generations fighting for.
Michael LaFargue is the president of the Red Line Extension Coalition (RLEC), the grassroots collection of organizers driving this massive infrastructure project. There is hope in his voice as he envisions Roseland's future, imagining a ​"Magnificent Mile South," an urban mecca of shopping, parks, theatres and Black-owned business. While gentrification is a fear, LaFargue anticipates that this new connection to the rest of the city will attract businesses and transit-oriented development that can restore Roseland to its former relative glory and beyond.
The RLEC continues the work done by the Developing Communities Project, a nonprofit first led by Barack Obama in the 1980s. But the mission for equal transit began long before that.
Seventeen years after the L first opened, the 1909 Plan of Chicago, co-authored by master architect Daniel Burnham, envisioned beautiful parks and mass public transportation reaching all across the city. As the network evolved throughout the century, this vision came true for the North and West Sides. But the South Side, as LaFargue says, ​"has been left out."
In the 1960s, Mayor Richard J. Daley promised to extend the trains beyond 95th Street, but this aim sat on the back burner as the city prioritized other infrastructure ventures. Jacky Grimshaw at the Center for Neighborhood Technology explains that the ​"supposedly objective" metrics used in deciding what to focus on, such as cost per mile and population density, ​"were skewed against communities on the Far South Side."
The Far South Side is more than 90 percent African-American and in the 1970s formed a core of Chicago's Black middle class. But as manufacturing declined and the city prioritized downtown development, the region saw massive job loss and now has among the city's lowest median household incomes. Ledall Edwards, owner of Edwards Fashions, laments the ​"dramatic transition" that Roseland has undergone since his family opened the business in 1974. He says that over the years the city has been unresponsive to local efforts toward re-development, and he worries that the community is ​"not at the table" for future planning.
LaFargue acknowledges that, when it comes to the Red Line, the CTA has been mostly receptive to the community's concerns about the path of the extension and the residents that could be displaced.
But he shares many of Edwards' broader concerns: ​"Where the private sector fails," he says, ​"the government's supposed to come in and do better. … And it doesn't seem like they're doing that."
The region has been among the hardest hit by recent austerity measures by both city and state government. In 2013, Emanuel's administration closed dozens of schools on the South and West Sides, including four in Roseland and West Pullman. Roseland Community Hospital, where nearly two-thirds of patients are on Medicaid, is still reeling from devastating cuts caused by a two-year deadlock of the Illinois state budget. Roseland and its neighbors, with the highest percentage of public pension holders in the city, continue to suffer disproportionately from the $130 billion pension crisis, which threatens to slash monthly retirement payouts by as much as 20 percent.
In light of all this, says LaFargue, the extension is a welcome ​"step forward."
But advocates recognize that the L extension is a double-edged sword. Alongside the benefits, better transit can lead to increased land values and higher rents that tend to push residents out. There's a ​"balancing act," LaFargue admits, between improving a community and gentrifying it. He cites rent control as a potential solution. Although it's been outlawed in the state for two decades, rent control has recently been proposed by local lawmakers such as state Rep. Will Guzzardi (D) and Alderman Carlos Ramirez-Rosa.
LaFargue sees worker-owned cooperative businesses as another way to stave off gentrification, and stresses the importance of union jobs. He wants to make sure the wealth generated by Roseland's new investments stays in Roseland.
The extension is set to open around 2026. Until then, there are some hurdles to clear as the project enters the funding phase. Lawmakers must negotiate concessions from state and local coffers; LaFargue sees a progressive income tax and a financial transaction tax as answers to the project's $2.1 billion price tag.
But the real need is federal funding, which the city will apply for as it submits an environmental impact study to the Federal Transit Administration. Since the creation of the national highway system, cities have relied on a near-50 percent match in federal funds for this type of infrastructure project. But the current administration is likely to dole out closer to 20 percent, according to Kyle Whitehead at the Active Transportation Alliance, leaving underserved communities like Roseland in limbo.
In the meantime, LaFargue and the coalition will open dialogues for residents to have as much input as possible in deciding which developments will arrive at each station. The people of Roseland, LaFargue says, are ​"not just sitting there waiting. … We're working."
Be a Sustainer
We surveyed thousands of readers and asked what they would like to see in a monthly giving program. Now, for the first time, we're offering three different levels of support, with rewards at each level, including a magazine subscription, books, tote bags, events and more—all starting at less than 17 cents a day. Check out the new Sustainer program.