A Year On, Trump Admin Refuses to Drop Charges Against 59 Arrested at Inauguration Protest
The government isn't arguing that the defendants damaged property, but that their presence at the protest makes them guilty.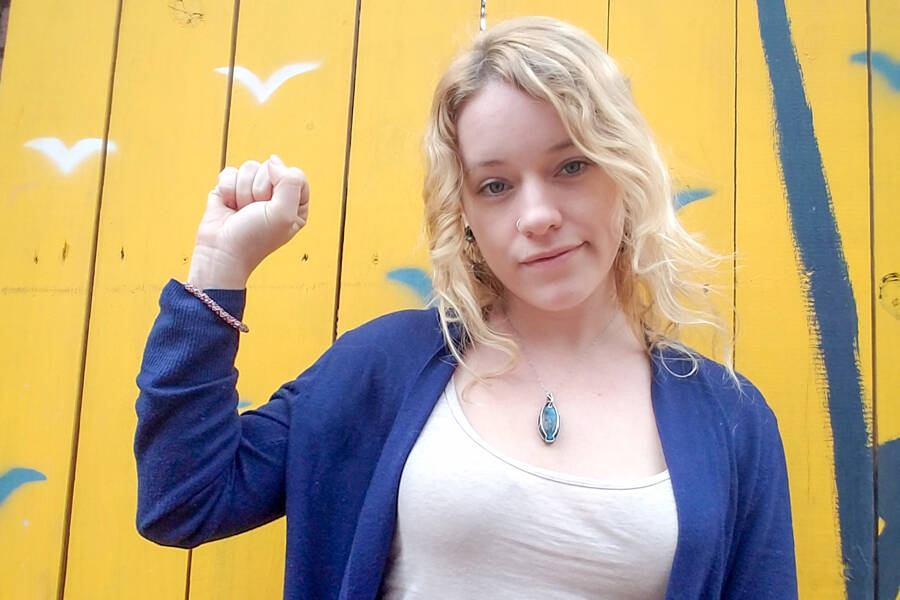 More than 200 pro­test­ers at Trump's inau­gu­ra­tion were arrest­ed and charged with riot­ing. The gov­ern­ment didn't argue that the defen­dants had them­selves dam­aged prop­er­ty, but rather that their pres­ence made them complicit.
It's really important for able-bodied people who have the capacity to do so to resist in a physical and noticeable way.
On Dec. 21, 2017, the first six ​"J20" defen­dants were cleared of all charges. And on Thurs­day anoth­er 129 defen­dants had their charges dis­missed. As for the remain­ing 59 peo­ple charged, they could face decades of prison time.
In These Times spoke with one of the remain­ing 59 defen­dants, Olivia Alsip, who faces tri­al in the com­ing months.
How do you feel about the acquit­tals in Decem­ber 2017, and dis­missal of charges in January?
This is a huge vic­to­ry. I'm super excit­ed that a lot of won­der­ful peo­ple can hope­ful­ly put this behind them and move on with their lives. But of course, none of us are free until we all are. We also rec­og­nize that this is anoth­er tac­tic by the gov­ern­ment to restruc­ture the nar­ra­tive after their spec­tac­u­lar fail­ure with the first tri­al. They're try­ing to sal­vage their image by argu­ing that they're now focus­ing on the worst of the worst. But that doesn't seem to be true. The charges filed against myself and sev­er­al oth­ers don't actu­al­ly allege we did any­thing crim­i­nal. A lot of us still fac­ing charges are those who have been vocal in media or those in labor orga­ni­za­tions like Indus­tri­al Work­ers of the World.
What brought you to Wash­ing­ton, D.C., the day of the inauguration?
Large­ly, I want­ed to send a mes­sage to the admin­is­tra­tion and to the peo­ple embold­ened by it that we're still here. Not every­one can take to the streets and resist in such a bold way, giv­en the col­or of their skin or their immi­gra­tion sta­tus or class sta­tus. It's real­ly impor­tant for able-bod­ied peo­ple who have the capac­i­ty to do so to resist in a phys­i­cal and notice­able way. Maybe because of your race or class or gen­der you have the lux­u­ry to not be affect­ed [by the Trump admin­is­tra­tion] direct­ly. But peo­ple are dying, they're suf­fer­ing and they're hurt­ing. They're being oppressed and it's wrong.
What has been the over­all feel­ing among the defen­dants through­out this ordeal?
I think we feel as good as we can about it. We have a very con­ser­v­a­tive judge who's not been too friend­ly to us. They do any­thing to remind you that it's their world and you're sup­posed to fit into it.
How can peo­ple show sol­i­dar­i­ty with this movement?
We need help secur­ing hous­ing, get­ting the word out and fundrais­ing. What­ev­er you have an affin­i­ty for. We have yard signs if you're in D.C. Even if you're not an activist, you need to care about this case. The strug­gle against Trump, big­otry and fas­cism is so broad that every­one can get involved no mat­ter your capac­i­ty or abil­i­ty. How many peo­ple have died in Puer­to Rico while Trump was throw­ing out paper towels?
And as we're wait­ing for ver­dicts, it's impor­tant to note that a con­vic­tion does not equal guilt or wrong­do­ing, which you can see in the charges. They're try­ing to say, ​"If you were there, you were part of it and you're respon­si­ble for every­thing else that hap­pened there." The jus­tice sys­tem it not meant to bring about jus­tice, it's meant to bring about judgment.
How has the case changed your life?
I've nev­er had pan­ic attacks before, but oh boy, have I had them now! As awful as this year has been, I have a bunch of new friends and com­rades. We've been get­ting a lot more sup­port from broad­er move­ments: Black Lives Mat­ter DC, a cou­ple unions, and now, the Women's March, which is real­ly great because ini­tial­ly they did not show any solidarity.
And we, in turn, try and show sol­i­dar­i­ty to oth­ers who are fac­ing polit­i­cal repres­sion, like the water pro­tec­tors arrest­ed at Stand­ing Rock, the Jason Stock­ley ver­dict pro­test­ers arrest­ed in St. Louis, and the Dream­ers arrest­ed in a con­gres­sion­al sit-in in Decem­ber 2017.
If we can come back from state repres­sion with more strength in our bonds, more trust and under­stand­ing of dif­fer­ent com­mu­ni­ties, that's real­ly mar­velous. And maybe it will make them stop repress­ing us so hard.
Ha, that would be nice.
Dare to dream!
This in an expand­ed and updat­ed ver­sion of an inter­view that appeared in print.