As CTU and Chuy Garcia Endorse $15/hr Contract Demand, Fight for 15 Goes Beyond Fast Food
The Fight for 15 and the Chica­go Teach­ers Union (CTU) have joined togeth­er to demand that Chica­go Pub­lic Schools (CPS) employ­ees should earn at least $15 an hour, includ­ing con­tract work­ers such as the jan­i­tors pro­vid­ed by Ara­mark in a con­tro­ver­sial pri­va­ti­za­tion of school san­i­ta­tion that has pro­voked protests by pub­lic school principals.
At a press con­fer­ence on Wednes­day announc­ing CTU's demand, Chica­go may­oral can­di­date Jesus ​"Chuy" Gar­cia pledged that he would sup­port the $15 wage. ​"I stand here today as some­one who under­stands the plight of thou­sands and thou­sands of Chicagoans in Chica­go neigh­bor­hoods who need to increase their wages," said Garcia.
The CTU announced it would include a demand for all CPS employ­ees to receive a $15 per hour min­i­mum wage in their con­tract pro­pos­al to the Chica­go Board of Edu­ca­tion. The pro­posed lan­guage reads: ​"The CTU will require the BOARD to report which employ­ees do not earn at least a $15/​hour min­i­mum wage and to then require that all CTU mem­bers must earn at least $15/​hr. and that all CPS sub­con­trac­tors must earn at least $15/​hr. and/​or that all CPS employ­ees must earn at least $15/​hr."
"You can't expect schools to solve all of the prob­lems of the coun­try," says CTU act­ing pres­i­dent Jesse Sharkey. ​"One of the solu­tions is to pay par­ents and con­tract work­ers a liv­ing wage. It's very impor­tant to locate demand for bet­ter edu­ca­tion with­in the demands for a soci­ety that treats work­ing class peo­ple bet­ter. Chica­go Pub­lic Schools should lead by example."
The inclu­sion of a $15 per hour min­i­mum wage in oth­er unions' bar­gain­ing efforts is the lat­est in the expan­sion of the Fight for 15 cam­paign. Two and a half years ago, work­ers at fast food restau­rants in big cities such as New York and Chica­go began walk­ing off their jobs, demand­ing $15 an hour and no employ­er inter­fer­ence in their decid­ing about whether to form a union.
The goals of their move­ment quick­ly res­onat­ed among the nation's low-wage work­ers. Tak­ing the most recent avail­able num­bers from 2014, about half of all women work­ers and more than 40 per­cent of the work­force as a whole eared less than $15 an hour, accord­ing to the Eco­nom­ic Pol­i­cy Insti­tute. Equal­ly impor­tant, the move­ment cap­tured the imag­i­na­tion of the broad­er cit­i­zen­ry, offer­ing a vivid con­trast with the ultra-rich 1 per­cent, just as the debate over eco­nom­ic inequal­i­ty took root in the body politic.
A renewed fast food work­er spring offen­sive now under­way shows how the move­ment has grown in size and sophis­ti­ca­tion as well as ambi­tion and influ­ence. The actions planned for this spring will reach out to low-wage work­ers in many indus­tries and cor­po­ra­tions, hop­ing to trig­ger new and broad­er cam­paigns both to orga­nize unions and improve pay and work­ing conditions.
The strat­e­gy of the Fight for 15 has focused its attacks over the past year on McDonald's, which sets the tone for the fast food indus­try much as Wal­mart does for big box retail. McDonald's is also vul­ner­a­ble to the work­ers' cam­paign because of its oth­er prob­lems with sales, con­sumer sat­is­fac­tion, pub­lic image, man­age­ment and profits.
Both McDonald's and Wal­mart remain obdu­rate oppo­nents of unions, even though Walmart's recent deci­sion to raise many of its low­est pay rates sure­ly stemmed in part from the Fight for 15 cam­paigns for pay hikes. Progress that work­ers make at the dom­i­nant com­pa­nies may spread with less of a fight, just as Tar­get fol­lowed Walmart's lead in rais­ing wages.
The Fight for 15 (known in New York as Fast Food For­ward and by oth­er names else­where) has already stepped up its fight through a series of actions around the coun­try intend­ed to build momen­tum for what orga­niz­ers hope will be a mas­sive day of protest on April 15 (or 4⁄15, i.e., ​"for fifteen").
Based on the expand­ing alliances they have formed, orga­niz­ers are con­fi­dent that many unions, com­mu­ni­ty and reli­gious groups, non-union work­er orga­ni­za­tions, unor­ga­nized work­ers from a wide range of low-wage and oth­er sup­port­ers will join the protests, and some may also par­tic­i­pate in this year's actions at the May McDonald's stock­hold­er meet­ing in a Chica­go suburb.
In Chica­go, to take one exam­ple, the Fight for 15 has count­ed on sup­port from a few unions in addi­tion to the Ser­vice Employ­ees Inter­na­tion­al Union (SEIU) (whose nation­al lead­er­ship has pro­vid­ed sub­stan­tial finan­cial and orga­niz­ing assis­tance), work­er cen­ters such as Arise Chica­go and low-income orga­ni­za­tions such as Action Now, a close ally of SEIU.
But recent­ly more con­ven­tion­al com­mu­ni­ty orga­ni­za­tions, which have only rarely become involved in work­place issues, have demand­ed that McDonald's pay $15 an hour or more.
For exam­ple, in the city's work­ing class south­west side neigh­bor­hoods, the Brighton Park Neigh­bor­hood Coun­cil joined McDonald's work­ers in demand­ing high­er pay, espe­cial­ly in light of the deep cuts in ser­vices like heat­ing assis­tance, Med­ic­aid and pub­lic trans­porta­tion that the new Repub­li­can Gov. Bruce Rauner has imposed.
And in com­pa­ra­ble north­west side neigh­bor­hoods, Com­mu­ni­ties Unit­ed direc­tor Raul Botel­lo said that the group rec­og­nized that high­er incomes for its res­i­dents were essen­tial to mak­ing the com­mu­ni­ties strong. ​"Jobs are the back­bone of the com­mu­ni­ty," he says.
In addi­tion to draw­ing sup­port from oth­er unions and work­er orga­ni­za­tions, the Fight for 15 now feels con­fi­dent enough to offer its own ges­tures of sol­i­dar­i­ty with oth­er work­ers, such as send­ing a del­e­ga­tion to join the Unit­ed Steel Work­ers refin­ery work­ers on strike, large­ly over health and safe­ty issues.
Those protests, in turn, linked to new issues that fast food work­ers were rais­ing regard­ing their own work. Last week, the nation­al Fight for 15 launched a new street protest and legal attack on McDonald's for its poor safe­ty record, includ­ing 28 Occu­pa­tion­al Safe­ty and Health Admin­is­tra­tion (OSHA) com­plaints about McDonald's fran­chis­es and cor­po­rate-owned out­lets in 19 cities.
Work­ers report­ed that they were repeat­ed­ly burned and oth­er­wise hurt on the job because there was inad­e­quate equip­ment and train­ing for han­dling and pro­tect­ing them­selves from hot grease. A sur­vey by Hart Research found that 87 per­cent of fast food work­ers suf­fered injuries last year, includ­ing 78 per­cent who suf­fered mul­ti­ple injuries. Work­ers said the injuries pri­mar­i­ly occurred because the restau­rants are under­staffed and man­agers push them to work too fast.
Also, McDonald's work­ers said the restau­rants often had no first aid kits or any mate­ri­als in the first aid box­es. Super­vi­sors, lack­ing prop­er burn treat­ments, told them to use mus­tard, may­on­naise and but­ter on their burns.
The com­plaints about work­place health and safe­ty also tie in with oth­er Fight for 15 objec­tives. Unlike the demands for high­er wages, which the cor­po­ra­tion could pay and then suc­cess­ful­ly under­cut the orga­niz­ing cam­paign, the cam­paign for safe­ty requires greater work­er pow­er on the job.
Also, the safe­ty com­plaints take anoth­er step towards attempt­ing to estab­lish that the cor­po­ra­tion is indeed a joint employ­er with the fran­chise oper­a­tors, much as the work­ers have con­tend­ed in ear­ly com­plaints about cor­po­rate involve­ment in ille­gal mea­sures to block union­iza­tion. Next Mon­day, the Nation­al Labor Rela­tions Board will hear the first of 19 con­sol­i­dat­ed com­plaints filed claim­ing that McDonald's Cor­po­ra­tion was indeed act­ing as a joint employ­er in its coor­di­nat­ed fight against work­ers' attempts to organize.
And in anoth­er sol­i­dar­i­ty action, fast food work­ers joined with a del­e­ga­tion from Next Up, the AFL-CIO young work­er group that was hold­ing a con­ven­tion in Chica­go, to march on a West Side Chica­go McDonald's and then, joined by work­ers who were try­ing to form a local of the Unit­ed Food and Com­mer­cial Work­ers (UFCW) at a near­by Food4Less, the group marched on the gro­cery store.
And with yet anoth­er link forged, the Fight for 15 grows, not only in num­bers, allies and pow­er, but also in the breadth and depth of its message.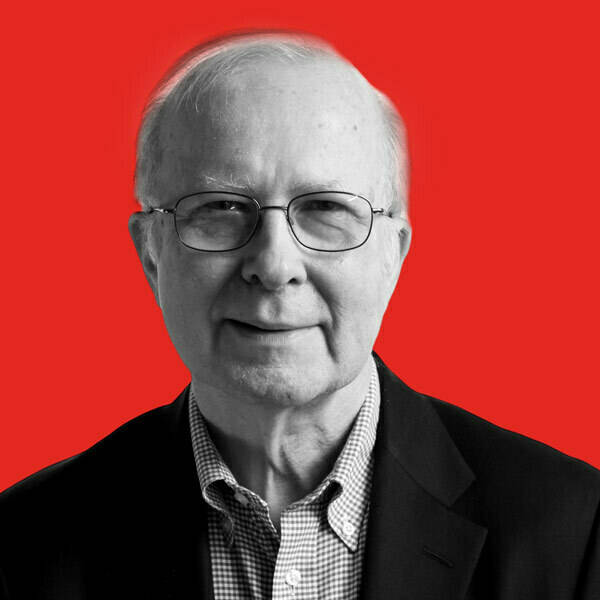 David Moberg, a senior edi­tor of In These Times, has been on the staff of the mag­a­zine since it began pub­lish­ing in 1976. Before join­ing In These Times, he com­plet­ed his work for a Ph.D. in anthro­pol­o­gy at the Uni­ver­si­ty of Chica­go and worked for Newsweek. He has received fel­low­ships from the John D. and Cather­ine T. MacArthur Foun­da­tion and the Nation Insti­tute for research on the new glob­al economy.