Chicago's Cop Watchers
Youth stand up to police violence.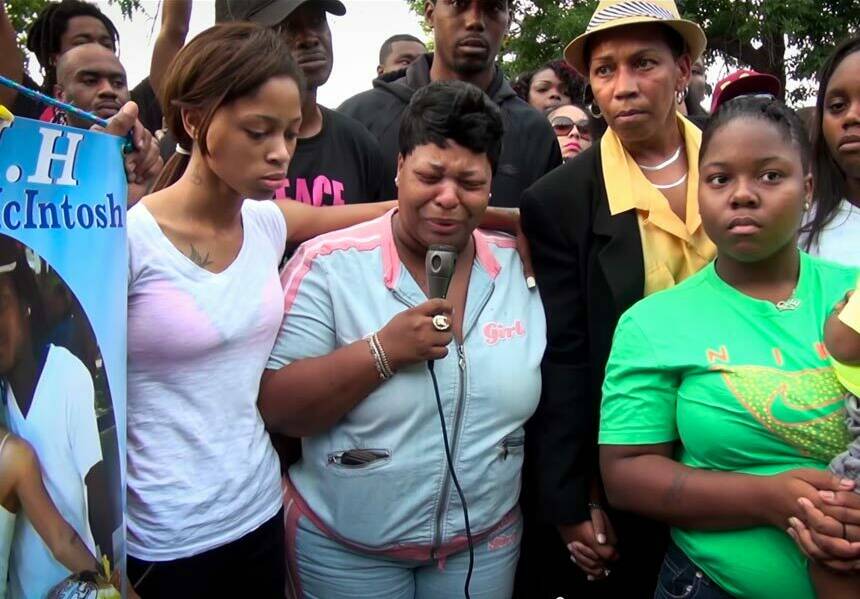 The spon­ta­neous upris­ing in Fer­gu­son over the killing of 18-year-old Michael Brown has cast the nation­al spot­light on racial­ly charged police vio­lence, a slow­er-burn­ing but increas­ing­ly potent move­ment has been build­ing in Chica­go. Young activists and vet­er­an orga­niz­ers are work­ing to demand account­abil­i­ty and jus­tice for com­mu­ni­ties that rou­tine­ly endure vio­lence and harass­ment at the hands of the city's police force.
'[Ferguson] is a wakeup call,' said Chapman. 'Our country is quickly morphing into a police state—unless we do something about it.'
In late August and ear­ly Sep­tem­ber, hun­dreds of peo­ple marched in a series of protests on the West Side against the fatal police shoot­ing of 19-year-old Roshad McIn­tosh. As in Fer­gu­son, com­mu­ni­ty mem­bers are demand­ing the depart­ment release the name of the offi­cer who shot McIn­tosh. Police say McIn­tosh point­ed a gun at offi­cers; com­mu­ni­ty mem­bers have said he was unarmed and on his knees when he was killed.
Chica­go has a long his­to­ry of strug­gles between com­mu­ni­ties and police, from union mem­bers who fought with police in the 1800s to the Black Pan­thers in the 1960s to the 1990s-2000s move­ment against police tor­ture — name­ly the alleged sys­tem­at­ic use of elec­tric shocks, beat­ings and oth­er bru­tal­i­ty to obtain con­fes­sions under for­mer Police Com­man­der Jon Burge. Burge is now in prison, serv­ing a four-and-a-half-year sen­tence for per­jury and obstruc­tion. But police bru­tal­i­ty, mis­con­duct and shoot­ings con­tin­ue to make head­lines and roil com­mu­ni­ties in Chicago.
In late August, for exam­ple, pros­e­cu­tors brought charges against a West Side police com­man­der accused of shov­ing a gun down a man's throat, hold­ing a Taser to his groin and threat­en­ing to kill him dur­ing an inci­dent in 2013. A law­suit filed this spring involved offi­cers video­taped beat­ing and threat­en­ing a hand­cuffed, diminu­tive woman who man­aged a tan­ning salon being raid­ed over pros­ti­tu­tion allegations.
A Chica­go Reporter analy­sis found that black peo­ple are 10 times more like­ly than white peo­ple to be shot by police in the city. This year, over the Fourth of July week­end alone, at least five peo­ple were shot by police, two of them fatal­ly, in sep­a­rate incidents.
Such sit­u­a­tions have fueled a grow­ing move­ment around police behav­ior in Chica­go that began even before the upris­ing in Fer­gu­son. In May, the city host­ed activists from New York City, Austin, Louisville, Los Ange­les, San Fran­cis­co and oth­er cities for the Nation­al Forum on Police Crimes, orga­niz­ing to fight police vio­lence, racial pro­fil­ing, the incar­cer­a­tion epi­dem­ic and relat­ed issues. The keynote speak­er was Angela Davis — the schol­ar, activist and writer who in 1970 land­ed on the FBI's Ten Most Want­ed List for her alleged involve­ment in the killing of a judge dur­ing a shootout in north­ern Cal­i­for­nia, only to be acquit­ted lat­er of all charges.
Speak­ing with In These Times, Davis framed police repres­sion as a con­se­quence of world­wide shifts toward neolib­er­al and aus­ter­i­ty poli­cies, of which Chica­go has been a poster child. ​"The emer­gence of glob­al cap­i­tal­ism in the ​'80s and its sub­se­quent destruc­tion of social ser­vices and the wel­fare state have cre­at­ed the most fer­tile kind of ground for police vio­lence," Davis said. ​"In light of the dis­man­tling of these ser­vices, it is police and the prison sys­tem that are left to address these pop­u­la­tions affect­ed by dein­dus­tri­al­iza­tion [and the] removal of jobs to oth­er parts of the world."
The forum was host­ed by the Chica­go Alliance Against Racist and Polit­i­cal Repres­sion (CAARPR), an affil­i­ate of the Nation­al Alliance Against Racist and Polit­i­cal Repres­sion, which was found­ed 41 years ago as part of the move­ment to free Davis and oth­er polit­i­cal pris­on­ers. One of those polit­i­cal pris­on­ers, Frank Chap­man, served as the exec­u­tive direc­tor of the nation­al alliance for a decade and relo­cat­ed to Chica­go in 2011 to orga­nize a rein­vig­o­rat­ed nation­al campaign.
Chap­man tied the lack of ameni­ties and resources on the South and West Sides to the con­di­tions that lead to police harass­ment and vio­lent con­fronta­tions. ​"Young peo­ple need recre­ation, they need jobs," Chap­man told In These Times. ​"We as a soci­ety have a respon­si­bil­i­ty — we're not mea­sur­ing up. Our solu­tion to the social unrest is police repression."
While long-time orga­niz­ers like Chap­man pro­vide a link to the past, youth are large­ly tak­ing the lead in the Chica­go move­ment against police vio­lence. Sev­er­al youth-dri­ven groups are push­ing for more police account­abil­i­ty, includ­ing Project NIA, We Charge Geno­cide and the L.Y.R.I.C. SQUAD (Let Your Rhymes Inspire Creativity).
On August 2, We Charge Geno­cide — an all-vol­un­teer orga­ni­za­tion that takes its name from a 1951 peti­tion to the Unit­ed Nations doc­u­ment­ing police­vi­o­lence — host­ed a forum in down­town Chica­go for youth to tes­ti­fy about inci­dents where they felt they were racial­ly pro­filed or mis­treat­ed by police. One after anoth­er, young Black and Lati­no men and women took to the micro­phone to describe sit­u­a­tions where they were pulled over, searched, ques­tioned, harassed, arrest­ed and even beaten.
One young man described being beat­en by an offi­cer after he attempt­ed to evade police. After ​"light­ing up a blunt" while in a car with his girl­friend, he saw a squad car turn on its lights and siren to pull him over. Know­ing he had an out­stand­ing war­rant, he jumped out of the car and ran, he said, but he turned him­self in to an offi­cer half an hour lat­er. That's when, he said, an offi­cer gave him a beat­ing so bad that he end­ed up need­ing 22 stitch­es in his face.
"I still can't talk right to this day. I can't eat cer­tain things, I had a nasal frac­ture. They had to stitch my tongue back togeth­er," he said.
Even police encoun­ters with less dra­mat­ic out­comes cause trau­ma. One young woman recalled the fear she felt when she and some friends were pulled over while dri­ving on the Uni­ver­si­ty of Chica­go cam­pus. The offi­cer claimed he smelled mar­i­jua­na, and searched the car. ​"I felt help­less, my heart just pound­ing," said the young woman. The search uncov­ered noth­ing ille­gal, but ​"after­wards every­one was qui­et. The whole mood had changed," she said. ​"So many times peo­ple in our com­mu­ni­ty deal with that on a dai­ly basis."
We Charge Geno­cide and oth­er groups are train­ing youth to record instances of police mis­con­duct and share them on Twit­ter under the hash­tag #chicop­watch.
On August 13, an ensem­ble of young, most­ly Black and Lati­no actors cap­ti­vat­ed the crowd packed tight­ly into Chicago's Free Street The­ater with their dra­mat­ic slow-motion per­for­mance about the death of Deon­ta Dewight Mack­ey, a 16-year-old fatal­ly shot by police at a Chica­go gas sta­tion last Feb­ru­ary after he tried to rob an off-duty offi­cer at gun­point. The actors were the Young Fugi­tives, a per­for­mance ensem­ble direct­ed by Ricar­do Gam­boa that gained much atten­tion last year for its pro­duc­tion ​"Cold Sum­mer," about Chica­go vio­lence and the clos­ing of pub­lic schools.
The group's per­for­mance about Mackey's death is in the work­shop­ping stages and will debut in Jan­u­ary, a few weeks before the anniver­sary of the incident.
While dif­fer­ent groups raise aware­ness in dif­fer­ent ways, a main focus for CAARPR is push­ing to insti­tute an elect­ed civil­ian police review board with the pow­er to launch inves­ti­ga­tions and spark pros­e­cu­tions. The group has col­lect­ed about 10,000 sig­na­tures on a peti­tion call­ing for a city ordi­nance that would cre­ate the board, and on August 27, CAARPR sub­mit­ted a let­ter to both the U.S. Attor­ney in Chica­go and U.S. Attor­ney Gen­er­al Eric Hold­er detail­ing spe­cif­ic inci­dents of alleged police abuse. Near­ly 50 peo­ple went to the U.S. Attorney's Office to deliv­er the let­ter, includ­ing vic­tims of police tor­ture and fam­i­ly mem­bers of peo­ple killed by police.
The U.S. Attorney's Office seems to be feel­ing the pres­sure. In late August, a Chica­go lawyer who spe­cial­izes in rep­re­sent­ing police offi­cers report­ed­ly sent a memo to the pres­i­dent of Chicago's police union alert­ing him that ​"it has come to my atten­tion that the FBI and U.S. Attorney's Office are inves­ti­gat­ing cer­tain police-involved shoot­ings, specif­i­cal­ly ones in which an offender's gun was not recovered."
Thanks to a law­suit by jour­nal­ist Jamie Kal­ven, Chicagoans can now get more infor­ma­tion about police mis­con­duct. In March, an Illi­nois appel­late court ruled in Kalven's law­suit that com­plaints against police offi­cers may be obtained under the Free­dom of Infor­ma­tion Act (FOIA). Kal­ven and his allies have filed and received respons­es for an ini­tial round of FOIA requests, and they are urg­ing oth­ers to do the same, call­ing it a pow­er­ful way to demand account­abil­i­ty from the department.
Chap­man said that when it comes to rela­tions between police and com­mu­ni­ties of col­or, ​"many peo­ple have been in a coma." But he believes that the events in Fer­gu­son have lit a fire under the bur­geon­ing move­ment in Chica­go and oth­er cities.
"[Fer­gu­son] is a wake­up call," said Chap­man. ​"Our coun­try is quick­ly mor­ph­ing into a police state — unless we do some­thing about it."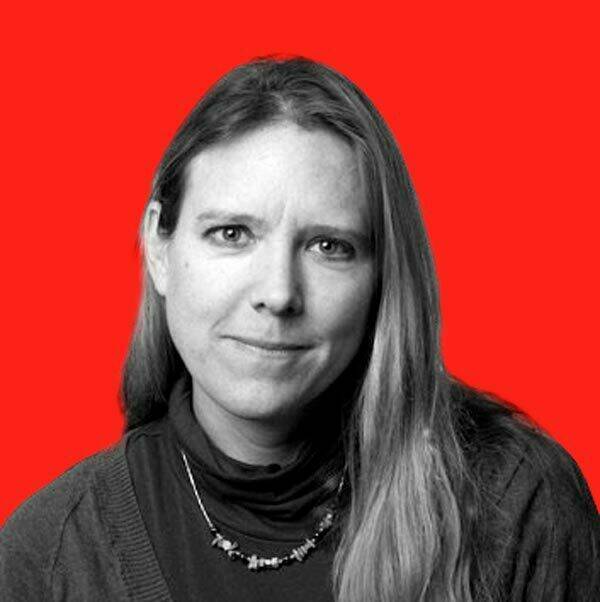 Kari Lyder­sen
is a Chica­go-based reporter, author and jour­nal­ism instruc­tor, lead­ing the Social Jus­tice
&
amp; Inves­tiga­tive spe­cial­iza­tion in the grad­u­ate pro­gram at North­west­ern Uni­ver­si­ty. She is the author of May­or
1
%: Rahm Emanuel and the Rise of Chicago's
99
%.