Chicago's Fast Food Workers: "We Can't Survive on $8.25"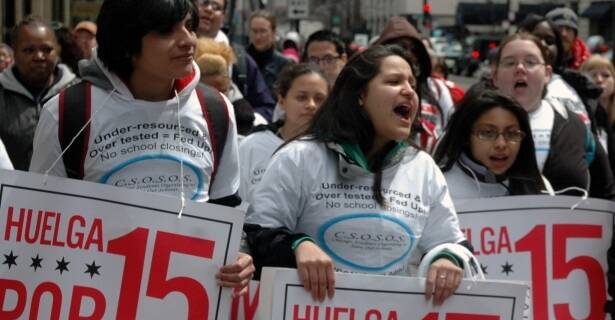 On a nor­mal day, Sonia Acuña, a petite 41-year old moth­er of four, puts on her bright red McDonald's cap and reports to work at a branch of the giant ham­burg­er chain in Chicago's main rail ter­mi­nal, Union Sta­tion. But today, in cold and driz­zling ear­ly morn­ing weath­er, Acuña — still wear­ing her McDonald's hat — was out on the street in front of the ter­mi­nal, striking.
Although she was the only work­er at her McDonald's to walk off the job today, she joined oth­er work­ers on strike from oth­er Chica­go fast food and retail out­lets. They deliv­ered a point­ed chant, ​"We can't sur­vive on $8.25." As they moved through Chicago's cen­tral shop­ping dis­tricts, the crowd of strik­ers and sup­port­ers swelled to more than 500 peo­ple.
The walk-out is the lat­est in a grow­ing wave of direct actions by low-wage work­ers across the coun­try demand­ing bet­ter wages, ben­e­fits and work­ing con­di­tions, as well as the right to union­ize. Start­ing last fall with demon­stra­tions by ware­house work­ers in South­ern Cal­i­for­nia and Chica­go, the ini­tia­tives spread quick­ly. Wal­mart retail stores around the coun­try staged a strike dur­ing the big Black Fri­day sale day after Thanks­giv­ing; New York City fast food work­ers have held two day-long strikes since Novem­ber; and McDonald's ​"guest work­ers" walked out last month in Pennsylvania.
Under the ban­ner of ​"Fight for 15," the cam­paign in Chica­go aims to raise the min­i­mum wage in the retail and food-ser­vice indus­tries to $15 an hour and to make it pos­si­ble for work­ers to orga­nize unions with­out the usu­al employ­er intim­i­da­tion. Like the oth­er cam­paigns, it works through a coali­tion of labor and com­mu­ni­ty groups who sup­port direct col­lec­tive action by work­ers. Although the work­ers do not have a rec­og­nized union, they exer­cise their rights to col­lec­tive action in order to change the eco­nom­ic and polit­i­cal cli­mate in the tar­get­ed indus­tries, try­ing to raise oth­er work­ers' expec­ta­tions and, ulti­mate­ly, the pre­vail­ing standards.
The Ser­vice Employ­ees Inter­na­tion­al Union (SEIU) and a close­ly allied com­mu­ni­ty group, Action Now, launched the cam­paign, then passed the baton to the new­ly formed Work­ers Orga­niz­ing Com­mit­tee of Chica­go (WOCC) with sup­port from oth­er unions and work­er-based groups, like the mil­i­tant Chica­go Teach­ers Union, and many oth­er com­mu­ni­ty groups.
The cam­paign makes the case that not only do work­ers need bet­ter pay and more of a voice, but that the larg­er com­mu­ni­ty will also ben­e­fit from their gains, since work­ers' orga­niz­ing direct­ly address­es trou­bling devel­op­ments in the U.S. labor market.
Both the less-than-liv­able fed­er­al min­i­mum wage of $7.25 and the slight­ly high­er Illi­nois min­i­mum of $8.25 have lagged far behind where they once were in terms of pur­chas­ing pow­er. Accord­ing to the MIT Liv­ing Wage Project, a sin­gle par­ent with one child in Chica­go needs to earn $21 an hour to enjoy a liv­ing wage.
Jobs that pay that much are increas­ing­ly dif­fi­cult to find. As a study from the Nation­al Employ­ment Law Project (NELP) demon­strates, a heav­i­ly dis­pro­por­tion­ate share of the jobs lost in the Great Reces­sion paid medi­um-lev­el wages — $14 to $21 an hour — in hard-hit sec­tors such as pub­lic employ­ment, con­struc­tion, finance and man­u­fac­tur­ing. Most new jobs since the reces­sion bot­tomed out have been in low­er-wage sec­tors, such as retail sales, food prepa­ra­tion, ware­house work and food ser­vice, and typ­i­cal­ly pay from about $8 to $14 an hour. Over­all, low-wage employ­ment made up 21 per­cent of jobs lost in the reces­sion, but 58 per­cent of jobs gained since the economy's nadir.
This trend — an inten­si­fied ver­sion of longer-term shifts in the U.S. labor mar­ket — hurts the recov­ery by depress­ing con­sumer demand and con­tributes to social prob­lems, from crime to poor­er per­for­mance in schools, accord­ing to research by both NELP and Demos, a New York-based think tank, as well as reports from the WOCC.
Even employ­ers, who omi­nous­ly pre­dict that robots will be the ones flip­ping ham­burg­er if work­ers push for high­er wages, could gain from rais­ing pay, as pro­duc­tiv­i­ty is like­ly to rise sig­nif­i­cant­ly, accord­ing to research by Zeynep Ton, a vis­it­ing pro­fes­sor at the MIT Sloan School of Management.
The grow­ing share of Amer­i­cans stuck with few alter­na­tives to poor­ly paid jobs adds up to a poten­tial­ly explo­sive sit­u­a­tion. Employ­ers have kept the lid on the prob­lem by rely­ing on work­ers' fear of los­ing jobs in a high-turnover sec­tor, as well as their lack of under­stand­ing about their rights.
​"They're not hap­py, but they don't want to stand up for what they deserve," long-time Macy's employ­ee Deb­o­rah Cox says of her fel­low employ­ees. ​"They've got no back­bone. They're afraid of los­ing their jobs, and jobs are hard to get. They need to come togeth­er. The union is just the peo­ple. With it you have a say-so in your work­place. It pro­tects you from the cor­po­rate peo­ple com­ing in and fir­ing you on any grounds."
By telling peo­ple their rights, WOCC encour­ages lead­ers like Robert Wil­son, a McDonald's work­er, to join in actions. Even though he had expect­ed to be fired when he first joined a protest, he was com­fort­ed by the notion that fed­er­al law pro­tect­ed him. ​"I know my rights," he says. Instead of fir­ing him after he start­ed protest­ing, his boss gave him a pro­mo­tion and a raise — which he accept­ed, even though he saw it as a futile effort to buy him off. But not all man­agers have gone that route. Lawyers with WOCC ear­li­er this week filed 14 unfair labor prac­tice charges with the Nation­al Labor Rela­tions Board over alleged intim­i­da­tion and oth­er improp­er employ­er behav­ior toward work­ers involved in the Fight for 15
Despite the wide­spread fears of los­ing even a bad job, some work­ers are stand­ing up. Many of the work­ers involved in WOCC are young peo­ple of col­or, both men and women, who are try­ing to go to col­lege and are frus­trat­ed with work that short­changes their hopes. For exam­ple, Macy's employ­ee Emanuel Can­non is a col­lege stu­dent who has $20,000 in debt after fin­ish­ing only two years. He was ready to strike or do what­ev­er he could to boost his income to pay for college.
But grow­ing num­bers of low-wage ser­vice work­ers are also old­er and stuck in the sec­tor; they see no future in churn­ing through ill-pay­ing job after ill-pay­ing job, unable to make ends meet.
Acuña, for exam­ple, has worked eight years for McDonald's and now puts in part-time shifts at two addi­tion­al out­lets, total­ing 62 hours of work a week. She's paid just above the Illi­nois min­i­mum wage of $8.25 — too lit­tle, she says, to afford the McDonald's health insur­ance plan. She is ready to fight, not quit. ​"It's unjust that we make only $8.25 an hour," she says. ​"A lot of peo­ple are afraid, but it's time we got start­ed and took action to change things."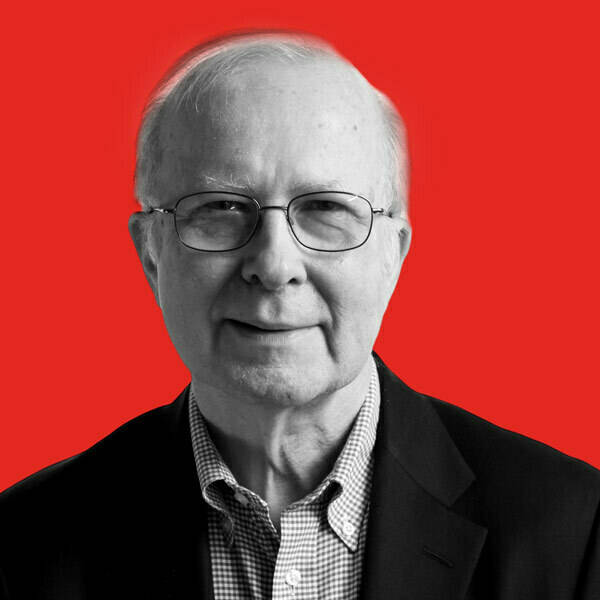 David Moberg, a senior edi­tor of In These Times, has been on the staff of the mag­a­zine since it began pub­lish­ing in 1976. Before join­ing In These Times, he com­plet­ed his work for a Ph.D. in anthro­pol­o­gy at the Uni­ver­si­ty of Chica­go and worked for Newsweek. He has received fel­low­ships from the John D. and Cather­ine T. MacArthur Foun­da­tion and the Nation Insti­tute for research on the new glob­al economy.