How Chicken Farmers are Getting Clucked in a Supermarket Near You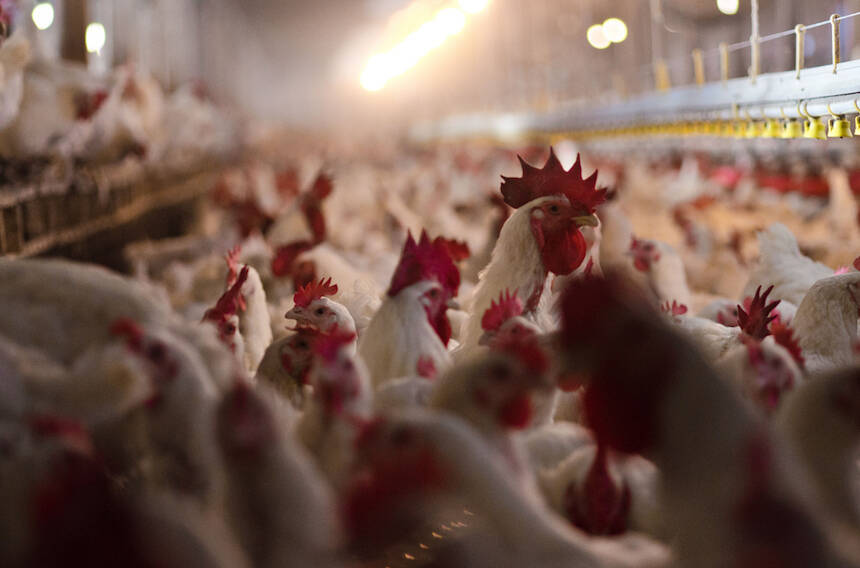 Com­mer­cials fea­tur­ing upbeat music, smil­ing farm­ers, and anthro­po­mor­phized chick­ens — ads gen­er­at­ed by com­pa­nies like Fos­ter Farm­ers and Pilgrim's Pride — help make cus­tomers feel good about buy­ing some of the near­ly 40 bil­lion pounds of chick­en pro­duced annu­al­ly in the Unit­ed States. But the real­i­ty for chick­en farm­ers across rur­al Amer­i­ca is much less pleas­ant than that depict­ed on television.
A set of rules pro­posed under the Oba­ma admin­is­tra­tion by the Depart­ment of Agriculture's Grain Inspec­tion, Pack­ers, and Stock­yards Admin­is­tra­tion (GIP­SA) — known as the Farm­ers Fair Prac­tice Rules — would pro­vide con­tract farm­ers with basic pro­tec­tions and a larg­er voice with­in the industry.
The Trump admin­is­tra­tion, how­ev­er, has delayed their imple­men­ta­tion sev­er­al times and the future of the rules is uncer­tain. In the mean­time, farm­ers say they're not get­ting a fair deal, and they want the fed­er­al gov­ern­ment to take action.
Accord­ing to Bar­bara Pat­ter­son, gov­ern­ment rela­tions direc­tor at the Nation­al Farm­ers Union, the sto­ry of the mod­ern chick­en indus­try start­ed around 50 years ago with some­thing called ver­ti­cal inte­gra­tion — an arrange­ment where instead of a small farmer buy­ing feed from one sup­pli­er, sup­plies from anoth­er, and send­ing chick­ens to a slaugh­ter­house when they mature, one mas­sive com­pa­ny owns the entire sup­ply chain, with near­ly total control.
(Source: foodopoly​.org / far​maid​.org)
Tyson Foods, a pio­neer in the field, endeav­ored to con­trol every aspect of its broil­er chick­en sup­ply chain — from feed pro­duc­tion to ship­ment to mar­kets, and oth­er chick­en pro­duc­ers fol­lowed suit. Such com­pa­nies are known as ​"inte­gra­tors," a ref­er­ence to their core busi­ness mod­el. The Nation­al Chick­en Coun­cil, which rep­re­sents large inte­gra­tor com­pa­nies, adver­tis­es inte­gra­tion as a ben­e­fit for con­sumers: ​"The effi­cien­cy of this sys­tem has helped fos­ter low­er real prices for chick­en products."
Indeed, per pound pric­ing for chick­en has remained extreme­ly low, accord­ing to Unit­ed States Depart­ment of Labor sta­tis­tics, but that's come at a cost to farm­ers. The one thing inte­gra­tors like Tyson don't own is the chick­en farms them­selves — these, along with cost­ly infra­struc­ture like chick­en hous­es, remain in the hands of farm­ers, known as ​"grow­ers," who pro­duce chick­ens on con­tract. Today, 97 per­cent of the chick­en con­sumed in the Unit­ed States is grown by con­tract farmers.
Pat­ter­son says that on its face, con­tract farm­ing isn't nec­es­sar­i­ly a bad thing. Cap­i­tal invest­ments are cost­ly, but con­tracts can pro­vide finan­cial secu­ri­ty for farm­ers, with inte­gra­tors pro­vid­ing chicks, feed, and vet­eri­nary ser­vices in exchange for a guar­an­tee that they'll buy the end prod­uct. Because chick­en is a per­ish­able good, farm­ers are known as ​"price tak­ers" — they have to take what­ev­er price they can get, because their chick­ens will spoil if they do not get to mar­ket — which could put them in a bad bar­gain­ing posi­tion with­out a con­tract that guar­an­tees that they can sell their chick­ens at a fair price once they're mature. The oper­a­tive phrase here is ​"at a fair price," which is not, farm­ers say, what the chick­en indus­try is offering.
Bro­ken promis­es and finan­cial struggle
These days the chick­en indus­try isn't a com­pet­i­tive mar­ket. Five inte­gra­tors dom­i­nate the indus­try, leav­ing farm­ers with few options. And the busi­ness of rais­ing chick­ens, it turns out, gets quite dirty. The prob­lem, farm­ers say, is the bizarre and com­pli­cat­ed ​"tour­na­ment sys­tem," in which farm­ers are pit­ted against each oth­er to deter­mine who can pro­duce the most meat at the least expense.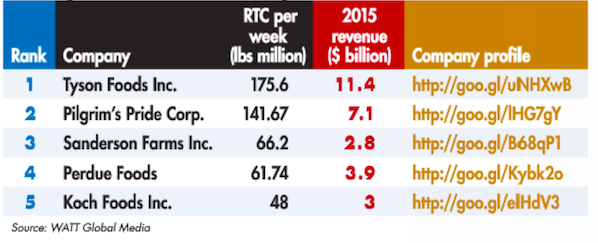 Tyson Foods Inc. is the largest chick­en com­pa­ny in the Unit­ed States and one of the largest food com­pa­nies in the world. To view a full list of the top 34 domes­tic broil­er chick­en pro­duc­ers and to learn more about their pro­duc­tion, click here. (Source: poul​try​in​ter​na​tion​al​-dig​i​tal​.com)
Mul­ti­ple farm­ers in a region are known as a ​"com­plex," and will raise flocks at the same time. When the chick­ens are brought in, their end weight is tal­lied against the cost of feed and sup­plies used to deter­mine who was most effi­cient — those who raise chick­en cheap­ly get a pre­mi­um, while those who don't get finan­cial penal­ties. Inte­gra­tors say this keeps costs down for con­sumers, but it also cre­ates wild­ly fluc­tu­at­ing income for farm­ers because the cost per flock can vary in ways that some farm­ers claim are unjust.
Mike Weaver grows chick­ens in Vir­ginia for Pilgrim's Pride, serves as pres­i­dent of the Con­tract Poul­try Grow­ers of the Vir­ginias and sits on a num­ber of boards, includ­ing that of the Orga­ni­za­tion for Com­pet­i­tive Mar­kets (OCM). He says his income from flock to flock can vary by thou­sands of dol­lars. He rais­es about six flocks a year, and says he's in the for­tu­nate posi­tion of not hav­ing to rely on them as a pri­ma­ry source of income. The 65-year-old retired fed­er­al agent tells Rur­al Amer­i­ca In These Times, ​"Had I known that the income would stay the same now as it was 16 years ago, I wouldn't have done it."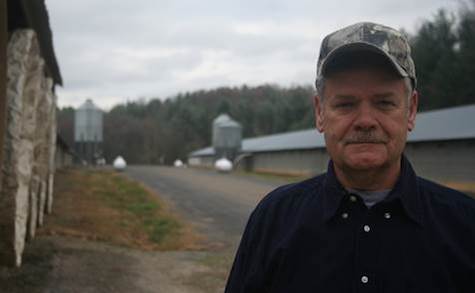 Mike Weaver, a retired Spe­cial Agent for the U.S. Depart­ment of Inte­ri­or, owns and farms 350 acres in Pendle­ton Coun­ty, West Vir­ginia, rais­ing angus beef cat­tle and broil­ers for Pilgrim's Pride. For Weaver's full bio, click here. (Pho­to: com​pet​i​tive​mar​kets​.com)
He's not alone. Alton Tom Ter­ry, 53, a for­mer chick­en grow­er liv­ing in Ten­nessee, received his degree in agri­cul­tur­al eco­nom­ics from Texas A&M and spent years research­ing the indus­try. But once he actu­al­ly start­ed grow­ing for Tyson, Ter­ry found the pic­ture was very dif­fer­ent than that promised when he signed his con­tract. ​"They can give me such low pay," he says, ​"that it can bank­rupt me."
Pat­ter­son at the Nation­al Farm­ers Union says inte­gra­tors sys­tem­at­i­cal­ly prey on poor rur­al farm­ers with few indus­tri­al oppor­tu­ni­ties and mar­ket the promise of chick­en farm­ing as a way to gen­er­ate income. She says the farm­ers they work with put it this way: ​"The com­pa­nies just lie."
Foul play in the stockyard
Many chick­en grow­ers in the Unit­ed States, par­tic­u­lar­ly those rely­ing on poul­try as a pri­ma­ry source of income, live below the fed­er­al pover­ty lev­el. (Accord­ing to OCM, the num­ber is a whop­ping 71 per­cent.) As a result, Sal­ly Lee of the Rur­al Advance­ment Foun­da­tion Inter­na­tion­al (RAFI) says she rou­tine­ly hears from grow­ers strug­gling with bank­rupt­cy, los­ing their homes or oth­er­wise endur­ing tremen­dous finan­cial stress. In 2001, a Texas grow­er named Bar­ry Townsend stormed the Sander­son Farms region­al head­quar­ters in Bryan, Texas, shot and killed a man­ag­er, wound­ed anoth­er employ­ee, and then killed him­self. Accord­ing to the Cen­ters for Dis­ease Con­trol and Pre­ven­tion (CDC), which tracks mor­tal­i­ty rates by occu­pa­tion, farm­ers in the Unit­ed States have a dis­pro­por­tion­ate­ly high sui­cide rate. In 2012, peo­ple work­ing in the farm­ing, fish­ing, and forestry group had the high­est rate of sui­cide over­all—or near­ly six times high­er than the gen­er­al pop­u­la­tion — with about 84 sui­cides per 100,000 farm­ers con­trast­ing the rough­ly 13 sui­cides per 100,000 that occured in the pop­u­la­tion at large.
But grow­ers say that when they speak out to com­plain about con­di­tions, they face retal­i­a­tion. Weaver reports that he's been tak­en out of the flock rota­tion in addi­tion to receiv­ing bad feed and chicks. Lee says RAFI has expe­ri­enced reports of abrupt ter­mi­na­tion of con­tracts and out­right fraud, includ­ing prac­tices like not weigh­ing chick­ens in cor­rect­ly. Ter­ry sued Tyson Foods over their refusal to allow him to watch them weigh his chick­ens in. Ter­ry says he'd pre­vi­ous­ly tried to push the com­pa­ny to abide by the rules of the 1921 Pack­ers and Stock­yards Act. The 53-year-old's case fiz­zled out, despite the fact that both the Bush and Oba­ma admin­is­tra­tions had filed ami­cus briefs, he says.
"It seems like fam­i­ly farm­ers just can't catch a break right now," says Pat­ter­son. Farm rev­enues are pro­ject­ed to drop nine per­cent from 2016, across all sec­tors, and the val­ue of farm assets is declin­ing as well. The increas­ing cor­po­rate con­sol­i­da­tion of agri­cul­ture and the increas­ing pow­er of big ag lob­by­ists is mak­ing it even more chal­leng­ing for farm­ers to nav­i­gate the chang­ing face of agriculture.
One glar­ing prob­lem with poul­try farm­ing indus­try is that the 1921 Pack­ers and Stock­yards Act hasn't kept pace with devel­op­ments in the field and the USDA's Grain Inspec­tors, Pack­ers, and Stock­yards Admin­is­tra­tion (GIP­SA) has failed to ade­quate­ly over­see indus­try issues. That's why farm­ers are push­ing for the GIP­SA rules, pop­u­lar­ized recent­ly as the Farm­ers Fair Prac­tice Rules, which would clar­i­fy the scope of the law.
The USDA's reg­u­la­to­ry solution
Three rules are cur­rent­ly under consideration.
One, an inter­im final rule — one the­o­ret­i­cal­ly designed to go into effect imme­di­ate­ly, pend­ing com­pelling com­ment to the con­trary — would allow con­tract grow­ers to bring suit against inte­gra­tors with­out a bur­den of proof for ​"com­pet­i­tive injury." Cur­rent­ly, a grow­er who feels wronged by an inte­gra­tor must demon­strate that a giv­en prac­tice is inju­ri­ous to the indus­try as a whole — a near­ly impos­si­ble task, as it requires a farmer to show how harm done to one farm dam­ages every chick­en grow­er in the indus­try. Lee puts it this way: ​"If I go and burn your house down and you want to take me to court, you would have to prove that my burn­ing your house down affect­ed the price of every house in the Southeast."
A sec­ond pro­posed rule pro­vides over­sight of the tour­na­ment sys­tem, with reme­dies for farm­ers who feel they're being treat­ed unjustly.
A third pro­posed rule defines what con­sti­tutes unfair prac­tices and undue pref­er­ences, a move designed to pro­tect farm­ers from inequal­i­ties in their deal­ings with integrators.
The path to devel­op­ing the GIP­SA rules has been long and tor­tur­ous. Short­ly after tak­ing office in 2008, the Oba­ma Admin­is­tra­tion direct­ed the USDA to begin prepara­to­ry work, which includ­ed town halls and solic­i­ta­tions for input across the coun­try. Report­ing in 2015, Last Week Tonight's John Oliv­er not­ed that many grow­ers didn't show up at those town halls out of fear of retal­i­a­tion from integrators.
(Video: YouTube / LastWeekTonight)
In 2011, the USDA final­ly issued ear­ly drafts, but the GOP Con­gres­sion­al lead­er­ship added a rid­er to the House Agri­cul­tur­al Appro­pri­a­tions bill mak­ing it impos­si­ble for the USDA to spend gov­ern­ment funds on activ­i­ties relat­ed to the rules — effec­tive­ly mak­ing it impos­si­ble for the agency to con­tin­ue devel­op­ing the rules, let alone intro­duce them for pub­lic com­ment. Farm­ers claim that inves­tiga­tive jour­nal­ism like Oliver's cov­er­age brought the issue into the pub­lic eye, forc­ing Con­gress to change direc­tion, though pres­sure from orga­ni­za­tions like RAFI also like­ly played a role.
Short­ly before the tran­si­tion, last Decem­ber, the Oba­ma Admin­is­tra­tion pub­lished the rules in the Fed­er­al Reg­is­ter, with a 60-day dead­line for the inter­im final rule to go into effect, and a 60-day com­ment peri­od for the two pro­posed rules.
On Jan­u­ary 20, the GIP­SA rules were derailed with Pres­i­dent Don­ald Trump's reg­u­la­to­ry freeze order, which auto­mat­i­cal­ly cre­at­ed anoth­er 60-day exten­sion for the GIP­SA rules. On April 11, USDA delayed the imple­men­ta­tion of the inter­im final rule per­tain­ing to bur­den of proof for law­suits by anoth­er six months, say­ing they need­ed more time to hear from ​"stake­hold­ers" on rules that have been in devel­op­ment for near­ly a decade.
The USDA is ask­ing for pub­lic com­ment on four pos­si­ble alter­na­tives: Sus­pend, with­draw, delay or enact the inter­im final rule. This rais­es the pos­si­bil­i­ty that the agency is con­sid­er­ing ditch­ing the rule alto­geth­er, leav­ing farm­ers and advo­cates back where they started.
Mean­while, the fate of the two pro­posed rules remains up in the air, as the com­ment peri­od has just closed and the USDA will deter­mine whether the two pro­posed rules move forward.
Indus­try says farm­ers are hap­py, laments ​
"

gov­ern­ment interference"

The poul­try indus­try is delight­ed by this news, hav­ing pre­vi­ous­ly referred to the pro­pos­als as ​"dra­con­ian." Tom Super, a spokesman for the Nation­al Chick­en Coun­cil, claims ​"the vast major­i­ty of chick­en farm­ers in rur­al Amer­i­ca are hap­py," and says the rules con­sti­tute gov­ern­ment inter­fer­ence. Pat­ter­son dis­agrees, not­ing that there are ben­e­fits to the rules for pro­duc­ers, includ­ing bet­ter rela­tions with grow­ers who may feel more con­fi­dent about nego­ti­at­ing con­tracts that ben­e­fit both par­ties, more con­fi­dence from mem­bers of the pub­lic con­cerned about farmer wel­fare, and greater legal clar­i­ty when mat­ters do progress to court. ​"If com­pa­nies are doing the right thing," says Lee, ​"they should have noth­ing to wor­ry about."

Sec­re­tary of Agri­cul­ture Son­ny Per­due (only recent­ly con­firmed and no rela­tion to the chick­en aggre­ga­tor dynasty) has a lot of big ag's mon­ey back­ing him. All the same, Pat­ter­son and oth­er farm­ing advo­cates are hop­ing the USDA will move out of sta­sis now that the agency has a boss, and progress with reforms to improve con­di­tions for con­tract farm­ers. But giv­en Perdue's his­to­ry and finan­cial back­ing, when he does kick the agency into gear, it may not be in favor of small farm­ers who are already feel­ing burned by the Trump Administration.

Elec­toral map of the 2016 elec­tion by party: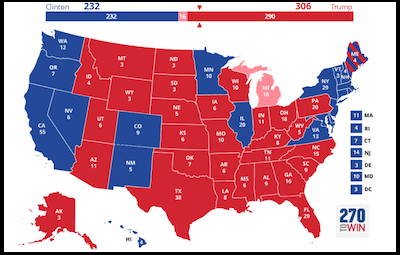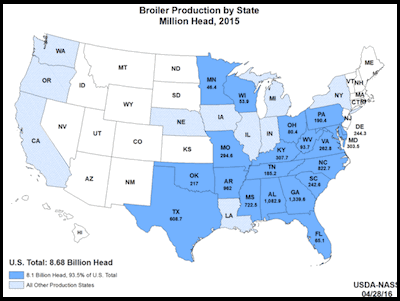 Eight of the top ten states for broil­er chick­en pro­duc­tion, which are almost exclu­sive­ly grown under con­tract, sup­port­ed Pres­i­dent Trump and are some of the most rur­al states in the coun­try. (Maps / Cap­tion: Nation­al Sus­tain­able Agri­cul­ture Coali­tion)
Lee says RAFI is dis­ap­point­ed to see that the Trump Admin­is­tra­tion appears to be pulling back on the rules, despite his cam­paign promis­es of buck­ing the Wash­ing­ton estab­lish­ment and drain­ing a lob­by­ist-filled swamp. ​"It could be an indi­ca­tion that, again, farm­ers are going to be ignored and their voic­es will be silenced in the name of lob­by­ists and big busi­ness," says Lee.
"We thought that Pres­i­dent Trump would be com­pe­tent enough, and strong enough, to say no to the estab­lished par­ties that were doing these kind of things, but no," says Ter­ry, who says he vot­ed for Trump in a belief that he'd enact change. The frus­trat­ed farmer notes that fix­ing the bro­ken sys­tem for farm­ers would make Amer­i­can great again.
"He came out and cam­paigned for the lit­tle guy," says Weaver, who also sup­port­ed Trump in the 2016 elec­tion. Now, Weaver says, he'd just like a chance to talk to the pres­i­dent, or to Sec­re­tary Per­due, ​"to voice our side of these issues."
The big picture
Chick­en isn't the end game here. Instead, chick­en acts as a prov­ing ground that demon­strates the mar­ketabil­i­ty of con­tract farm­ing for oth­er arms of the agri­cul­ture indus­try, a process Lee calls ​"chick­eniza­tion." Already, sim­i­lar prac­tices are spread­ing into the hog indus­try, where a grow­ing share of ani­mals are raised by con­tract farm­ers, and beef is also expe­ri­enc­ing a sim­i­lar rad­i­cal shift.
The chick­en, as it were, is the canary in the coal mine.
"We've tried to warn the agri­cul­ture com­mu­ni­ty that [con­tract farm­ing] is not a good thing for farm­ers and you don't want it," says Weaver. With­out the GIP­SA rules, these indus­tries will be left sim­i­lar­ly unpro­tect­ed, with few options for fam­i­ly farm­ers who feel they are being treat­ed unfair­ly by the cor­po­ra­tions they work with.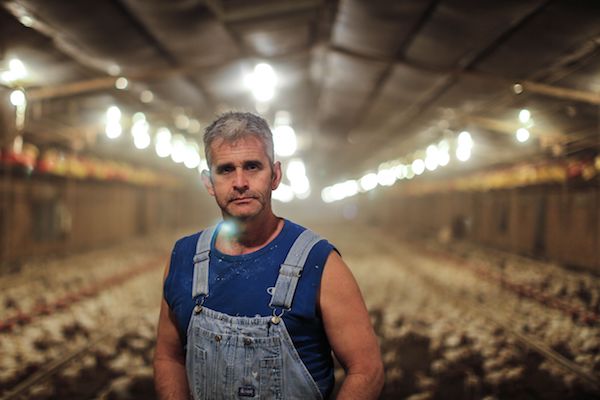 In 2014, Craig Watts, a poul­try grow­er in Fair­mont, North Car­oli­na, set out to expose the dark side of cor­po­rate con­tract farm­ing. Per­due Farms prompt­ly retal­i­at­ed with an attempt to dis­cred­it him. To read his sto­ry, click here. (Pho­to: far​maid​.org)
s.e.smith
is an essay­ist, jour­nal­ist, and activist is on social issues, with cred­its in pub­li­ca­tions like The Guardian, Bitch Mag­a­zine, Alter­Net, Jezebel, Salon, the Sun­dance Chan­nel blog, Long­shot Mag­a­zine, Glob­al Com­ment, Think Progress, xoJane, Truthout, Time, Nerve, VICE, The Week, and Rewire. Fol­low @sesmithwrites .