If the cul­ture wars drove the 2016 elec­tion and its out­come, one of the most obvi­ous wedge issues deployed by the right was abor­tion. The ques­tion of whether peo­ple who are preg­nant should be allowed to exer­cise the right to make a pri­vate med­ical deci­sion should have been set­tled in 1973 with Roe v. Wade, but in fact, the land­mark Supreme Court deci­sion just served to mobi­lize the right and politi­cize the sub­ject of abor­tion to an extreme degree.
On one side: Peo­ple like Pres­i­dent Don­ald Trump, who remarked in a 2016 town hall that he believed women should be ​"pun­ished" for get­ting abor­tions and vowed to appoint an anti-choice Supreme Court jus­tice. On the oth­er: The 79 per­cent of Amer­i­cans who have affirmed that they believe patients should have the right to choose in all or some circumstances.
Some­where in the silent mid­dle: rur­al America.
Abor­tion is an issue that mat­ters acute­ly to rur­al Amer­i­ca, where it is sub­stan­tial­ly more dif­fi­cult to access repro­duc­tive health care, includ­ing preg­nan­cy ter­mi­na­tions. Rur­al teens in par­tic­u­lar are more like­ly to expe­ri­ence unin­tend­ed preg­nan­cies, accord­ing to CDC data. The issues rur­al Amer­i­cans face when it comes to receiv­ing safe, com­pas­sion­ate abor­tion ser­vices are often elid­ed in the vicious debate over the right to choose in Amer­i­ca, in part because of erro­neous assump­tions about the social and polit­i­cal make­up of rur­al communities.
In 2015, approx­i­mate­ly 14 per­cent of Amer­i­cans lived in ​"non-metro coun­ties," accord­ing to USDA account­ing. A 2000 sur­vey con­duct­ed by the Guttmach­er Insti­tute found that 97 per­cent of those coun­ties lacked an abor­tion provider (a hos­pi­tal, clin­ic or physi­cian's office offer­ing abor­tion ser­vices) — and almost none had a provider offer­ing more than 400 pro­ce­dures annu­al­ly. These data are slight­ly out­dat­ed, but the over­all trend of clin­ic clo­sures in the Unit­ed States, espe­cial­ly in pre­dom­i­nant­ly con­ser­v­a­tive and often heav­i­ly rur­al states, means that con­tem­po­rary num­bers may be even more dire.
The Amer­i­can Col­lege of Obste­tri­cians and Gyne­col­o­gists acknowl­edges that the num­ber of care providers in a vari­ety of spe­cial­ties, includ­ing repro­duc­tive health, is declin­ing in rur­al areas. Indeed, 77 per­cent of rur­al coun­ties have been deemed ​"health pro­fes­sion­al short­age areas." ACOG and the Nation­al Con­fer­ence of State Leg­is­la­tures note that health care out­comes tend to be poor­er in rur­al coun­ties, which are home to close to 23 per­cent of all Amer­i­can women over 18. And while 83.5 per­cent of those women were white in 2014, ACOG found that the num­ber of women of col­or was rapid­ly rising.
Eighty rur­al hos­pi­tals have shut down nation­wide since 2010. A new study finds 650 rur­al hos­pi­tals, in 42 states, are vul­ner­a­ble to clo­sure because they can­not sus­tain oper­at­ing costs. (Info­graph­ic: The Cecil G. Sheps Cen­ter for Health Ser­vices Research)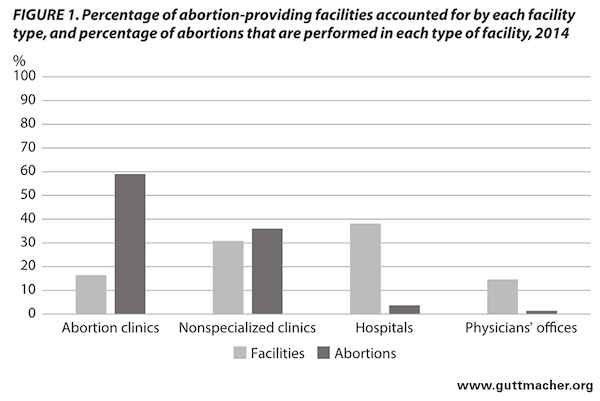 A provider is a hos­pi­tal, clin­ic or physi­cian's office where abor­tions are per­formed. A clin­ic is a non-hos­pi­tal facil­i­ty that report­ed 400 or more abor­tions a year, includ­ing abor­tion clin­ics and non-spe­cial­ized clin­ics. For addi­tion­al infor­ma­tion see: Abor­tion Inci­dence and Ser­vice Avail­abil­i­ty in the Unit­ed States, 2014. (Info­graph­ic: guttmach​er​.org)
Dis­tance, access, stig­ma and cost
Access­ing abor­tion in rur­al Amer­i­ca becomes a com­pli­cat­ed tech­ni­cal dance stymied by issues like trav­el, bur­den­some reg­u­la­tions and a hos­tile social envi­ron­ment. The pic­ture of what it looks like to get an abor­tion in a rur­al com­mu­ni­ty doesn't start with cross­ing a pick­et line of scream­ing pro­test­ers — it often begins miles away, with 31 per­cent of rur­al patients trav­el­ing an aver­age of 100 miles to access abor­tion ser­vices and 43 per­cent trav­el­ing between 50 and 100. For rur­al peo­ple, this makes access more expen­sive, as pub­lic tran­sit can be scarce in rur­al areas, and that means dri­ving, some­times in a bor­rowed or rent­ed vehicle.
Niko­las Grif­fith, the Inter­im Exec­u­tive Direc­tor of NAR­AL Pro-Choice Mon­tana, relat­ed the sto­ry of one patient from an urban area in cen­tral Mon­tana who had to make the 12-hour dri­ve to Seat­tle to access abor­tion ser­vices. The few clin­ics in Mon­tana are so heav­i­ly booked, he says, that even peo­ple in posi­tions of socioe­co­nom­ic priv­i­lege have to cross state lines for care, which bodes ill for low-income rur­al patients. Those need­ing spe­cial­ized ser­vices like abor­tions lat­er in preg­nan­cy are more like­ly to trav­el fur­ther, and some, says Kelsea McLain, an abor­tion advo­cate in North Car­oli­na, ​"time out" — they run out of time to access a legal abor­tion. Grif­fith com­ments that patients may need to take two to three days to get an abor­tion, which can cause expens­es to balloon.
One of the bar­ri­ers to abor­tion access beyond the lack of a near­by clin­ic is cost. The medi­an price for a sur­gi­cal abor­tion at 10 weeks in 2012 was $495, while a non­in­va­sive med­ica­tion abor­tion using a com­bi­na­tion of mifepri­s­tone and miso­pros­tol costs $500, accord­ing to the Guttmach­er Insti­tute, an inter­na­tion­al fer­til­i­ty and repro­duc­tive health research orga­ni­za­tion. For those trav­el­ing great dis­tances, lodg­ing and food expens­es can also become a con­cern, turn­ing $500 into much more. These pro­ce­dures become more expen­sive lat­er in preg­nan­cy, and also more cost­ly when a facil­i­ty doesn't per­form very many abor­tions. Both of these com­pli­cat­ing fac­tors are more com­mon in rur­al Amer­i­ca where around 18 per­cent of peo­ple live in poverty.
For addi­tion­al pover­ty infor­ma­tion and high res­o­lu­tion info­graph­ics from the USDA's Eco­nom­ic Research Ser­vice, click here.
The reg­u­la­to­ry cli­mate has also served to catch rur­al Amer­i­cans in a vicious trap, start­ing with restric­tions on the use of gov­ern­ment funds for abor­tion ser­vices. Low-income rur­al patients can­not use Med­ic­aid fund­ing for abor­tion, and while some states reserve their own pri­vate, non-fed­er­al fund­ing for abor­tion ser­vices, most do not. For those receiv­ing cov­er­age under Afford­able Care Act plans, the Kaiser Fam­i­ly Foun­da­tion found that some states explic­it­ly ban mar­ket­place plans — those pur­chased by low-income Amer­i­cans — from cov­er­ing abor­tion, or allow it only under lim­it­ed circumstances.
Many con­ser­v­a­tive states have also enact­ed, or attempt­ed to, a host of reg­u­la­tion designed to restrict abor­tion access, includ­ing: parental noti­fi­ca­tion; tar­get­ed reg­u­la­tion of abor­tion providers; manda­to­ry coun­sel­ing; wait­ing peri­ods; manda­to­ry ultra­sounds; fetal remains dis­po­si­tion laws; and ​"reli­gious con­science" laws. Some have suc­ceed­ed in reg­u­lat­ing clin­ics almost out of exis­tence, forc­ing patients to cross state lines if they want to access safe abor­tions in a clin­i­cal setting.
But these efforts often car­ry an extra sting for rur­al patients. Longer wait­ing peri­ods, in addi­tion to trav­el time, require many patients to take more time off from work than they can afford, with some cit­ing ​"lost wages" as an abor­tion issue in a 2013 Women's Health Issues study. McLain relates that wait­ing peri­od laws in par­tic­u­lar can be crush­ing for rur­al patients, who may miss a phone coun­sel­ing appoint­ment, trav­el to the clin­ic, and then dis­cov­er that they can't receive their pro­ce­dures. Bur­den­some reg­u­la­tion may push patients to delay abor­tion pro­ce­dures, which can make them more cost­ly or put them in con­flict with 20 week bans.
Even in states with fair­ly per­mis­sive abor­tion laws, rur­al coun­ties strug­gle to access care, and this gets more com­pli­cat­ed in red states. In Mon­tana, Grif­fith and his col­league Caitlin Car­roll note that a fero­cious­ly pro-choice gov­er­nor and enshrined right to pri­va­cy in the state con­sti­tu­tion are a bul­wark when the leg­is­la­ture explores ways to lim­it access. But it's a frag­ile one — the lim­it­ed num­ber of clin­ics in the state is a huge bar­ri­er to access, and fund­ing threats to Planned Par­ent­hood and Med­ic­aid are a loom­ing concern.
New leg­is­la­tion, pub­lic aware­ness and telemedicine
One pos­si­ble solu­tion to the prob­lem of rur­al abor­tion access may lie in the scope of prac­tice laws dis­cussed above, which McLain says ​"would be real­ly help­ful." In Cal­i­for­nia, nurse prac­ti­tion­ers, cer­ti­fied nurse mid­wives, and physi­cian assis­tants are allowed to per­form both med­ical and sur­gi­cal abor­tions after com­plet­ing spe­cial­ized train­ing. A Hawai­ian law­mak­er just intro­duced a sim­i­lar bill, and sev­er­al oth­er states allow non-physi­cians to per­form abortions.
Grif­fith relates that the Mon­tana leg­is­la­ture has point­ed­ly attacked anoth­er pos­si­ble solu­tion, telemed­i­cine, which allows patients to receive med­ical abor­tions remote­ly, with a doc­tor pro­vid­ing video coun­sel­ing for a patient who receives med­ica­tion at a rur­al clin­ic. In Iowa, the avail­abil­i­ty of telemed­i­cine abor­tion cre­at­ed a clear sea change in the abor­tion land­scape: Even as abor­tions fell in line with nation­al trends, more patients received med­ical abor­tions, more patients received treat­ment pri­or to 13 weeks and more patients in far-flung areas were able to access abor­tions. Research in Alas­ka also high­light­ed the increased access it offered to rur­al patients. ACOG sup­ports telemed­i­cine abor­tion, call­ing it ​"safe and effec­tive," and it's been a suc­cess in Maine and Min­neso­ta. Maine, with a high­ly rur­al pop­u­la­tion, is per­haps the best illus­tra­tor of the ben­e­fits of telemed­i­cine options. Eigh­teen states, how­ev­er, have moved to ban it or lim­it access, accord­ing to Rewire, with laws requir­ing a doc­tor to be present to supervise.
The work of peo­ple like Grif­fith, Car­roll, and McLain high­lights the fact that in rur­al Amer­i­ca, peo­ple have been fight­ing to pro­tect abor­tion access for a very long time, includ­ing in red states. They're advo­cat­ing with leg­is­la­tures, pro­vid­ing abor­tion refer­ral ser­vices, run­ning abor­tion funds and doing pub­lic out­reach. They're often unseen, says Grif­fith, who notes that a grow­ing aware­ness of these issues after the elec­tion led many to real­ize how much work peo­ple were doing behind the scenes.
"Our goal," Grif­fith jokes, ​"is to put our­selves out of a job." He may want to hold off on mak­ing any major retire­ment plans just yet.
[If you like what you've read, help us spread the word. ​

"

Like" Rur­al Amer­i­ca In These Times on Face­book. Click on the ​

"

Like Page" but­ton below the bear on the upper right of your screen. Also, fol­low RAITT on Twit­ter @RuralAmericaITT]