In Rural America, the Right to Choose is Only Half the Battle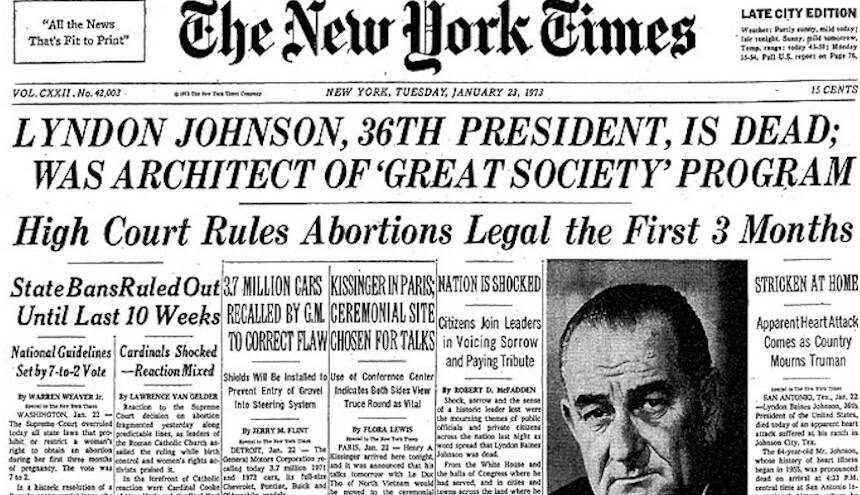 If the culture wars drove the 2016 election and its outcome, one of the most obvious wedge issues deployed by the right was abortion. The question of whether people who are pregnant should be allowed to exercise the right to make a private medical decision should have been settled in 1973 with Roe v. Wade, but in fact, the landmark Supreme Court decision just served to mobilize the right and politicize the subject of abortion to an extreme degree.
On one side: People like President Donald Trump, who remarked in a 2016 town hall that he believed women should be ​"punished" for getting abortions and vowed to appoint an anti-choice Supreme Court justice. On the other: The 79 percent of Americans who have affirmed that they believe patients should have the right to choose in all or some circumstances.
Somewhere in the silent middle: rural America.
Abortion is an issue that matters acutely to rural America, where it is substantially more difficult to access reproductive health care, including pregnancy terminations. Rural teens in particular are more likely to experience unintended pregnancies, according to CDC data. The issues rural Americans face when it comes to receiving safe, compassionate abortion services are often elided in the vicious debate over the right to choose in America, in part because of erroneous assumptions about the social and political makeup of rural communities.
In 2015, approximately 14 percent of Americans lived in ​"non-metro counties," according to USDA accounting. A 2000 survey conducted by the Guttmacher Institute found that 97 percent of those counties lacked an abortion provider (a hospital, clinic or physician's office offering abortion services) — and almost none had a provider offering more than 400 procedures annually. These data are slightly outdated, but the overall trend of clinic closures in the United States, especially in predominantly conservative and often heavily rural states, means that contemporary numbers may be even more dire.
The American College of Obstetricians and Gynecologists acknowledges that the number of care providers in a variety of specialties, including reproductive health, is declining in rural areas. Indeed, 77 percent of rural counties have been deemed ​"health professional shortage areas." ACOG and the National Conference of State Legislatures note that health care outcomes tend to be poorer in rural counties, which are home to close to 23 percent of all American women over 18. And while 83.5 percent of those women were white in 2014, ACOG found that the number of women of color was rapidly rising.
Eighty rural hospitals have shut down nationwide since 2010. A new study finds 650 rural hospitals, in 42 states, are vulnerable to closure because they cannot sustain operating costs. (Infographic: The Cecil G. Sheps Center for Health Services Research)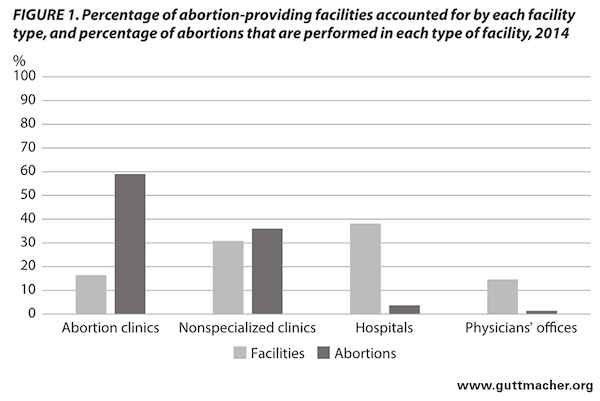 A provider is a hospital, clinic or physician's office where abortions are performed. A clinic is a non-hospital facility that reported 400 or more abortions a year, including abortion clinics and non-specialized clinics. For additional information see: Abortion Incidence and Service Availability in the United States, 2014. (Infographic: guttmach​er​.org)
Distance, access, stigma and cost
Accessing abortion in rural America becomes a complicated technical dance stymied by issues like travel, burdensome regulations and a hostile social environment. The picture of what it looks like to get an abortion in a rural community doesn't start with crossing a picket line of screaming protesters — it often begins miles away, with 31 percent of rural patients traveling an average of 100 miles to access abortion services and 43 percent traveling between 50 and 100. For rural people, this makes access more expensive, as public transit can be scarce in rural areas, and that means driving, sometimes in a borrowed or rented vehicle.
Nikolas Griffith, the Interim Executive Director of NARAL Pro-Choice Montana, related the story of one patient from an urban area in central Montana who had to make the 12-hour drive to Seattle to access abortion services. The few clinics in Montana are so heavily booked, he says, that even people in positions of socioeconomic privilege have to cross state lines for care, which bodes ill for low-income rural patients. Those needing specialized services like abortions later in pregnancy are more likely to travel further, and some, says Kelsea McLain, an abortion advocate in North Carolina, ​"time out" — they run out of time to access a legal abortion. Griffith comments that patients may need to take two to three days to get an abortion, which can cause expenses to balloon.
One of the barriers to abortion access beyond the lack of a nearby clinic is cost. The median price for a surgical abortion at 10 weeks in 2012 was $495, while a noninvasive medication abortion using a combination of mifepristone and misoprostol costs $500, according to the Guttmacher Institute, an international fertility and reproductive health research organization. For those traveling great distances, lodging and food expenses can also become a concern, turning $500 into much more. These procedures become more expensive later in pregnancy, and also more costly when a facility doesn't perform very many abortions. Both of these complicating factors are more common in rural America where around 18 percent of people live in poverty.
For additional poverty information and high resolution infographics from the USDA's Economic Research Service, click here.
The regulatory climate has also served to catch rural Americans in a vicious trap, starting with restrictions on the use of government funds for abortion services. Low-income rural patients cannot use Medicaid funding for abortion, and while some states reserve their own private, non-federal funding for abortion services, most do not. For those receiving coverage under Affordable Care Act plans, the Kaiser Family Foundation found that some states explicitly ban marketplace plans — those purchased by low-income Americans — from covering abortion, or allow it only under limited circumstances.
Many conservative states have also enacted, or attempted to, a host of regulation designed to restrict abortion access, including: parental notification; targeted regulation of abortion providers; mandatory counseling; waiting periods; mandatory ultrasounds; fetal remains disposition laws; and ​"religious conscience" laws. Some have succeeded in regulating clinics almost out of existence, forcing patients to cross state lines if they want to access safe abortions in a clinical setting.
But these efforts often carry an extra sting for rural patients. Longer waiting periods, in addition to travel time, require many patients to take more time off from work than they can afford, with some citing ​"lost wages" as an abortion issue in a 2013 Women's Health Issues study. McLain relates that waiting period laws in particular can be crushing for rural patients, who may miss a phone counseling appointment, travel to the clinic, and then discover that they can't receive their procedures. Burdensome regulation may push patients to delay abortion procedures, which can make them more costly or put them in conflict with 20 week bans.
Even in states with fairly permissive abortion laws, rural counties struggle to access care, and this gets more complicated in red states. In Montana, Griffith and his colleague Caitlin Carroll note that a ferociously pro-choice governor and enshrined right to privacy in the state constitution are a bulwark when the legislature explores ways to limit access. But it's a fragile one — the limited number of clinics in the state is a huge barrier to access, and funding threats to Planned Parenthood and Medicaid are a looming concern.
New legislation, public awareness and telemedicine
One possible solution to the problem of rural abortion access may lie in the scope of practice laws discussed above, which McLain says ​"would be really helpful." In California, nurse practitioners, certified nurse midwives, and physician assistants are allowed to perform both medical and surgical abortions after completing specialized training. A Hawaiian lawmaker just introduced a similar bill, and several other states allow non-physicians to perform abortions.
Griffith relates that the Montana legislature has pointedly attacked another possible solution, telemedicine, which allows patients to receive medical abortions remotely, with a doctor providing video counseling for a patient who receives medication at a rural clinic. In Iowa, the availability of telemedicine abortion created a clear sea change in the abortion landscape: Even as abortions fell in line with national trends, more patients received medical abortions, more patients received treatment prior to 13 weeks and more patients in far-flung areas were able to access abortions. Research in Alaska also highlighted the increased access it offered to rural patients. ACOG supports telemedicine abortion, calling it ​"safe and effective," and it's been a success in Maine and Minnesota. Maine, with a highly rural population, is perhaps the best illustrator of the benefits of telemedicine options. Eighteen states, however, have moved to ban it or limit access, according to Rewire, with laws requiring a doctor to be present to supervise.
The work of people like Griffith, Carroll, and McLain highlights the fact that in rural America, people have been fighting to protect abortion access for a very long time, including in red states. They're advocating with legislatures, providing abortion referral services, running abortion funds and doing public outreach. They're often unseen, says Griffith, who notes that a growing awareness of these issues after the election led many to realize how much work people were doing behind the scenes.
"Our goal," Griffith jokes, ​"is to put ourselves out of a job." He may want to hold off on making any major retirement plans just yet.
[If you like what you've read, help us spread the word. ​

"

Like" Rural America In These Times on Facebook. Click on the ​

"

Like Page" button below the bear on the upper right of your screen. Also, follow RAITT on Twitter @RuralAmericaITT]
Be one of the first
Help kick off the new era of In These Times! Without a media that brings people together and creates a written record of the struggles of workers, their voices will be fragmented and forgotten.
The mission of In These Times is to be that written record, and to guide and grow those movements.
We have a lot of work ahead of us, and that work starts today. Early support is the most valuable support, and that's why we're asking you to pitch in now. If you are excited for this new era of In These Times, please make a donation today.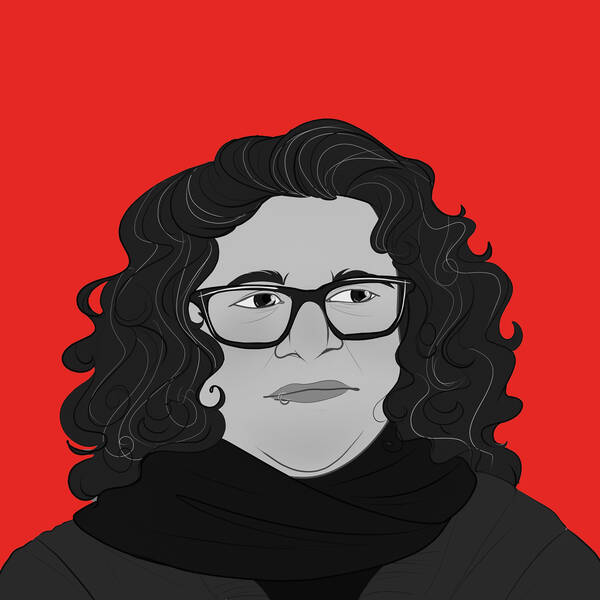 s.e.smith
is an essayist, journalist, and activist is on social issues, with credits in publications like The Guardian, Bitch Magazine, AlterNet, Jezebel, Salon, the Sundance Channel blog, Longshot Magazine, Global Comment, Think Progress, xoJane, Truthout, Time, Nerve, VICE, The Week, and Rewire. Follow @sesmithwrites .