Blair to Bush on Day After 9/11: "Co-opt" Sympathy for the U.S. to Support Military Action
Declassified communications from the U.K. to the U.S. show the depth of Blair's commitment to toppling Saddam Hussein.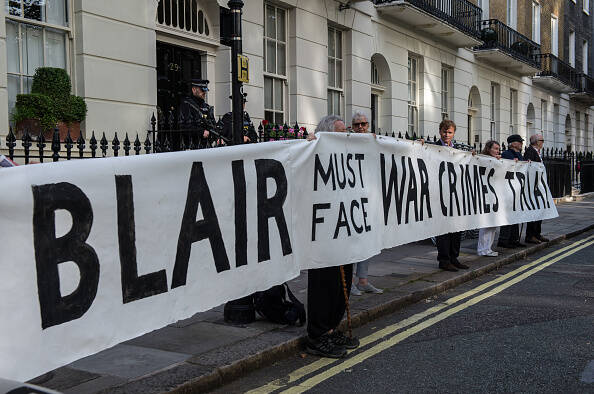 "The report should lay to rest alle­ga­tions of bad faith, lies or deceit." So said for­mer British Prime Min­is­ter Tony Blair in a July 6 state­ment in response to the release of the long-await­ed Chilcot Report — a 2.6 mil­lion-word exam­i­na­tion, based on dozens of inter­views and hun­dreds of clas­si­fied doc­u­ments, of the UK's deci­sion to join the Iraq War.
"It is now [September 12, 2001] that the world is in a state of shock; now that it feels maximum sympathy for the US; now that it can be co-opted most easily," Blair wrote.
"I did not mis­lead this coun­try. I made the deci­sion in good faith on the infor­ma­tion I had at the time," Blair insisted.
Blair is right that the report has, in one way, vin­di­cat­ed him: It should put to rest the long-held view that Blair con­spired to pull his coun­try into a reck­less war with intel­li­gence he knew to be false — he appears to have tru­ly believed that Sad­dam Hus­sein had WMDs.
He is wrong, how­ev­er, to insist the report exon­er­ates him com­plete­ly. An exam­i­na­tion of dozens of declas­si­fied let­ters, mem­os, notes and papers released along with the report demon­strate that despite the pop­u­lar image of a schem­ing Bush tak­ing Blair along for the ride, Blair and his gov­ern­ment were just as eager to manip­u­late the world to achieve their desired goal: the removal of Hus­sein from power.
The doc­u­ments also give a first-hand look at the more cau­tious Blair government's grad­ual loss of con­trol over events as the Bush admin­is­tra­tion pushed them into a full-scale inva­sion of Iraq — inter­na­tion­al approval be damned.
Sep­tem­ber
12

,

2001

A note Blair sent to Bush one day after the Sep­tem­ber 11 attacks set the tone for every­thing to come, imme­di­ate­ly adopt­ing the view­point that many neo­con­ser­v­a­tives like Dick Cheney and Paul Wol­fowitz would also take: that of ter­ror­ism as a unique and unprece­dent­ed men­ace — and an excuse for pur­su­ing oth­er geopo­lit­i­cal goals.

"We need to con­struct an agen­da that puts onto a new foot­ing action against this new evil," he wrote to Bush on Sep­tem­ber 12, 2001. He would reit­er­ate this in a note to Bush two years lat­er. ​"The more I reflect on it, the more [ter­ror­ism], togeth­er with WMD, con­sti­tutes an entire­ly new phe­nom­e­non of threat."

Along with iden­ti­fy­ing the ter­ror­ist groups involved, Blair insist­ed in the Sep­tem­ber 12 let­ter that the U.K. and Unit­ed States ​"need to review urgent­ly the laws that in a demo­c­ra­t­ic soci­ety they abuse." This would impact domes­tic laws and inter­na­tion­al agree­ments, he acknowl­edged, but ​"for years, the West has pussy­foot­ed around with these issues. These groups don't play by lib­er­al rules and we can't either."

"Some of this will require action that some will baulk at," he wrote. ​"But we are bet­ter to act now and explain and jus­ti­fy our actions than let the day be put off until some fur­ther, per­haps even worse cat­a­stro­phe occurs." [Empha­sis in original]

It's hard not to see in these tough-talk­ing words a pre­view of some of the most ugly and shame­ful episodes of the course sub­se­quent­ly tak­en by Blair and Bush, from the blun­der of the Iraq War and the des­e­cra­tion of civ­il lib­er­ties at home to the use of tor­ture, black sites and rendition.

Blair went on to sug­gest that the sor­row engen­dered by Sep­tem­ber 11 should be lever­aged in sup­port of this goal.

"It is now that the world is in a state of shock; now that it feels max­i­mum sym­pa­thy for the US; now that it can be co-opt­ed most eas­i­ly," he wrote. ​"Lock­ing in the inter­na­tion­al com­mu­ni­ty soon­er rather than lat­er is there­fore critical."
Co-opt­ing the world
As the doc­u­ments show, this was more or less the course Blair set him­self on in the months and years to come: attempt­ing to grad­u­al­ly push — or ​"co-opt," in his words— the inter­na­tion­al com­mu­ni­ty toward sup­port­ing U.S.-U.K. mil­i­tary action first against Afghanistan and then against ​"ter­ror­ism in all its forms," as he put it in one let­ter — includ­ing Hussein's Iraq.
In that let­ter to Bush, dat­ed one month after the World Trade Cen­ter attacks, on Octo­ber 11, 2001, Blair appears to respond to the Bush administration's ear­ly rum­blings about going to war in Iraq.
"There is a real will­ing­ness in the Mid­dle East to get Sad­dam out but a total oppo­si­tion to mix­ing this up with the cur­rent [Afghanistan] oper­a­tion," Blair wrote. ​"I have no doubt we need to deal with Sad­dam. But if we hit Iraq now, we would lose the Arab world, Rus­sia, prob­a­bly half the EU."
How­ev­er, Blair assured Bush that Hus­sein would not be tak­en off the agenda.
"I am sure we can devise a strat­e­gy for Sad­dam deliv­er­able at a lat­er date," he wrote. ​"We just don't need it debat­ed too freely in pub­lic until we know what exact­ly we want to do; and how we can do it."
Nine months before he now infa­mous­ly told Bush, ​"I am with you, what­ev­er," this appears to be the ear­li­est sig­nal sent by Blair that the two men were irre­versibly bound togeth­er on the same, ulti­mate­ly doomed course: remov­ing Sad­dam Hus­sein from pow­er. But Blair, mind­ful of pub­lic opin­ion at home and (more so than Bush) sen­si­tive to the reac­tion of the inter­na­tion­al com­mu­ni­ty, need­ed to find the right strat­e­gy to finesse the U.K.'s entry to war.
How do you solve a prob­lem like Saddam?
Blair's even­tu­al strat­e­gy appeared to have been influ­enced by com­mu­ni­ca­tions from his advis­ers, who were uneasi­ly eye­ing the move­ments of a Bush admin­is­tra­tion set on war.
As ear­ly as Novem­ber 15, 2001, Blair's Chief of Staff Jonathan Pow­ell sent him a memo warn­ing that fol­low­ing suc­cess (as it was then viewed) in Afghanistan, the U.S. Right would push to bomb Iraq and Soma­lia. Blair could sug­gest, he advised, that the Bush administration's suc­cess be lever­aged to achieve its aims more sub­tly, such as by back­ing Iraq's inter­nal oppo­si­tion and pres­sur­ing Syr­ia and Iran to crack down on ter­ror­ists ​"with the unstat­ed threat that [they] risk becom­ing the next tar­get for mil­i­tary action if they do not co-operate."
Should the U.S. pur­sue mil­i­tary action, wrote one U.K. offi­cial on Decem­ber 3, ​"That would con­front us with an unwel­come dilem­ma: sup­port unlaw­ful and wide­ly unpop­u­lar action or dis­tance our­selves from a key US policy."
On Novem­ber 30, Blair told the Guardian that he would need ​"incon­tro­vert­ible evi­dence" of Iraqi com­plic­i­ty in the World Trade Cen­ter attacks before he could endorse a cam­paign on Baghdad.
A note from Pow­ell to Blair, filed between Novem­ber 30 and Decem­ber 3, fur­ther devel­oped the government's strat­e­gy, lay­ing out a plan to, among oth­er objec­tives, end sup­port for ter­ror­ism and effect the ​"removal of Sad­dam by a new, more mod­er­ate régime." This goal was pri­vate: ​"If asked," Pow­ell wrote, ​"say régime change would be desir­able, but not our for­mal objec­tive for the moment."
As a tool to get inter­na­tion­al sup­port, Pow­ell sug­gest­ed mak­ing a demand of Hus­sein he was unlike­ly to meet: the return of UN weapons inspectors.
At this point, UN weapons inspec­tors had not been in Iraq for three years. The inspec­tions régime had orig­i­nal­ly been set up fol­low­ing the first Gulf War by the UN, which had called for the elim­i­na­tion of Iraq's WMDs. Between 1991 and 1998, UN inspec­tors found and destroyed hun­dreds of tons of bio­log­i­cal and chem­i­cal weapons, before being ban­ished by Hus­sein, who had always chafed under the inspec­tion régime.
Now, both the Unit­ed States and the U.K. sus­pect­ed Hus­sein of secret­ly hold­ing WMDs, which he denied. Both nations, the doc­u­ments make clear, saw weapons inspec­tion as a means to an end — as Powell's Novem­ber 15 memo put it, ​"our over-rid­ing objec­tive is the removal of Sad­dam, not the inser­tion of arms inspectors."
As out­lined by Pow­ell in his Novem­ber 30-Decem­ber 3 note, the plan would be to threat­en unspec­i­fied ​"action" if Hus­sein did not coop­er­ate with the inspec­tions. A mil­i­tary plan con­sist­ing of a West­ern-backed coup would then be put into place.
But if Hus­sein ​"does allow in the inspec­tors," Pow­ell wrote, the U.K. would ​"need to find a new demand to jus­ti­fy mil­i­tary action."
Don't ​
'

fright­en the horses'

The strate­gies put for­ward in these inter­nal Blair admin­is­tra­tion com­mu­ni­ca­tions — avoid­ing all-out mil­i­tary involve­ment, encour­ag­ing and sup­port­ing a coup or upris­ing by oppo­si­tion groups and using weapons inspec­tors to jus­ti­fy mov­ing against Sad­dam — would soon pop up in Blair's com­mu­ni­ca­tions with Bush.

As the Chilcot Report revealed, Blair had spo­ken to Bush over the phone on Decem­ber 3, telling him ​"it would be excel­lent to get rid of Sad­dam. But there need­ed to be a clever strat­e­gy for doing this."

A day lat­er, Blair appeared to out­line just such a ​"clever strategy."

In a note for Bush dat­ed Decem­ber 4, 2001, Blair acknowl­edged that Iraq's ​"WMD capa­bil­i­ty" made it a threat, as the Bush admin­is­tra­tion was at this point pub­licly arguing.

"But any link to 11 Sep­tem­ber and AQ is at best very ten­u­ous," he warned; ​"and at present inter­na­tion­al opin­ion would be reluc­tant, out­side the US/UK, to sup­port imme­di­ate mil­i­tary action though, for sure, peo­ple want to be rid of Saddam.

"So we need a strat­e­gy for régime change that builds over time," Blair explained.

What Blair pro­posed was to sub­tly poke at Sad­dam with covert action and art­ful threats in the hope of desta­bi­liz­ing his régime. The two coun­tries would draw atten­tion to his breach of UN res­o­lu­tions, he explained, while say­ing ​"régime change is ​'desir­able' (though not yet set­ting it as a mil­i­tary objec­tive)" — almost ver­ba­tim what Pow­ell advised Blair in his Novem­ber 30-Decem­ber 3 memo.

Blair, like Pow­ell, then pro­posed demand­ing that weapons inspec­tors be allowed back in Iraq, ​"and with­out spec­i­fy­ing that we will take mil­i­tary action if the demand is not met, we let it be clear­ly seen that noth­ing is ruled out."

Blair also pro­posed lean­ing on Syr­ia to cut off the flow of oil to Iraq, sup­port­ing oppo­si­tion groups with intel­li­gence and covert oper­a­tions, and, ​"when the rebel­lion final­ly occurs," pro­vid­ing mil­i­tary air support.

Blair's strat­e­gy, he explained, would ​"build this over time until we get to the point where mil­i­tary action could be tak­en if nec­es­sary," but wouldn't ​"fright­en the hors­es" in the form of Rus­sia, the EU and Arab states, whom they need­ed for support.

The note is in many ways a micro­cosm of the two gov­ern­ments' approach­es to Iraq. The Bush admin­is­tra­tion was becom­ing increas­ing­ly eager to invade Iraq with­out first secur­ing either proof that Hus­sein had WMDs or autho­riza­tion from the UN — which would make the war ille­gal under inter­na­tion­al law. Blair was not opposed to top­pling Sad­dam; in fact he was all for it. But he was con­cerned (cor­rect­ly, it turned out) that doing so uni­lat­er­al­ly, hasti­ly and, most impor­tant­ly, ille­gal­ly would back­fire on the two nations, or even make it impos­si­ble for Blair to secure pop­u­lar and par­lia­men­tary sup­port for any action. As he told Bush in a lat­er note: "[Pub­lic] opin­ion in the US is quite sim­ply on a dif­fer­ent plan­et from opin­ion here, in Europe or in the Arab world."
Set­ting the stage
The strat­e­gy out­lined by Blair to Bush remained more or less con­stant over the next year and a half, and his gov­ern­ment turned to the prob­lem of obtain­ing inter­na­tion­al sup­port while hid­ing its true objec­tive: over­throw­ing Hussein.
At the same time, the U.K. government's hopes for a less heavy-hand­ed approach to régime change suf­fered seri­ous blows. The UK Joint Intel­li­gence Com­mit­tee (JIC) and the Cab­i­net Office ​'Options Paper' each con­clud­ed by March 2002 that a large-scale ground inva­sion was the only way to top­ple Hus­sein, accord­ing to the Chilcot Report. On July 4, the JIC decid­ed that ​"only mas­sive mil­i­tary force" would get the job done.
Blair's for­eign pol­i­cy advi­sor David Man­ning sent him a memo in Feb­ru­ary 2002 sug­gest­ing that weapons inspec­tions might goad Sad­dam into mak­ing an error that could be used as an open­ing to launch mil­i­tary action. Man­ning not­ed that grant­i­ng UN inspec­tors extra time to do their job would ​"give Sad­dam 4 more weeks to make a mis­take," if he react­ed bad­ly to UN demands and gave the image of non-compliance.
Jack Straw, then Home Sec­re­tary (a cab­i­net posi­tion respon­si­ble for every­thing from immi­gra­tion to nation­al secu­ri­ty), also saw the inspec­tors as a means, not an end. In one memo dat­ed March 25, 2002, Straw wrote that ​"unfet­tered read­mis­sion of weapons inspec­tors is essen­tial, in terms of pub­lic expla­na­tion, and in terms of legal sanc­tion for any sub­se­quent mil­i­tary action."
He went on to write that while régime change could not legal­ly be used as the goal of mil­i­tary action, that didn't mean it was off the table. Instead, the Unit­ed States and UK could sim­ply make it ​"part of the strat­e­gy by which we have to achieve our ends — that of the elim­i­na­tion of Iraq's WMD capacity."
In pub­lic, and in the face of crit­i­cism from anti­war advo­cates, Blair struck a more cau­tion­ary note. ​"We will pro­ceed as we did after Sep­tem­ber 11, in a calm, mea­sured, sen­si­ble, firm way," he said on April 7. ​"If nec­es­sary," he con­tin­ued, ​"the action should be mil­i­tary, and again, if nec­es­sary and jus­ti­fied, it should involve régime change."
"Let's not get ahead of our­selves here," he assured reporters a day lat­er. ​"We are still in the posi­tion of iden­ti­fy­ing the prob­lem and lay­ing down con­di­tions for Sad­dam." ​"No deci­sions have been tak­en," he insist­ed two days after that, as he would well into July.
On Sep­tem­ber 6, 2002, Man­ning relat­ed to Blair how he had told Con­dolez­za Rice that the draft Unit­ed Nations Secu­ri­ty Coun­cil Res­o­lu­tion the Unit­ed States would put for­ward on WMDs and weapons inspec­tions ​"must not be a trans­par­ent device to jus­ti­fy mil­i­tary action," and must not ​"be eas­i­ly dis­missed as a trans­par­ent pre­text for imme­di­ate mil­i­tary action." Days lat­er, in a memo sent exact­ly one year after Sep­tem­ber 11, he out­lined how an ​"intru­sive inspec­tion régime" would be ​"an indis­pen­si­ble part of the strat­e­gy" to move to régime change.
"Sad­dam would either refuse to let the inspec­tors back, or he wouldn't let them in but almost cer­tain­ly obstruct their oper­a­tions," he wrote. ​"We should then be in a very strong posi­tion to insist on action."
As Man­ning made clear, gain­ing sup­port from the UN was entire­ly a mat­ter of optics. ​"If and when it became clear that Sad­dam had yet again vio­lat­ed the will of the UN and the inter­na­tion­al com­mu­ni­ty, there was a real chance that we could build wide sup­port for fur­ther action," while Wash­ing­ton mov­ing uni­lat­er­al­ly would turn the inter­na­tion­al com­mu­ni­ty against them. ​"Secur­ing wide sup­port would be a great prize, one that you believed was in reach," he wrote. ​"We must not throw away the opportunity."
Yet sub­se­quent events began to hin­der this plan. Con­trary to pre­dic­tions, Hus­sein nei­ther refused to allow inspec­tors to come in nor obstruct­ed their work. On Sep­tem­ber 16, Iraq allowed them to return uncon­di­tion­al­ly to the coun­try. On Novem­ber 8, the UN passed a res­o­lu­tion put for­ward by the U.K. and the Unit­ed States requir­ing Hus­sein to rein­state weapons inspec­tors. Hus­sein accept­ed. Over the next few months, the inspec­tors would fail to find what they termed a ​"smok­ing gun" that would jus­ti­fy war.
From here on, the debate between the U.K. and the Bush admin­is­tra­tion was around get­ting a sec­ond UN res­o­lu­tion, one that explic­it­ly autho­rized the use of force. With Sad­dam com­ply­ing with inspec­tions, and inspec­tors not find­ing any­thing, the U.K. would need such a res­o­lu­tion to make any mil­i­tary action legal. It would also be impor­tant for win­ning pub­lic opinion.
In Jan­u­ary 3, 2003, Straw cau­tioned Blair that ​"going to war with­out a pub­licly con­vinc­ing trig­ger" — mean­ing evi­dence of WMDs — ​"and with­out a sec­ond [UN Secu­ri­ty Coun­cil Res­o­lu­tion]" would hurt Bush polit­i­cal­ly and ​"be acute­ly dif­fi­cult for us." In anoth­er, lat­er memo, Straw not­ed that ​"get­ting Par­lia­men­tary approval for UK mil­i­tary action will be dif­fi­cult if there is no sec­ond [UN] resolution."
Blair him­self made a sim­i­lar point to Bush. In an undat­ed note, he explained that tak­ing the UN out of the equa­tion meant los­ing the high ground. ​"We have invest­ed huge cap­i­tal in [the UN route] and it has giv­en every­one … a big com­fort blan­ket," he explained. ​"Take it away and this is about US pow­er, naked and in their face."
An impa­tient ally
Unfor­tu­nate­ly for Blair and his staff, the enthu­si­asm for either a less overt form of régime change or one with inter­na­tion­al and UN sup­port was not shared by the Bush admin­is­tra­tion. This was like­ly the oppo­site of what Blair expect­ed, hav­ing been told by Man­ning in March 2002 that, based on Manning's con­ver­sa­tions with Con­dolez­za Rice, Bush strong­ly val­ued Blair's advice. ​"Bush wants to hear your views on Iraq before tak­ing deci­sions," Man­ning wrote. ​"This gives you real influence."
UK offi­cials com­plained often about the Unit­ed States' eager­ness for war and dis­re­gard­ing of legal niceties. In a hand­writ­ten let­ter to Blair in Octo­ber 2002, Jack Straw (now hold­ing the post of For­eign Sec­re­tary) talked about the ​"dan­ger­ous argu­ments" with­in the Bush admin­is­tra­tion. ​"You asked me … if [Col­in] Pow­ell was ​'win­ning'," reads the let­ter. ​"He's fight­ing for [a UN approach] cer­tain­ly, and I think he should win in the end. But you — TB — are crit­i­cal in this." He warned that ​"the non-UN approach being pushed by Cheney et al would be a catastrophe."
In a Sep­tem­ber 10, 2002 memo, David Man­ning relat­ed to Blair that Con­dolez­za Rice thought giv­ing weapons inspec­tors more time ​"risked run­ning well into next year before we could clear the decks for mil­i­tary action." Man­ning had ear­li­er advo­cat­ed buy­ing time, sug­gest­ing it would increase the chances of Hus­sein mak­ing a mis­take. Rice's take sug­gests the degree to which the Bush admin­is­tra­tion saw the UN inspec­tions as mere­ly a formality.
Still, U.K. offi­cials were hope­ful the Bush admin­is­tra­tion would see the light. A day lat­er, after a meet­ing with Rice, Man­ning was keep­ing his ​"fin­gers crossed" that Bush would look for UN back­ing. A month after that, Man­ning was cel­e­brat­ing that Rice seemed to be open to depos­ing Sad­dam through a coup, rather than direct mil­i­tary action. ​"Per­haps, even in the White House, there is now a faint sense of dis­qui­et about what a mil­i­tary cam­paign against Iraq, and its sub­se­quent occu­pa­tion, would involve," he wrote.
But it wasn't to be. Two months lat­er, in Decem­ber, Man­ning told Blair that ​"Con­di made no effort to hide the fact that the Admin­is­tra­tion would now be look­ing to build the case for ear­ly mil­i­tary action against Sad­dam (prob­a­bly mid/​late Feb­ru­ary as we sus­pect­ed). … Condi's impa­tience for action was much more obvi­ous than her com­mit­ment to sus­tain inter­na­tion­al backing."
Rush­ing to an ill-planned war
To British eyes, the Bush administration's rush to war had deep­er con­se­quences. In July 2002, Straw com­plained there was ​"no strate­gic con­cept for the mil­i­tary plan and, in par­tic­u­lar, no thought appar­ent­ly giv­en to ​'day after' sce­nar­ios." (Even so, Straw not­ed that the U.K. will ​"want to sup­port them" if the Unit­ed States went to war in Iraq).
Five months lat­er, not much had changed ​"The Amer­i­cans are in a hur­ry; per­haps too much of one," Man­ning wrote to Blair on Jan­u­ary 3, 2003. ​"This col­ors their approach to [the UN's inspec­tions régime] and makes them impa­tient. But it may also be affect­ing their approach to mil­i­tary plan­ning." As an exam­ple, he gave Turkey's deci­sion to deny U.S. forces tran­sit through its bor­ders. While a cou­ple of months before the admin­is­tra­tion had claimed this was crit­i­cal to its suc­cess, they now said it was mere­ly ​"option­al".
There were also ​"big polit­i­cal and mil­i­tary assump­tions" involved in the U.S. strat­e­gy, Man­ning wrote. ​"Too much looks like hur­ried impro­vi­sa­tions, half thought out strat­e­gy, with fin­gers crossed that Sad­dam will col­lapse in short order when the Marines go in." Bush was ​"in dan­ger of being dri­ven by his own tem­po of mil­i­tary build-up," along with his insis­tence that mil­i­tary action be ready by Feb­ru­ary 15, 2003.
Also in Jan­u­ary 2003, Blair sent Bush two dif­fer­ent notes point­ing out that no post-Sad­dam plan had been worked out — only two months before the war began, and one month before Bush's orig­i­nal goal of a Feb­ru­ary strike. (And still, as late as Feb­ru­ary, Blair told the press: ​"We do not want war. No one wants war.")
In Feb­ru­ary of that year, Blair's Sec­re­tary of State Clare Short warned him that U.S. plans for human­i­tar­i­an assis­tance ​"rely on naïve assump­tions that there will be no major prob­lems and that con­flict will be swift." A month lat­er, 15 days before the start of the war, she reit­er­at­ed this, warn­ing that ​"the US and the inter­na­tion­al human­i­tar­i­an com­mu­ni­ty are not prop­er­ly pre­pared to deal with the imme­di­ate human­i­tar­i­an issues," and that it was mak­ing ​"over-opti­mistic assump­tions about the lev­el of UN and NGO coop­er­a­tion" it would receive.
The con­cern about a lack of plan­ning turned out to be jus­ti­fied. As Paul Bre­mer, who led the occu­pa­tion, has acknowl­edged in the wake of the Chilcot Report, the UK‑U.S. coali­tion had less than half of the nec­es­sary num­ber of post-inva­sion troops on the ground. This helped cre­ate the result­ing chaos, accord­ing to Bre­mer, which includ­ed wide­spread loot­ing of Iraq's price­less cul­tur­al treasures.
Eyes on the prize
Ulti­mate­ly, despite the U.K.'s insis­tence on not mov­ing uni­lat­er­al­ly — and despite accu­rate­ly gaug­ing the con­se­quences of doing so — Blair took the U.K. into Iraq with­out UN approval and with most of the West­ern world lined up against him. Despite his ini­tial ​"clever strat­e­gy," he found it dif­fi­cult to ​"co-opt" sym­pa­thet­ic coun­tries and secure their sup­port for an unpop­u­lar war.
Blair's anger at the inter­na­tion­al com­mu­ni­ty for this per­ceived betray­al comes out in the doc­u­ments. Those against the war were ​"those always opposed and the usu­al anti-Amer­i­can lob­by," he wrote in August 2002.
"I find it repel­lent that peo­ple can take to the streets even now to protest at what is hap­pen­ing in Iraq, whose peo­ple we are try­ing to help escape dic­ta­tor­ship," he wrote to Bush in 2004; ​"but not a sin­gle ban­ner or plac­ard pro­claims what is hap­pen­ing in North Korea."
"The prob­lem is that a ludi­crous and dis­tort­ed view of the U.S. is cloud­ing the enor­mous attrac­tion of the fun­da­men­tal goal," he griped on March 26, 2003, six days into the war, cit­ing one mys­tery Euro­pean leader who com­pared Don­ald Rums­feld to Osama bin Laden and anoth­er who said it would be deplorable to see the U.S. sys­tem of gov­ern­ment in Arab coun­tries. And this wasn't lim­it­ed to Europe, he wrote. ​"We have to ask how, when we put real pres­sure on Mex­i­co and Chile, they didn't come along," as well as Rus­sia and Turkey. Blair chalked it up to anti-Amer­i­can­ism; he didn't con­sid­er the fact that if most of glob­al opin­ion was stand­ing against his war, it may have been a warn­ing sign to turn back.
By this point, how­ev­er, Blair appeared to have drunk deeply from the neo­con Kool-Aid. He com­pared glob­al oppo­si­tion to the Iraq War to the paral­y­sis of Euro­pean coun­tries in the 1930s, hes­i­tant to stand up to Hitler. In the same March 2003 memo, he wrote what were prac­ti­cal­ly excerpts of Bush's own speech­es. ​"More free­dom in the world means more secu­ri­ty … The ter­ror­ists and rogue states … come togeth­er in hatred of our val­ues … They don't hate the US by acci­dent. They hate it for what it stands for. …
"Our fun­da­men­tal goal is to spread our val­ues of free­dom, democ­ra­cy, tol­er­ance and the rule of law," he con­tin­ued, iron­i­cal­ly, giv­en the war's ulti­mate avoid­ance of legal sanc­tion; ​"but we need a broad-based agen­da capa­ble of uni­fy­ing the world, to get it. That's why, though Iraq's WMD is the imme­di­ate jus­ti­fi­ca­tion for action, rid­ding Iraq of Sad­dam is the real prize."
In less than two years, Blair's per­spec­tive had mor­phed from believ­ing that Hus­sein had to be tak­en out in response to the threat of ter­ror­ism and WMDs to see­ing WMDs as the pre­text for the more impor­tant goal of tak­ing Hus­sein out. And as the March 2003 memo made clear, by this point the pur­pose of remov­ing Hus­sein was not just to guar­an­tee glob­al secu­ri­ty — it was part of a larg­er vision of remak­ing the glob­al order.
"

Act­ing stupidly"

The trove of declas­si­fied doc­u­ments released along with the Chilcot Report show that Tony Blair was far from mere­ly George Bush's ​"poo­dle," as he has long been viewed. In fact, such a con­clu­sion lets Blair off the hook.

Instead, as his Sep­tem­ber 12, 2001 memo to Bush shows, he was a leader who instant­ly embraced and even advanced the core premis­es of the war on ter­ror, per­haps even ear­li­er than Bush. And as his sub­se­quent schem­ing to depose Hus­sein demon­strates, he was inti­mate­ly involved in lay­ing the plans that would cul­mi­nate in the dis­as­trous war in Iraq while mis­lead­ing the pub­lic about his true intentions.

Unfor­tu­nate­ly for Blair, as he soon found out, enabling the Bush administration's worst ten­den­cies ulti­mate­ly back­fired on him and his gov­ern­ment. Bush did not share Blair's hopes for inter­na­tion­al con­sen­sus, and the declas­si­fied doc­u­ments paint the image of a man watch­ing events over which he believed he had mas­tery slow­ly spi­ral out of his control.

He and Bush, both blind­ed by their post‑9/​11 zeal to defeat what they viewed as an epochal evil, head­ed down a path that has ulti­mate­ly led to the desta­bi­liza­tion of not just one region, but what appears to be much of the world. Per­haps the words Blair him­self reserved for reluc­tant Euro­pean pow­ers sum it up best: ​"Ratio­nal peo­ple are behav­ing very stupidly."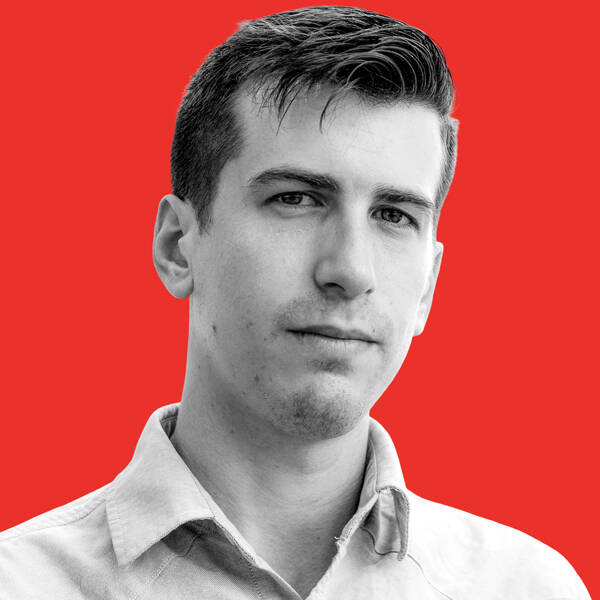 Branko Marcetic
is a staff writer at Jacobin mag­a­zine and a
2019
 – 
2020
Leonard C. Good­man Insti­tute for Inves­tiga­tive Report­ing fel­low. He is work­ing on a forth­com­ing book about Joe Biden.