Child Care Isn't Just Expensive—It Can Be Really Hard to Find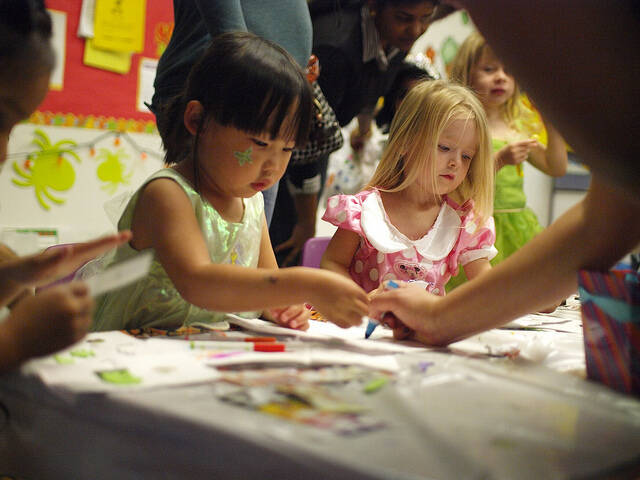 We wanted to make sure you didn't miss the announcement of our new Sustainer program. Once you've finished reading, take a moment to check out the new program, as well as all the benefits of becoming a Sustainer.

Many people have heard of food deserts, areas where people don't have access to affordable and healthy food. But what about child care deserts? What are those?
The Center for American Progress (CAP) defines a child care desert as a ZIP code with at least 30 children under the age of 5 and either no child care centers or so few that there are more than three times as many children as there are spaces in the centers.
That definition was part of a recent CAP report that looked at child care centers across eight states: Colorado, Georgia, Illinois, Maryland, Minnesota, North Carolina, Ohio and Virginia. The authors found that 42 percent of children under the age of 5 live in child care deserts. Rural areas are even worse off, with 55 percent of children under the age of 5 in rural communities living in such deserts.
"These findings show the child care marketplace in a state of crisis. In many parts of this country, working families face a deep shortage of child care options, which are often of inconsistent quality and at a financial cost that is out of reach," the authors wrote.
By now, the high cost of quality child care has been well documented. The average cost of child care for families with employed mothers is some 30 percent higher than it was 15 years ago, the CAP study reported. Child care costs can rival housing costs and even be more than the cost of college tuition in some places.
Theresa Yoon is a single mother in South Bend, Indiana. Child care is nearly 50 percent of her take-home pay.
"I'm not able to save money after child care, food, etc. I don't have any wiggle room," Yoon said. ​"I have a good job but with the cost of child care, it's crazy."
To offset expenses, she rents her house out during football weekends. She is thinking about moving to Chicago but has to take child care into consideration.
"Talking to friends with children in Chicago, the prices are comparable. But the cost of living is so high, I wouldn't be able to [pay for child care] and pay rent," Yoon said.
But the issue isn't just about cost. It's also about availability, as the CAP report shows.
"When my youngest was an infant, I had to drive to the next town over, which I could barely afford but felt comfortable with," said Yoon.
She's not the only parent struggling. Across the eight states studied, more than 27 million people live in child care deserts, including 1.8 million young children, according to CAP. Some places are particularly bad. Sixty percent of ZIP codes in Illinois are child care deserts, as are nearly two-thirds of Minnesota ZIP codes. In Chicago, five out of six children under the age of 5 live in child care deserts, which works out to be more than 150,000 children, the CAP study showed.
"Everyone I know is in the same boat unless they're very wealthy," said Yoon.
So what can be done?
To help address cost, CAP proposes a High-Quality Child Care Tax Credit that would provide up to $14,00 per child per year to quality providers to assist low- and middle-income families. It also recommends investing in child care infrastructure and supply to deal with the availability issue.
"Just as policymakers recognize the need for long-overdue infrastructure investment in our roads, bridges, and public buildings, they must allocate public resources toward improving the infrastructure necessary for high-quality child care and early childhood education," the CAP report reads. ​"The next administration, working with Congress, should make a major infrastructure investment in child care to address this critical need for American workers."
Become a Sustainer
We surveyed thousands of readers and asked what they would like to see in a monthly giving program. Many of you expressed interest in magazine subscriptions, gift subscriptions, tote bags, events and books —and we've added all of those. Some of you said that cost was an issue, so we've kept our starting tier at just $5 a month—less than 17 cents a day.

Now, for the first time, we're offering three different levels of support, with unique rewards at each level, for you to choose from. Check out the new Sustainer program.