The Limits of the "Resistance" in Congress? Key Democrats Back Trump's Disastrous Israel Policy.
Trump's reckless move on Jerusalem was abetted by leading figures in the Democratic Party.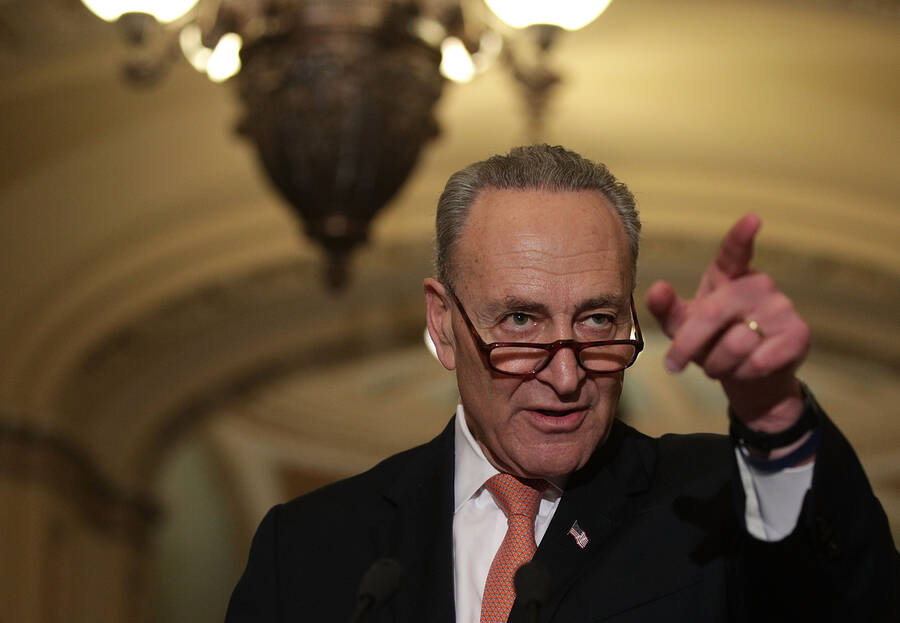 Last week, Pres­i­dent Don­ald Trump offi­cial­ly declared Jerusalem the cap­i­tal of Israel and pledged to move the U.S. embassy to the city, a brazen move that rein­forces the Israeli occu­pa­tion and for­ti­fies the right-wing gov­ern­ment of Ben­jamin Netanyahu. He was embold­ened by the sup­port of key Democ­rats like Chuck Schumer, who was quick to take cred­it for ​"advis­ing" Trump on the issue.
With the Democratic Party divided, Trump took his opportunity to safely fulfill his promise and claim leadership of a "bipartisan" victory.
But Schumer did more than sim­ply advise the Pres­i­dent: He pro­voked Trump pub­licly, declar­ing in Octo­ber, ​"As some­one who strong­ly believes that Jerusalem is the undi­vid­ed cap­i­tal of Israel, I am call­ing for the U.S. Embassy in Israel to be relo­cat­ed to Jerusalem." In doing so, Schumer was call­ing Trump's bluff, which had tak­en the form of a cam­paign promise to move the embassy. Schumer was also putting his good stand­ing with Israel before the inter­ests of his par­ty — and before the inter­ests of peace.
Schumer was not alone. When ques­tioned by Inter­cept reporters, Sen. Ben Cardin, the rank­ing Demo­c­rat on the Sen­ate For­eign Rela­tions Com­mit­tee, defend­ed the Trump admin­is­tra­tion, say­ing: ​"Well you know, it is true — the cap­i­tal of Israel is Jerusalem." Cory Book­er, a staunch defend­er of Israel, had no com­ment. Even high-pro­file crit­ics of Trump like Bob Cork­er and Ste­ny Hoy­er also backed Trump's deci­sion on Jerusalem.
The Wash­ing­ton Exam­in­er, a con­ser­v­a­tive news plat­form, cap­tured the irony well in a sto­ry about Rep. Eliot Engel's sup­port of Trump's deci­sion, even though Engel pub­licly sup­ports Trump's impeachment.
Some Democ­rats did express oppo­si­tion to Trump's Jerusalem move. Sen­a­tor Eliz­a­beth War­ren crit­i­cized the president's state­ment, issued Wednes­day, say­ing it will make peace more dif­fi­cult to achieve in the Mid­dle East. Sen­a­tors Bernie Sanders, Jeanne Sha­heen, Joe Manchin and Chris Mur­phy expressed sim­i­lar con­cerns. Dianne Fein­stein sent a let­ter to Trump, which she also tweet­ed, say­ing that the recog­ni­tion of Jerusalem as the cap­i­tal of Israel would ​"spark vio­lence, fur­ther alien­ate the Unit­ed States and under­mine the prospects of a two-state solution."
Yet, oth­er respons­es from key Demo­c­ra­t­ic Par­ty play­ers were more ambiva­lent. Rep. Nan­cy Pelosi issued a state­ment declar­ing, ​"Jerusalem is the eter­nal cap­i­tal of the Jew­ish home­land. But in the absence of a nego­ti­at­ed set­tle­ment between Israel and the Pales­tini­ans, mov­ing the U.S. embassy to Jerusalem now may need­less­ly spark mass protests, fuel ten­sions, and make it more dif­fi­cult to reach a durable peace."
Israel occu­pied and seized East Jerusalem in the 1967 war. Since then, Israeli set­tlers have carved up East Jerusalem with set­tle­ments, dis­plac­ing Pales­tin­ian res­i­dents. While the dec­la­ra­tion that Jerusalem is the cap­i­tal of Israel has been a ral­ly­ing cry of pro-occu­pa­tion forces, Israeli sov­er­eign­ty over Jerusalem is not rec­og­nized by the inter­na­tion­al community.
Yet, rec­og­niz­ing Jerusalem as the cap­i­tal of Israel has been a core Demo­c­ra­t­ic posi­tion. In 2016, the Demo­c­ra­t­ic Par­ty plat­form stat­ed, ​"While Jerusalem is a mat­ter for final sta­tus nego­ti­a­tions, it should remain the cap­i­tal of Israel, an undi­vid­ed city acces­si­ble to peo­ple of all faiths. Israelis deserve secu­ri­ty, recog­ni­tion, and a nor­mal life free from ter­ror and incitement."
This is pre­cise­ly the kind of lan­guage Trump used in his statement.
With the Demo­c­ra­t­ic Par­ty divid­ed, Trump took his oppor­tu­ni­ty to safe­ly ful­fill his promise and claim lead­er­ship of a ​"bipar­ti­san" vic­to­ry. The Democ­rats who fol­lowed Schumer deliv­ered a big win to Trump and a huge loss to the Pales­tini­ans. Under­stand­ably, Pales­tini­ans have respond­ed with out­rage at this bla­tant breach of inter­na­tion­al law, and Israel has answered this with jet attacks on Gaza.
Thumb on the scales
Trump pack­aged the move as an unmask­ing of real­i­ty on the ground, declar­ing, ​"Today, we final­ly acknowl­edge the obvi­ous: that Jerusalem is Israel's cap­i­tal. This is noth­ing more, or less, than a recog­ni­tion of reality."
Anoth­er com­po­nent of that ​"real­i­ty," accord­ing to Trump, is that fail­ure to car­ry through on the 1995 Jerusalem Embassy Act is respon­si­ble for the fail­ure of the peace process. ​"After more than two decades of waivers, we are no clos­er to a last­ing peace agree­ment between Israel and the Pales­tini­ans," he said. ​"It would be fol­ly to assume that repeat­ing the exact same for­mu­la would now pro­duce a dif­fer­ent or bet­ter result."
In fact, the 1995 Act was signed in the con­text of the Oslo Accords, and shared in the main flaw of the peace process that the Accords inau­gu­rat­ed: The Unit­ed States has per­sis­tent­ly depend­ably put its thumb on the scale to tip the bal­ance in Israel's favor. It is that sup­port — and the cor­rup­tion of the Pales­tin­ian Author­i­ty cou­pled with the bad faith nego­ti­a­tions of Israel — that has doomed the peace process.
Mov­ing the cap­i­tal to Jerusalem is about as clear a sig­nal of U.S. bias, and the utter demise of the two-state solu­tion, as could be imag­ined. As Mairav Zon­szein and Aziz Abu Sarah put it, ​"The pre­tense of U.S. neu­tral­i­ty is final­ly fin­ished." Cru­cial­ly, this also means that the hopes for the Oslo-ini­ti­at­ed peace process are dead.
Trump went on to pro­claim that ​"Israel is a sov­er­eign nation with the right like every oth­er sov­er­eign nation to deter­mine its own cap­i­tal. Acknowl­edg­ing this as a fact is a nec­es­sary con­di­tion for achiev­ing peace."
This state­ment pur­pose­ful­ly ignores UN Res­o­lu­tion 181, which was passed in 1947. It stat­ed that ​"the City of Jerusalem shall be estab­lished as a cor­pus sep­a­ra­tum [sep­a­rate enti­ty] under a spe­cial inter­na­tion­al régime and shall be admin­is­tered by the Unit­ed Nations." This was reaf­firmed in 1949, after the estab­lish­ment of the state of Israel, in UN Res­o­lu­tion 303.
Thus, Trump's action is in defi­ance of inter­na­tion­al law and human rights dis­course in two ways — it main­tains the myth of U.S. neu­tral­i­ty and flaunts key, foun­da­tion­al res­o­lu­tions. Trump's deci­sion main­tains and inten­si­fies is a dead­ly pat­tern in which, as always, the Pales­tini­ans will suf­fer. The Demo­c­ra­t­ic Par­ty, instead of defend­ing Pales­tini­ans against this injus­tice, is large­ly part of the problem.
David Palum­bo-Liu
is the Louise Hewlett Nixon Pro­fes­sor, and Pro­fes­sor of Com­par­a­tive Lit­er­a­ture, at Stan­ford University.