What Does the Resistance Really Stand for If It Criminalizes Free Speech?
Pressure is building for 'progressives' to pull their support from proposed legislation that would criminalize support for Palestinian rights.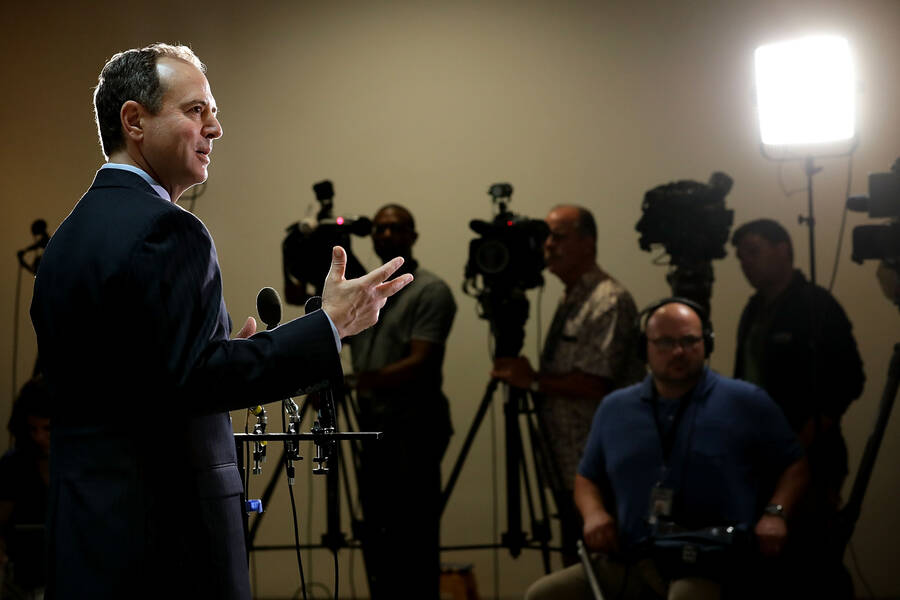 Two pieces of leg­is­la­tion before Con­gress have prompt­ed a heat­ed dis­cus­sion over just how far Con­gress will go to sup­port Israel in its attempts to silence its crit­ics. Although they were ini­tial­ly greet­ed with sup­port from both sides of the aisle, due to for­mi­da­ble oppo­si­tion from the Amer­i­can Civ­il Lib­er­ties Union and oth­ers, there are signs that politi­cians are respond­ing to pub­lic out­rage and recon­sid­er­ing their endorsements.
This is not the first time we have seen the shameful tradition of knee-jerk mainstream Democratic support of Israel.
The sweep­ing new leg­is­la­tion would make it a felony for peo­ple in the Unit­ed States to sup­port the Pales­tin­ian-led move­ment for Boy­cott, Divest­ment and Sanc­tions against Israel. The bills con­sti­tute a bla­tant attack on inter­na­tion­al human rights bod­ies like the Unit­ed Nations Human Rights Coun­cil (UNHRC).
The ​"Israel Anti-Boy­cott Act," S. 720 in the Sen­ate and its House coun­ter­part, H.R. 1697, show that build­ing bipar­ti­san­ship is easy when it comes to sup­press­ing voic­es crit­i­cal of Israel. The degree of sup­pres­sion is dev­as­tat­ing: The min­i­mum civ­il penal­ty for vio­lat­ing the pro­hi­bi­tions is $250,000, but the ceil­ing is $1 mil­lion and 20 years in prison.
To say these bills would have a chill­ing effect on polit­i­cal dis­sent is an under­state­ment. They effec­tive­ly use the U.S. gov­ern­ment to silence its cit­i­zens and oth­ers for refus­ing to do busi­ness with Israel. Impor­tant­ly, this leg­is­la­tion would dole out pun­ish­ment for refus­ing to do busi­ness with com­pa­nies oper­at­ing in the occu­pied Pales­tin­ian ter­ri­to­ries — com­pa­nies that are there­by act­ing ille­gal­ly under inter­na­tion­al law. Aston­ish­ing­ly, an indi­vid­ual or busi­ness could be con­vict­ed for obey­ing inter­na­tion­al human rights rulings.
The bills are tar­get­ing the move­ment to boy­cott, divest from and sanc­tion (BDS) Israel. Launched in 2005, BDS is a non-vio­lent, human-rights-based move­ment cre­at­ed with the endorse­ment of more than 170 Pales­tin­ian civ­il orga­ni­za­tions. It takes inspi­ra­tion from his­tor­i­cal boy­cott efforts in Pales­tine, as well as from the South African anti-apartheid movement.
Since its incep­tion, the move­ment has gar­nered inter­na­tion­al sup­port, and — because of that — the Israeli gov­ern­ment has unleashed a mul­ti-mil­lion-dol­lar effort to destroy it. Israeli Prime Min­is­ter Ben­jamin Netanyahu has called BDS a ​"strate­gic threat" to the state. Yet, this has not stopped the campaign's momen­tum. In the Unit­ed States, the move­ment has gar­nered impor­tant acts of sol­i­dar­i­ty from across social move­ments and was includ­ed in the plat­form of the Move­ment for Black Lives.
Draft­ed by the Amer­i­can Israel Pub­lic Affairs Com­mit­tee (AIPAC), the new pro­posed leg­is­la­tion expands the ​"Export Admin­is­tra­tion Act" of 1979 and the Export-Import Bank Act of 1945. The for­mer was put in place to off­set the Arab boy­cott of Israel, estab­lished in 1945 by the League of Arab States. The Act called on the Pres­i­dent to ​"issue reg­u­la­tions pro­hibit­ing any Unit­ed States per­son, with respect to his activ­i­ties in the inter­state or for­eign com­merce of the Unit­ed States, from tak­ing or know­ing­ly agree­ing to take … actions with intent to com­ply with, fur­ther, or sup­port any boy­cott fos­tered or imposed by a for­eign coun­try against a coun­try which is friend­ly to the Unit­ed States."
In oth­er words, one could be pun­ished for fol­low­ing the call from a for­eign coun­try to boy­cott a coun­try ​"friend­ly" to the Unit­ed States. The cur­rent AIPAC draft extends the scope of crim­i­nal­i­ty to actions aimed at heed­ing the boy­cott call of non-state actors: in this case, the Unit­ed Nations and the Euro­pean Union. The pro­posed leg­is­la­tion also rais­es the max­i­mum civ­il penal­ty from $100,000 to $1 mil­lion and dou­bles the max­i­mum prison sen­tence to 20 years.
The cur­rent bills were prompt­ed by a num­ber of res­o­lu­tions passed in 2016 by the Unit­ed Nations Human Rights Coun­cil (UNHRC) that, tak­en togeth­er, formed an endorse­ment of Pales­tin­ian rights and required com­pa­nies to bear these rights in mind as they engaged in busi­ness trans­ac­tions. Among sev­er­al actions, the UNHRC called upon states to defend human rights work­ers and orga­ni­za­tions from attack and, impor­tant­ly, ​"encour­aged busi­ness enter­pris­es to avoid, iden­ti­fy, assess and address any adverse human rights impacts relat­ed to their activ­i­ties." The UNHRC also reaf­firmed the Pales­tin­ian people's right to self-deter­mi­na­tion and demand­ed that Israel end all prac­tices and actions that vio­late the rights of Palestinians.
The lat­est AIPAC bills are part of the blow­back the Unit­ed Nations is fac­ing for tak­ing this stand. Israeli Prime Min­is­ter Ben­jamin Netanyahu has even sug­gest­ed that the Unit­ed States leave the UNHRC, say­ing, ​"These types of orga­ni­za­tions must be dele­git­imized." U.S. Ambas­sador to the Unit­ed Nations Nik­ki Haley has accused the UNHRC of being ​"over­whelmed by a polit­i­cal agen­da" for its crit­i­cism of Israel. Thus, AIPAC explic­it­ly is try­ing to use U.S. Con­gress to silence crit­ics of Israel and to ham­per inter­na­tion­al human rights efforts.
The pro­posed fed­er­al bills thus cre­ate yet anoth­er path­way for the Unit­ed States to over­ride inter­na­tion­al human rights efforts. They also grant legit­i­ma­cy to the many anti-BDS laws found in indi­vid­ual states. The Amer­i­can Civ­il Lib­er­ties Union (ACLU) assert­ed in an open let­ter dat­ed July 2016 that the state bills tar­get those who express sup­port for the BDS move­ment. The orga­ni­za­tion not­ed that advo­cates are ​"penal­ized sole­ly because they choose to express their opin­ion and because their opin­ion is dis­fa­vored by the polit­i­cal class in the states in question."
In a July 2017 let­ter oppos­ing S.720, the ACLU makes a sim­i­lar argu­ment, say­ing that the bill ​"would pun­ish indi­vid­u­als for no oth­er rea­son than their polit­i­cal beliefs" and would be in direct vio­la­tion of the First Amendment.
Short­ly after the ACLU wrote its let­ter, and Glenn Green­wald and Ryan Grim pub­lished an arti­cle in The Inter­cept con­demn­ing the pro­posed leg­is­la­tion, reac­tion set in. An arti­cle in The Dai­ly Beast dis­missed the crit­i­cism of these pieces of leg­is­la­tion as ​"fake" on the grounds that the bills involved only com­mer­cial activ­i­ties and sim­ply built on exist­ing law. This line was used, as well, by the pri­ma­ry spon­sors of the Sen­ate bill: Demo­c­rat Ben Cardin of Mary­land and Repub­li­can Rob Port­man of Ohio, who declared: ​"We can­not state this strong­ly enough: the bill does not ​'pun­ish US per­sons sole­ly on their expressed polit­i­cal beliefs.'"
In an op-ed pub­lished in the Wash­ing­ton Post, two mem­bers of the ACLU lead­er­ship rebutted those asser­tions, argu­ing that the bill ​"threat­ens severe penal­ties against any busi­ness or indi­vid­ual who does not pur­chase goods from Israeli com­pa­nies oper­at­ing in the occu­pied Pales­tin­ian ter­ri­to­ries and who makes it clear — say by post­ing on Twit­ter or Face­book — that their rea­son for doing so is to sup­port a U.N. or E.U.-called boy­cott. That kind of penal­ty does not tar­get com­mer­cial trade; it tar­gets free speech and polit­i­cal beliefs."
As of this date, the Sen­ate bill has the sup­port of 31 Repub­li­cans and 14 Democ­rats. The House bill has 234 co-spon­sors: 177 Repub­li­cans and 63 Democ­rats. Dis­ap­point­ing­ly, among those sup­port­ers are not only ​"lib­er­al" mem­bers of Con­gress like Chuck Schumer and Kirsten Gilli­brand, but also some who have declared them­selves part of the anti-Trump #Resis­tance: Ted Lieu, Adam Schiff, and Eric Swalwell.
But in the face of the pub­lic out­rage that has emerged, some are report­ed­ly rethink­ing their sup­port. Haaretz reports that more than a dozen Democ­rats in both hous­es of Con­gress are recon­sid­er­ing their endorse­ments, and the lib­er­al Zion­ist orga­ni­za­tion J Street has expressed ​"seri­ous con­cerns." The report notes that even The Amer­i­can Inter­est — a cen­trist, pro-Israel jour­nal — has expressed con­cern that the leg­is­la­tion is too sweeping.
Mean­while, Sen. Ben Cardin of Mary­land told The Inter­cept that, fol­low­ing pub­lic out­rage, he is will­ing to address con­cerns and revis­it the leg­is­la­tion. Yet, it is not year clear what con­crete steps he plans to take to address the many civ­il lib­er­ties con­cerns raised by the legislation.
Accord­ing to Haaretz, Gilli­brand stat­ed, ​"We have a dif­fer­ent read of the spe­cif­ic bill lan­guage, how­ev­er, due to the ACLU's con­cerns, the Sen­a­tor has extend­ed an invi­ta­tion to them to meet with her and dis­cuss their concerns."
This pro­posed leg­is­la­tion is not the first time we have seen the shame­ful tra­di­tion of knee-jerk main­stream Demo­c­ra­t­ic sup­port of Israel, put on dis­play in a Demo­c­ra­t­ic res­o­lu­tion to back Israel as it launched its dev­as­tat­ing attack on Gaza in the sum­mer of 2014. Thanks to prin­ci­pled oppo­si­tion, there is hope that these bills will not pass. How­ev­er, it is not enough for law­mak­ers to say they are review­ing their sup­port for the leg­is­la­tion: They must come out pub­licly against the bills and all sim­i­lar leg­is­la­tion aimed at crim­i­nal­iz­ing peace­ful protest in sup­port of Pales­tin­ian human rights.
This stan­dard par­tic­u­lar­ly applies to politi­cians who are cash­ing in on a ​"pro­gres­sive" image. After all, this pro­posed leg­is­la­tion is poised to dras­ti­cal­ly cur­tail the most basic rights to protest and dis­sent, in a land­scape where the Trump admin­is­tra­tion is orches­trat­ing incite­ment and crack­down tar­get­ing protesters.
David Palum­bo-Liu
is the Louise Hewlett Nixon Pro­fes­sor, and Pro­fes­sor of Com­par­a­tive Lit­er­a­ture, at Stan­ford University.