Cities Aren't Waiting for a Federal Green New Deal
Activists are pushing sweeping climate action at the local level.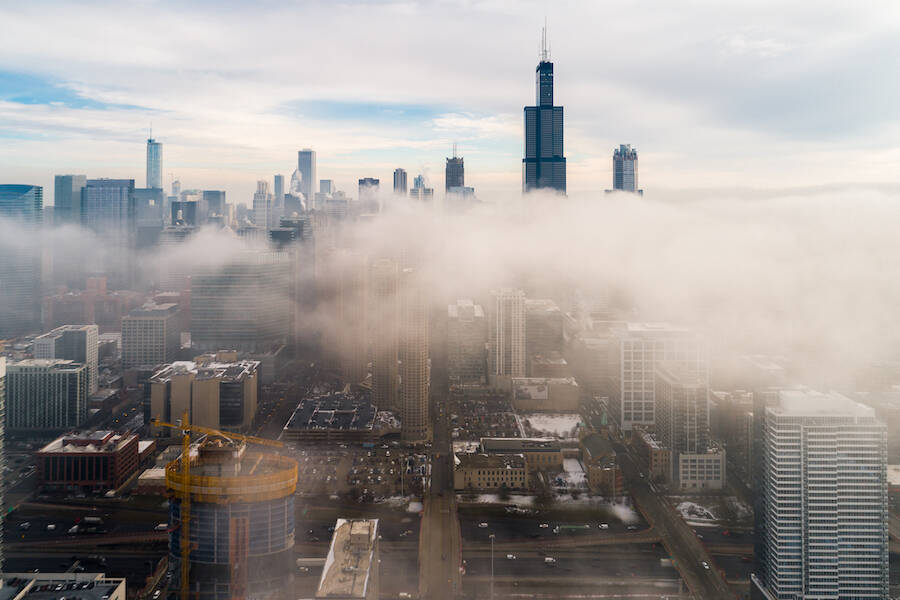 In 1992, rec­og­niz­ing that not all coun­tries had con­tributed equal­ly to the cli­mate cri­sis, par­ties to the Unit­ed Nations Frame­work Con­ven­tion on Cli­mate Change cod­i­fied the prin­ci­ple of ​"com­mon but dif­fer­en­ti­at­ed respon­si­bil­i­ties." This frame­work insists that devel­oped coun­tries ​"take the lead in com­bat­ing cli­mate change" by tran­si­tion­ing to clean ener­gy more rapid­ly, in order to allow time for devel­op­ing nations to catch up to the same stan­dard of living.
Over 1,200 cities around the world have already declared a state of "climate emergency."
But it's not just coun­tries that are dis­pro­por­tion­ate­ly liable for decades of emis­sions. One hun­dred cities account for near­ly a fifth of our glob­al car­bon foot­print. Three of the top 10 are in the Unit­ed States: New York (3), Los Ange­les (5), and Chica­go (8) — these cities alone make up near­ly 10% of U.S. emissions.
This may seem coun­ter­in­tu­itive. Dense cities, after all, are more ener­gy effi­cient and data sug­gests that per capi­ta emis­sions actu­al­ly decrease with urban pop­u­la­tion growth. But after ana­lyz­ing the car­bon foot­prints of over 13,000 cities around the world, one study found that com­bined high pop­u­la­tion and high income made cities dis­pro­por­tion­ate­ly high emitters.
With­in wealthy cities, high-con­sump­tion lifestyles dri­ve emis­sions, and those lifestyles are shaped by the archi­tec­ture of our urban envi­ron­ment. Every­thing from the shape of the city and the length of com­mutes to bike- and pedes­tri­an-friend­li­ness, robust­ness of pub­lic trans­porta­tion (and/​or high­way) infra­struc­ture, and the phys­i­cal build­ings them­selves dri­ve emis­sions. Rather than sim­ply insist­ing peo­ple change their lifestyles to tack­le the cli­mate cri­sis, we need to insist on chang­ing the cities that shape those lifestyles. And — with the fed­er­al gov­ern­ment unlike­ly to pass a Green New Deal until at least 2021 — a num­ber of cities are start­ing to do just that.
Just ahead of Earth Day, the New York City Coun­cil passed a his­toric pack­age of cli­mate leg­is­la­tion that many have called a Green New Deal for New York City. At the cen­ter of the Cli­mate Mobi­liza­tion Act is a bill that man­dates build­ings over 25,000 square feet reduce emis­sions 40% by 2030 and 80% by 2050. Behind the scenes, grass­roots orga­niz­ers had been form­ing a diverse coali­tion that unit­ed low-income com­mu­ni­ties of col­or with pre­dom­i­nant­ly white cli­mate activists over a peri­od of sev­er­al years. ​"In the end we won because of the coali­tion build­ing and cam­paign work that we did," says Pete Siko­ra, Cli­mate & Inequal­i­ty Cam­paigns Direc­tor for New York Com­mu­ni­ties for Change.
Build­ings account for near­ly 70% of car­bon emis­sions in New York City, which has the largest car­bon foot­print of any urban area in the coun­try. The city plans on imple­ment­ing the pol­i­cy through the cre­ation of a new Office of Build­ing Ener­gy and Emis­sions Per­for­mance which would set per­for­mance stan­dards, mon­i­tor build­ing ener­gy use and emis­sions, and deter­mine penal­ties for build­ings that fail to comply.
"There is no way to address the [ener­gy] grid or the rad­i­cal change need­ed to reach mas­sive pol­lu­tion cuts with­out pri­or­i­tiz­ing ener­gy effi­cien­cy," Siko­ra says. The goal is to reduce ener­gy use to such a degree that large build­ings, which often rely on fos­sil fueled-pow­ered boil­ers and gas for heat and cook­ing, could be ful­ly pow­ered by the elec­tric grid.
The impor­tance of address­ing build­ings in gen­er­al can­not be over­stat­ed. Glob­al­ly, build­ing oper­a­tions, mate­ri­als and con­struc­tion account for near­ly 40% of ener­gy use. Accord­ing to Archi­tec­ture 2030, the glob­al build­ing stock will dou­ble by 2060. ​"This," they say, ​"is the equiv­a­lent of adding an entire New York City every month for 40 years."
While the fed­er­al gov­ern­ment can set nation­al emis­sions tar­gets and pro­vide fed­er­al funds to cities, much will be left to local gov­ern­ments to mon­i­tor and enforce ener­gy effi­cien­cy stan­dards — a task too big for the fed­er­al gov­ern­ment to han­dle alone.
In July, Berke­ley, Calif., became the first city in the Unit­ed States to ban nat­ur­al gas use in new build­ings. Thir­teen oth­er cities across Cal­i­for­nia fol­lowed short­ly after, enact­ing new build­ing codes that either require or encour­age new con­struc­tion to be run com­plete­ly on elec­tric­i­ty. In Philadel­phia, orga­niz­ers are pres­sur­ing the city coun­cil to pass sim­i­lar leg­is­la­tion. This marks a sig­nif­i­cant first step towards long-term, gov­ern­ment-enforced emis­sions stan­dards. These pro­gres­sive cities across the coun­try are begin­ning to estab­lish what will hope­ful­ly become a new normal.
Even with fos­sil fuel use elim­i­nat­ed with­in build­ings, though, elec­tric­i­ty is still only as clean as the grid that sup­plies it. In New York state, a grass­roots orga­niz­ing coali­tion suc­cess­ful­ly pushed for a recent state law requir­ing the grid to be 70% pow­ered by renew­able ener­gy by 2030 and emis­sions-free by 2050. And around the coun­try, local pro­gres­sive groups are hard at work try­ing to put elec­tric util­i­ties under pub­lic own­er­ship. The Chica­go chap­ter of the Demo­c­ra­t­ic Social­ists of Amer­i­ca (DSA) has been wag­ing a fierce cam­paign, in col­lab­o­ra­tion with some of the city's six social­ist city coun­cil mem­bers, to bring their main elec­tric util­i­ty com­pa­ny, ComEd, under munic­i­pal con­trol. Sim­i­lar DSA cam­paigns to take back the grid have appeared in New York City; Boston; New Haven, Conn.; East Bay, Calif.; and Prov­i­dence, R.I.
"Our main cam­paign is ener­gy democ­ra­cy and we see that as a key aspect of win­ning a Green New Deal" say Syd­ney Ghaz­ar­i­an, who serves on the steer­ing com­mit­tee of DSA's Nation­al Ecoso­cial­ist Work­ing Group, which she helped found in 2017. (Full dis­clo­sure: This author is a mem­ber of DSA, though not involved with the ecoso­cial­ist work­ing group.)
She and a few oth­er mem­bers, Ghaz­ar­i­an says, ​"real­ized that [the cli­mate cri­sis] was going to be the ulti­mate con­tra­dic­tion of cap­i­tal­ism" and would ​"require mas­sive restruc­tur­ing so social­ists need­ed to be on the fore­front of this issue." The first pri­or­i­ty for the Ecoso­cial­ist Work­ing Group was infra­struc­ture to imple­ment munic­i­pal-lev­el cli­mate cam­paigns in local DSA chapters.
​"We can't wait until 2021 to start," Ghaz­ar­i­an says. ​"What we can do is actu­al­ly make real changes at the city lev­el and the local lev­el to start [the tran­si­tion]." While sup­port­ing can­di­dates like Sen. Bernie Sanders (I‑Vt.), who is push­ing for a nation­al Green New Deal, DSA chap­ters have also been on the ground orga­niz­ing a work­ing-class base of sup­port­ers by engag­ing with peo­ple where they are: over­whelm­ing­ly, in cities.
There is an addi­tion­al polit­i­cal advan­tage to orga­niz­ing at the city-lev­el: dense urban areas, to a great degree, are more inclined to vote blue than their rur­al coun­ter­parts. And enough large cities, account­ing for much of the country's pop­u­la­tion, tak­ing seri­ous cli­mate action can put pres­sure on the fed­er­al gov­ern­ment to pass deci­sive legislation.
Over 1,200 cities around the world have already declared a state of ​"cli­mate emer­gency," Oxford Dictionary's 2019 word of the year. It's a nec­es­sary first step and one nation­al gov­ern­ments have been dis­in­clined to take. ​"We have to shift into emer­gency mode," says Lau­ra Berry, research and pub­li­ca­tions direc­tor at The Cli­mate Mobi­liza­tion (TCM), which has helped lead this move­ment through their Cli­mate Emer­gency Dec­la­ra­tion campaign.
The goal of the orga­ni­za­tion is to cat­alyze a World War II-scale mobi­liza­tion to reverse the cli­mate cri­sis. In 2016, Bernie Sanders embraced TCM's demand, and helped intro­duced it to the Demo­c­ra­t­ic Par­ty plat­form. But when Trump won the elec­tion, the orga­ni­za­tion shift­ed its focus to the local lev­el. With Repub­li­cans hold­ing the White House, Sen­ate and a major­i­ty of state leg­is­la­tures, cities are prov­ing the best option for short-term change.
The orga­ni­za­tion has laid out a tem­plate for local gov­ern­ment to declare a state of emer­gency with the hopes of ​"build­ing upward." ​"Fed­er­al and inter­na­tion­al nego­ti­a­tions have been incred­i­bly inef­fec­tive in address­ing the cri­sis that we are fac­ing," Berry says. ​"We see local gov­ern­ments as play­ing a real­ly impor­tant role in advo­cat­ing and push­ing for stronger action at the state and nation­al level."
Noth­ing can sub­sti­tute the need for inter­na­tion­al coop­er­a­tion or a fed­er­al Green New Deal. But with­out munic­i­pal efforts to coop­er­ate and enforce cli­mate leg­is­la­tion, many of these poli­cies, to bor­row a pun from Siko­ra, will just be blow­ing a lot of hot air.