Cleaning Up Elections in Connecticut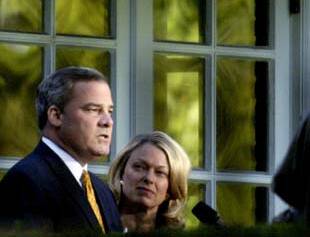 We wanted to make sure you didn't miss the announcement of our new Sustainer program. Once you've finished reading, take a moment to check out the new program, as well as all the benefits of becoming a Sustainer.

Take one governor in hot water. Raise heat until the governor goes to prison. Combine with a unified and persistent coalition of reform advocates, and mix in widespread outrage at corruption. Add a dash of bipartisanship. What have you got?
In Connecticut, it's the recipe for breakthrough campaign finance reform.
On November 30, the Connecticut House of Representatives followed the state Senate in approving a measure introducing voluntary public financing for legislative and statewide offices. A week later, Republican Gov. Jodi Rell – who took office after Gov. John Rowland resigned in a corruption scandal – signed it into law.
Advocates, seeking to get big money out of politics, call the key provision ​"Clean Elections." By raising a specified goal in small contributions, major party candidates can opt to receive a public grant to finance their campaigns rather than go the conventional route of begging from well-heeled interests. The measure also bans contributions from lobbyists and state contractors, limits campaign spending for recipients of public financing, and places new restrictions on political action committees, or PACs. Public financing for legislative races takes effect in the 2008 election cycle and in 2010 for statewide offices.
Connecticut, which had earned the nickname ​"Corrupticut" after a recent rash of state and municipal scandals, is the first state to create a public financing mechanism for legislative races by legislative action. Arizona and Maine had previously adopted clean elections through referenda.
Democrats control both houses of the Connecticut General Assembly and House Majority Leader Christopher Donovan (D‑Meriden) made sure that the Democrats had the votes to pass the measure. Although Rell was clear in her support for the measure, only four Republicans in each chamber voted for it.
"This sets the bar higher for what people who want reform can expect from their lawmakers," says Nick Nyhart, executive director of Public Campaign, a national campaign finance reform group. As an advocate in the early ​'90s, Nyhart had co-authored the first version of the bill, and credits the victory in part to the fact that when the scandals broke, a long-time measure backed by reformers was ready. Groups like the Connecticut Citizen Action Group (CCAG) and the state Common Cause chapter insisted on a strong bill with the Clean Elections component or the ​"entire reform community would walk."
The new law will ​"stop the endless money chase," says Tom Swan, CCAG executive director. ​"It will result in the transformation of the political process where the power of voters will be increased and corporate control lessened."
But the law is not without its critics. The ban on lobbyist and contractor contributions may spark a court challenge over free speech issues. Republicans, and some reformers, view a provision that allows PACs controlled by party leadership to aid campaigns with ​"in-kind" contributions as having the potential for abuse.
Particularly contentious are the thresholds needed for third-party candidates to receive public financing. Critics say the legislation favors the Democratic-Republican duopoly by forcing third party candidates to collect signatures of eligible voters equal to 10 percent of the previous election turnout as well as to reach the same threshold of small contributions as the larger parties. A third party candidate has to collect signatures of 20 percent of the number of voters in the previous election to obtain a full grant.
Donovan defends the third party provisions as a ​"not unreasonable" method to screen out fringe candidates. The provisions are better than federal law, he argues, because funding isn't based on the number of votes a candidate receives, which delays eligibility until the next election cycle. Plus, he notes that the current third party provisions were one of the prices of getting the votes for passage.
While Jon Green, director of Connecticut's Working Families Party, supports the bill overall, he describes the third party provisions as ​"unquestionably unfair in principle." Green supports a lower signature threshold, around 3 to 5 percent, and notes that the significant small donation requirement would likely eliminate all fringe parties.
Be a Sustainer
We surveyed thousands of readers and asked what they would like to see in a monthly giving program. Now, for the first time, we're offering three different levels of support, with rewards at each level, including a magazine subscription, books, tote bags, events and more—all starting at less than 17 cents a day. Check out the new Sustainer program.