Clergy March on Billionaires as Moral Mondays Come to Chicago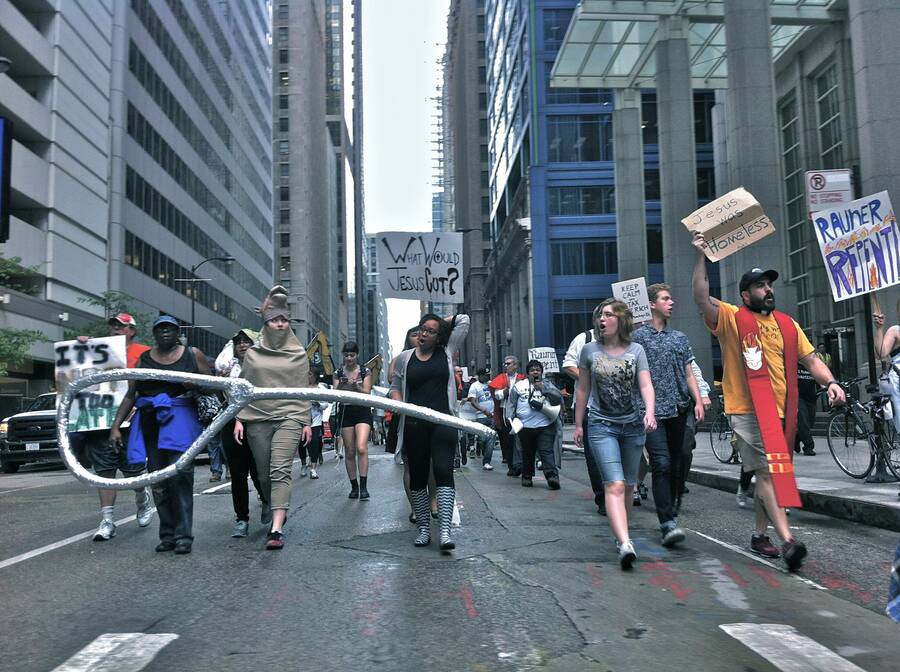 We wanted to make sure you didn't miss the announcement of our new Sustainer program. Once you've finished reading, take a moment to check out the new program, as well as all the benefits of becoming a Sustainer.

Rain fell steadily in front of 2 N. Riverside Plaza in downtown Chicago Monday morning as police herded 28 clergy and grassroots activists into a police van. The activists, including Chicago's Lutheran Bishop Wayne Miller, rallied before marching on the corporate headquarters of billionaire Sam Zell who is chairman of the Chicago-based private investment firm Equity Group Investments and a former owner of the Chicago Tribune, as part of Chicago's third ​"Moral Mondays" demonstration.
"It is easier for a camel to go through the eye of a needle than for a man who is rich to enter the kingdom of heaven," said Bishop Miller, beginning with a few verses from Matthew 19 and referencing the immense wealth of both Zell and near-billionaire Illinois Gov. Bruce Rauner, who has proposed immense state budget cuts the activists oppose.
Yet hope still existed for the two, Miller added, in repentance. ​"You will never get a camel through the eye if you are not aiming in the right place. Rauner, you are off the mark!" he stated.
Zell, a supporter of Gov. Rauner, awarded $4 million to Turnaround Illinois, a Rauner-allied super political action committee that supports banning political donations by government worker unions and asserts the authority of local governing bodies to decide which workplace topics union members can bargain over. Most controversial and far-reaching of the policies submitted by Turnaround Illinois are the massive cuts proposed for health care, education and public transit.
Defined by civil disobedience and peaceful arrests, ​"Moral Mondays" protests were first launched by religious leaders and community activists in North Carolina in April 2013 as a means of protesting Republican Gov. Pat McCrory's imposition of cuts to social programs, restrictions to abortion rights and the reversal of the 2009 Racial Justice Act. The first Moral Monday action took place in Chicago in 2013, when Chicagoans protested the American Legislative Exchange Council's (ALEC) 40th anniversary meeting at Chicago's Palmer House.
As the demonstration began earlier that morning, marchers listened to Toby Chow — a seminary student and vicar at the First Lutheran Church of the Trinity in Bridgeport and a co-chair of Fair Economy Illinois — deliver the demonstration's opening remarks.
"We are prepared to employ civil disobedience, or, as we like to call it, divine obedience," said Chow, referencing Christianity's emphasis on generosity, charity and solidarity with the poor and vulnerable.
Once in front of Zell's corporate headquarters at 2 N Riverside Plaza, activists blocked an intersection and the building's entryway. While occupying the intersection, the activists staged a piece of street theater in which two actors dressed as a camel laden with money bags attempted to pass through the eye of a gigantic needle. Twenty-one activists, including the camel, were arrested in the street, and seven more were taken into custody for ​"criminal trespassing" after occupying the entryway to the Riverside Plaza Building.
Children, minorities, seniors and the disabled would bear the brunt of the cuts proposed by Turnaround Illinois, said Jim Watkins, a disability activist responsible for founding Ability Chicago Info, a blog devoted to coverage of local disability issues.
"Take the proposals to cut the funding for paratransit by $4 million in Northeastern Illinois," he told In These Times as the rally began. ​"By doing so, we are looking at $5 per ride or $10 round trip. Just to go to get food, maybe to go to a doctor's. Many people are living on minimum income. That could be half a week of food."
Organized by Fair Economy Illinois along with members of Chicago's Judeo-Christian clergy, the ​"Moral Mondays" demonstration protested these ​"deadly" budget cuts and corporate tax loopholes, which, according to Fair Economy Illinois, cost the state more than $ 1.5 billion annually.
Reflecting the concerns voiced at last week's Chicago Teachers Union (CTU) demonstration, the activists demanded the implementation of a tax on buyers and sellers of futures as well as futures options and security options contracts traded on the Chicago Board of Trade and Chicago Mercantile Exchange. According to CTU president Karen Lewis, these taxes could create up to $10 billion in revenue for the state of Illinois.
Rauner, say the activists, defends the interests of corporations and the very rich at the expense of Illinois's poor and middle class residents. ​"It's not unique to Illinois," explained Rabbi Brant Rosen, the Midwest regional director of the American Friends Service Committee. ​"There's a movement of the 1%, of the super rich and large corporations that see themselves as exempt from paying there fair share to recreate state budgets so that the state's most vulnerable — the elderly, the infirm, children — are left without a safety net."
When asked if they feared the prospect of arrest, the activists In These Times spoke to responded with equanimity.
"I'm not worried about being arrested," said one young activist and Chicago resident at the rally who gave his only his first name, Robert. ​"There are millions of people within the state of Illinois, some people who need a trauma center, some people who need jobs, people who need a social safety net. We need a world in which we're not taking money away from them but creating a social safety net."
Be a Sustainer
We surveyed thousands of readers and asked what they would like to see in a monthly giving program. Now, for the first time, we're offering three different levels of support, with rewards at each level, including a magazine subscription, books, tote bags, events and more—all starting at less than 17 cents a day. Check out the new Sustainer program.
Martin de Bourmont
is a Summer
2015
editorial intern at In These Times. He graduated from Dickinson College with a bachelor's in political science and previously worked as an editorial intern for La Croix in France.