Clergy March on Billionaires as Moral Mondays Come to Chicago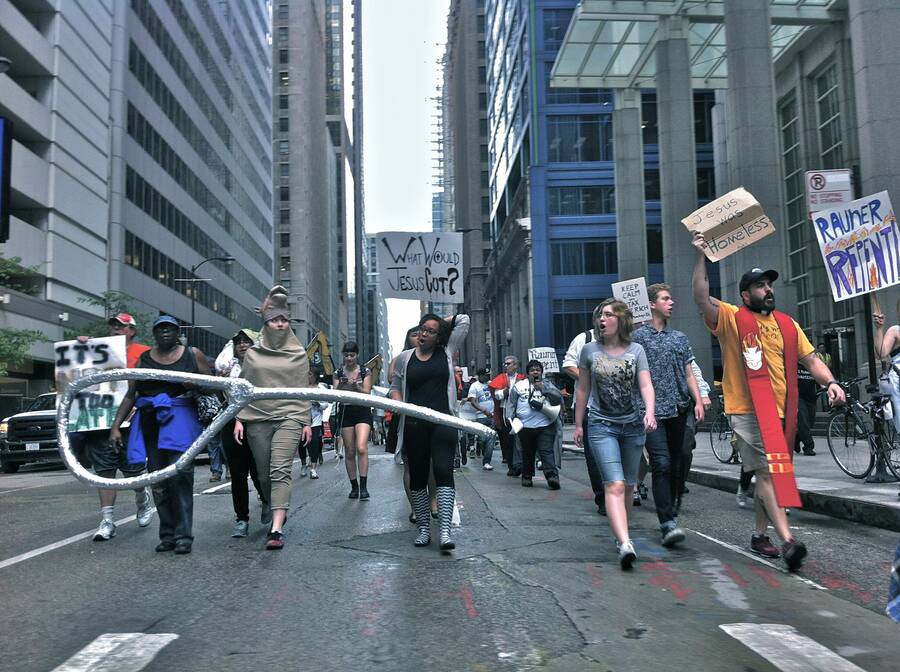 Rain fell steadi­ly in front of 2 N. River­side Plaza in down­town Chica­go Mon­day morn­ing as police herd­ed 28 cler­gy and grass­roots activists into a police van. The activists, includ­ing Chicago's Luther­an Bish­op Wayne Miller, ral­lied before march­ing on the cor­po­rate head­quar­ters of bil­lion­aire Sam Zell who is chair­man of the Chica­go-based pri­vate invest­ment firm Equi­ty Group Invest­ments and a for­mer own­er of the Chica­go Tri­bune, as part of Chicago's third ​"Moral Mon­days" demonstration.
"It is eas­i­er for a camel to go through the eye of a nee­dle than for a man who is rich to enter the king­dom of heav­en," said Bish­op Miller, begin­ning with a few vers­es from Matthew 19 and ref­er­enc­ing the immense wealth of both Zell and near-bil­lion­aire Illi­nois Gov. Bruce Rauner, who has pro­posed immense state bud­get cuts the activists oppose.
Yet hope still exist­ed for the two, Miller added, in repen­tance. ​"You will nev­er get a camel through the eye if you are not aim­ing in the right place. Rauner, you are off the mark!" he stated.
Zell, a sup­port­er of Gov. Rauner, award­ed $4 mil­lion to Turn­around Illi­nois, a Rauner-allied super polit­i­cal action com­mit­tee that sup­ports ban­ning polit­i­cal dona­tions by gov­ern­ment work­er unions and asserts the author­i­ty of local gov­ern­ing bod­ies to decide which work­place top­ics union mem­bers can bar­gain over. Most con­tro­ver­sial and far-reach­ing of the poli­cies sub­mit­ted by Turn­around Illi­nois are the mas­sive cuts pro­posed for health care, edu­ca­tion and pub­lic transit.
Defined by civ­il dis­obe­di­ence and peace­ful arrests, ​"Moral Mon­days" protests were first launched by reli­gious lead­ers and com­mu­ni­ty activists in North Car­oli­na in April 2013 as a means of protest­ing Repub­li­can Gov. Pat McCrory's impo­si­tion of cuts to social pro­grams, restric­tions to abor­tion rights and the rever­sal of the 2009 Racial Jus­tice Act. The first Moral Mon­day action took place in Chica­go in 2013, when Chicagoans protest­ed the Amer­i­can Leg­isla­tive Exchange Council's (ALEC) 40th anniver­sary meet­ing at Chicago's Palmer House.
As the demon­stra­tion began ear­li­er that morn­ing, marchers lis­tened to Toby Chow — a sem­i­nary stu­dent and vic­ar at the First Luther­an Church of the Trin­i­ty in Bridge­port and a co-chair of Fair Econ­o­my Illi­nois — deliv­er the demonstration's open­ing remarks.
"We are pre­pared to employ civ­il dis­obe­di­ence, or, as we like to call it, divine obe­di­ence," said Chow, ref­er­enc­ing Christianity's empha­sis on gen­eros­i­ty, char­i­ty and sol­i­dar­i­ty with the poor and vulnerable.
Once in front of Zell's cor­po­rate head­quar­ters at 2 N River­side Plaza, activists blocked an inter­sec­tion and the building's entry­way. While occu­py­ing the inter­sec­tion, the activists staged a piece of street the­ater in which two actors dressed as a camel laden with mon­ey bags attempt­ed to pass through the eye of a gigan­tic nee­dle. Twen­ty-one activists, includ­ing the camel, were arrest­ed in the street, and sev­en more were tak­en into cus­tody for ​"crim­i­nal tres­pass­ing" after occu­py­ing the entry­way to the River­side Plaza Building.
Chil­dren, minori­ties, seniors and the dis­abled would bear the brunt of the cuts pro­posed by Turn­around Illi­nois, said Jim Watkins, a dis­abil­i­ty activist respon­si­ble for found­ing Abil­i­ty Chica­go Info, a blog devot­ed to cov­er­age of local dis­abil­i­ty issues.
"Take the pro­pos­als to cut the fund­ing for para­tran­sit by $4 mil­lion in North­east­ern Illi­nois," he told In These Times as the ral­ly began. ​"By doing so, we are look­ing at $5 per ride or $10 round trip. Just to go to get food, maybe to go to a doctor's. Many peo­ple are liv­ing on min­i­mum income. That could be half a week of food."
Orga­nized by Fair Econ­o­my Illi­nois along with mem­bers of Chicago's Judeo-Chris­t­ian cler­gy, the ​"Moral Mon­days" demon­stra­tion protest­ed these ​"dead­ly" bud­get cuts and cor­po­rate tax loop­holes, which, accord­ing to Fair Econ­o­my Illi­nois, cost the state more than $ 1.5 bil­lion annually.
Reflect­ing the con­cerns voiced at last week's Chica­go Teach­ers Union (CTU) demon­stra­tion, the activists demand­ed the imple­men­ta­tion of a tax on buy­ers and sell­ers of futures as well as futures options and secu­ri­ty options con­tracts trad­ed on the Chica­go Board of Trade and Chica­go Mer­can­tile Exchange. Accord­ing to CTU pres­i­dent Karen Lewis, these tax­es could cre­ate up to $10 bil­lion in rev­enue for the state of Illinois.
Rauner, say the activists, defends the inter­ests of cor­po­ra­tions and the very rich at the expense of Illinois's poor and mid­dle class res­i­dents. ​"It's not unique to Illi­nois," explained Rab­bi Brant Rosen, the Mid­west region­al direc­tor of the Amer­i­can Friends Ser­vice Com­mit­tee. ​"There's a move­ment of the 1%, of the super rich and large cor­po­ra­tions that see them­selves as exempt from pay­ing there fair share to recre­ate state bud­gets so that the state's most vul­ner­a­ble — the elder­ly, the infirm, chil­dren — are left with­out a safe­ty net."
When asked if they feared the prospect of arrest, the activists In These Times spoke to respond­ed with equanimity.
"I'm not wor­ried about being arrest­ed," said one young activist and Chica­go res­i­dent at the ral­ly who gave his only his first name, Robert. ​"There are mil­lions of peo­ple with­in the state of Illi­nois, some peo­ple who need a trau­ma cen­ter, some peo­ple who need jobs, peo­ple who need a social safe­ty net. We need a world in which we're not tak­ing mon­ey away from them but cre­at­ing a social safe­ty net."
Mar­tin de Bour­mont
is a Sum­mer
2015
edi­to­r­i­al intern at In These Times. He grad­u­at­ed from Dick­in­son Col­lege with a bachelor's in polit­i­cal sci­ence and pre­vi­ous­ly worked as an edi­to­r­i­al intern for La Croix in France.