Is Banning Tourists the Solution to Gentrification?
A 'tourist cap' might be in the works in Barcelona to fight rising costs of living and disorderly behavior.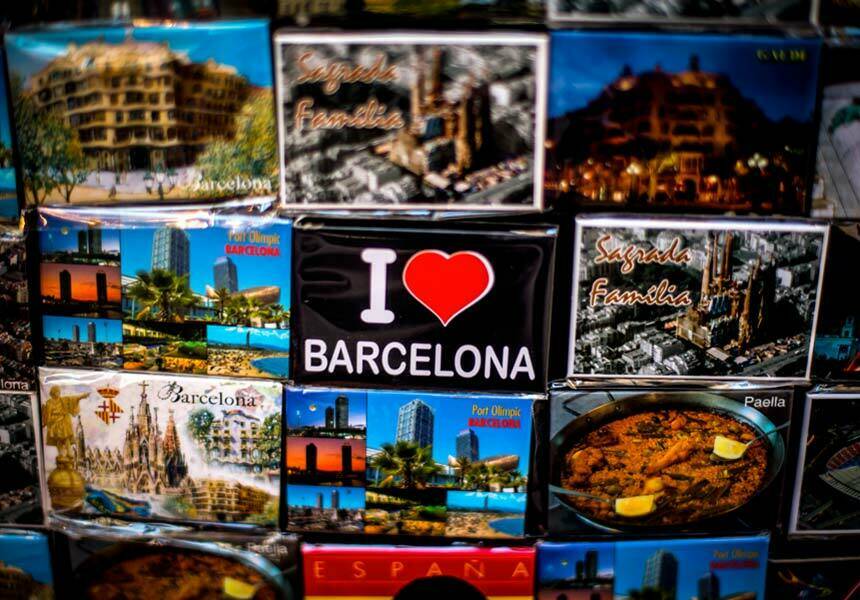 Barcelona's new mayor, Ada Colau, thinks what her city needs is a ​"tourist cap" — a moratorium on new hotel licenses and a limit on the number of tourists entering the city.
Cities seeking more economic development partner with these investors to become more attractive to tourists and upper-income residents by building hotels, entertainment venues and upscale housing. Suddenly, traditionally working- and middle-class neighborhoods are inaccessible to residents of modest means.
Colau proposed these restrictions June 1, soon after winning office on a left-wing slate backed by Podemos and the Barcelona en Comú Party. Once considered a source of vigor for the local economy, tourism is now seen by many Barcelonans as a scourge, responsible for overcrowded streets, disorderly behavior (including incidents of streaking) and an increasing cost of living.
"[Tourists] have urinated onto my balcony, they have set fire to laundry, someone defecated in the building's hallway," Nando Prieto, whose building now rents rooms to tourists, told Vice. The English-language newspaper The Local reports that a growing market for short-term tourist apartments is ​"leading to rampant real estate speculation."
"Investors have been snapping up whole apartment blocks and kicking out the locals, many of whom are elderly," says resident Vicenç Forner.
Others blame the tourist market for the influx of international shops that are replacing local businesses, already under pressure from the expiration of Barcelona's commercial rent controls.
So are tourist caps the right solution?
A 2004 study published by Tulane University sociologist Kevin Fox Gotham in Urban Studies indicates it may be wrong to blame tourists alone. The transformation of a city into a place that caters to tourists over residents is also the result of targeted investments by developers, often supported by city governments.
Cities seeking more economic development partner with these investors to become more attractive to tourists and upper-income residents by building hotels, entertainment venues and upscale housing. Suddenly, traditionally working- and middle-class neighborhoods are inaccessible to residents of modest means.
Gotham's study uses New Orleans's French Quarter as a case study. In the 1980s, for instance, the construction of upscale hotels in the French Quarter provided investors with an incentive to renovate properties on the district's Canal Street and transform Bourbon Street bars into upscale music venues. The resultant expansion of tourist activity in the area would lead to a 50 percent increase in rents on the street between the mid-1990s and 2002, with some properties more than doubling their rental price.
Spurred on by an expanding tourism industry dependent on ​"an image of nostalgia," Gotham writes, investors bought and renovated properties to reflect a notion of the French Quarter as a neighborhood of ​"red-brick town houses, cast-iron galleries over public sidewalks and enchanting backyard gardens." By the early 2000s, this process left ​"few unrehabilitated residential houses for sale," in a neighborhood where ​"the asking price for single-family homes is far beyond the means of low-income-housing tenants."
Moreover, writes Gotham, the demographic changes caused by skyrocketing rents and increasing tourism coincided ​"with a dramatic restructuring of the commercial base of the neighborhood." Between 1950 and 1999, he reports, resident-oriented businesses like ​"barbers, department stores, shoe shops, small groceries and laundry services" decreased by 15 percent, while tourist businesses like T-shirt shops increased by 32 percent.
"Gentrification and tourism," concludes Gotham, ​"are largely driven by mega-sized financial firms and entertainment corporations who have formed new institutional connections with traditional city boosters (chambers of commerce, city governments, service industries) to market cities and their neighborhoods."
Miriam Greenberg tells a similar story in Branding New York: How a City in Crisis Was Sold to the World. Concerned that the city's reputation had been all but annihilated by high rates of crime and poverty, the New York State Department of Commerce launched the ​"I Love New York" campaign in the late 1970s as part of an effort to make the city attractive to tourists and moneyed outsiders.
This new emphasis on ​"out of towners," writes Greenberg, sought to transform New York's image as a ​"product in the mind of targeted consumers while pursuing the interests of business, real estate, bond holders, tourists, the new middle class and elites over those of lowand moderate-income New Yorkers and the working class." While ​"poverty rose, the middle class shrank and the city became a prohibitively expensive place to live" — benefits were ​"measured in the rising value of New York city bonds and real estate, the growth of the corporate headquarters complex, the service sector and the rebound of the tax base."
The mentality behind such programs is perhaps best encapsulated by former Mayor Michael Bloomberg's assertion that New York is ​"a luxury product."
This phenomenon, says Jeremiah Moss, creator of the blog Vanishing New York, hurts the city's inhabitants. ​"As New York becomes more gentrified, it becomes more sanitized and suburban and attracts more tourists, [and] we have fewer services for people who live here… places to wash clothes, to get shoes fixed. We get places that appeal to someone on vacation."
While Moss does not know how a tourist cap could be practically implemented in New York City, he supports a cap on hotels, which take up space in lots or buildings that might otherwise serve or house New Yorkers.
A precedent for limiting tourism in U.S. cities is difficult to find. Christopher Ketcham, a journalist and New York City native now residing in Moab, Utah, is not surprised by this. ​"Limiting tourism goes against the nature of capitalism, which is all about increasing growth and consumption," he says.
As far off as tourist caps may be in America, however, policies that place limits on the construction of hotels and other tourist facilities can serve the same role, reducing both the numbers of tourists and the dominance of businesses that cater to short-term visitors and wealthy outsiders rather than actual residents.
Ketcham grew up in Brooklyn in the 1980s and 1990s and has seen the decline of his old stomping ground. ​"More people buying more stuff from more countries across the globe has resulted in a neighborhood in which the resident feels like a stranger," he says. ​"Tourism at its heart is a contemptible sector of the economy, because ultimately, it's about the commoditization of place, culture and history."
Martin de Bourmont
is a Summer
2015
editorial intern at In These Times. He graduated from Dickinson College with a bachelor's in political science and previously worked as an editorial intern for La Croix in France.