Is Banning Tourists the Solution to Gentrification?
A 'tourist cap' might be in the works in Barcelona to fight rising costs of living and disorderly behavior.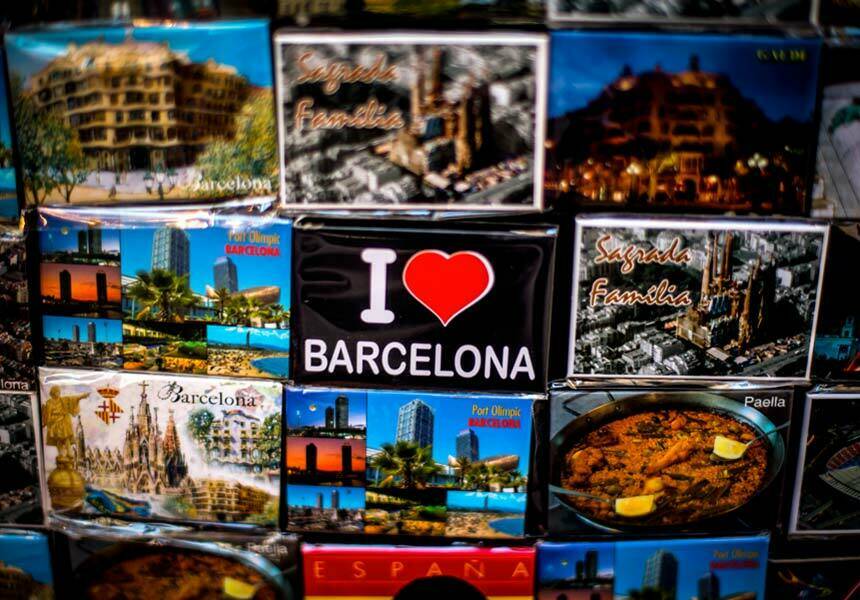 Barcelon­a's new may­or, Ada Colau, thinks what her city needs is a ​"tourist cap" — a mora­to­ri­um on new hotel licens­es and a lim­it on the num­ber of tourists enter­ing the city.
Cities seeking more economic development partner with these investors to become more attractive to tourists and upper-income residents by building hotels, entertainment venues and upscale housing. Suddenly, traditionally working- and middle-class neighborhoods are inaccessible to residents of modest means.
Colau pro­posed these restric­tions June 1, soon after win­ning office on a left-wing slate backed by Podemos and the Barcelona en Comú Par­ty. Once con­sid­ered a source of vig­or for the local econ­o­my, tourism is now seen by many Barcelo­nans as a scourge, respon­si­ble for over­crowd­ed streets, dis­or­der­ly behav­ior (includ­ing inci­dents of streak­ing) and an increas­ing cost of living.
"[Tourists] have uri­nat­ed onto my bal­cony, they have set fire to laun­dry, some­one defe­cat­ed in the building's hall­way," Nan­do Pri­eto, whose build­ing now rents rooms to tourists, told Vice. The Eng­lish-lan­guage news­pa­per The Local reports that a grow­ing mar­ket for short-term tourist apart­ments is ​"lead­ing to ram­pant real estate speculation."
"Investors have been snap­ping up whole apart­ment blocks and kick­ing out the locals, many of whom are elder­ly," says res­i­dent Vicenç Forner.
Oth­ers blame the tourist mar­ket for the influx of inter­na­tion­al shops that are replac­ing local busi­ness­es, already under pres­sure from the expi­ra­tion of Barcelona's com­mer­cial rent controls.
So are tourist caps the right solution?
A 2004 study pub­lished by Tulane Uni­ver­si­ty soci­ol­o­gist Kevin Fox Gotham in Urban Stud­ies indi­cates it may be wrong to blame tourists alone. The trans­for­ma­tion of a city into a place that caters to tourists over res­i­dents is also the result of tar­get­ed invest­ments by devel­op­ers, often sup­port­ed by city governments.
Cities seek­ing more eco­nom­ic devel­op­ment part­ner with these investors to become more attrac­tive to tourists and upper-income res­i­dents by build­ing hotels, enter­tain­ment venues and upscale hous­ing. Sud­den­ly, tra­di­tion­al­ly work­ing- and mid­dle-class neigh­bor­hoods are inac­ces­si­ble to res­i­dents of mod­est means.
Gotham's study uses New Orleans's French Quar­ter as a case study. In the 1980s, for instance, the con­struc­tion of upscale hotels in the French Quar­ter pro­vid­ed investors with an incen­tive to ren­o­vate prop­er­ties on the district's Canal Street and trans­form Bour­bon Street bars into upscale music venues. The resul­tant expan­sion of tourist activ­i­ty in the area would lead to a 50 per­cent increase in rents on the street between the mid-1990s and 2002, with some prop­er­ties more than dou­bling their rental price.
Spurred on by an expand­ing tourism indus­try depen­dent on ​"an image of nos­tal­gia," Gotham writes, investors bought and ren­o­vat­ed prop­er­ties to reflect a notion of the French Quar­ter as a neigh­bor­hood of ​"red-brick town hous­es, cast-iron gal­leries over pub­lic side­walks and enchant­i­ng back­yard gar­dens." By the ear­ly 2000s, this process left ​"few unre­ha­bil­i­tat­ed res­i­den­tial hous­es for sale," in a neigh­bor­hood where ​"the ask­ing price for sin­gle-fam­i­ly homes is far beyond the means of low-income-hous­ing tenants."
More­over, writes Gotham, the demo­graph­ic changes caused by sky­rock­et­ing rents and increas­ing tourism coin­cid­ed ​"with a dra­mat­ic restruc­tur­ing of the com­mer­cial base of the neigh­bor­hood." Between 1950 and 1999, he reports, res­i­dent-ori­ent­ed busi­ness­es like ​"bar­bers, depart­ment stores, shoe shops, small gro­ceries and laun­dry ser­vices" decreased by 15 per­cent, while tourist busi­ness­es like T‑shirt shops increased by 32 percent.
"Gen­tri­fi­ca­tion and tourism," con­cludes Gotham, ​"are large­ly dri­ven by mega-sized finan­cial firms and enter­tain­ment cor­po­ra­tions who have formed new insti­tu­tion­al con­nec­tions with tra­di­tion­al city boost­ers (cham­bers of com­merce, city gov­ern­ments, ser­vice indus­tries) to mar­ket cities and their neighborhoods."
Miri­am Green­berg tells a sim­i­lar sto­ry in Brand­ing New York: How a City in Cri­sis Was Sold to the World. Con­cerned that the city's rep­u­ta­tion had been all but anni­hi­lat­ed by high rates of crime and pover­ty, the New York State Depart­ment of Com­merce launched the ​"I Love New York" cam­paign in the late 1970s as part of an effort to make the city attrac­tive to tourists and mon­eyed outsiders.
This new empha­sis on ​"out of town­ers," writes Green­berg, sought to trans­form New York's image as a ​"prod­uct in the mind of tar­get­ed con­sumers while pur­su­ing the inter­ests of busi­ness, real estate, bond hold­ers, tourists, the new mid­dle class and elites over those of lowand mod­er­ate-income New York­ers and the work­ing class." While ​"pover­ty rose, the mid­dle class shrank and the city became a pro­hib­i­tive­ly expen­sive place to live" — ben­e­fits were ​"mea­sured in the ris­ing val­ue of New York city bonds and real estate, the growth of the cor­po­rate head­quar­ters com­plex, the ser­vice sec­tor and the rebound of the tax base."
The men­tal­i­ty behind such pro­grams is per­haps best encap­su­lat­ed by for­mer May­or Michael Bloomberg's asser­tion that New York is ​"a lux­u­ry product."
This phe­nom­e­non, says Jere­mi­ah Moss, cre­ator of the blog Van­ish­ing New York, hurts the city's inhab­i­tants. ​"As New York becomes more gen­tri­fied, it becomes more san­i­tized and sub­ur­ban and attracts more tourists, [and] we have few­er ser­vices for peo­ple who live here… places to wash clothes, to get shoes fixed. We get places that appeal to some­one on vacation."
While Moss does not know how a tourist cap could be prac­ti­cal­ly imple­ment­ed in New York City, he sup­ports a cap on hotels, which take up space in lots or build­ings that might oth­er­wise serve or house New Yorkers.
A prece­dent for lim­it­ing tourism in U.S. cities is dif­fi­cult to find. Christo­pher Ketcham, a jour­nal­ist and New York City native now resid­ing in Moab, Utah, is not sur­prised by this. ​"Lim­it­ing tourism goes against the nature of cap­i­tal­ism, which is all about increas­ing growth and con­sump­tion," he says.
As far off as tourist caps may be in Amer­i­ca, how­ev­er, poli­cies that place lim­its on the con­struc­tion of hotels and oth­er tourist facil­i­ties can serve the same role, reduc­ing both the num­bers of tourists and the dom­i­nance of busi­ness­es that cater to short-term vis­i­tors and wealthy out­siders rather than actu­al residents.
Ketcham grew up in Brook­lyn in the 1980s and 1990s and has seen the decline of his old stomp­ing ground. ​"More peo­ple buy­ing more stuff from more coun­tries across the globe has result­ed in a neigh­bor­hood in which the res­i­dent feels like a stranger," he says. ​"Tourism at its heart is a con­temptible sec­tor of the econ­o­my, because ulti­mate­ly, it's about the com­modi­ti­za­tion of place, cul­ture and history."
Mar­tin de Bour­mont
is a Sum­mer
2015
edi­to­r­i­al intern at In These Times. He grad­u­at­ed from Dick­in­son Col­lege with a bachelor's in polit­i­cal sci­ence and pre­vi­ous­ly worked as an edi­to­r­i­al intern for La Croix in France.