The Bright Side of the Current Farm Crisis: An Opportunity For Change
JFK, as it turns out, was wrong when he not­ed 60 years ago that the word ​"cri­sis" is a com­bi­na­tion of the Chi­nese brush strokes mean­ing dan­ger and oppor­tu­ni­ty. While he was lin­guis­ti­cal­ly incor­rect, we get what he was say­ing. A cri­sis sit­u­a­tion can be the impe­tus for change, an oppor­tu­ni­ty for soci­ety to fig­ure out bet­ter ways to move forward.
Today, the largest cri­sis in the minds of farm­ers is the over­ar­ch­ing threat of an increas­ing­ly vari­able and chang­ing cli­mate. With the added pres­sures of stark eco­nom­ic inequal­i­ty and the increased cost of liv­ing—up 14% over the last 4 years — the econ­o­my is decid­ed­ly not " the great­est econ­o­my in the his­to­ry of our country."
Most any farmer or ranch­er would nod in the affir­ma­tive if asked whether this is a clear and grow­ing cri­sis in agri­cul­ture. They see unprece­dent­ed adverse weath­er as unde­ni­able evi­dence of a chang­ing cli­mate, which is a con­tribut­ing fac­tor to the cur­rent farm cri­sis. While this is tnot a uni­ver­sal­ly accept­ed idea among farm­ers, none can deny, how­ev­er, that prices are his­tor­i­cal­ly unfair with 2019 farm income pre­dict­ed to be below the average.
Farm­ers and ranch­ers know the weath­er, in the past year at least, has been awful, and while many are unwill­ing to admit that we are deal­ing with a chang­ing cli­mate, not just bad weath­er, most are look­ing for answers. They are look­ing for ways to sur­vive in a chang­ing agri­cul­tur­al envi­ron­ment — no mat­ter what its cause, won­der­ing what those solu­tions to the cur­rent sys­tem might look like.
In all my 40 years of farm­ing, farm­ers have been told we need to work hard­er, get big­ger and embrace all the new tech­nol­o­gy. Whether that means mov­ing ever larg­er num­bers of live­stock into con­fine­ment, using genet­i­cal­ly mod­i­fied seed and its com­ple­ment of pes­ti­cides and fer­til­iz­ers, or buy­ing machin­ery some­times cost­ing more than the val­ue of my farm — no mat­ter, buy­ing the tech­nol­o­gy is our only option. In the end we are sup­posed to be thank­ful we can be a part of the glob­al mar­ket­place, even if it is con­trolled by multi­na­tion­al cor­po­ra­tions and invest­ment banks that deter­mine the cost of every­thing we buy and the price of every­thing we sell.
So, what might a dif­fer­ent sys­tem look like? Could we have a sys­tem that allowed farm­ers of any size to be prof­itable? A sys­tem that sat­is­fied the farmer's need for fair prices and a dig­ni­fied life? A sys­tem that pro­duced qual­i­ty food as deter­mined by a part­ner­ship between those who grow food and those who eat it? A sys­tem where every­one could afford good food, pro­duced in a man­ner that might actu­al­ly ben­e­fit the environment?
Could we estab­lish a frame­work that depend­ed less on glob­al mar­kets, more on local pro­duc­tion and healthy diets rather than con­tin­u­ing the trend of going all in a ​"west­ern diet" and pres­sur­ing the rest of the world to fol­low? Cer­tain­ly, the med­ical com­mu­ni­ty and the envi­ron­men­tal com­mu­ni­ty would sup­port these changes, but agribusi­ness and farm­ers, per­haps not so much.
Clear­ly those con­trol­ling the cur­rent food sys­tem are opposed to any changes that would cut their prof­its by a shift away from processed foods, grain fed ani­mal prod­ucts, large scale inten­sive crop mono-cul­tures and a glob­al food chain or a shift to any sort of low input sus­tain­able agri­cul­ture. Although fam­i­ly farms account for 97 per­cent of farms in the Unit­ed States, the largest 10 per­cent of farms pro­duce 75 per­cent of the coun­try's agri­cul­tur­al out­put, mean­ing large-scale oper­a­tions have an over­pow­er­ing influ­ence on farm­ing pol­i­cy. Those enti­ties that prof­it from the cur­rent destruc­tive and frag­ile food sys­tem use their lob­by­ing efforts and cam­paign fund­ing to main­tain their exis­tence. One won­ders if those in posi­tions of polit­i­cal pow­er dis­miss the Green New Deal as a plat­form for change because they real­ly believe it is unnec­es­sary, that it is tru­ly unten­able, or, because they are uncon­cerned about envi­ron­men­tal dis­as­ter, opposed to an econ­o­my that works for every­one, or are just unwill­ing to kill their gold­en goose.
Farm­ers are lured onto the band­wag­on of a glob­al food sup­ply with the mantra that ​"we need to feed the world," despite the fact that the world would rather, and could, feed itself. Sup­pos­ed­ly, pro­duc­ing more at a low­er price and expand­ing export mar­kets is the answer to our low farm prices. This will be achieved only by break­ing down trade bar­ri­ers and, in effect, forc­ing import­ing coun­tries to eat what we sell them — like it or not. Cana­di­an dairy farm­ers fear that enact­ment of the new NAF­TA (aka USM­CA) will ​"knock the bot­tom out of their mar­ket." Cana­da could not absorb our sur­plus even if their dairy econ­o­my were destroyed.
Seri­ous­ly, this pic­ture is wrong, and in these times of low farm prices, dev­as­tat­ing floods, mas­sive soil loss, wild­fires and peo­ple demand­ing an eth­i­cal, healthy diet, the time could be ripe to end our sys­tem of indus­tri­al farm­ing and replace it with agroe­col­o­gy.
We need to look at the prob­lem through sev­er­al lens­es, first the farm price issue. The solu­tion to low farm prices is farm jus­tice — farm­ers get­ting paid a fair price for pro­duc­ing an eth­i­cal prod­uct. Just as dur­ing the Great Depres­sion of the 1930s, we need sup­ply man­age­ment, par­i­ty pric­ing (cou­pling farm prices to pro­duc­tion costs) and farmer owned, gov­ern­ment insured grain reserves. In the process of return­ing to sen­si­ble farm pro­grams, we can end con­tro­ver­sial tax-pay­er sub­si­dies that sup­pos­ed­ly help bol­ster low farm prices.
As we have seen in real time, export mar­kets and gov­ern­ment sub­si­dies do not make farm­ers prof­itable. Plac­ing too much depen­dence on one for­eign buy­er as we did in the case of the soy export mar­ket to Chi­na is a seri­ous­ly flawed strat­e­gy. Sim­i­lar­ly, plac­ing too much empha­sis on grow­ing corn and soy as the basis for pro­duc­tion agri­cul­ture is a tick­ing time bomb for grow­ers and the envi­ron­ment. Multi­na­tion­al grain com­pa­nies prof­itably ride the mar­ket on the backs of farm­ers, whether they are in the Unit­ed States, South Amer­i­ca, or any­where else in the world — buy­ing low and sell­ing high.
Sec­ond­ly, the ques­tion of whether live­stock can be part of an eth­i­cal or envi­ron­men­tal­ly sound food sys­tem is a knot­ty issue. The fact that large num­bers of live­stock in the Unit­ed States are cur­rent­ly raised in con­fine­ment sit­u­a­tions is a major part of the prob­lem. Live­stock pro­duc­tion must be matched to a con­sumer diet with a much low­er pro­tein con­tent. This would mean rais­ing vast­ly low­er num­bers of rumi­nants (cat­tle, sheep, etc.) on pas­ture and for­age and again, low­er num­bers of pigs and poul­try on pas­ture sup­ple­ment­ed with crop waste and grain unsuit­able for the human food chain.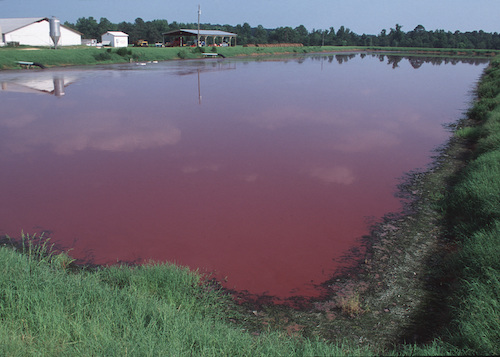 Manure lagoons, such as this one in North Car­oli­na, hold back the sewage from con­cen­trat­ed ani­mal feed­ing oper­a­tions (CAFOs), except dur­ing heavy rains when they over­flow their banks and con­t­a­m­i­nate local waterways.
Still, one must also remem­ber that live­stock are a vital part of inte­grat­ed agroe­co­log­i­cal farm­ing sys­tems in the Glob­al South. Gen­er­a­tions of farm­ers, espe­cial­ly organ­ic farm­ers, know the val­ue of humane­ly raised live­stock as part of a sound crop rota­tion, one that main­tains per­ma­nent grass­lands, sequesters car­bon in the soil and feeds peo­ple locally.
Log­ic would dic­tate that, yes, farm­ers need to grow less corn, soy and live­stock, and it must be of high­er qual­i­ty, and it will then bring them a high­er price. Some crop­land can go back to grass and native prairie, for­est and grow­ing fruits and veg­eta­bles. In the end, the Ogal­lala aquifer could sur­vive and the Gulf dead zone could return to a pro­duc­tive fishery.
The cur­rent agri­cul­tur­al mod­el places val­ue only on vol­ume of pro­duc­tion, not nutri­tion­al qual­i­ty of the food pro­duced, human health, rur­al com­mu­ni­ties or the envi­ron­ment. Com­mod­i­ty crop pro­duc­tion for export and ethanol pro­duc­tion feeds only the bot­tom line of cor­po­ra­tions and Wall Street investors. It pits farmer against farmer world­wide in a des­per­ate race to the bot­tom and only exac­er­bates the eco­nom­ic dis­par­i­ty, which, when it comes down to it, is the real dri­ver of pover­ty, poor health and envi­ron­men­tal destruc­tion. For pro­duc­ers and farm work­ers to earn a fair wage and have the means to sup­port rur­al com­mu­ni­ties, every­one, no mat­ter what they do, must also earn a fair wage and have the means to sup­port fam­i­ly farm­ers, ranch­ers and fish­er­men by pay­ing a fair price for food. The time for change is here.