War Is an Enormous Threat to the Climate Movement
Unless challenged, U.S. military power imperils any serious response to the climate crisis.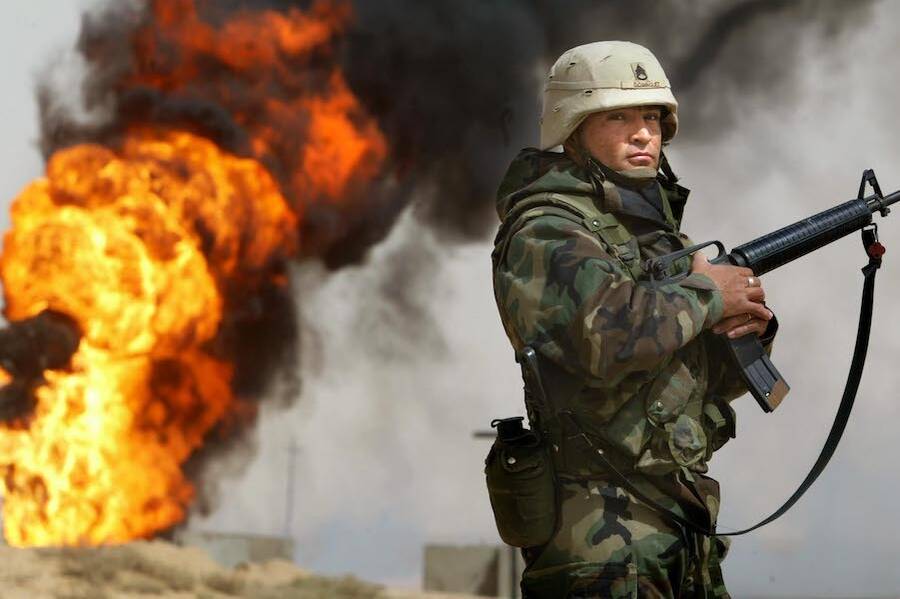 The 2020s opened with dual crises.
U.S. wars have historically been used to beat back and repress exactly the kind of left movements that we need to tackle the climate crisis.
In Aus­tralia, unprece­dent­ed bush­fires tore across a total area the size of Vir­ginia, killing at least 29 peo­ple and an esti­mat­ed one bil­lion ani­mals, and destroy­ing 2,000 homes. The news was flood­ed with images of thou­sands of peo­ple tak­ing refuge on Australia's south­east­ern coast­line, the sun blocked by thick smoke, chil­dren wear­ing sur­gi­cal masks, in a cri­sis whose sever­i­ty is unam­bigu­ous­ly tied to cli­mate change.
On Jan­u­ary 3, the Trump admin­is­tra­tion brought the Unit­ed States to the brink of war when it assas­si­nat­ed Maj. Gen. Qas­sim Suleimani, the com­man­der of Iran's Quds Force and a rank­ing offi­cial of Iran. Iran respond­ed by bomb­ing a U.S. base in Iraq, and the world watched in hor­ror to see what Pres­i­dent Trump would do next. Though Trump has backed away from direct war­fare for the moment, he vowed on Jan­u­ary 8 to esca­late already-dev­as­tat­ing sanc­tions on Iran.
For those of us who went into the new year sober about the fact that this decade is our chance to stem cli­mate change, the very real pos­si­bil­i­ty of all-out war with Iran was a rude awak­en­ing to the fact that U.S. bel­liger­ence could ruin everything.
To win a Green New Deal with the teeth to keep fos­sil fuels in the ground and secure a just tran­si­tion and job guar­an­tee for all work­ers, it will take orga­niz­ing and protest on an unprece­dent­ed scale. U.S. wars, how­ev­er, have his­tor­i­cal­ly been used to beat back and repress exact­ly the kind of left move­ments that we need to tack­le the cli­mate cri­sis. The sup­posed need to pro­tect nation­al uni­ty and ​"secu­ri­ty" dur­ing wartime has been used by the U.S. gov­ern­ment to jus­ti­fy height­ened sur­veil­lance and clam­p­down against those deemed dis­rup­tive — dis­pro­por­tion­ate­ly tar­get­ing the Left. World War I was used to jus­ti­fy the pas­sage of the Espi­onage Act, which crim­i­nal­ized speech deemed ​"dis­loy­al" and was a blud­geon against anti-war move­ments, and was also used to pros­e­cute and imprison hun­dreds of rad­i­cal union­ists. The Cold War, too, was used to jus­ti­fy a vicious cam­paign of polit­i­cal repres­sion not only against peo­ple per­ceived to be com­mu­nists and social­ists, but also against civ­il rights and black free­dom organizers.
In the after­math of Sep­tem­ber 11, the drum­beat for war in Afghanistan and then Iraq was used to jus­ti­fy a broad range of repres­sive mea­sures tar­get­ing social move­ments. Democ­rats over­whelm­ing­ly vot­ed for the PATRI­OT Act, which gave law enforce­ment and intel­li­gence agen­cies sweep­ing pow­ers to search and sur­veil World Trade Orga­ni­za­tion pro­test­ers and envi­ron­men­tal activists. In Novem­ber of 2003, Mia­mi Police Chief John Tim­o­ney launched a vicious crack­down on thou­sands of peo­ple who had gath­ered to protest the Free Trade Area of the Amer­i­c­as Sum­mit: He was assist­ed by 40 law enforce­ment agen­cies, the FBI, and $8.5‑million ear­marked from Con­gress to pay for the Iraq War, and he had worked hard to con­vince res­i­dents of Mia­mi that pro­test­ers were a pub­lic safe­ty threat. A crowd of farm­work­ers, union mem­bers and activists con­cerned about ​"free trade" run­ning roughshod over human and plan­e­tary well­be­ing was attacked with tear gas, stun guns, rub­ber bul­lets and con­cus­sion grenades, as heli­copters hov­ered con­tin­u­ous­ly overhead.
As social move­ments are besieged, wars are used to jus­ti­fy more mil­i­tarism across the globe. The Unit­ed States emerged as the world's pre­em­i­nent mil­i­tary empire after World War II, and has since expand­ed its empire, now the largest in human his­to­ry, with 800 bases span­ning the globe. If his­to­ry is any indi­ca­tor, a U.S. war in Iran would almost cer­tain­ly lead to a hike in over­all mil­i­tary bud­gets. In fact, the Unit­ed States has already used its aggres­sion towards Iran to jus­ti­fy increas­ing the U.S. mil­i­tary pres­ence in the Mid­dle East by 20,000 troops since last spring.
This mil­i­tary empire, in turn, enables the same glob­al bul­ly­ing dri­ving the cli­mate cri­sis. The Unit­ed States is the num­ber-one per-capi­ta emit­ter of green­house gas­es, while Chi­na is the over­all high­est emit­ter. Yet, its inter­na­tion­al dom­i­na­tion ensures that the Unit­ed States nev­er has to pay mean­ing­ful repa­ra­tions, or answer to those coun­tries hard­est hit, most of them in the Glob­al South, and still scarred by their his­to­ries of colo­nial­ism and plun­der. And due to its posi­tion as the most pow­er­ful coun­try in the world, the Unit­ed States has also dom­i­nat­ed the very insti­tu­tions meant to inter­vene in glob­al crises — in par­tic­u­lar, the Unit­ed Nations — mean­ing the Unit­ed States will nev­er have to answer for its stag­ger­ing glob­al wrong­do­ings, from pulling out of the Paris cli­mate accords to wag­ing war in Yemen. The Unit­ed States would­n't have the pow­er that it has if not for its mil­i­tary strength, and if that strength were to dimin­ish, so would its sway at the UN.
There are plen­ty of rea­sons for U.S. cli­mate jus­tice and anti-war move­ments to unite against com­mon ene­mies. The same Demo­c­ra­t­ic Par­ty lead­er­ship that has failed to take robust action to curb cli­mate change and got­ten behind Trump's cli­mate-unfriend­ly U.S.-Mexico-Canada trade agree­ment has also reli­ably rub­ber-stamped Trump's mas­sive mil­i­tary bud­gets and over­whelm­ing­ly vot­ed to pass new sanc­tions on Iran, Rus­sia and North Korea in 2017. Sen. Dianne Fein­stein (D‑Calif.), who last year famous­ly scold­ed chil­dren who asked her to sup­port the Green New Deal by telling them ​"I know what I'm doing," also vot­ed to autho­rize the Iraq War. And Rep. Nan­cy Pelosi (D‑Calif.), who has been promi­nent­ly tar­get­ed by Sun­rise Move­ment sit-ins, has sup­port­ed dis­as­trous U.S. inter­ven­tions, from Afghanistan to Libya, and declined to meet with Yemeni peace cam­paign­ers. The impe­ri­al­ist arro­gance that under­girds the bipar­ti­san war con­sen­sus — that the U.S. has the right to impose its will on the world — also under­lies the polit­i­cal con­sen­sus that the U.S. does not need to ful­fill its own oblig­a­tion to reduce the cli­mate harm it is per­pe­trat­ing across the planet.
Mean­while, the same fos­sil fuel com­pa­nies destroy­ing the plan­et are donat­ing to pow­er­ful think tanks push­ing for war. The need for ​"ener­gy secu­ri­ty" — i.e. reli­able access to ener­gy sources — has become a pop­u­lar oil indus­try buzz­word. The noto­ri­ous­ly hawk­ish Amer­i­can Enter­prise Insti­tute and Cen­ter for Strate­gic and Inter­na­tion­al Stud­ies receive sig­nif­i­cant fund­ing from the fos­sil fuel indus­try. The Cen­ter for Amer­i­can Progress, which push­es mil­i­taris­tic poli­cies in the Demo­c­ra­t­ic Par­ty, also receives fund­ing from the nat­ur­al gas dis­trib­u­tor Pacif­ic Gas and Ener­gy Com­pa­ny. Togeth­er, these think tanks have played a role in push­ing the U.S. into the kind of reck­less brinkman­ship towards Iran this decade opened with.
There are obvi­ous­ly oth­er siz­able mil­i­taries in the world oth­er than the Unit­ed States: As of 2018, Chi­na and Rus­sia, for exam­ple, had mil­i­tary bud­gets rough­ly 38.5% and 9.4% of the U.S. mil­i­tary bud­get respec­tive­ly. But there's only one Amer­i­cans can direct­ly curb and one whose glob­al reach fuels oth­ers to keep pace. For the sake of humanity's future, per­ma­nent U.S. war foot­ing can­not con­tin­ue. If cli­mate change is the cud­gel, U.S. empire is the arm that wields it. Our only choice is to stop them both.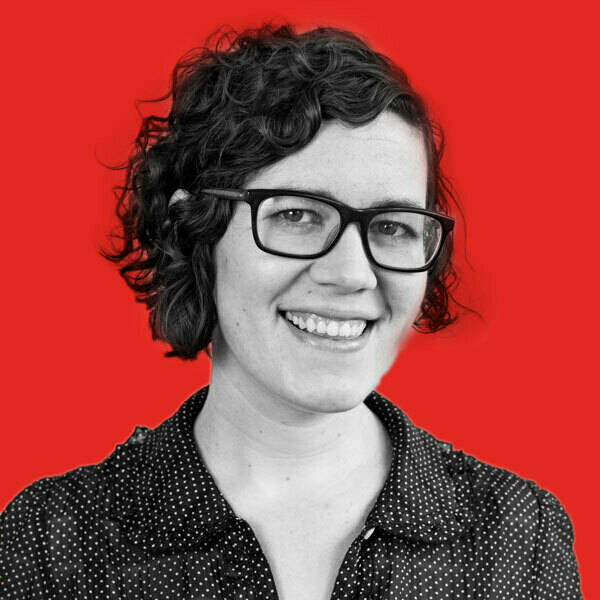 Sarah Lazare is web edi­tor at In These Times. She comes from a back­ground in inde­pen­dent jour­nal­ism for pub­li­ca­tions includ­ing The Inter­cept, The Nation, and Tom Dis­patch. She tweets at @sarahlazare.