Clocktower Occupation at Cooper Union Enters Second Day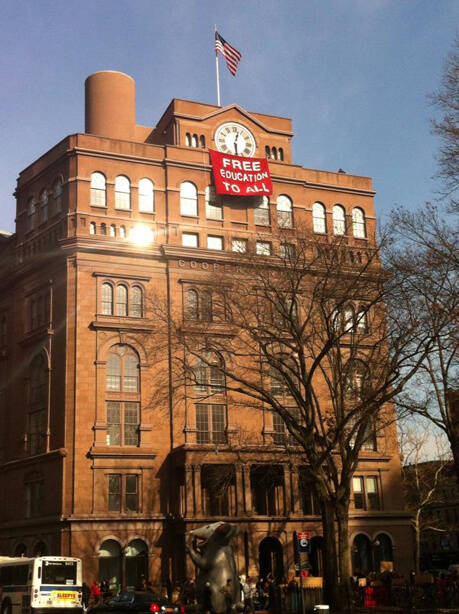 At noon on December 3, 12 students from New York's Cooper Union for the Advancement of Science and Art entered the top floor of their school's Foundation Building, slid wooden barricades across the doors, and released a communique announcing their occupation to the public. Calling themselves Students for a Free Cooper Union, the occupiers took direct action in protest of the school administration's decision to begin charging tuition to students of the historically tuition-free university. While a ​"Day Of Action," featuring presentations, performances and public educational events, unfolded outside the building, students inside threw their bodies against the barricade as maintenance crews attempted to drill through the blockaded entrance.
​"It was definitely a really scary moment for us," said occupier and Cooper Union senior Victoria Sobel in a phone interview later that afternoon. ​"Our bodies were literally pressed against the doors. It took about a half hour of yelling back and forth — ​'Get off the door!', ​'We're not gonna get off the door! Stop drilling, you're gonna hurt us!' — before they stopped, but we were prepared to do that. That's the length we were willing to go to."
Today, all 12 students are still barricaded inside. They insist that they will continue holding their space until their demands are met or they are forcibly removed.
Since its founding by industrialist and inventor Peter Cooper in 1859, Cooper Union has offered full scholarships to all its students, regardless of economic background. Though today's administration, besieged by an unprecedented budget crisis, insists that it must ​"creatively alter" this legacy of free education, university organizers claim, in the words of the communique released by Students for a Free Cooper Union, that ​"an expansionist strategy and lack of accountability have put this college in a financial deficit," and that ​"all tuition-based revenue-generating programs are a departure from Cooper Union's historic mission, and will corrupt the college's role as an ethical model for higher education."
In 2009 — when then-President George Campbell's compensation package totaled $668,473, including a $175,000 cash bonus—Cooper Union took out a $175 million high-interest loan to finance the construction of a new, $111 million academic center. Today that building serves, in the words of architecture senior Jake Lee, as ​"a nice photo on their website." Two years later, the administration revealed a budget deficit of more than$16 million and embarked on a structural adjustment campaign that, according to students, alumni and faculty, has barely involved the Cooper Union community. In October 2011, information was leaked that the Board of Trustees was considering charging tuition to students, and shortly afterwards, plans were revealed to charge tuition for certain graduate programs.
As news of the building occupation spread Monday afternoon, Students for a Free Cooper Union received another document, leaked from an anonymous source, detailing the findings of a behind-closed-doors administrative committee at the Albert Nerken School of Engineering. The document confirms what activists had long suspected- that within 10 years, the administration, contrary to its claims, is ready to charge between $40,000 and $80,000 in tuition to undergraduates at the engineering school.
In addition to insisting on a tuition-free education, Students For A Free Cooper Union want the administration to abide by democratic decision-making structures and are calling for the resignation of President Jamshed Bharucha, whose Revenue Task Force has spearheaded Cooper Union's plan for financial ​"reinvention." By demanding that Cooper Union remain tuition-free, student activists are not seeking to save their own bank accounts; indeed, the administration has assured them that any tuition will only affect future students. The occupiers understand their action as part of a multi-national student movement against austerity, debt and the corporatization of education.
​"Our conversation is one of legacy," insisted Sobel, her voice nearly drowned out by waves of applause from the nearby Summit on Debt and Education. ​"In New York, there's a very rich history of student occupation and student protest, whether it's at the New School, NYU, CUNY, SUNY or here. We are also inspired by the student movements in Quebec, Mexico and Guatemala, and we are grounded in the momentum that's come out of Occupy…we align ourselves absolutely with all of these struggles, and that's why the community is behind us."
​"We want to tell people that now is the time to affirm that education is a right," Sobel continued. ​"Recently, a lot of my peers and my generation feel like this is a battle that has been lost, because of the rapid development of the student loan bubble, tuition expansion programs and the globalization of education. But it really is not too late to take it back, to reclaim it, and to realize that we are the right people, at the right place, at the right time, to take this back."
Ben Lorber
is Campus Coordinator for Jewish Voice for Peace.