CNN Should Have Asked About Ranked-Choice Voting. It's Not Too Late.
For bold policy solutions to have a chance, we first need voting reform.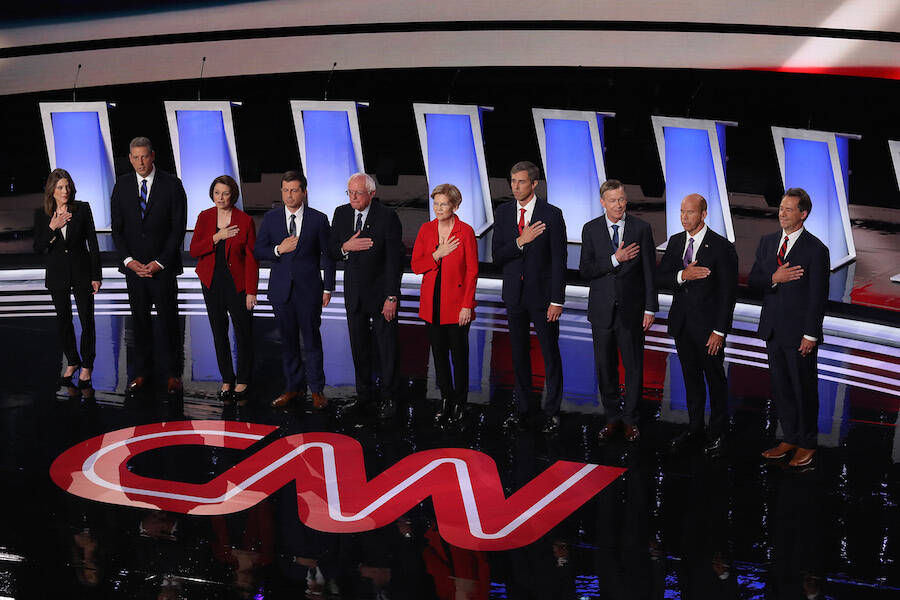 The sec­ond round of Demo­c­ra­t­ic pres­i­den­tial debates con­tin­ues tonight in Detroit. We at Fair­Vote cer­tain­ly hope that CNN's mod­er­a­tors ask the 10 can­di­dates on stage this evening about elec­toral reform and ranked choice vot­ing (RCV).
RCV would ensure that the crowded primary field ultimately produces a nominee with true majority support.
It's an espe­cial­ly impor­tant top­ic, con­sid­er­ing six Demo­c­ra­t­ic pri­maries and cau­cus­es will use RCV next year — and also because RCV would ensure that the crowd­ed pri­ma­ry field ulti­mate­ly pro­duces a nom­i­nee with true major­i­ty support.
These debates pro­vide more than two hours of thought­ful plans on com­pli­cat­ed issues that could well be dead on arrival in a high­ly polar­ized Con­gress con­sumed by par­ti­san­ship. RCV would help pro­vide the struc­tur­al change that would incen­tivize politi­cians of all stripes to push beyond our cur­rent dys­func­tion, seek con­sen­sus and solve problems.
While democ­ra­cy issues did not come up dur­ing Tues­day night's dis­cus­sion, just in case mod­er­a­tors Dana Bash, Don Lemon and Jake Tap­per — or any of us — need a last-minute primer, here's what we already know about the 2020 Demo­c­ra­t­ic hope­fuls and RCV.
The can­di­dates
By FairVote's count, there are four Demo­c­ra­t­ic can­di­dates who active­ly advo­cate for RCV, five can­di­dates who are sup­port­ive and two can­di­dates who are recep­tive to the method. Only two can­di­dates have expressed indif­fer­ence. The oth­er 12 major Demo­c­ra­t­ic can­di­dates have not com­ment­ed pub­licly on RCV.
Addi­tion­al­ly, Repub­li­can pres­i­den­tial hope­ful Bill Weld, the for­mer gov­er­nor of Mass­a­chu­setts, has backed RCV. While it's too ear­ly to know who will be the nom­i­nees of oth­er par­ties like the Green Par­ty and Lib­er­tar­i­an Par­ty, we can antic­i­pate their sup­port for RCV; in 2016, for exam­ple, both Gary John­son and Jill Stein backed RCV.
Advo­cates (can­di­dates who have a pol­i­cy push­ing ranked choice voting):
Sup­port­ers (can­di­date who have expressed pos­i­tive sen­ti­ment toward RCV):
Bernie Sanders, Ver­mont U.S. Sen­a­tor: In

2007

tes­ti­mo­ny to Vermont's state leg­is­la­ture, Sanders indi­cat­ed his sup­port for a bill to estab­lish RCV for U.S. Sen­ate and U.S. House elec­tions, announc­ing that the pub­lic should ​

"

Count me in as some­one who strong­ly sup­ports Instant Runoff."
Kirsten Gilli­brand, New York U.S. Sen­a­tor: At a June New Hamp­shire forum host­ed by Equal Cit­i­zens, Gilli­brand said, ​

"

I sup­port ranked choice vot­ing. I think it's a very inter­est­ing reform that's worked in some places well."
Mar­i­anne Williamson, Author: Numer­ous times, Williamson has indi­cat­ed sup­port for RCV, say­ing ​

"

I think ranked choice vot­ing is great," and tweet­ing ​

"

If only we had ranked choice voting."
Pete Buttigieg, May­or of South Bend, Indi­ana: Accord­ing to Equal Cit­i­zens, Buttigieg sup­ports ranked choice vot­ing. He has also indi­cat­ed that he would sign a RCV bill if it came across his desk as president.
Tul­si Gab­bard, Hawaii U.S. Con­gress­woman: At a New Hamp­shire event, Gab­bard was asked about elim­i­nat­ing the elec­toral col­lege and uti­liz­ing a ranked vot­ing sys­tem for pres­i­dent. She indi­cat­ed her sup­port for RCV, say­ing RCV can ​

"

make sure our voic­es are heard accu­rate­ly and rep­re­sent­ed through our elec­tions." (The

30

:

48

mark in the video.)
Cory Book­er, New Jer­sey U.S. Sen­a­tor: Book­er has indi­cat­ed sup­port for RCV for many years. He told a Vot­er Choice Mass­a­chu­setts activist on July

12

that he sup­ports RCV and won an RCV elec­tion in college.
Recep­tive (can­di­dates who are open to adopt­ing RCV):
Eliz­a­beth War­ren, Mass­a­chu­setts U.S. Sen­a­tor: In a Vox pod­cast, War­ren cit­ed the momen­tum behind RCV as evi­dence that ​

"

democ­ra­cy itself is rein­vent­ing," also say­ing that ""there's a lot to be said for [RCV]."
Beto O'Rourke, for­mer Texas U.S. Con­gress­man: O'Rourke was asked at a May town hall in New Hamp­shire where he stood on RCV, and he respond­ed with an informed dis­cus­sion of the ways in which RCV leads to a more civ­il cam­paign. ​

"

We've got all these great can­di­dates run­ning right now. We've got to do every­thing in our pow­er not to demean or den­i­grate or weak­en them, com­pro­mise them, in any way that would make them any­thing less than the strongest pos­si­ble can­di­date against Trump," he said. ​

"

Ranked choice vot­ing pro­vides anoth­er induce­ment to mak­ing sure you don't do that to those oth­er can­di­dates. … It would not hurt in this very divid­ed, high­ly polar­ized democ­ra­cy to employ [RCV] as a mat­ter of course going forward."
Indif­fer­ent (can­di­dates who are ambiva­lent about RCV):
Amy Klobuchar, Min­neso­ta U.S. Sen­a­tor: When Ellen Read, a New Hamp­shire activist, asked Klobuchar about RCV, Klobuchar's response was described in this arti­cle as ​

"

non­com­mit­tal." A Klobuchar staffer did note that Min­neso­ta, Klobuchar's home state, has a very strong record with RCV.
Bill de Bla­sio, May­or of New York City: De Bla­sio was most recent­ly quot­ed as say­ing, ​

"

The jury's still out on ranked-choice voting…I think it has strengths and I think it has weak­ness­es. And I'd sure like to see a lot more research on it. But there's a lot of peo­ple who believe it might be very ben­e­fi­cial in New York City." Accord­ing­ly, it should be not­ed that he has pro­vid­ed tac­it sup­port for (or at least no active oppo­si­tion against) the New York City char­ter commission's deci­sion to place RCV for pri­ma­ry and spe­cial elec­tions on the

2019

bal­lot.
It is clear that a large slice of the Demo­c­ra­t­ic pri­ma­ry field is open to adopt­ing ranked choice vot­ing. In fact, we don't know of any can­di­date for pres­i­dent in 2020 who oppos­es RCV, and please let us know if you hear of can­di­dates tak­ing a position.
Now, let's look at the states that adopt­ed RCV in the can­di­date selec­tion process.
The states
After the con­tentious 2016 pri­ma­ry fight, the Demo­c­ra­t­ic Nation­al Com­mit­tee called on its state affil­i­ates to make the pres­i­den­tial can­di­date selec­tion process more acces­si­ble to vot­ers. Six states — Alas­ka, Hawaii, Kansas, Neva­da, Iowa, and Wyoming— will turn to RCV to heed that call. Here's how:
In Iowa, the state Demo­c­ra­t­ic Par­ty has pro­posed a ​'vir­tu­al cau­cus' which would allow vot­ers unable to par­tic­i­pate in the Feb. 3 in-per­son cau­cus to cast their sup­port over the phone or online via ranked choice vot­ing. In both the online and over-the-phone plans, cau­cus-goers will be able to rank five pre­ferred can­di­dates. For the online com­po­nent, vot­ers should sim­ply be able to state their ranked pref­er­ences by enter­ing their rank­ings on an inter­face. For the over-the-phone com­po­nent, an oper­a­tor will read the can­di­date names in alpha­bet­i­cal order, giv­ing phone-cau­cus-goers ade­quate time to respond with their preferences.
Accord­ing to the plan, there would be six des­ig­nat­ed times to ​"vir­tu­al­ly cau­cus" in the five days pre­ced­ing the elec­tion — with the sixth ​"vir­tu­al cau­cus" occur­ring at the same time as the in-per­son cau­cus, 7:00 P.M. on Feb­ru­ary 3rd.
In Neva­da, ear­ly vot­ers and those who are vot­ing-by-phone will have the oppor­tu­ni­ty to rank their top pref­er­ences. While the details are still being ironed out, vot­ers will be afford­ed mul­ti­ple oppor­tu­ni­ties to con­firm their selec­tions the in-per­son and over-the-phone manifestations.
In Kansas, the state Demo­c­ra­t­ic Par­ty has ditched its tra­di­tion­al cau­cus in favor of a ranked choice vot­ing pri­ma­ry. Accord­ing to state par­ty sec­re­tary George Han­na, adopt­ing ranked choice vot­ing will not actu­al­ly be much of a shock for Kansans — because RCV resem­bles Kansas's typ­i­cal cau­cus process.
"Rank[ed] choice vot­ing essen­tial­ly is cau­cus­ing by paper. You are going to pick your first choice of the can­di­dates that are avail­able, your next choice … and rank them." Han­na said.
In Alas­ka and Hawaii, vot­ers will show up on pri­ma­ry day and use ranked choice vot­ing to cast their bal­lots. Wyoming Democ­rats, while they have not yet sub­mit­ted a for­mal pro­pos­al, have indi­cat­ed that they plan to fol­low a sim­i­lar path.
Although the pre­lim­i­nary pro­pos­als indi­cate some states plan to imple­ment RCV in slight­ly dif­fer­ent man­ners, all plans adhere to the rules set by the Demo­c­ra­t­ic Par­ty: all can­di­dates above the 15% thresh­old will accrue del­e­gates. Accord­ing­ly, as Fair­Vote Senior Fel­low David Daley put it, using RCV means that ​"last-place can­di­dates will be elim­i­nat­ed and back­ers of those can­di­dates will have their vote count toward their next choice until all remain­ing can­di­dates are above the 15% vote thresh­old to win delegates."
While these plans are all pre­lim­i­nary until they are for­mal­ly accept­ed by the DNC, it is heart­en­ing to see ranked choice vot­ing adopt­ed as a viable alter­na­tive to the cur­rent win­ner-take-all sys­tem — espe­cial­ly in a field this crowded.

Adam Gins­burg is a com­mu­ni­ca­tions intern at
Fair­Vote
, a non­par­ti­san cham­pi­on of elec­toral reforms.