Earth to Trump & Co.: Two Basic Reasons Why Coal Isn't Making a Comeback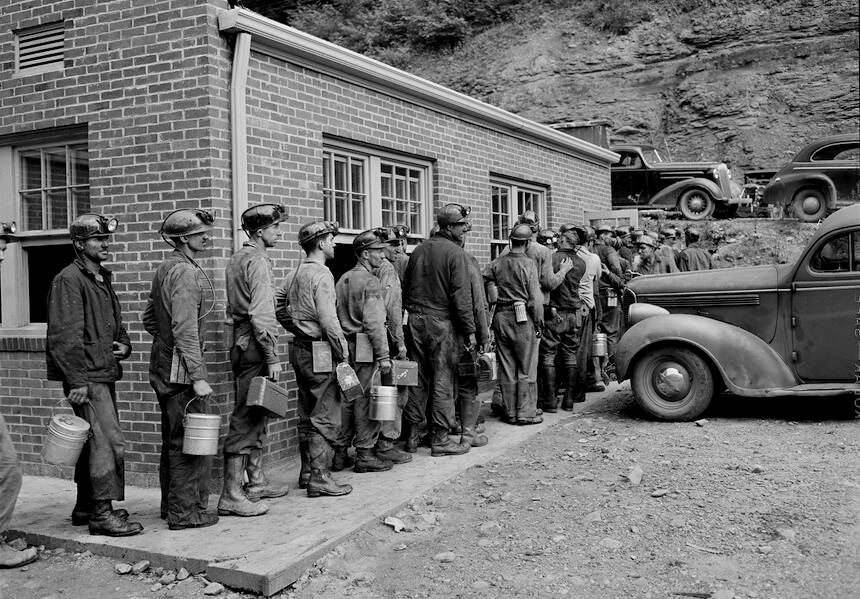 There's a fun­ny Mon­ty Python skit from years ago where a son comes home to his par­ents. His father is furi­ous at him because he won't go into the fam­i­ly busi­ness — writ­ing plays and poet­ry — and has rebelled to become a coal min­er instead. The skit is fun­ny because back in the 1970s when it aired, every­one knew that coal min­ing was a dirty, dan­ger­ous, ter­ri­ble way to make a living.
So it is par­tic­u­lar­ly bizarre that the Trump admin­is­tra­tion seems to be infat­u­at­ed with coal and coal mines. In fact, they love coal so much that they want us all to pay more for it. Recent­ly, Sec­re­tary of Ener­gy Rick Per­ry has been push­ing a pro­pos­al to pro­vide tax-pay­er sub­si­dies for elec­tri­cal plants if they burn coal. This will, appar­ent­ly, per­suade them to switch from cheap­er, clean­er nat­ur­al gas.
And then there was Scott Pruitt, the fox Don­ald Trump appoint­ed to guard the EPA's chick­en coop, announc­ing that the ​"war on coal" was now over because the EPA was going to walk away from the Oba­ma Administration's clean ener­gy goals.
But there nev­er was a war on coal and jobs min­ing coal aren't com­ing back. Employ­ment in the mines topped out at over 800,000 and that was in the 1920s. Coal min­ing jobs have been in a steady, inex­orable decline ever since. There are two basic rea­sons for that.
First, coal oper­a­tors start­ed automat­ing work in the mines after World War II. More machines, few­er work­ers. Sec­ond, the mar­ket for coal has been in steady decline since the 1950s. Rail­road loco­mo­tives, once major con­sumers of coal, switched to diesel. Peo­ple used to heat their homes with coal. Those fur­naces are gone, replaced by oil and nat­ur­al gas sys­tems. Cheap­er, clean­er and so much eas­i­er. Raise your hand if you want to shov­el coal into your fur­nace this winter.
The nation has been tran­si­tion­ing away from coal for decades and that sim­ply isn't going to change. Here's how one jour­nal­ist described it: ​"Now, with heavy com­pe­ti­tion from oil and the large, high­ly mech­a­nized coal mines, the oper­a­tors of the small mines are squeezed; the Ken­tucky min­ers have been forced into pover­ty by the depres­sion in the indus­try." That was writ­ten in 1963.
The afore­men­tioned Mon­ty Python sketch in which a world renowned blue-col­lar playright is at odds with his elit­ist coal-min­ing son.
(Video: YouTube /
Ken­ny Tee­ol­o­gy
)
Today there are rough­ly
50
,
000
jobs min­ing coal, less than a tenth of that
1923
fig­ure. There are far more jobs now in health care in West Vir­ginia than there are in the coal mines. Here in Ohio, there are rough­ly
2
,
500
peo­ple min­ing coal. Mean­while, over
105
,
000
Ohioans work in the clean ener­gy indus­try accord­ing to a recent­ly released study and over
600
,
000
nation­wide. Nei­ther Trump nor Pruitt seem to know this because for them, appar­ent­ly, not all jobs matter.
At the same time, we are still liv­ing with the destruc­tion that coal and coal min­ing have wrought. The sul­phur, mer­cury and car­bon that coal-burn­ing spews into the air; the tox­ic mine wastes that reg­u­lar­ly spill into the water. Entire land­scapes stripped, denud­ed and erod­ed. We want more of this?
And then there are the human costs. Between 1870 and 1970, 31,000 min­ers died in the coal mines of Penn­syl­va­nia alone. Do that math: one min­er killed every day for 100 years. In 2013, 25,000 for­mer min­ers died of black lung and relat­ed res­pi­ra­to­ry dis­eases. Pruitt held his coal min­ing pep-ral­ly in Haz­ard, Ky., obliv­i­ous to the irony of the name.
Hazard's pop­u­la­tion peaked in 1940 — it's declined about 30 per­cent since then and it was always a small place. It was also at the cen­ter of bit­ter labor unrest in the ear­ly 1960s that reg­u­lar­ly turned vio­lent. The house of a local coal oper­a­tor was blown up with dyna­mite by angry min­ers in Haz­ard. I'm bet­ting Scott Pruitt did not know that, either.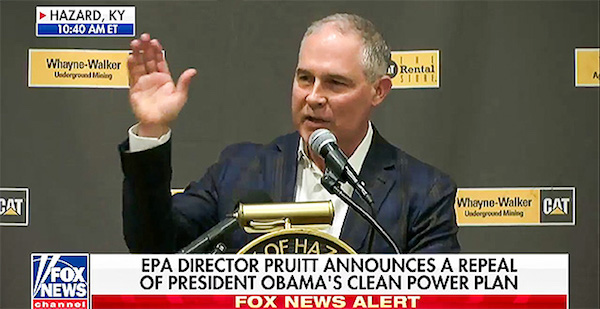 Oct.

9

 — EPA Direc­tor Scott Pruitt announces his repeal of the Oba­ma admin­is­tra­tion's Clean Pow­er Plan in Haz­ard, Ky.
(Image: Twit­ter / @foxnews)
("Real­ly, There's Not Much To Miss About Coal" was first pub­lished by the Day­ton Dai­ly News and is repost­ed on Rur­al Amer­i­ca In These Times with per­mis­sion from the author.)
Steven Conn
is the W. E. Smith Pro­fes­sor of His­to­ry at Mia­mi Uni­ver­si­ty in Oxford, Ohio. He is the author of ​
"
Amer­i­cans Against the City: Anti-Urban­ism in the
20
th
Century."