When it Comes to High-Speed Broadband Infrastructure, Rural America Could Really Use an FDR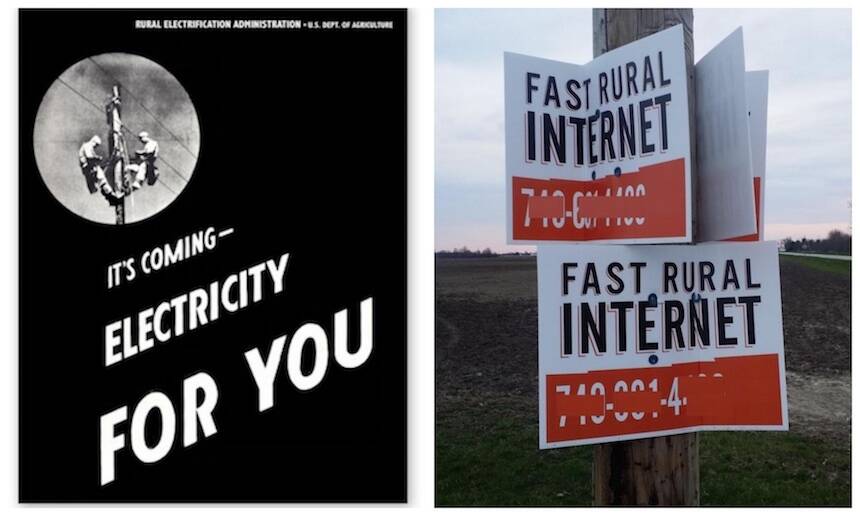 You don't have to dri­ve too long on the coun­try roads of South­west Ohio before you see the signs. They are often nailed to a util­i­ty pole and they adver­tise ​"fast rur­al inter­net." There's a phone num­ber you can call. The signs don't look par­tic­u­lar­ly high-tech and I have no idea whether the ser­vice they offer is any good. But they sure­ly sig­nal a real prob­lem: the inter­net age is leav­ing much of rur­al Amer­i­ca behind.
Accord­ing to one recent study, near­ly 40 per­cent of rur­al U.S. res­i­dents lack access to high-speed inter­net. In the nation's urban and met­ro­pol­i­tan areas that fig­ure is clos­er to 5 per­cent. The con­se­quences of that dis­par­i­ty are con­sid­er­ably high­er than whether you can binge-watch some­thing on Netflix.
With­out high-speed con­nec­tions, rur­al res­i­dents are being shut out of the 21st cen­tu­ry econ­o­my. Access to the inter­net means access to jobs, edu­ca­tion and to com­merce. Con­verse­ly, lack of access means rur­al areas can­not attract new employ­ers — no one these days is going to open a plant, a firm or much of any­thing else if they can't have high-speed access.
The prob­lem is straight­for­ward. The com­pa­nies that pro­vide such ser­vice — the Com­casts and the Time-Warn­ers — have cal­cu­lat­ed it's not prof­itable to invest in the infra­struc­ture nec­es­sary to bring the inter­net to sparse­ly pop­u­lat­ed areas. Too few peo­ple; not enough prof­it. No inter­net service.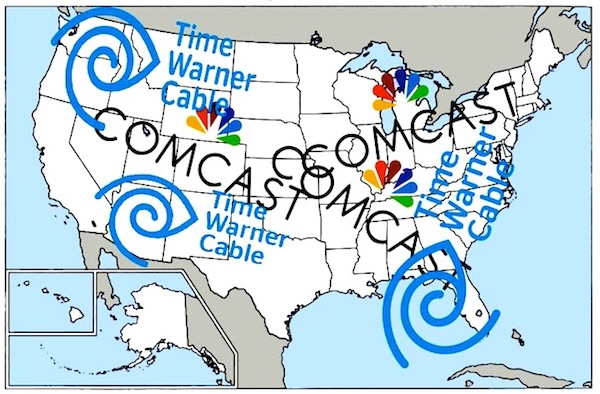 "Merg­er mania" on Wall Street, and the fur­ther con­sol­i­da­tion of tele­com com­pa­nies, is lead­ing to high­er prices, worse ser­vice and slow­er broad­band speeds. (Image: Speed​Mat​ters​.com)
Rur­al Amer­i­ca faced an almost iden­ti­cal prob­lem three-quar­ters of a cen­tu­ry ago. At the start of the 1930s, only 10 per­cent of rur­al Amer­i­cans had elec­tric­i­ty in their homes and on their farms, mak­ing life need­less­ly dif­fi­cult. In response, Franklin Roo­sevelt cre­at­ed the Rur­al Elec­tri­fi­ca­tion Admin­is­tra­tion (REA) in 1936. Through it, fed­er­al loans were offered to rur­al elec­tri­cal coop­er­a­tives. The co-ops were able to set up the nec­es­sary trans­mis­sion lines and used their num­bers to nego­ti­ate whole­sale pur­chase agree­ments to buy the power.
And it worked. With­in 20 years, 90 per­cent of rur­al res­i­dents had elec­tric­i­ty; 20 years after that vir­tu­al­ly all of them did.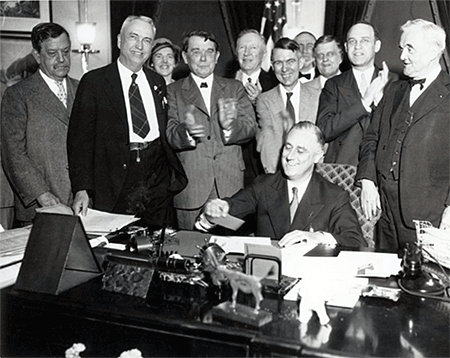 Franklin Roo­sevelt estab­lish­ing the Ten­nessee Val­ley Author­i­ty, a fed­er­al­ly owned cor­po­ra­tion com­mit­ted to rur­al infra­struc­ture, on May 18, 1933. (Image: Wikipedia)
The REA built on the efforts of anoth­er New Deal project. The Ten­nessee Val­ley Author­i­ty was among the very first cre­ations of FDR's admin­is­tra­tion. The TVA had sev­er­al pur­pos­es, includ­ing nav­i­ga­tion improve­ments and flood con­trol, but among its biggest was gen­er­at­ing elec­tric­i­ty for some of the poor­est sec­tions of the coun­try. Peo­ple in parts of Ten­nessee, Ken­tucky, Alaba­ma and Geor­gia still get their pow­er from the hydro plants built and run by the TVA.
Every­one knows about the high-speed inter­net deficit, so why hasn't any­thing like a TVA for the inter­net been cre­at­ed? One answer is that Con­gress has been con­trolled by politi­cians who have vil­i­fied all gov­ern­ment pro­grams and who do not want to cre­ate new ones.
The big­ger prob­lem is that the very peo­ple who would ben­e­fit from rur­al broad­band keep vot­ing for those same politi­cians and things are even worse at the state lev­el. Dozens of rur­al com­mu­ni­ties have tried to set up inter­net co-ops, on the mod­el of the REA, but in response near­ly two dozen states have passed laws mak­ing it near­ly impos­si­ble to do so. Texas, Arkansas and Mis­souri, for exam­ple, have pro­hib­it­ed any munic­i­pal inter­net provider from sell­ing the ser­vice direct­ly to customers.
Most of these states are con­trolled by the same kind of anti-gov­ern­ment leg­is­la­tors who run Con­gress and all of them have been lob­bied heav­i­ly by the same tele­com com­pa­nies that have aban­doned rur­al inter­net users. But as long as rur­al Amer­i­cans keep send­ing those politi­cians to Wash­ing­ton, or to the state­house, rur­al Amer­i­ca is going to remain stuck in the dial-up age.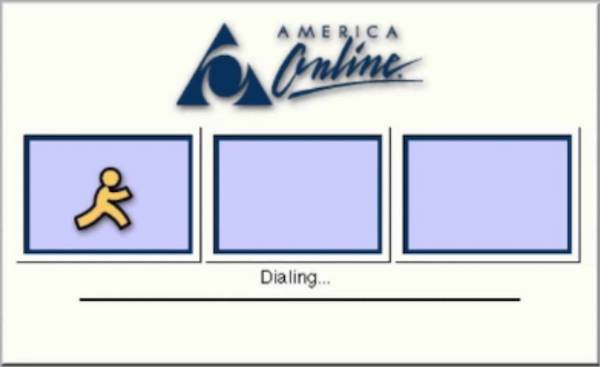 "Do we need a TVA for rur­al inter­net users?" was orig­i­nal­ly pub­lished by the Day­ton Dai­ly News and is repost­ed on Rur­al Amer­i­ca In These Times with per­mis­sion from the author. (Image: YouTube)
Steven Conn
is the W. E. Smith Pro­fes­sor of His­to­ry at Mia­mi Uni­ver­si­ty in Oxford, Ohio. He is the author of ​
"
Amer­i­cans Against the City: Anti-Urban­ism in the
20
th
Century."