Cokes Killers
Soft drink giant to review union deaths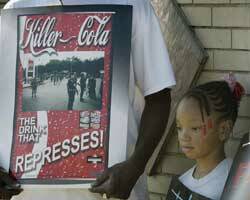 Coca-Cola rep­re­sen­ta­tives told a fact-find­ing del­e­ga­tion that its employ­ees may have col­lab­o­rat­ed with para­mil­i­taries in the deaths and tor­ture of Colom­bian union members.
Despite the pos­si­ble col­lab­o­ra­tion, Coca-Cola offi­cials in Colom­bia have not under­tak­en any inter­nal or exter­nal inves­ti­ga­tion into the assaults against its employees.
The company's Colom­bian rep­re­sen­ta­tives insist any con­tact with para­mil­i­taries, wide­ly blamed for killing sev­en Coke union­ists and thou­sands of oth­ers in recent decades, was unau­tho­rized, accord­ing to a report released by Hiram Mon­ser­rate. This New York coun­cilmem­ber led a Jan­u­ary del­e­ga­tion of U.S. union­ists and stu­dents to Colombia.
In a writ­ten response to the del­e­ga­tion, Coca-Cola says it ​"does not antic­i­pate sup­port­ing in any way any form of ​'inde­pen­dent fact-find­ing del­e­ga­tion to Colom­bia,'" and that alle­ga­tions lev­eled against the com­pa­ny only would be reviewed local­ly. A com­pa­ny spokes­woman in Atlanta says she is unaware of any admis­sion of com­plic­i­ty in the union­ists' killings and calls the alle­ga­tions false.
Work­ers who say they were tor­tured at the hands of para­mil­i­taries oper­at­ing at the company's behest sued Coke and its Colom­bian sub­sidiary in 2001 in a Flori­da fed­er­al court, although Coke was released from the suit last March. Monserrate's report says com­pa­ny offi­cials implied defama­tion and slan­der law­suits filed in Colom­bia against work­ers who joined the U.S. suit were a ​"direct reprisal." Some of those reprisal law­suits were recent­ly thrown out but oth­ers continue.
Colom­bia, whose civ­il war kills 3,500 each year, is the world's most dan­ger­ous place for union mem­bers. It accounts for three of five peo­ple killed world­wide for union activ­i­ty — about 3,600 in the last two decades. Para­mil­i­taries are respon­si­ble for the vast major­i­ty of these killings, accord­ing to union researchers, although no killer of a union mem­ber has been con­vict­ed since 1995.
Monserrate's report includes union asser­tions of uncount­ed death threats, forced dis­place­ment of mem­ber­ship, incar­cer­a­tion of work­ers on false charges, raid­ing of union offices and homes of union mem­bers, and the kid­nap­ping of union­ists in order to force them to renounce their right to asso­ciate. ​"It's a sys­temic cam­paign of ter­ror," says del­e­ga­tion mem­ber Lenore Palladino.
Coca-Cola's strat­e­gy has been to dis­tance itself from its Colom­bian bot­tling sub­sidiary, although it recent­ly acquired the com­pa­ny and holds bot­tling agree­ments with it, says Ter­ry Collingsworth, exec­u­tive direc­tor of the Inter­na­tion­al Labor Rights Fund. ​"Clear­ly, Atlanta has the pow­er to tell their bot­tlers, ​'you can't do this.' They just refuse to."

Mis­cha Gaus
is an edi­tor of
Labor Notes
mag­a­zine, the largest inde­pen­dent union pub­li­ca­tion in the Unit­ed States.