Cokes Killers
Soft drink giant to review union deaths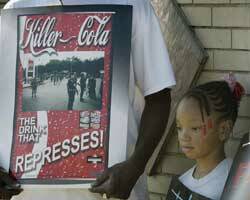 Coca-Cola representatives told a fact-finding delegation that its employees may have collaborated with paramilitaries in the deaths and torture of Colombian union members.
Despite the possible collaboration, Coca-Cola officials in Colombia have not undertaken any internal or external investigation into the assaults against its employees.
The company's Colombian representatives insist any contact with paramilitaries, widely blamed for killing seven Coke unionists and thousands of others in recent decades, was unauthorized, according to a report released by Hiram Monserrate. This New York councilmember led a January delegation of U.S. unionists and students to Colombia.
In a written response to the delegation, Coca-Cola says it ​"does not anticipate supporting in any way any form of ​'independent fact-finding delegation to Colombia,'" and that allegations leveled against the company only would be reviewed locally. A company spokeswoman in Atlanta says she is unaware of any admission of complicity in the unionists' killings and calls the allegations false.
Workers who say they were tortured at the hands of paramilitaries operating at the company's behest sued Coke and its Colombian subsidiary in 2001 in a Florida federal court, although Coke was released from the suit last March. Monserrate's report says company officials implied defamation and slander lawsuits filed in Colombia against workers who joined the U.S. suit were a ​"direct reprisal." Some of those reprisal lawsuits were recently thrown out but others continue.
Colombia, whose civil war kills 3,500 each year, is the world's most dangerous place for union members. It accounts for three of five people killed worldwide for union activity — about 3,600 in the last two decades. Paramilitaries are responsible for the vast majority of these killings, according to union researchers, although no killer of a union member has been convicted since 1995.
Monserrate's report includes union assertions of uncounted death threats, forced displacement of membership, incarceration of workers on false charges, raiding of union offices and homes of union members, and the kidnapping of unionists in order to force them to renounce their right to associate. ​"It's a systemic campaign of terror," says delegation member Lenore Palladino.
Coca-Cola's strategy has been to distance itself from its Colombian bottling subsidiary, although it recently acquired the company and holds bottling agreements with it, says Terry Collingsworth, executive director of the International Labor Rights Fund. ​"Clearly, Atlanta has the power to tell their bottlers, ​'you can't do this.' They just refuse to."

Mischa Gaus
is an editor of
Labor Notes
magazine, the largest independent union publication in the United States.