Cola Wars in Mexico
Tzotzil Indians in Mexico know the dangers of globalization and soda pop.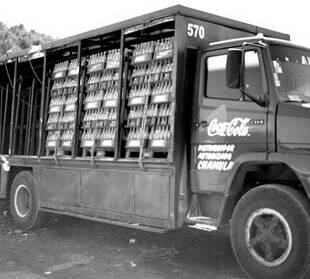 Thou­sands of can­dles flick­er in the dim cham­ber. The air is thick with the smoke from copal incense. On the altar, men in black wool tunics and white knee-length pants play solemn music on drums and gourds. Below them, a score of Tzotzil Indi­ans chant in small cir­cles on the pine nee­dle-cov­ered floor. In the cen­ter of each cir­cle are can­dles, eggs, copal and pox–fer­ment­ed corn mash – in an old glass con­tain­er, stopped with a corn cob. And next to the pox is a half-liter bot­tle of Coca-Cola or Pepsi.
In the 484-year-old Church of St. John the Bap­tist, in Chamu­la, a town of 60,000 in Chi­a­pas, Mex­i­co, those bot­tles indi­cate the inter­sec­tion of reli­gion, pol­i­tics, water and con­sumer markets.
In the Unit­ed States, Coke and Pep­si vie for monop­oly con­tracts with schools and uni­ver­si­ties. In Chi­a­pas, the stakes in the soft drink war are as high as the puri­ty of one's soul.
Trav­el­ing through the cold high­lands of the San Juan Chamu­la munic­i­pal­i­ty any Sat­ur­day after­noon, one reg­u­lar­ly encoun­ters a scene resem­bling a bat­tle­ground: dozens of bod­ies sprawled on the ground, arms and legs some­times extend­ing per­ilous­ly into the road. At the epi­cen­ter of each of these scenes are plas­tic tables and chairs in front of a diminu­tive wood­en store. There, men, women and chil­dren who are either on their way to col­lapse, or who have resus­ci­tat­ed them­selves and are back for more, sit drink­ing pox, which means ​"mad dog" in Tzotzil. Along with pox, they swig Coke or Pep­si, depend­ing on whose store they patron­ize; each store sells only one brand.
Like fire­works and copal, pox is a sacra­ment in a local reli­gion that blends Catholi­cism with ele­ments of native tra­di­tion. It is a sacred drink that cleans­es the soul; the more pox one drinks, the greater the purifi­ca­tion. Over the past sev­er­al decades the caciques – local elites who wield eco­nom­ic and polit­i­cal pow­er and con­trol the soft drink con­ces­sion – have con­vinced the faith­ful that pox should be drunk with Coke or Pep­si, depend­ing on who is doing the pros­e­ly­tiz­ing. They say the cola induces burp­ing, which releas­es evil from the soul.
The caciques and their affil­i­at­ed drink com­pa­nies do a boom­ing busi­ness – nev­er­mind that the bev­er­ages sell for 50 U.S. cents a can, exact­ly the aver­age dai­ly income. Pur­chas­ing a soda often means not pur­chas­ing food, and Chi­a­pas has one of the high­est rates of both mal­nu­tri­tion and Coke con­sump­tion in Mexico.
The drinks also play a polit­i­cal role. A few months before each elec­tion, caciques begin pro­vid­ing store own­ers with all their cola prod­ucts free of charge. In exchange, each store own­er will sup­port his cacique-sponsor's pre­ferred can­di­date in the local elec­tion, which is invari­ably a choice between two politi­cians from the Insti­tu­tion­al­ized Rev­o­lu­tion­ary Par­ty (PRI). In turn, the cus­tomers of each store get all the cola they want for free, pro­vid­ed they vote for the owner's can­di­date. This arrange­ment helps both the caciques and the PRI to retain their hold on power.
This nexus of pol­i­tics, reli­gion and com­merce is on full dis­play each Sun­day in the Chamu­la town square. The equiv­a­lent of the coun­ty seat of the 113-com­mu­ni­ty munic­i­pal­i­ty of San Juan Chamu­la, the town is home to a thriv­ing out­door mar­ket, which sells every­thing from plas­tic house­hold items and sides of beef to tourist trin­kets. It is also home to the tra­di­tion­al author­i­ties, lead­ers of the church and the local gov­ern­ment. Each week, two or three dozen of them sit in a solemn line in their huaraches, short wool tunics and straw hats with thick fringe of bright rib­bons hang­ing so low as to obscure their faces. Sur­round­ing them are the oth­er pil­lars of pow­er: the Church of St. John the Bap­tist, with its can­dles and cola, the head­quar­ters of the munic­i­pal pres­i­dent, and the head­quar­ters of the PRI – the only polit­i­cal par­ty per­mit­ted in the town.
The caciques say, ​"To break with the PRI is to break with tra­di­tion." The tra­di­tion is serv­ing them well; the caciques own the Coke and Pep­si ware­hous­es at the edge of town, each con­tain­ing up to six trucks. Each truck is equipped to car­ry 180 cas­es of soda, or 4,320 bot­tles, out to the vil­lage stores.
Some­times the cola rack­et can get ugly, as it did in the com­mu­ni­ty of Mitz­itón, where the rich­est and most pow­er­ful cacique, José San­tíz, con­trolled both the local PRI gov­ern­ing coun­cil and the only store. The Coca-Cola com­pa­ny gave him a refrig­er­a­tor, chairs, tables and oth­er gifts in exchange for sell­ing a min­i­mum amount of soda each month. San­tíz, in turn, forced oth­er mem­bers of the coun­cil to raise the mon­ey to buy eight or nine cas­es of Coke from him each month; oth­er­wise, he said, he would close the much-need­ed store. ​"For us it was very dif­fi­cult … to be giv­ing mon­ey for this devil's soft drink," said one coun­cil mem­ber who request­ed anonymi­ty. In 2000, some com­mu­ni­ty mem­bers orga­nized against the Coke-cacique nexus; in response, thugs burned down one family's home and threat­ened oth­ers with beat­ings. About 60 fam­i­lies per­ma­nent­ly fled the area.
— —  —  —  —  —  — —
Coke's hold on Mex­i­co extends beyond both Chi­a­pas and the PRI. The PRI held a lock on the pres­i­den­cy for 71 years, until final­ly los­ing in 2000 to Vicente Fox of the Nation­al Action Par­ty, or PAN. Fox's last job before becom­ing a politi­cian was serv­ing as pres­i­dent of the Coca-Cola Cor­po­ra­tion of Mex­i­co and Latin Amer­i­ca. Cur­rent­ly Coke con­trols 60 per­cent of the Mex­i­can soda mar­ket, while Pep­si has 30 percent.
Accord­ing to the New York Times, 2006 first-quar­ter prof­its for the multi­na­tion­al rose to $1.11 bil­lion, large­ly due to increased sales in Latin Amer­i­ca and Chi­na. Accord­ing to the giant bev­er­age pro­cess­ing com­pa­ny Fomen­to Económi­co Mex­i­cano, or FEM­SA, each Mex­i­can con­sumes an aver­age of 483 8‑ounce glass­es of Coke per year, in a coun­try where more than 12 mil­lion cit­i­zens do not have access to potable water.
Coke is also wide­ly pro­duced in Mex­i­co, an arrange­ment that is threat­en­ing the country's water sup­plies and under­cut­ting indige­nous con­trol of nat­ur­al resources. It takes three cups of water to make one cup of Coke. Since 2000, Coca-Cola has nego­ti­at­ed 27 water con­ces­sions from the Mex­i­can gov­ern­ment. Nine­teen of the con­ces­sions are for the extrac­tion of water from aquifers and from 15 dif­fer­ent rivers, some of which belong to indige­nous peo­ples. Eight con­ces­sions are for the right of Coke to dump its indus­tri­al waste into pub­lic waters. To aid the extrac­tive and dump­ing process­es, Fox – with help from the World Bank – has suc­cess­ful­ly pur­sued water pri­va­ti­za­tion, as well as a mas­sive land pri­va­ti­za­tion pro­gram, that allowed com­pa­nies free access to all the resources on the land, includ­ing water.
After Fox's vic­to­ry, Coca-Cola began bot­tling water from the rich­est aquifer in the Chi­a­pan town of San Cristóbal de las Casas, an eco­log­i­cal reserve admin­is­tered by a con­ser­va­tion group Pronatu­ra, which receives mon­ey from Coca-Cola Mex­i­co. In 2004, the Coke plant in San Cristóbal de las Casas used 107,332,391 liters of water – about as much as 200,000 homes.
In 2003, fol­low­ing the inter­na­tion­al call sent out by many groups and net­works at the World Social Forum, orga­ni­za­tions in Chi­a­pas launched a boy­cott against Coca-Cola. They cit­ed cor­po­rate dom­i­na­tion, the assas­si­na­tion of union­ized work­ers at a Coke plant in Colom­bia, labor rights vio­la­tions and tox­ic leak­ages as rea­sons for the boy­cott. But the pri­ma­ry demand for the boy­cotters is an end to Coke's grow­ing dom­i­na­tion of the nation's water, espe­cial­ly on indige­nous territories.
Chi­a­pas being the locus of the world's first rev­o­lu­tion against neolib­er­al­ism, boy­cott ini­tia­tors had expect­ed that that revolution's pro­po­nents would be strong con­stituents. In fact, the Zap­atis­tas con­tin­ue to be heavy con­sumers of Coca-Cola over­all, though some autonomous com­mu­ni­ties have tak­en on the cam­paign. Sub­co­man­dante Mar­cos him­self is a Coca-Cola drinker, claims Eduar­do Sánchez, an exas­per­at­ed Zap­atista boy­cott orga­niz­er. Still, Sánchez is unable to hide his grin as he repeats what Mar­cos is report­ed to have said: ​"We have a way to get rid of Coke. We will drink every last bottle."
Nev­er­the­less, the boy­cott is grow­ing steadi­ly in Chi­a­pas and, to a less­er degree, through­out Mex­i­co. Down the road past Chamu­la one sees, for the first time in miles, some­thing oth­er than ads for Coke or Pep­si – a paint­ed sign adver­tis­ing Mex­i­can prod­uct Big Cola which is not con­nect­ed to caciques, the PRI or reli­gious rit­u­al. Two years ago, the storeowner's son con­vinced his father to switch from Coke. Rep­re­sen­ta­tives of Coca-Cola showed up at the shop and told the own­er that Big Cola was mak­ing peo­ple sick. The Coke reps also told the own­er that if he would give them his three Big Cola trucks, they would give him five Coca-Cola trucks in exchange. Big Cola remains.
Some com­mu­ni­ties have ban­ished Coke. In Xox­o­cot­la, an indige­nous vil­lage in the south­ern state of More­los, after the com­pa­ny told shop own­ers that they would have to stop sell­ing oth­er soft drinks if they want­ed to keep pur­chas­ing Coke, res­i­dents held an assem­bly in the plaza and decid­ed to kick the cor­po­ra­tion and its prod­ucts out of their village.
Sur­vey­ing the caciques as they sit in front of St. John the Bap­tist Church one Sun­day after­noon, Gus­ta­vo Cas­tro Soto, a Chi­a­pas-based intel­lec­tu­al author of the boy­cott, says, ​"Con­scious­ness about the role of Coca-Cola relates to the econ­o­my, soci­ety, pol­i­tics, cul­ture and even the mil­i­tary. It has to do with human rights, labor rights, rights of indige­nous peo­ples, and con­trol of lands and water by the multi­na­tion­al. This con­scious­ness will grow and inte­grate cit­i­zens, com­mu­ni­ties, and uni­ver­si­ties into a giant boy­cott. It all starts with our con­sump­tion habits."
Bev­er­ly Bell
coor­di­nates Oth­er Worlds, a mul­ti-media col­lab­o­ra­tive to edu­cate the U.S. and Latin Amer­i­can pub­lic on glob­al­iza­tion and alter­na­tive economies.