How the Red Scare Shaped the Artificial Distinction Between Migrants and Refugees
Our modern-day definitions of displaced people emerged during the Cold War as a product of anti-communism.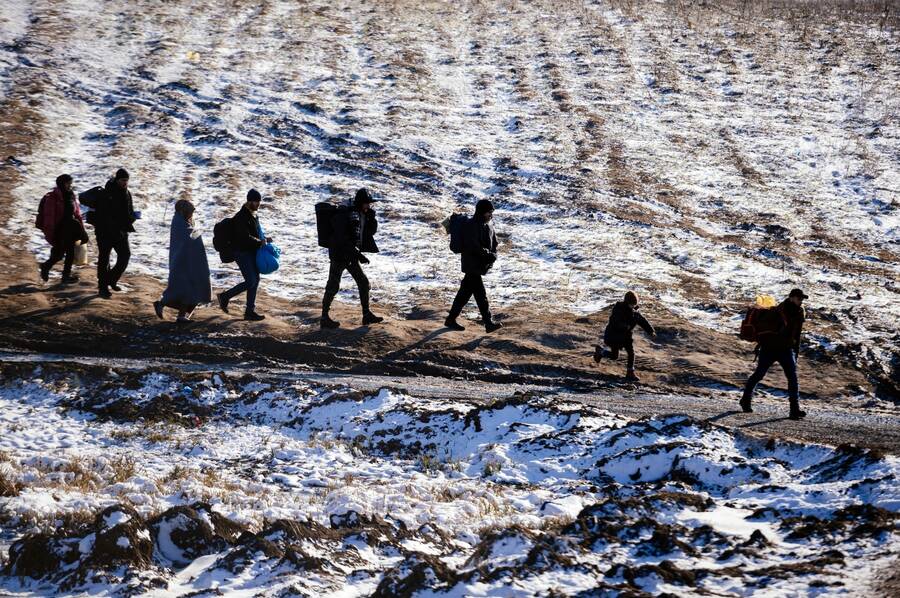 Dur­ing his first State of the Union address, Pres­i­dent Don­ald Trump described what he con­sid­ers to be the per­fect refugee. ​"His name is Mr. Ji Seong-ho. In 1996, Seong-ho was a starv­ing boy in North Korea," Trump said. After sur­viv­ing ampu­ta­tions, star­va­tion and tor­ture, Seong-ho ​"trav­eled thou­sands of miles on crutch­es all across Chi­na and south­east Asia to free­dom," Trump con­tin­ued, not­ing that the man, who attend­ed the address, now lives in Seoul. ​"Your great sac­ri­fice," Trump addressed Seong-ho, ​"is an inspi­ra­tion to us all."
By extending open arms to people escaping the "red menace," the burgeoning U.S. empire sought to position itself as the leader of the free world.
Trump's trib­ute to Seong-ho on Jan. 30 came just weeks after the pres­i­dent uttered his now infa­mous com­ments den­i­grat­ing immi­grants from Haiti, El Sal­vador and the con­ti­nent of Africa. ​"Why do we want all these peo­ple from Africa here?" Trump report­ed­ly asked law­mak­ers at the White House. ​"They're shit­hole coun­tries … We should have more peo­ple from Norway."
Trump is trans­par­ent about his racist and geopo­lit­i­cal motives for divid­ing peo­ple who migrate across bor­ders into cat­e­gories of ​"good" and ​"bad" — but his aims are far from orig­i­nal. The dis­tinc­tion between polit­i­cal refugees who are ​"deserv­ing" of pro­tec­tion, and eco­nom­ic migrants who are not, has been for­mal­ly enshrined in U.S. law and inter­na­tion­al norms since the begin­ning of the Cold War. This bina­ry is nei­ther abstract nor triv­ial: Denial of refugee sta­tus can spell out pre­car­i­ous undoc­u­ment­ed exis­tence, indef­i­nite deten­tion, coerced repa­tri­a­tion and even death. While some­times draped in Trump-style inflam­ma­to­ry rhetoric, these cat­e­gories are often vaunt­ed by pol­i­cy­mak­ers and tech­nocrats as nat­ur­al and neu­tral — far above the polit­i­cal fray.
How­ev­er, the legal dis­tinc­tion between refugees and migrants has been ide­o­log­i­cal from the out­set, for­mal­ly emerg­ing in the ear­ly 1950s as an anti-com­mu­nist tool wield­ed by U.S. and West­ern Euro­pean gov­ern­ments. Under U.S. law, the con­cept of a ​"refugee" first emerged to describe indi­vid­u­als seek­ing sanc­tu­ary in non-com­mu­nist coun­tries. On the inter­na­tion­al lev­el, the Unit­ed States played a key role in devel­op­ing norms that empha­size the lib­er­ties of polit­i­cal dis­si­dents, while deny­ing the right to live free from pover­ty. By extend­ing open arms to peo­ple escap­ing the ​"red men­ace," the bur­geon­ing U.S. empire sought to posi­tion itself as the leader of the free world. In the process, the U.S. gov­ern­ment treat­ed the dis­pos­sessed and dis­placed as pawns to under­cut geopo­lit­i­cal foes and advance reac­tionary poli­cies while fan­ning the flames of fur­ther displacement.
Whether Trump knows it or not, this anti-com­mu­nist his­to­ry informs the frame­works that he and politi­cians across the polit­i­cal spec­trum use to deter­mine who is deserv­ing of sanctuary.
Cod­i­fy­ing the val­ues of cap­i­tal­ist democracies
In a July 2016 explain­er, the Unit­ed Nations Refugee Agency chas­tised the media and pub­lic for fail­ing to grasp basic def­i­n­i­tions. ​"We say ​'refugees' when we mean peo­ple flee­ing war or per­se­cu­tion across an inter­na­tion­al bor­der," writes spokesper­son Adri­an Edwards. ​"And we say ​'migrants' when we mean peo­ple mov­ing for rea­sons not includ­ed in the legal def­i­n­i­tion of a refugee. We hope that oth­ers will give thought to doing the same. Choic­es about words do matter."
Yet these words are pro­found­ly ide­o­log­i­cal: The sep­a­ra­tion of civ­il and eco­nom­ic rights is a key fea­ture of cap­i­tal­ist democ­ra­cies, pre­dat­ing the Cold War. ​"Cap­i­tal­ist lib­er­al democ­ra­cies don't have com­mit­ments to social rights like wel­fare, health­care and hous­ing," Eliz­a­beth Cohen, asso­ciate pro­fes­sor of polit­i­cal sci­ence at Syra­cuse University's Maxwell School, tells In These Times. ​"For them, the gov­ern­ment is there to pro­tect most­ly neg­a­tive polit­i­cal and civ­il rights, like the right to sell your labor on the open mar­ket. They don't deal with redistribution."
"That men­tal­i­ty," explains Cohen, ​"lines up nice­ly with grow­ing con­cern in the sec­ond half of the 20th cen­tu­ry that there are hoards of poor peo­ple who want to bring down the stan­dard of living."
Offi­cial­ly, the 1951 UN Refugee Con­ven­tion emerged as a glob­al response to the hor­rors of the Holo­caust, which saw the Unit­ed States and much of Europe and Latin Amer­i­ca turn away Jews flee­ing per­se­cu­tion. Yet the con­ven­tion was also a prod­uct of the Cold War, with the new­ly emerged mil­i­tary super­pow­er — the Unit­ed States — play­ing a major role in draft­ing the glob­al accord. Of the 26 nations that par­tic­i­pat­ed, West­ern Euro­pean coun­tries and U.S. allies were dis­pro­por­tion­ate­ly rep­re­sent­ed. The Sovi­et Union was con­spic­u­ous­ly absent.
The treaty defines a refugee as an indi­vid­ual with a rea­son­able fear of per­se­cu­tion ​"for rea­sons of race, reli­gion, nation­al­i­ty, mem­ber­ship of a par­tic­u­lar social group or polit­i­cal opin­ion." This cat­e­go­ry is lim­it­ed to peo­ple dis­placed by events in Europe before 1951 (a con­straint that was lat­er removed in the 1967 pro­to­col). Yet the treaty also sig­nals that coun­tries around the world should see the accord as a base­line and devel­op their own refugee poli­cies that exceed its ​"con­trac­tu­al scope."
Accord­ing to Rebec­ca Ham­lin, author of Let Me Be a Refugee and assis­tant pro­fes­sor of Legal Stud­ies at Uni­ver­si­ty of Mass­a­chu­setts-Amherst, these cri­te­ria ​"stem from lib­er­al notions of per­se­cu­tion regard­ing iden­ti­ty and beliefs."
"I'm not try­ing to say those things aren't ter­ri­ble forces, but that is a lim­it­ed notion of what suf­fer­ing is," says Ham­lin. ​"This mim­ics the lib­er­al hier­ar­chy of rights that says civ­il rights come above eco­nom­ic and social rights."
This nar­row, Europe-cen­tric def­i­n­i­tion of a refugee gar­nered oppo­si­tion from India, whose rep­re­sen­ta­tives object­ed that the accord ignored pover­ty, as well as from Arab nations con­cerned that the treaty would not apply to the Pales­tin­ian refugee crisis.
Accord­ing to the UN Refugee Agency's own telling, the first major test of the Con­ven­tion came in response to the ​"exo­dus of refugees from Hun­gary after the Sovi­et sup­pres­sion of the upris­ing in 1956." Yet, this was hard­ly the only dis­place­ment tak­ing place at the time: The post-World War II era also saw Israel's mass expul­sion of Pales­tini­ans, whose ongo­ing dis­place­ment remains a seri­ous cri­sis today.
Even as the Unit­ed States declined to ini­tial­ly sign the UN Refugee Con­ven­tion, the accord became the main glob­al instru­ment for enforc­ing the bina­ry between refugees and migrants. As author and schol­ar Vijay Prashad notes in a recent arti­cle for Alter­Net, ​"The West began to use the term [refugee] to define those who fled the USSR and East­ern Europe, but not those who fled colo­nial wars from East­ern Africa to South-East Asia."
"Last flick­er­ing light of humanity"
In the Unit­ed States, the ide­o­log­i­cal under­pin­nings of refugee law were even more explic­it. In the Refugee Relief Act of 1953, the U.S. gov­ern­ment first defined a refugee as some­one seek­ing sanc­tu­ary in a non-com­mu­nist country.
'Refugee" means any per­son in a coun­try or area which is nei­ther Com­mu­nist nor Com­mu­nist-dom­i­nat­ed, who because of per­se­cu­tion, fear of per­se­cu­tion, nat­ur­al calami­ty or mil­i­tary oper­a­tions is out of his usu­al place of abode and unable to return there­to, who has not been firm­ly reset­tled, and who is in urgent need of assis­tance for the essen­tials of life or for transportation.
The act also cre­at­ed spe­cial class­es of refugees, includ­ing ​"escapees, " or those flee­ing com­mu­nist nations — extend­ing admis­sions to both refugees and escapees.
"Escapee" means any refugee who, because of per­se­cu­tion or fear of per­se­cu­tion on account of race, reli­gion, or polit­i­cal opin­ion, fled from the Union of Sovi­et Social­ist Republics or oth­er Com­mu­nist, Com­mu­nist-dom­i­nat­ed or Com­mu­nist-occu­pied area of Europe includ­ing those parts of Ger­many under mil­i­tary occu­pa­tion by the Union of Sovi­et Social­ist Republics, and who can­not return there­to because of fear of per­se­cu­tion on account of race, reli­gion or polit­i­cal opinion.
Thus, from the out­set, refugees were defined as indi­vid­u­als seek­ing pro­tec­tion in the ​"free world" — with a key empha­sis on those refugees flee­ing com­mu­nism. Pres­i­dent Dwight D. Eisen­how­er tout­ed the act as ​"an impor­tant con­tri­bu­tion toward greater under­stand­ing and coop­er­a­tion among the free nations of the world."
That act came one year after the McCar­ran-Wal­ter Act upheld a racist rank­ing sys­tem for ​"desir­able" eth­nic groups — while mak­ing it eas­i­er for the U.S. gov­ern­ment to ban ​"sub­ver­sives" and deport peo­ple sus­pect­ed of being com­mu­nists. ​"If this oasis of the world should be over­run, per­vert­ed, con­t­a­m­i­nat­ed, or destroyed, then the last flick­er­ing light of human­i­ty will be extin­guished," said Sen­a­tor Pat McCar­ran, defend­ing the act at the time.
One only has to look at the immi­gra­tion poli­cies imme­di­ate­ly fol­low­ing these laws to see what defend­ing the ​"last flick­er­ing light of human­i­ty" looked like in prac­tice. In 1954, Pres­i­dent Dwight D. Eisen­how­er imple­ment­ed the offen­sive­ly named ​"Oper­a­tion Wet­back," in which hun­dreds of U.S. agents deport­ed more than 1 mil­lion immi­grants to Mex­i­co. This oper­a­tion—praised by Trump in 2015 — tar­get­ed immi­grants who were not white.
Fol­low­ing this mass depor­ta­tion, in 1956 Eisen­how­er offered asy­lum to 21,500 Hun­gar­i­an refugees, with his White House stat­ing that the move ​"would give prac­ti­cal effect to the Amer­i­can peo­ple's intense desire to help the vic­tims of Sovi­et oppression."
Decades lat­er, the Unit­ed States passed the Refugee Act of 1980, which changed the def­i­n­i­tion of a refugee to large­ly reflect the lan­guage adopt­ed in the 1951 UN Con­ven­tion. In prac­tice, the Rea­gan admin­is­tra­tion heav­i­ly pri­or­i­tized accept­ing indi­vid­u­als who were flee­ing com­mu­nist coun­tries and oth­er geopo­lit­i­cal foes of the Unit­ed States, while large­ly reject­ing those flee­ing U.S. allies. These poli­cies dove­tailed with Reagan's sup­port for bru­tal, anti-com­mu­nist dic­ta­tor­ships in El Sal­vador, Guatemala, the Philip­pines and Argenti­na — as well as his back­ing and arm­ing of right-wing con­tras in Nicaragua and the anti-Sovi­et Mujahideen in Afghanistan.
When no one is safe
In a coun­try built on the chat­tel slav­ery of Black peo­ple and the exploit­ed labor of immi­grants, the U.S. government's bru­tal treat­ment of peo­ple who are vio­lent­ly uproot­ed or forcibly kid­napped far pre­dates the Cold War. But it is in the con­text of anti-com­mu­nism that the mod­ern-day con­cept of a refugee emerged. That frame­work con­tin­ues to shape the U.S. government's polit­i­cal response to unprece­dent­ed num­bers of dis­placed peo­ple. These old con­cepts map onto a messy geopo­lit­i­cal ter­rain, as the Cold War col­lides with the open-end­ed War on Ter­ror — and migra­tion remains a glob­al phe­nom­e­non, not lim­it­ed to a sin­gle region or conflict.
U.S.-led wars and mil­i­tary inter­ven­tions play a key role in dri­ving vio­lent dis­place­ment — and U.S. eco­nom­ic poli­cies force count­less peo­ple to flee pover­ty around the globe. ​"We have to look at ​'free trade' agree­ments like NAF­TA and U.S. inter­ven­tion in many of our coun­tries," Car­los Rojas Rodriguez, an orga­niz­er with the immi­grant jus­tice orga­ni­za­tion Movimien­to Cosecha, tells In These Times. ​"The U.S. gov­ern­ment cre­ates pover­ty and wars. It's unfair to desta­bi­lize coun­tries and their economies and then not want to deal with the con­se­quences of a refugee cri­sis or a mass migration."
Mean­while, what lit­tle pro­tec­tions exist­ed for those who are labeled as refugees are rapid­ly dis­ap­pear­ing: The Trump admin­is­tra­tion is wag­ing an all-out assault on all bor­der crossers — esca­lat­ing immi­gra­tion arrests, strip­ping away Tem­po­rary Pro­tect­ed Sta­tus from hun­dreds of thou­sands, tar­get­ing refugees from Mus­lim-major­i­ty nations for exclu­sion and slash­ing refugee admis­sions by 70 per­cent com­pared to the last year of the Oba­ma admin­is­tra­tion. As the attack on DACA recip­i­ents shows, even those deemed ​"good" immi­grants face an esca­lat­ing offen­sive from the Right, as well as fair-weath­er allies in the Demo­c­ra­t­ic Par­ty. Mean­while, the U.S. government's mil­i­tary brinks­man­ship spares no one, includ­ing Seong-ho, who lives on the Kore­an Penin­su­la that Trump has threat­ened to incin­er­ate with nuclear weapons.
Ulti­mate­ly, legal cat­e­gories can't tell soci­ety how to stop the polit­i­cal and eco­nom­ic vio­lence dri­ving record-break­ing num­bers of peo­ple from their homes — or how to extend sanc­tu­ary and pro­tec­tion to those who are forcibly uproot­ed. What is cer­tain is that peo­ple will con­tin­ue to cross bor­ders in a bid to save their lives and the lives of their loved ones — under the threat of war, pover­ty or both. Whether or not it's acknowl­edged, the task to treat all of those peo­ple with the dig­ni­ty and sol­i­dar­i­ty they deserve is a fun­da­men­tal­ly polit­i­cal project.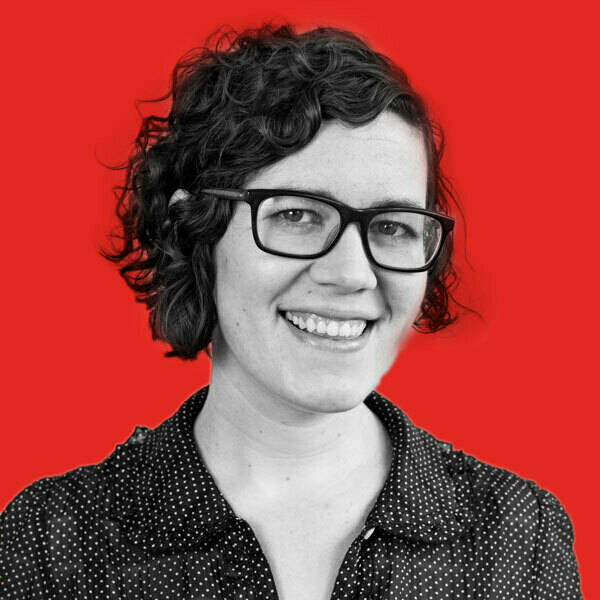 Sarah Lazare is web edi­tor at In These Times. She comes from a back­ground in inde­pen­dent jour­nal­ism for pub­li­ca­tions includ­ing The Inter­cept, The Nation, and Tom Dis­patch. She tweets at @sarahlazare.