At Colleges, Running Backs Get All the Greenbacks, While Academic Students Fight Over Crumbs
College football has become a bloated, multi-million dollar business, subverting the original mission of universities—education.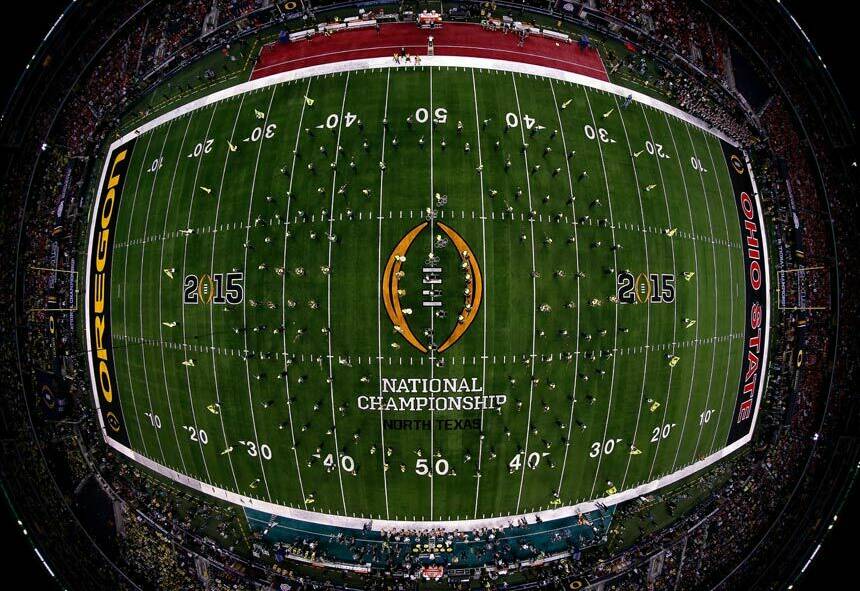 The fol­low­ing is an excerpt from Gilbert M. Gaul's Bil­lion-Dol­lar Ball: A Jour­ney Through the Big-Mon­ey Cul­ture of Col­lege Foot­ball, pub­lished on August 25.
'This country is now so soaked in the culture of ESPN ... it's undermining our values. I'll tell you one thing for sure: I think it's undermining our commitment to education.'
In 2012, col­lege foot­ball gen­er­at­ed a remark­able $103 mil­lion for the Uni­ver­si­ty of Texas ath­let­ic depart­ment, with $78 mil­lion falling to the bot­tom line. Note that the mon­ey didn't go to the uni­ver­si­ty itself. As at many oth­er elite foot­ball pow­ers, the Texas ath­let­ic depart­ment was nom­i­nal­ly part of the uni­ver­si­ty but in real­i­ty func­tioned as an autonomous busi­ness. It was over­seen by a CEO/​coach, Mack Brown, who received mil­lions more than the uni­ver­si­ty pres­i­dent. His nine full-time assis­tant coach­es aver­aged $555,000, or about four times what a full pro­fes­sor earned.
In the view of most Tex­ans, this was accept­able — as opposed to, say, a dis­tor­tion of the university's pri­ma­ry mis­sion of edu­ca­tion. It was per­fect­ly okay that the Texas foot­ball bud­get had grown 20 times faster than infla­tion over the last three decades. Or that Texas spent $261,728 on each of its foot­ball play­ers, but just $20,903 on each stu­dent. Big was what Texas did best. Texas foot­ball was the very definition.
With the vast wealth the largest and rich­est schools accu­mu­late from tele­vi­sion deals, tick­ets and seat dona­tions, they can prob­a­bly afford to be over­ly gen­er­ous. But there are only 60 or so schools that fit this descrip­tion. The 60-plus oth­er schools that play Divi­sion I foot­ball don't have the lux­u­ry of these income streams. Most oper­ate on a shoe­string and lose mil­lions of dol­lars each sea­son. In the last decade, though, pay for head foot­ball coach­es at these schools (Ohio Uni­ver­si­ty, Flori­da Atlantic, West­ern Ken­tucky, Tole­do, East­ern Michi­gan, among oth­ers) has dou­bled, up to $1 million.
"A lot of these schools can't afford it, but they do it any­way because they want to com­pete at a high­er lev­el, and in order to get there they think they have to pay their coach­es like the larg­er schools," said Jeff Smith, an instruc­tor of account­ing and finance at the Uni­ver­si­ty of South Car­oli­na Upstate.
Ath­let­ic arms race
Near the end of 2013, I flew to Eugene to tour the Foot­ball Per­for­mance Cen­ter at the Uni­ver­si­ty of Ore­gon. It was under­writ­ten by Nike co-founder Phil Knight at a cost of near­ly $70 mil­lion and is far and away the most lav­ish build­ing in Amer­i­ca devot­ed sole­ly to col­lege foot­ball play­ers — bio­met­ric key codes for the play­ers to come and go, cli­mate-con­trolled lock­ers and Brazil­ian ipe hard­wood floor­ing in the weight room. I didn't know what Brazil­ian ipe hard­wood was until Craig Pin­tens brought me up to speed.
"Brazil­ian ipe is the dens­est wood in the world," the senior asso­ciate ath­let­ic direc­tor for mar­ket­ing and pub­lic rela­tions explained. ​"And it won't catch on fire. As you know, there is a prob­lem with weight rooms catch­ing on fire."
"Actu­al­ly, I didn't know that," I said.
"It hap­pens a lot, apparently."
For the most part, Oregon's Foot­ball Per­for­mance Cen­ter remind­ed me of an upscale shop­ping mall. Each time we turned a cor­ner, we came upon anoth­er expen­sive bauble or design: a play­ers' lounge with PlaySta­tions and two cus­tom-made foos­ball games import­ed from Por­tu­gal; a bar­ber­shop for quick preprac­tice trims; floor-to-ceil­ing glass walls and mar­ble floor­ing import­ed from Italy; and so on. This was the ath­let­ic arms race on steroids.
One of the best ways to under­stand what a uni­ver­si­ty val­ues is to see how it treats its most ambi­tious under­grad­u­ates. I decid­ed to vis­it the Robert D. Clark Hon­ors Col­lege, which serves approx­i­mate­ly 1,000 of the Uni­ver­si­ty of Oregon's bright­est students.
Sev­er­al pro­fes­sors and admin­is­tra­tors all told me the same sto­ry: The hon­ors col­lege was one of the university's great­est assets, under­ap­pre­ci­at­ed, and short of cash.
Chap­man Hall, home to Clark Hon­ors Col­lege, was con­sid­ered state of the art in 1939. There are no inte­ri­or stair­cas­es to reach the sec­ond and third floors. One of the two class­rooms is called Fire­side, though the fire­place hasn't worked in years.
Despite its out­dat­ed accom­mo­da­tions, stu­dents con­tin­ue to apply to Clark in record numbers.
"Our stu­dents can hold their own," Renée V. Dor­jahn, direc­tor of finance and admin­is­tra­tion, proud­ly informed me. ​"We have many Ful­bright schol­ars. … Last year we had three Gold­wa­ters. Stan­ford only had two."
A large per­cent­age of Clark stu­dents qual­i­fy for aca­d­e­m­ic schol­ar­ships, and some even receive full tuition. But Clark stu­dents are charged high­er tuition— about $3,000 more — than oth­er stu­dents, under the assump­tion they are receiv­ing a more chal­leng­ing and cost­ly edu­ca­tion. So if you net­ted the $3,000 from the $5,000 grant that typ­i­cal Clark stu­dents receive, Oregon's smartest stu­dents received a $2,000 schol­ar­ship in real terms. Two thou­sand dol­lars is cer­tain­ly bet­ter than no dol­lars, but it pales next to a $50,000 foot­ball scholarship.
"We met with the ath­let­ic direc­tor. We were very blunt," Bill Har­baugh, an eco­nom­ics pro­fes­sor at Ore­gon, told me. ​"We said, give us 1 per­cent of your bud­get. … You can buy us off real cheap. So we said, how about a tick­et sur­charge? They didn't like that idea at all. "
Con­gres­sion­al Kabuki
At its core, col­lege foot­ball is an exten­sion of a series of con­cepts that give it struc­ture: Play­ers are stu­dent ath­letes, not pro­fes­sion­als; manda­to­ry pay­ments to secure pre­mi­um seats are char­i­ta­ble gifts, not fees; the mar­ket for lav­ish­ly paid coach­es is, in fact, a mar­ket. But what hap­pens if that struc­ture col­laps­es — if, say, some ambi­tious mem­ber of Con­gress actu­al­ly ques­tions the foot­ball-as-char­i­ty paradigm?
In July 2014, Sen. Jay Rock­e­feller (D‑W.V.) held a hear­ing that was large­ly an oppor­tu­ni­ty for sen­a­tors to lob ver­bal grenades at the NCAA and its pres­i­dent, Mark Emmert. In that respect it was like most con­gres­sion­al hear­ings: care­ful­ly staged Kabu­ki the­ater. Nev­er­the­less, Rock­e­feller did say one inter­est­ing thing: ​"Play­ing col­lege sports is sup­posed to be an avo­ca­tion. There's a grow­ing per­cep­tion that col­lege ath­let­ics, par­tic­u­lar­ly Divi­sion I foot­ball and bas­ket­ball, are not avo­ca­tions at all. What they real­ly are is high­ly prof­itable enterprises."
He con­tin­ued: ​"This coun­try is now so soaked in the cul­ture of ESPN … it's under­min­ing our val­ues. I'll tell you one thing for sure: I think it's under­min­ing our com­mit­ment to education."
Gilbert M. Gaul
twice won the Pulitzer Prize and has been short­list­ed for the Pulitzer four oth­er times. For more than thir­ty-five years, he worked as an inves­tiga­tive jour­nal­ist for The Wash­ing­ton Post, Philadel­phia Inquir­er and oth­er news­pa­pers. The author of three pre­vi­ous books of inves­tiga­tive report­ing, Gaul lives in New Jersey.