Activist from Afro-Colombian Strike Demands Minister of the Interior "Stop Killing Black People"
In viral video, Isaías Cifuentes declares, "We are here reclaiming our dignity."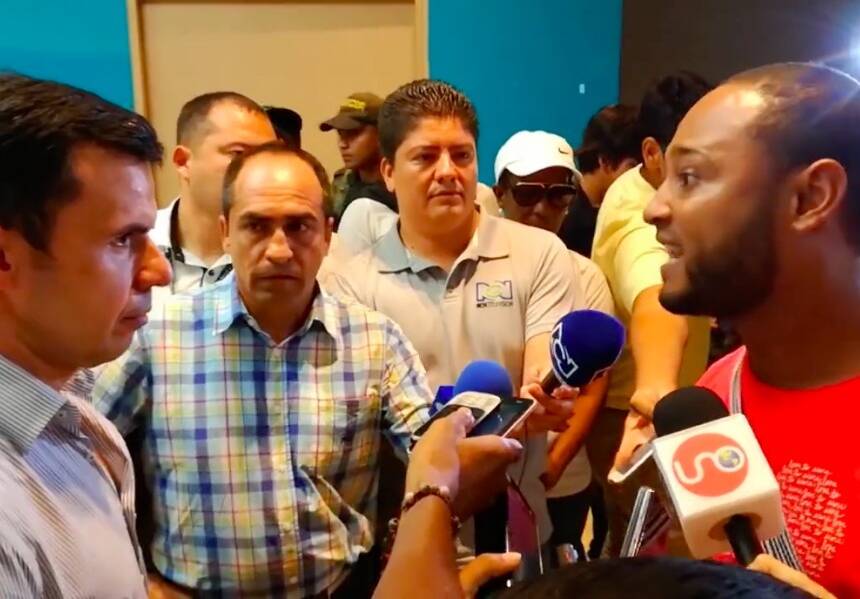 We wanted to make sure you didn't miss the announcement of our new Sustainer program. Once you've finished reading, take a moment to check out the new program, as well as all the benefits of becoming a Sustainer.

Afro-Colombian communities in the city of Buenaventura just suspended a weeks-long general strike over their inhumane living conditions, which have left them without access to adequate hospitals, schools, jobs or drinking water.
Largely ignored in English-language media, the uprising has been met with violent repression by police.
Largely ignored in English-language media, the uprising was met with violent repression by police. On Tuesday, the strike committee announced it is temporarily suspending the strike, on the condition that the government complies with key agreements. However, residents are a long ways from addressing the social ills that plague this key port city.
Ravaged by structural racism and poverty, Buenaventura is emblematic of the human rights failures of the U.S.- Colombia Free Trade Agreement, implemented in 2006. The city expanded as a result of the deal, only to funnel residents into dangerous jobs, many in the informal economy, where workplaces are plagued with violence in retaliation for organizing. According to a report by U.S. Representatives George Miller and Jim McGovern, delivered to the Congressional Monitoring Group on Labor Rights in Colombia in 2013, ​"Sixty-three percent of Buenaventura's residents who are Afro-Colombian live under the poverty line, and unemployment is 64 percent."
"Buenaventura's port is Colombia's largest, and it is home to some of the worst working conditions in South America, which have remained the same or worsened since the Free Trade Agreement went into effect," Neil Martin, the executive director of PASO International, an international accompaniment and solidarity organization, told In These Times.
In this video, social and political activist Isaías Cifuentes can be seen confronting Colombia's Minister of the Interior, Guillermo Rivera Flórez, over the brutal crackdown on protesters. ​"We are here reclaiming our dignity," he said while the strike was still in effect. ​"We want to live like citizens, like human beings! Is that not our right? Look at the arrogance of the state and you who represent it."
"I have been in the streets," he continued, ​"witnessing how the people you command are saying ​'we have to kill these black people.'"
The footage was taken from the Facebook account of major Colombian media outlet, La FM. The English-language subtitles were written by PASO International, which employs Cifuentes.
Isaías Cifuentes, Colombian activist, confronts Minister of the Interior about violent repression of Buenaventura's civil strike from PASO International on Vimeo.
Be a Sustainer
We surveyed thousands of readers and asked what they would like to see in a monthly giving program. Now, for the first time, we're offering three different levels of support, with rewards at each level, including a magazine subscription, books, tote bags, events and more—all starting at less than 17 cents a day. Check out the new Sustainer program.