Portraitists with Disabilities Celebrate the History of Black Art
David A. Holt on his artistry and work with Project Onward, a studio and gallery for artists with disabilities.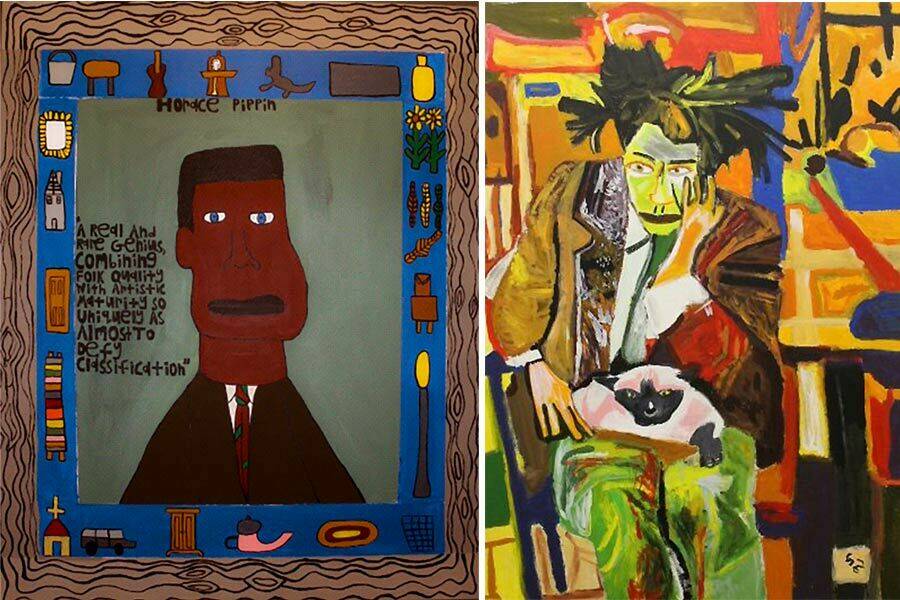 Project Onward, in the Bridge­port neigh­bor­hood on Chicago's South Side, is not your typ­i­cal gallery. The non­prof­it works exclu­sive­ly with pro­fes­sion­al artists who have men­tal and devel­op­men­tal dis­abil­i­ties, pro­vid­ing stu­dio and exhi­bi­tion space. For Black His­to­ry Month, Project Onward is host­ing a spe­cial exhib­it, Hon­or­ing Leg­endary African-Amer­i­can Artists: Dis­tinct Por­traits by dis­Abled Artists, fea­tur­ing por­traits of famous Black artists, such as Jean­Michel Basquiat and Car­rie Mae Weems, in a vari­ety of mediums.
Artist David A. Holt, born in 1984, makes paint­ings and draw­ings on can­vas and card­board. He has worked with Project Onward since 2006, and many of his recent pieces are ​"obit­u­ar­ies," or ​"memo­r­i­al por­traits," drawn after impor­tant people's deaths. Holt is also an autism advo­cate who com­petes in the Spe­cial Olympics. He spoke with In These Times about his work.
Your first obit­u­ary draw­ing was a por­trait of your grand­moth­er. Tell us more.
I was heart­bro­ken. My mom and my father are all passed on. And it was a very heart­felt loss in my body, it was very rough.
How does your artis­tic process work now?
I pick up a Sun-Times news­pa­per, I look up the obit­u­ary page. This year I did Dolores O'Riordan of The Cran­ber­ries, the group. I also did Chester Ben­ning­ton of Linkin Park, Tom Pet­ty and David Bowie. I just want to respect them, to get the word out and to make the fans feel happy.
What per­son­al sig­nif­i­cance does this exhib­it have for you as a Black artist?
Basi­cal­ly it's like a dream come true. I just want to rep­re­sent people
How has your expe­ri­ence been with Project Onward?
I cre­ate art for a pur­pose. Because I just want to respect and keep this pro­gram going. And so we can roll togeth­er as a team and as a fam­i­ly. If there were no Project Onward, I'd be lost and dev­as­tat­ed. Art makes me feel hap­py inside and focused inside me, you know. I just want to keep doing what I'm doing and just stay positive.
Hon­or­ing Leg­endary African-Amer­i­can Artists: Dis­tinct Por­traits by dis­Abled Artists, Bridge­port Art Cen­ter, through March 30.