Portraitists with Disabilities Celebrate the History of Black Art
David A. Holt on his artistry and work with Project Onward, a studio and gallery for artists with disabilities.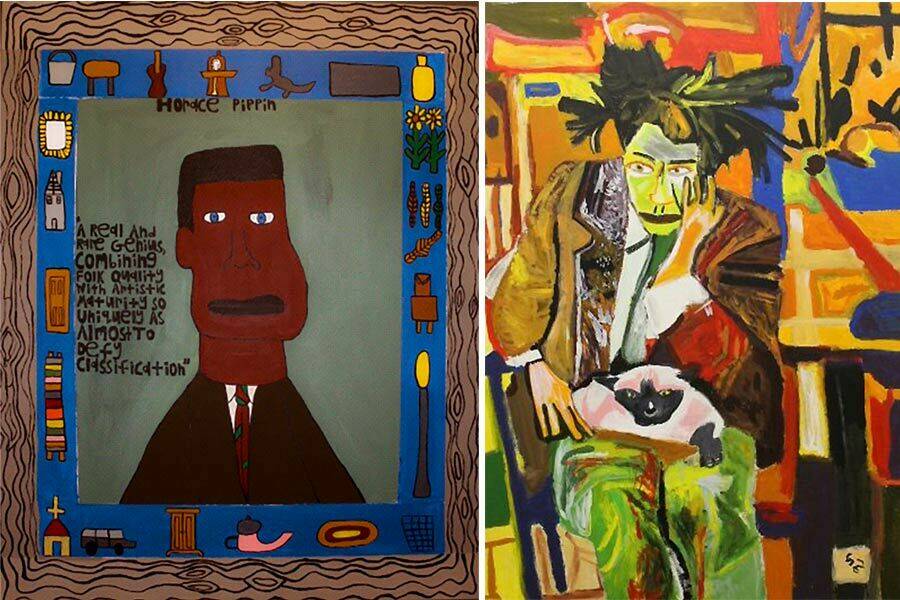 We wanted to make sure you didn't miss the announcement of our new Sustainer program. Once you've finished reading, take a moment to check out the new program, as well as all the benefits of becoming a Sustainer.

Project Onward, in the Bridgeport neighborhood on Chicago's South Side, is not your typical gallery. The nonprofit works exclusively with professional artists who have mental and developmental disabilities, providing studio and exhibition space. For Black History Month, Project Onward is hosting a special exhibit, Honoring Legendary African-American Artists: Distinct Portraits by disAbled Artists, featuring portraits of famous Black artists, such as JeanMichel Basquiat and Carrie Mae Weems, in a variety of mediums.
Artist David A. Holt, born in 1984, makes paintings and drawings on canvas and cardboard. He has worked with Project Onward since 2006, and many of his recent pieces are ​"obituaries," or ​"memorial portraits," drawn after important people's deaths. Holt is also an autism advocate who competes in the Special Olympics. He spoke with In These Times about his work.
Your first obituary drawing was a portrait of your grandmother. Tell us more.
I was heartbroken. My mom and my father are all passed on. And it was a very heartfelt loss in my body, it was very rough.
How does your artistic process work now?
I pick up a Sun-Times newspaper, I look up the obituary page. This year I did Dolores O'Riordan of The Cranberries, the group. I also did Chester Bennington of Linkin Park, Tom Petty and David Bowie. I just want to respect them, to get the word out and to make the fans feel happy.
What personal significance does this exhibit have for you as a Black artist?
Basically it's like a dream come true. I just want to represent people
How has your experience been with Project Onward?
I create art for a purpose. Because I just want to respect and keep this program going. And so we can roll together as a team and as a family. If there were no Project Onward, I'd be lost and devastated. Art makes me feel happy inside and focused inside me, you know. I just want to keep doing what I'm doing and just stay positive.
Honoring Legendary African-American Artists: Distinct Portraits by disAbled Artists, Bridgeport Art Center, through March 30.
Be a Sustainer
We surveyed thousands of readers and asked what they would like to see in a monthly giving program. Now, for the first time, we're offering three different levels of support, with rewards at each level, including a magazine subscription, books, tote bags, events and more—all starting at less than 17 cents a day. Check out the new Sustainer program.