"Commie Cadet" Spenser Rapone On Why He Left the U.S. Military and Became a Socialist
In an interview, Rapone explains how he went from a proud teenage Army private to an anti-war activist and member of the Democratic Socialists of America.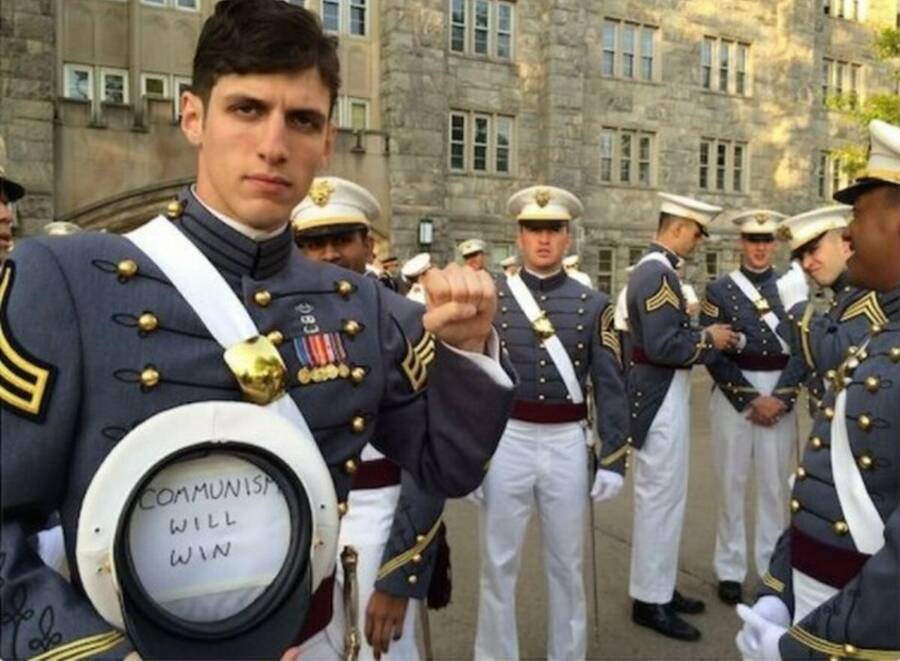 The so-called ​"Com­mie Cadet" was any­thing but a com­mu­nist at the start of his mil­i­tary career.
Soon after getting to West Point, I saw that this was a structural problem across the military and that the military itself, its material relation to power, serves the capitalist class.
Spenser Rapone was like a char­ac­ter who stepped out of a Bruce Spring­steen song. He was an ide­al­is­tic teenag­er from the rur­al Rust Belt town of New Cas­tle, Penn­syl­va­nia (lit­er­al­ly the ​"Fire­works Cap­i­tal of Amer­i­ca"), who embraced patri­ot­ic jin­go­ism and enlist­ed in the army straight out of high school.
But after being deployed to Afghanistan and see­ing the vio­lence his unit was help­ing to inflict, Rapone grew increas­ing­ly dis­il­lu­sioned with the mil­i­tary. He stud­ied polit­i­cal the­o­ry, rad­i­cal­ized, and even­tu­al­ly turned to social­ism. Inspired by for­mer NFL quar­ter­back Col­in Kaeper­nick, who famous­ly took a knee to protest police vio­lence, Rapone wore a Che Gue­vara T‑shirt to his West Point grad­u­a­tion in May 2016 and turned his cap over to reveal the hand-scrawled mes­sage, ​"Com­mu­nism will win."
Pho­tos from the grad­u­a­tion post­ed on social media earned the vit­ri­ol of many his fel­low sol­diers and a vocal cadre of right-wing politi­cians and media — even death threats. Sen. Mar­co Rubio caught wind of Rapone's protest and demand­ed that the Army boot him from the ser­vice. In June, Rapone resigned and now he's out with an oth­er-than-hon­or­able discharge.
In an inter­view with In These Times, Rapone tells his sto­ry of his jour­ney from GI Joe to an anti-war activist — and why Rubio got him wrong.
Why go into the army in the first place?
At a young age, you're inun­dat­ed with pro­pa­gan­da and patri­o­tism, and I thought I could make a dif­fer­ence join­ing the Army. But then I got deployed to Afghanistan, and my expe­ri­ence over­seas showed me that if any­thing, I was mak­ing a dif­fer­ence for those with pow­er and wealth. In fact, I didn't real­ly find what we were being told in Amer­i­ca to be reflec­tive of what was real­ly going on in Afghanistan. In the sim­plest of terms, I felt like we were the big bul­ly and the pur­vey­or of vio­lence. I was just using all of this expen­sive equip­ment in one of the poor­est places on earth to serve the inter­ests of a cap­i­tal­ist class.
Can you describe what you were see­ing in in Afghanistan with your own eyes?
In my own unit, I saw no com­mit­ment to learn­ing about the Afghan peo­ple or try­ing to under­stand them or their cul­ture. It was more about tak­ing plea­sure in going out every night and killing peo­ple with impuni­ty. Even on nights when we did­n't have kinet­ic engage­ments, we would just roll up to vil­lages and ran­sack them; we'd sep­a­rate women and chil­dren, put bags over peo­ple's heads, lock them up in flex cuffs.
We'd call them detainees, which is just a euphemism for pris­on­er, and we'd do this kind of thing every night, even some­times with­out prop­er intel­li­gence. Most of the guys I was with — even and espe­cial­ly the lead­er­ship — rel­ished in the fact that we could kill human beings. So, for me, I was try­ing to resolve this con­tra­dic­tion because no one over here was threat­en­ing free­dom or democ­ra­cy or any­thing like that. We were just going in their homes and threat­en­ing their vil­lages and were cre­at­ing noth­ing but chaos and destruction.
After a mis­sion, we'd have a debrief and, if some­thing par­tic­u­lar­ly vio­lent would hap­pen, offi­cers would say some­thing like, ​"That was kick­ass!" They said if we didn't like it, we were in the wrong place. Even the army chap­lain would give us these kinds of speech­es. I remem­ber one time it a chap­lain said we were about ​"bring­ing wrath upon these peo­ple," and I was like, ​"Wow, these peo­ple have some kind of cru­sad­er fan­ta­sy." It was pret­ty unsettling.
I start­ed to think, ​"If I were a guy in Afghanistan, how would I feel about this?" I think it's no secret that many peo­ple in Amer­i­ca would take great umbrage if some­one was walk­ing through their homes. For me, I could­n't shake the fact that what we were doing was wrong and moral­ly reprehensible.
But you felt like you couldn't do any­thing about what you were experiencing.
At the time, I was a 19-year-old pri­vate, so I feel like I could­n't voice any­thing with­out being told, ​"Shut the fuck up and exe­cute your task." But I guess I was slow­ly rad­i­cal­iz­ing. I wasn't quite a social­ist yet, but I knew I was against the war. I still had this lib­er­al idea that I could affect change from the inside, so I applied and got accept­ed to West Point and thought, ​"I won't fail my men, like lead­er­ship failed me.
Soon after get­ting to West Point, I saw that this was a struc­tur­al prob­lem across the mil­i­tary and that the mil­i­tary itself, its mate­r­i­al rela­tion to pow­er, serves the cap­i­tal­ist class. At West Point, I real­ized I might be a social­ist. So, I start­ed read­ing the­o­ry. I was a his­to­ry major, and I stud­ied Mid­dle East­ern his­to­ry specif­i­cal­ly. When you study the role of the Unit­ed States and the British and the French pre-dat­ing them, you start to under­stand what impe­ri­al­ism real­ly is. You start to see why these wars are end­less. They're designed to be prof­itable. They're not designed to achieve any sort of objective.
But I was kind of stuck at that point because after your sec­ond year, you have to do what's called ​"affir­ma­tion." If I dropped at that point, I would either be kicked back into the enlist­ed ranks or be forced to find a way to pay for West Point. I grad­u­at­ed and went to offi­cer train­ing, but once Trump got elect­ed, I thought this was a par­tic­u­lar polit­i­cal moment when I was like, ​"Ok, now more than ever, it would be inau­then­tic of me to continue."
So I start­ed to think of what I could do and then 10 months after Trump was elect­ed, Col­in Kaeper­nick lost his job essen­tial­ly. He lost his career for speak­ing truth to pow­er. I fig­ured if he could put his skin in the game on a nation­al stage, then I could do my small part and it kind of took off from there.
Can you describe the back­lash you expe­ri­enced after that?
The day after I post­ed the pic­tures, my chain of com­mand approached me, read me my rights, and told me I could talk right now or wait for an attor­ney, so of course I wait­ed for an attor­ney. I was in the field at the time help­ing at a fire range and so they took me out of the field, met with my attor­ney and was told I was under inves­ti­ga­tion. I got flagged and essen­tial­ly told that if I post­ed any­thing else, I would be in more trouble.
Out­side of my chain of com­mand, peo­ple were threat­en­ing and silenc­ing me and I had tons of alt-right and neo-fas­cists send­ing me death threats. From there, I spent a long time in lim­bo because I was under inves­ti­ga­tion — they were wait­ing for me to make anoth­er screw-up in their minds. But I did­n't say too much after that.
They com­piled all the things I've said, the sub­ver­sive things I've said about Trump and var­i­ous elect­ed offi­cials like Gen­er­al Mat­tis, and essen­tial­ly gave me a num­ber of options. I'd have to do a show cause board, which is essen­tial­ly me con­vinc­ing them why I should stay in the military.
From there, I would either be retained or kicked out. But I had no desire to serve any longer — I dis­agree with what the Unit­ed States mil­i­tary is doing — so I sub­mit­ted a res­ig­na­tion in Feb­ru­ary with the con­di­tion that, as long as I don't receive any­thing low­er than a gen­er­al dis­charge, I would go.
But they kicked it back and said I would go before a board of inquiry, which is an adver­sar­i­al tri­al where I present my case and they present theirs. Or, I could sub­mit an uncon­di­tion­al res­ig­na­tion and they can give me what­ev­er dis­charge they want. At that point, again, I want­ed noth­ing to do with the mil­i­tary because I find their rule moral­ly rep­re­hen­si­ble and eth­i­cal­ly unsound, so I sub­mit­ted my res­ig­na­tion. Two weeks lat­er, they issued me my dis­charge papers and I left. Through­out this whole process, the mil­i­tary has cer­tain ways of coerc­ing you, so there was always a threat of more punishment.
In the mid­dle of all of this, these right-wing sites were say­ing stuff about me and I was under inves­ti­ga­tion, so I could­n't say any­thing because they'd use that as ammu­ni­tion. I had a state­ment I was work­ing on for sev­er­al months and was wait­ing for the right time to say it with­out hav­ing to wor­ry about punishment.
It's out there now and I think the nar­ra­tive of this is start­ing to shift a lit­tle bit, which is good because peo­ple are start­ing to under­stand my expe­ri­ence. The more impor­tant thing is that a lot of oth­er vet­er­ans and active duty per­son­nel have had sim­i­lar expe­ri­ences to me and have come to sim­i­lar con­clu­sions, if not the same, and I hope that by speak­ing out. It will give them a plat­form so they don't have to do this any­more — so they don't have to be a cog in the impe­ri­al­ist machine anymore.
And Mar­co Rubio said you advo­cate vio­lence against America?
In Octo­ber, he said that I advo­cat­ed vio­lence and was a threat to nation­al secu­ri­ty and I should have my com­mis­sion revoked, my degree revoked. He wrote this let­ter to the act­ing sec­re­tary of defense who was Ryan McCarthy. He said that we need to do some­thing about this Rapone guy. I'd have to file a FOIA request to fig­ure any­thing out, but I think he may have moved the nee­dle a lit­tle bit. There's no doubt that some of the gen­er­als and high­er ranked retired offi­cers and defense con­trac­tors had a voice in this. Rubio was a part of that cabal of cap­i­tal­ists and collaborators.
The term ​"com­mu­nism" itself seemed to engen­der a cer­tain response from Rubio. It's a typ­i­cal right-wing canard with com­mu­nism that it's a total­i­tar­i­an enti­ty, but that's not what it is. It seeks to cre­ate a state­less, class­less, money­less soci­ety. Although I'm not a paci­fist, I nev­er called for any explic­it vio­lence. I think it was just him see­ing the word ​"com­mu­nist" made him draw his own con­clu­sions from there.
Could you explain the type of dis­charge they gave you?
It's the worst admin­is­tra­tive dis­charge. Obvi­ous­ly this did­n't go to court mar­tial. My attor­ney told me they want­ed to get a pound of flesh from me, but I did­n't do any­thing ille­gal. It's not ille­gal to be a com­mu­nist in the mil­i­tary, but since I was in uni­form, and in their mind, mak­ing a polit­i­cal state­ment and post­ed on social media, they lumped it all togeth­er as this neb­u­lous ​"unbe­com­ing con­duct" charge and said I was advo­cat­ing for violence.
There has been a his­to­ry of con­scious objec­tion by sol­diers. Are there more restric­tions against cer­tain kinds of speech after 9⁄11?
Yeah. Dur­ing the Viet­nam era, there were var­i­ous things hap­pen­ing for work­ing-class sol­diers and sol­diers of col­or and it was all very vibrant.
I think there's a cou­ple things that hap­pened since. When the U.S. invad­ed Iraq, there was an anti-war move­ment, but when Oba­ma ran as anti-war can­di­date, his elec­tion took the wind out of the sails. I think it shows some people's pri­or­i­ty. I think some peo­ple are more anti-Trump than they are anti-war. But Trump is just a symp­tom of a larg­er dis­ease. In the lib­er­al men­tal­i­ty, if you get this par­tic­u­lar­ly dis­gust­ing per­son out of office, then things will change. The last 15 years have shown oth­er­wise. So there's that aspect.
But in terms of restric­tions, after the Viet­nam era in ​'78, they put it into code that any kind of mil­i­tary unions or orga­niz­ing is explic­it­ly for­bid­den. Then there was the move to an all-vol­un­teer force and that's inter­est­ing because a sub­stan­tial num­ber of Viet­nam resisters were vol­un­teers. I don't want peo­ple say­ing that because they are vol­un­teers, there's no room for resist­ing. Quite the con­trary. In many ways, you're even more disillusioned.
You go in with a cer­tain vision in your head of what being in the mil­i­tary is and then you see the real­i­ty of it. So, there's this com­bi­na­tion of an all-vol­un­teer army, the post‑9/​11 era fur­ther insti­tut­ing our reli­gion of civic patri­o­tism, and then the anti-war move­ment get­ting co-opt­ed by lib­er­al move­ments not inter­est­ed in struc­tur­al change. When those three ele­ments com­bine, that's what makes it so difficult.
It strikes me how much, as a cul­ture, we've praised troops since 9⁄11. You go to foot­ball games and they bring troops out on the field. But yet they're still an abstrac­tion and not not allowed to have indi­vid­ual opinions.
It's inter­est­ing that you say that because, real­ly, all the whole pregame stuff at games is a recent phe­nom­e­non. It was­n't near­ly to that lev­el before the 9⁄11 era and that's part of why I speak out. Of the peo­ple who go into the mil­i­tary, not many peo­ple go with a com­plete polit­i­cal for­ma­tion of the world and, unfor­tu­nate­ly, being in that world steers them a cer­tain way. Then Amer­i­can soci­ety and polit­i­cal cul­ture influ­ences you because we are con­stant­ly slapped with patri­o­tism and ​"respect­ing the troops." What does that even mean? Some of the peo­ple who ​"respect the troops" are also the ones who most want to pri­va­tize the VA. They don't care about vet­er­ans out­side of serv­ing their pol­i­tics for a par­tic­u­lar right-wing vision. I think that's a cru­cial part of it and why I did what I did.
Trump and oth­er right wingers also still trot out Pat Till­man as a sym­bol. But from what I under­stand about his life, he did­n't get to the point where you reached, but was still very questioning.
For sure, Pat was a big influ­ence on me. The biggest thing about Pat Till­man was that he didn't want to be put in a box. He didn't want all these hon­orifics. He did­n't want to be parad­ed around or be used by the Bush admin­is­tra­tion to sell a war. He want­ed to enlist and do his time. Sim­i­lar to me, after he did his train­ing and found him­self over­seas, he real­ized the harsh real­i­ty of what the Amer­i­can mil­i­tary was and formed his own opin­ions. I mean, he had a cor­re­spon­dence with Noam Chomsky.
He didn't real­ly par­take in the social life when he was at the Ranger Bat­tal­ion. While they were going out par­ty­ing and drink­ing, he was a very intel­lec­tu­al man. The Bush admin­is­tra­tion saw this foot­ball play­er and this guy who looked like G.I. Joe, but he want­ed none of that. See­ing and learn­ing about Pat Till­man and how he was able to nev­er be ful­ly assim­i­lat­ed into mil­i­tary cul­ture, it was real­ly inspir­ing to me and kind of gave me an exam­ple to fol­low in terms of resist­ing this indoc­tri­na­tion and dehu­man­iza­tion that the mil­i­tary puts you through.
And you've heard from oth­er vet­er­ans and ser­vice members?
Yes, Rory Fan­ning I've had cor­re­spon­dence with for awhile. Anoth­er fig­ure who's had a big influ­ence on me was Stan Goff. He was in the army for 26 years and was in spe­cial oper­a­tions. He got out on the oth­er side thought and became an anti-war activist and a social­ist. I read a num­ber of his books and he helped me under­stand my expe­ri­ence. No mat­ter what you did in these impe­ri­al­ist con­flicts, there's a role you can play in end­ing them and try to help eman­ci­pate and lib­er­ate peo­ple. Then, there's a num­ber of peo­ple who I can't name because they might face repres­sion them­selves, but a num­ber of active-duty ser­vice mem­bers and enlist­ed sol­diers who I'm try­ing to help work through things and coun­sel them and hope­ful­ly inspire them to take the mea­sures to stop serv­ing the Amer­i­can Empire.
What do you think your path is now?
I'm prob­a­bly going to take some time to decom­press and process all I've been through. Then, I want to get active. I'm a mem­ber of the DSA, so I want to get involved with social­ist pol­i­tics and affect some change. I'll prob­a­bly be doing some learn­ing and lis­ten­ing to some activists who have been doing this longer than I have to find my place in this.
Ryan Smith
is a Chica­go-based jour­nal­ist. His work has appeared in The Guardian, Jacobin Mag­a­zine, Chica­go Sun-Times, Chica­go Read­er, Belt Mag­a­zine and oth­er publications.